KUALA LUMPUR, 14 JANUARY 2021 – FGV Holdings Berhad (FGV) is providing COVID-19 tests for 7,001 of its migrant workers who are employed with FGV's plantations in Negeri Sembilan and Sabah.
740 migrant workers who work at FGV's Jempol and Gemas plantations in Negeri Sembilan, were screened with the RTK Antigen kit by one of the appointed Social Security Organisation (SOCSO) panel clinics on 12 and 13 January 2021. Of the total, 165 workers are from Indonesia, India (289) and Bangladesh (286).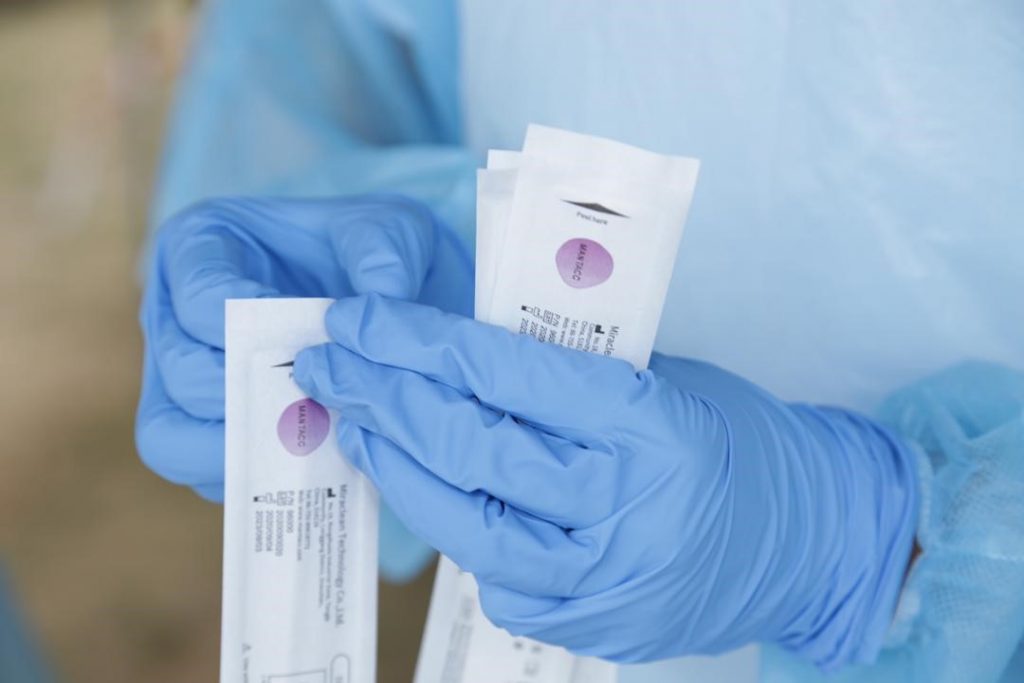 The RTK Antigen Kit was used to screen FGV's plantation migrant workers for COVID-19
A total of 6,261 migrant workers in FGV's plantations in Sahabat, Kalabakan and Sandakan Complex in Sabah will undergo the same screening test next week, where 5,959 of the migrant workers are from Indonesia, while 302 are from the Philippines.
Dato' Haris Fadzilah Hassan, FGV's Group Chief Executive Officer said, "This screening test is one of FGV's responsibilities in supporting the government's effort in curbing the spread of the COVID-19 outbreak among migrant workers. It is also to fulfill our commitment in ensuring that all employees who work in our estates have access to health rights during these challenging times of a pandemic."
"FGV has allocated close to RM200,000 to bear the cost of screening tests for our migrant workers who contribute to SOCSO in Negeri Sembilan and Sabah. FGV is also providing temporary COVID-19 Quarantine and Treatment Centres (PKRC) at the plantation complexes to enable the isolation of migrant workers who are found positive with COVID-19 but with mild symptoms, from migrant workers who are tested negative," he added.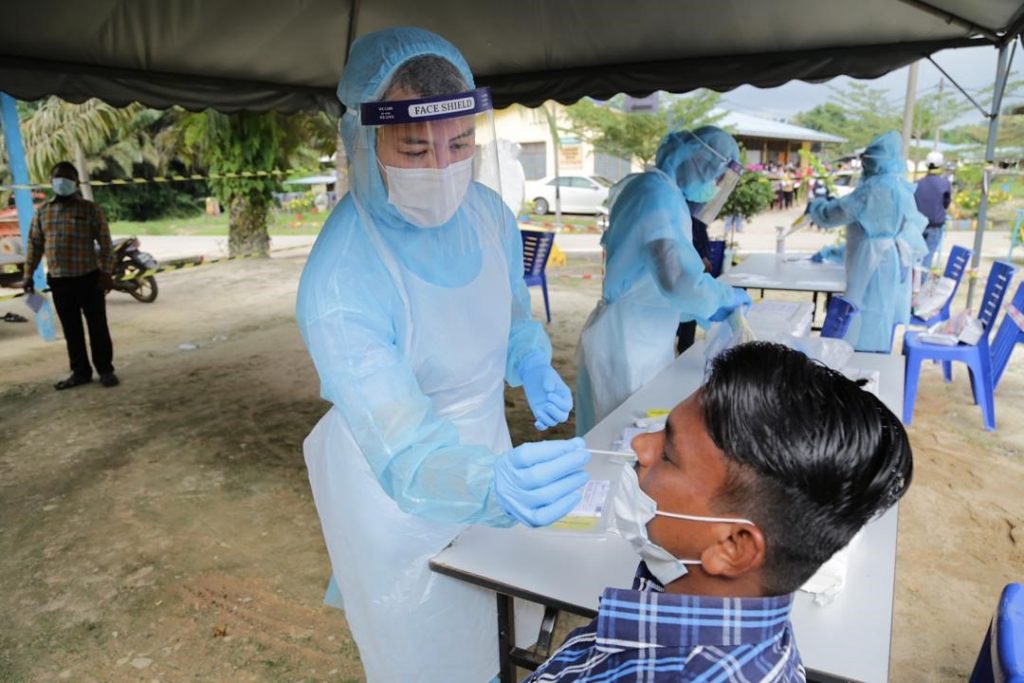 FGV's plantation migrant worker undergoing the COVID-19 screening test at FGV's estate recently
If a worker is tested positive with serious symptoms, FGV will manage the worker's quarantine and meals until aid arrives from the Ministry of Health (MoH) to assist with further treatment in hospital.
The COVID-19 screening test through SOCSO is a mandatory requirement to be adhered by employers who employ migrant workers at high-risk areas specifically in Selangor, Negeri Sembilan, Penang, Sabah, Kuala Lumpur and Labuan starting from 1 December 2020.
End
KUALA LUMPUR, 14 JANUARI 2021 – FGV Holdings Berhad (FGV) menyediakan ujian saringan COVID-19 untuk 7,001 orang pekerja migrannya yang berkhidmat di ladang-ladang FGV di Negeri Sembilan dan Sabah.
Seramai 740 orang pekerja migran yang berkhidmat di ladang-ladang FGV di Jempol dan Gemas, Negeri Sembilan disaring dengan kit Antigen RTK yang dikendalikan oleh salah sebuah klinik panel di bawah lantikan Pertubuhan Keselamatan Sosial (PERKESO) pada 12 dan 13 Januari 2021. Daripada jumlah tersebut, 165 pekerja berasal dari Indonesia, India (289) dan Bangladesh (286).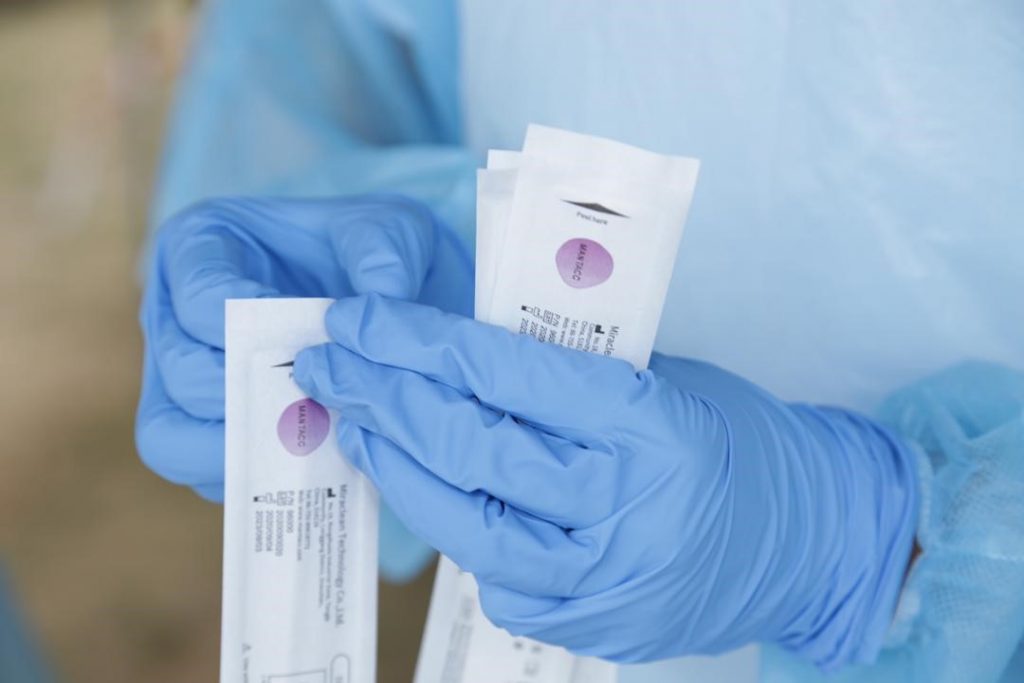 Kit Antigen RTK digunakan semasa ujian saringan COVID-19 ke atas pekerja migran ladang FGV
6,261 orang pekerja migran yang berkhidmat di ladang-ladang FGV di Kompleks Sahabat, Kalabakan dan Sandakan, Sabah pula akan menjalani ujian saringan yang sama pada minggu hadapan. Seramai 5,959 adalah pekerja warga Indonesia, manakala 302 adalah pekerja warga Filipina.
Dato' Haris Fadzilah Hassan, Ketua Pegawai Eksekutif Kumpulan FGV berkata, "Ujian saringan ini merupakan salah satu daripada tanggungjawab FGV menyokong usaha kerajaan untuk mengekang penularan wabak COVID-19 di kalangan pekerja migran. Ia turut memenuhi komitmen bagi memastikan semua pekerja yang berkhidmat di ladang-ladang kami mempunyai akses terhadap hak kesihatan di waktu pandemik yang mencabar ini."
"FGV memperuntukkan hampir RM200,000 bagi membiayai kos ujian saringan ke atas pekerja migran kami yang mencarum dengan PERKESO di Negeri Sembilan dan Sabah. FGV turut menyediakan Pusat Kuarantin dan Rawatan COVID-19 (PKRC) sementara di kompleks-kompleks ladang berkenaan bagi membolehkan pengasingan pekerja migran sekiranya didapati positif COVID-19 tetapi bergejala ringan, daripada pekerja migran yang didapati negatif," tambah beliau.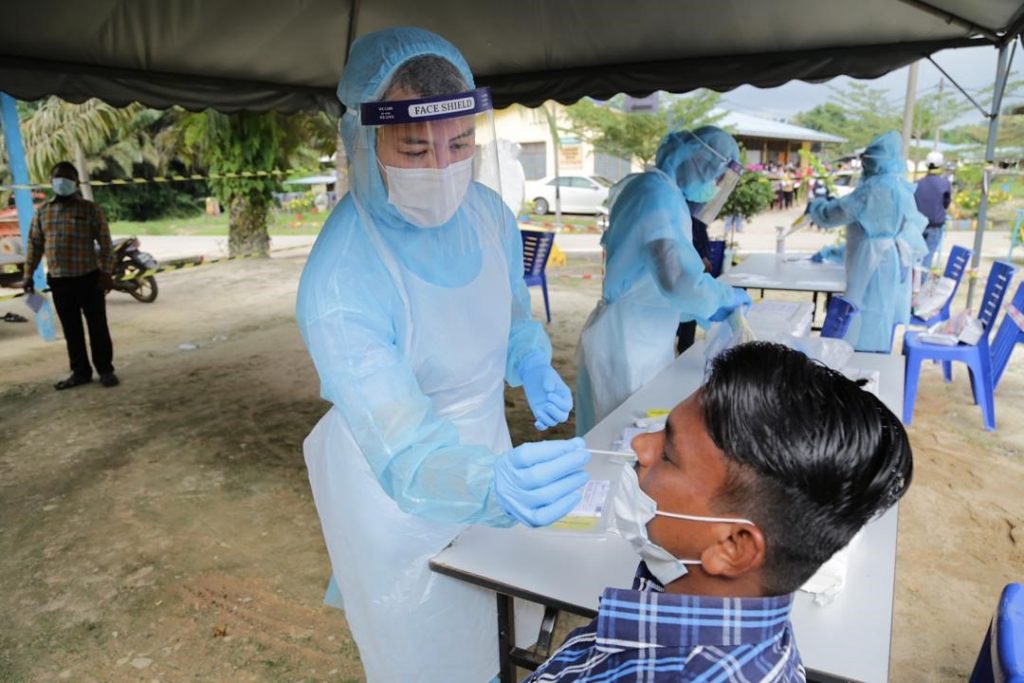 Pekerja migran ladang FGV menjalani ujian saringan COVID-19 di ladang FGV baru-baru ini
Sekiranya pekerja didapati positif dan bergejala serius, FGV akan menguruskan kuarantin dan makan minum pekerja yang terlibat sehingga pihak Kementerian Kesihatan Malaysia (KKM) mengambilalih untuk rawatan lanjut di hospital.
Ujian saringan COVID-19 melalui PERKESO merupakan keperluan wajib yang perlu dipatuhi oleh majikan yang menggaji pekerja migran di kawasan yang berisiko tinggi khususnya di Selangor, Negeri Sembilan, Pulau Pinang, Sabah, Kuala Lumpur dan Labuan bermula 1 Disember 2020.  
Tamat