The first plantation company in Malaysia to implement e-wallet payments
KUALA LUMPUR, (4 September 2020): FGV Holdings Berhad (FGV) is pioneering the implementation of the electronic wallet (e-wallet) cashless payroll system for its plantation workers under its Recruitment, Retention and Repatriation (3R) programme.
The e-wallet system, which falls under the retention initiative of the 3R programme, was successfully rolled out since February 2020 in Gua Musang, Kelantan, involving 1,500 registered users in 11 of its estates. Through this system, FGV is able to save RM1 million annually in terms of payroll handling costs.
By first quarter 2021, FGV aims to implement this system for its entire plantation sector including estates in Sabah and Sarawak.
Group Chief Executive Officer Dato' Haris Fadzilah Hassan said, "In today's digital era, we are continuously pursuing valuable approaches in refining our operations through emerging technologies. As the backbone of our operations, we strive to enhance our workers' benefits in line with international regulations on labour practices".
"The 3R programme demonstrates our commitment to, among others, responsible recruitment of foreign workers, strengthening of grievance mechanisms, improving monitoring systems and remediation and enhancing stakeholder engagement," added Haris Fadzilah.
Utilising the Merchantrade Money mobile application under Merchantrade Asia Sdn Bhd, FGV plantation workers are provided with a prepaid Visa card and an individual e-wallet account, which can be accessed easily via their mobile phones. This enables workers to conduct cashless transactions, perform remittance to their family members in their country of origin, purchase mobile prepaid and withdraw cash at any auto teller machines (ATM) and registered merchants.
Workers can also purchase groceries at designated FGV mini marts as well as selected local marts, which are appointed as FGV merchants in this cashless programme.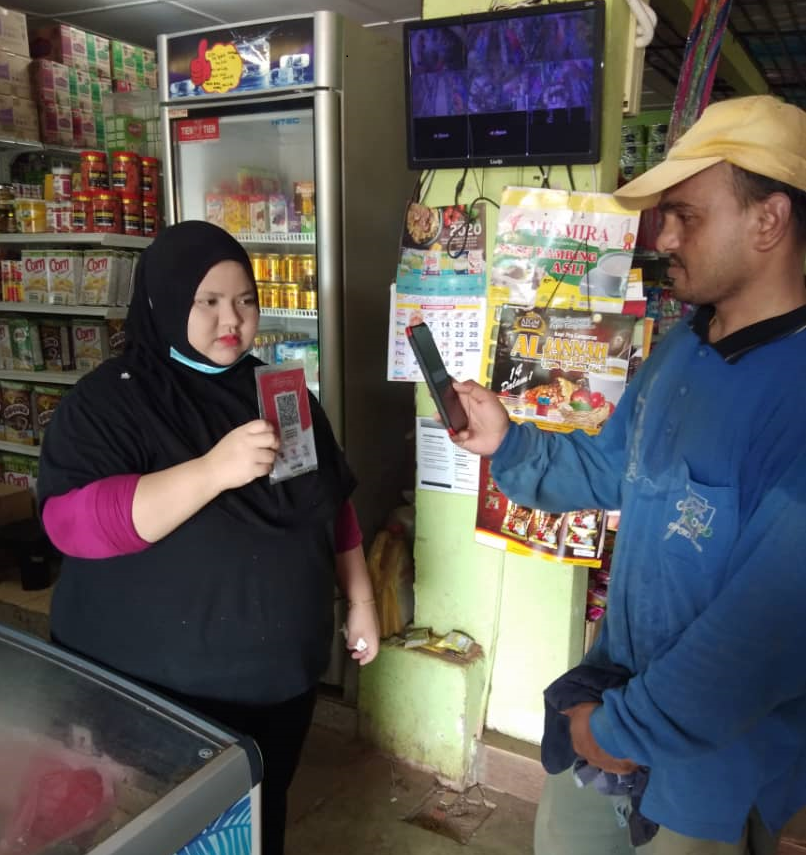 "As a forward-looking company, we believe that the e-wallet is a holistic financial solution for our workers to experience essential conveniences in everyday life and day-to-day transactions. It is also in line with the nation's move towards being a cashless society," Haris Fadzilah continued.
FGV provides e-wallet registration assistance for its plantation workers, and more functions will be developed in phases including e-attendance, e-grievance and e-learning.
While continuous measures are being put in place to ensure fair labour practices, FGV is also doubling its efforts in hiring more locals for its plantation workforce by offering training and attractive packages.
"We hope to attract more local workers to work with us in line with our aim to reduce 10% from the total of 32,000 foreign workers employed with FGV," added Haris Fadzilah.
Ends
Syarikat perladangan pertama di Malaysia yang melaksanakan pembayaran e-wallet
 KUALA LUMPUR, 4 September 2020: FGV Holdings Berhad (FGV) mempelopori pelaksanaan sistem dompet elektronik (e-wallet) untuk pembayaran gaji tanpa tunai untuk pekerja ladangnya di bawah program Perekrutan, Pengekalan dan Penghantaran Pulang (3R).
Sistem e-wallet, di bawah inisiatif pengekalan program 3R, berjaya dilancarkan sejak Februari 2020 di Gua Musang, Kelantan, dengan melibatkan 1,500 pengguna berdaftar di 11 estetnya. Melalui sistem ini, FGV menganggarkan penjimatan sebanyak RM1 juta setiap tahun dari segi kos pengendalian gaji.
FGV menyasarkan pelaksanaan penggunaan sistem ini menjelang suku pertama 2021 untuk seluruh sektor perladangannya termasuk di Sabah dan Sarawak.
Ketua Pegawai Eksekutif Kumpulan FGV, Dato' Haris Fadzilah Hassan berkata,"Pada era digital hari ini, kami terus melakukan pendekatan terbaik dalam menyempurnakan operasi kami menerusi teknologi baharu. Sebagai tulang belakang operasi kami, usaha untuk meningkatkan faedah pekerja diteruskan sejajar dengan peraturan antarabangsa bagi amalan buruh".
"Program 3R menunjukkan komitmen kami untuk, antara lain, pengambilan pekerja asing secara bertanggungjawab, mengukuhkan mekanisme pengaduan, menambah baik sistem pemantauan dan pemulihan serta meningkatkan penglibatan pihak berkepentingan," tambah Haris Fadzilah.
Dengan menggunakan aplikasi mudah alih Merchantrade Money di bawah Merchantrade Asia Sdn Bhd, pekerja ladang FGV diberikan kad Visa prabayar dan akaun e-wallet individu, yang dapat diakses dengan mudah melalui telefon bimbit mereka. Ini membolehkan pekerja melakukan transaksi tanpa tunai, melakukan pengiriman wang kepada ahli keluarga mereka di negara asal, membeli prabayar mudah alih dan mengeluarkan wang tunai di mana-mana mesin juruwang automatik (ATM) dan peniaga berdaftar.
Pekerja juga boleh membeli barangan runcit di kedai tempatan terpilih, yang dilantik sebagai peniaga FGV dalam program tanpa tunai ini.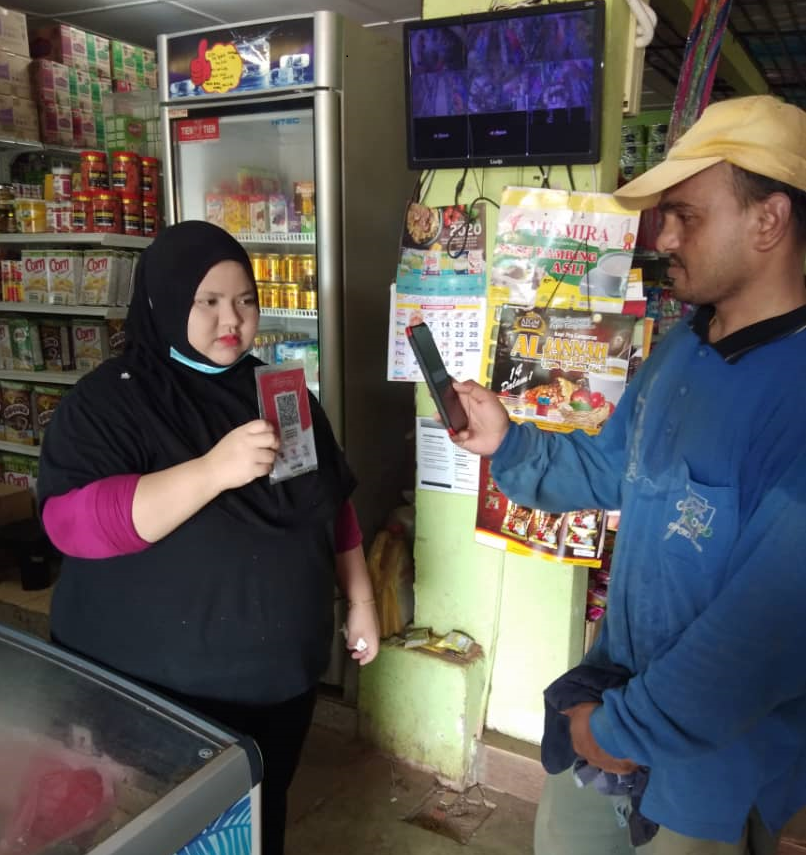 "Sebagai syarikat yang berpandangan ke hadapan, kami percaya bahawa e-wallet adalah penyelesaian kewangan yang menyeluruh bagi pekerja kami untuk kemudahan dalam kehidupan seharian dan transaksi setiap hari. Ini juga sejajar dengan langkah negara menuju ke arah masyarakat tanpa tunai," sambung Haris Fadzilah.
FGV menyediakan bantuan pendaftaran e-wallet untuk pekerja ladangnya, dan lebih banyak fungsi akan dikembangkan dalam beberapa fasa termasuk e-kehadiran, e-rungutan dan e-pembelajaran.
Walaupun langkah-langkah berterusan dilaksanakan untuk memastikan amalan buruh adil, FGV juga menggandakan usahanya dalam mengambil lebih ramai pekerja di kalangan penduduk tempatan sebagai tenaga kerja ladang dengan menawarkan latihan dan pakej menarik.
"Kami juga berharap dapat menarik lebih banyak pekerja tempatan untuk bekerja dengan kami sejajar dengan matlamat kami untuk mengurangkan 10% daripada 32,000 jumlah pekerja asing yang bekerja dengan FGV," tambah Haris Fadzilah.
Tamat