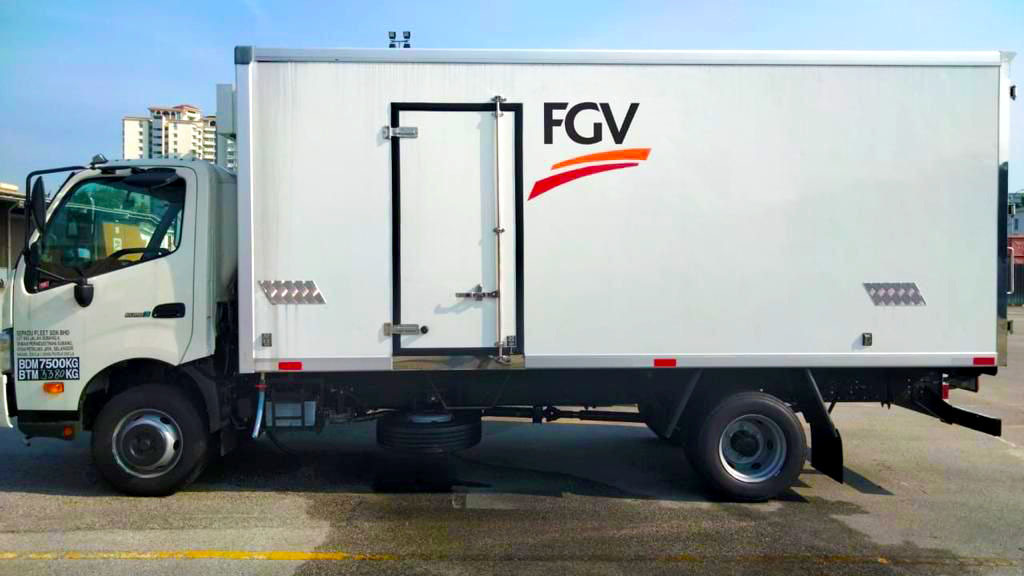 One of FGV's 10 refrigerated trucks with a capacity of 7.5 tonnes operating in the Klang Valley
KUALA LUMPUR, 29 October 2021 – FGV Holdings Berhad (FGV) introduces cold chain transportation services under its logistics arm, FGV Transport Services Sdn Bhd (FGV Transport) to provide efficient delivery and cold storage solutions for temperature-sensitive products and perishable items.
With an initial investment of RM8.3 million, the business aims to cater to the growing market demand for effective logistics management which ensures proper temperature controls of dairy products, pharmaceuticals, meat, fruits, vegetables, seafood, frozen foods and other products for the domestic and e-Commerce sectors.
Mohd Nazrul Izam Mansor, Group Chief Executive Officer of FGV said, the cold chain business segment is FGV's latest initiative to add a new revenue stream under the Group's Logistics and Support Businesses Sector.
"As at October 2021, FGV has acquired ten 7.5-tonners refrigerated trucks. The Group plans to increase the number to 17 trucks of various sizes and loads by 2023 with an estimated investment of RM4 million," said Mohd Nazrul, adding that they are also focusing on the halal food production industry which keeps growing year by year.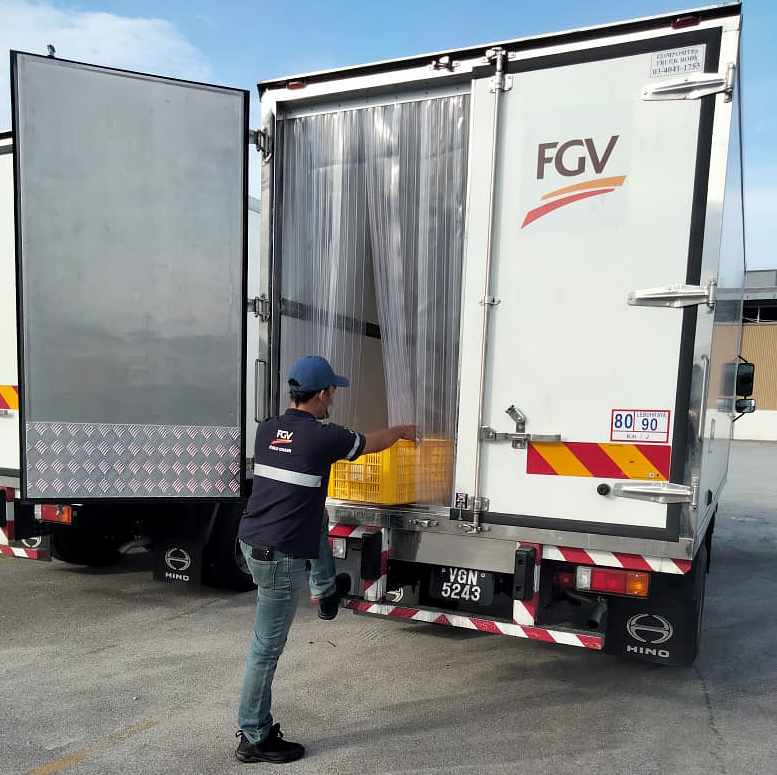 FGV Transport receives orders to transport customer products including temperature-sensitive and perishable items
Mohd Nazrul said, FGV Transport leverages on the growing e-Commerce market opportunity in this segment and offers cold logistics solutions for industry players, consumers, manufacturers and farmers in Malaysia. The subsidiary targets to achieve RM3.2 million in revenue for cold chain services by 2024.
"At FGV, the qualities that make us an industry leader is our capacity to deliver logistics using advanced automation and digital capabilities. This includes Third-Party Logistics services (3PL), hubs and spokes, courier and last mile, and multi-functional trucks such as tankers, cargos, box vans, curtain sider and refrigerated trucks in various sizes."
"All of FGV's cold chain vehicles are equipped with Global Positioning System (GPS) navigation and an Integrated Logistics Distribution System (ILDS) developed by FGV Prodata Systems Sdn Bhd (FGV Prodata), another subsidiary of FGV. With the implementation of ILDS, all truck movements are tracked in real time to facilitate vehicle traceability and to ensure customer's products arrive safely in a timely manner," he continued.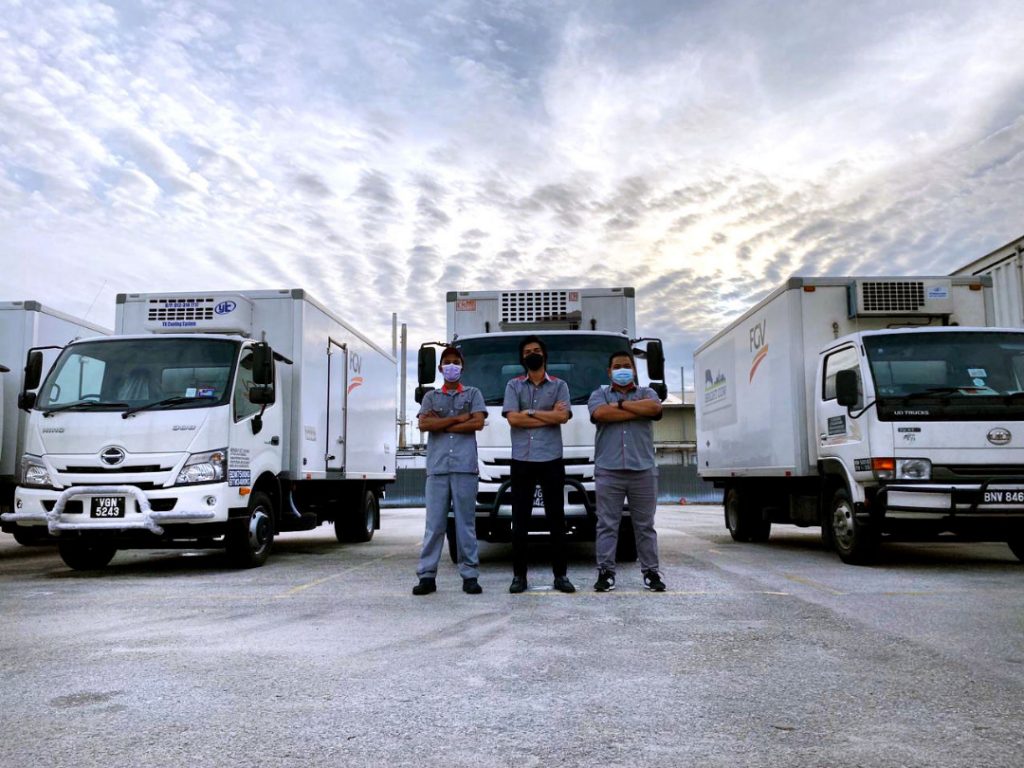 FGV plans to increase the refrigerated trucks to 17 by 2023 with the investment of RM4 million
A Warehouse Management System (WMS) platform is also provided to allow companies to monitor and optimise logistics processes. Additionally, smart handheld applications such as Barcode Scanning, Order Management, and Inventory Management are also utilised for predictive maintenance and fresh food temperature monitoring.
For starters, FGV Transport offers halal product transportation and refrigerated trucking services around Klang Valley. This service is expected to be expanded to other states such as Johor, Melaka, Perak, and Penang with a target of 60 percent external businesses within six months of operations.
End
About FGV Transport Services Sdn Bhd (FGV Transport)
With more than 40 years of ensuring product safety in transit, FGV Transport has built a reputation as an expert in transporting liquid and general cargo such as crude palm oil (CPO), palm methyl ester (PME), palm kernel (PK), palm kernel shell (PKS), palm kernel expeller (PKE), fresh fruit bunches (FFB), empty fruit bunches (EFB) and shredded fibre (SF). For more information, visit www.fgvtransport.com.
FGV Transport has received halal logistics certification from the Department of Islamic Development Malaysia (JAKIM) in December last year for 76 tanker trucks operating at its Pasir Gudang depot in Johor. The halal logistics certification falls under the category of Halal Supply Chain Management System for transportation, and includes transportation services for palm-based liquid products such as crude palm oil, palm kernel oil as well as processed palm oil.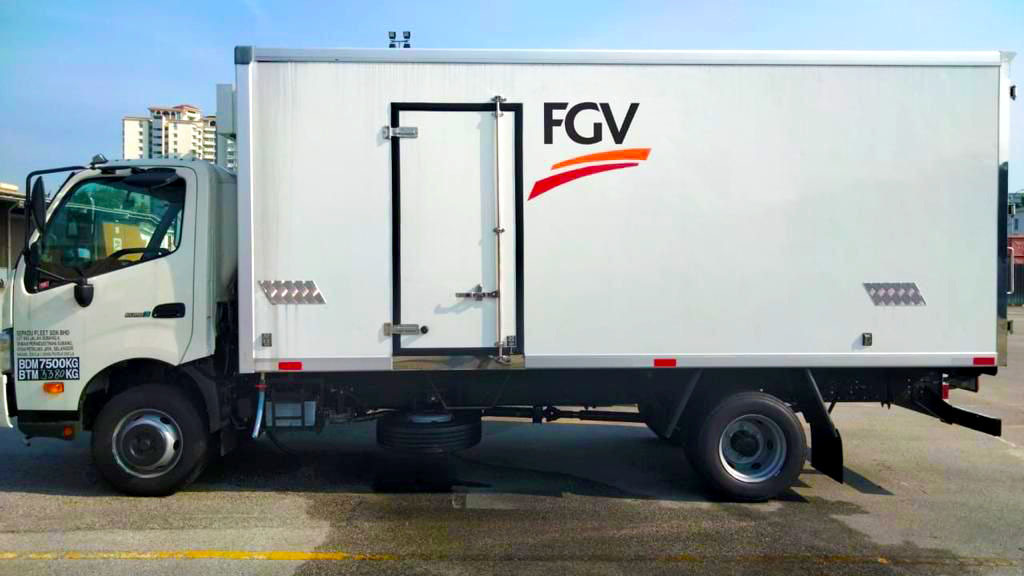 Salah satu dari 10 lori sejuk beku berkapasiti 7.5 tan FGV yang beroperasi di sekitar Lembah Kelang
KUALA LUMPUR, 29 Oktober 2021 – FGV Holdings Berhad (FGV) memperkenalkan perkhidmatan pengangkutan rantaian sejuk menerusi cabang logistiknya, FGV Transport Services Sdn Bhd (FGV Transport) bagi menyediakan penghantaran dan penyelesaian penyimpanan sejuk yang cekap untuk produk sensitif suhu dan barangan mudah rosak.
Dengan nilai pelaburan permulaan sebanyak RM8.3 juta, perniagaan ini menyasar untuk memenuhi permintaan pasaran yang semakin meningkat dalam pengurusan logistik secara berkesan, yang memastikan kawalan suhu betul bagi produk-produk tenusu, farmaseutikal, daging, buah-buahan, sayur-sayuran, makanan laut, makanan sejuk beku serta lain-lain produk untuk sektor domestik dan e-Dagang.
Mohd Nazrul Izam Mansor, Ketua Pegawai Eksekutif Kumpulan FGV berkata, segmen perniagaan rantaian sejuk adalah inisiatif terkini FGV dalam menambah aliran pendapatan baharu di bawah Sektor Logistik dan Perniagaan Sokongan Kumpulan.
"Sehingga Oktober 2021, FGV telah memperoleh 10 lori sejuk beku berkapasiti 7.5 tan. Kumpulan merancang untuk meningkatkan jumlah tersebut kepada 17 lori pelbagai saiz dan muatan menjelang 2023 dengan anggaran pelaburan sebanyak RM4 juta," kata Mohd Nazrul, yang menambah tumpuan juga diberikan kepada industri pengeluaran makanan halal yang terus berkembang dari tahun ke tahun.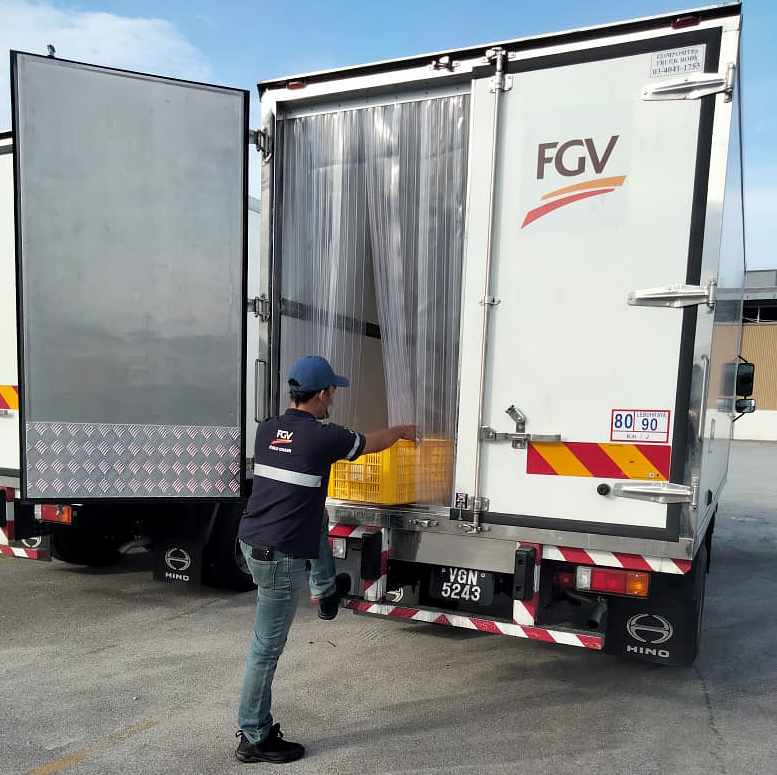 FGV Transport menerima tempahan bagi mengangkut produk pelanggan termasuk produk sensitif suhu dan mudah rosak
Mohd Nazrul berkata, FGV Transport memanfaatkan peluang pasaran e-Dagang yang semakin meningkat dalam segmen ini dan menawarkan penyelesaian logistik sejuk untuk pemain industri, pengguna, pengilang dan petani di Malaysia. Anak syarikat itu turut menyasar pendapatan RM3.2 juta bagi perkhidmatan rantaian sejuk pada tahun 2024.
"Di FGV, kualiti yang menjadikan kami sebagai peneraju industri adalah keupayaan dalam penyediaan logistik menggunakan automasi canggih dan kemampuan digital. Ini termasuk perkhidmatan Logistik Pihak Ketiga (3PL), hab dan model jaringan logistik, kurier dan destinasi akhir, serta lori pelbagai fungsi seperti lori tangki, lori kargo, van bertutup, lori tirai tepi serta lori sejuk beku pelbagai saiz."
"Semua kenderaan rantaian sejuk FGV dilengkapi dengan navigasi Sistem Pengesanan Global (GPS) dan Sistem Pengedaran Logistik Bersepadu (ILDS) yang dibangunkan oleh FGV Prodata Systems Sdn Bhd (FGV Prodata), sebuah lagi anak syarikat milik FGV."
"Dengan pelaksanaan ILDS, semua pergerakan kenderaan dijejak pada masa sebenar bagi memudahkan pengesanan, serta memastikan produk pelanggan diterima dengan selamat mengikut masa yang sewajarnya," sambung beliau.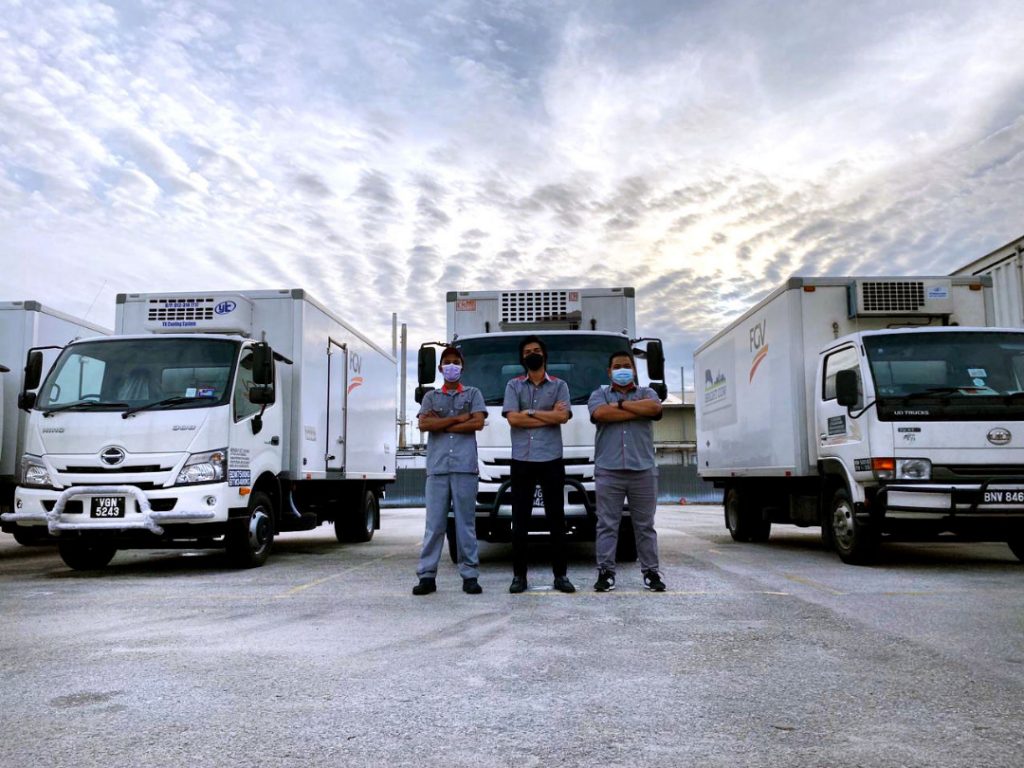 FGV merancang menambah bilangan lori sejuk beku kepada 17 menjelang 2023 melibatkan pelaburan sebanyak RM4 juta
Platfom Sistem Pengurusan Gudang (WMS) juga disediakan bagi membolehkan syarikat memantau dan mengoptimumkan proses logistik. Di samping itu, aplikasi pegang-pintar seperti Pengimbasan Kod Bar, Pengurusan Pesanan dan Pengurusan Inventori juga digunakan untuk penyelenggaraan jangkaan serta pemantauan suhu makanan segar.
Sebagai permulaan, FGV Transport menawarkan pengangkutan produk halal dan perkhidmatan lori sejuk beku di sekitar Lembah Kelang. Perkhidmatan ini bakal diperluaskan ke negeri-negeri lain seperti Johor, Melaka, Perak dan Pulau Pinang dengan sasaran 60 peratus perniagaan luar dalam tempoh enam bulan beroperasi.
Tamat
Mengenai FGV Transport Services Sdn Bhd (FGV Transport)
Dengan lebih daripada 40 tahun memastikan keselamatan produk dalam transit, FGV Transport telah membina reputasi sebagai pakar dalam mengangkut cecair dan kargo am seperti minyak sawit mentah (MSM), methyl ester (PME), isirong sawit (PK), tempurung isirong sawit (PKS), hampas isirong sawit (PKE), tandan buah segar (FFB), tandan buah kosong (EFB) dan gentian cincang (SF).
Untuk maklumat lanjut, lawati www.fgvtransport.com.
FGV Transport telah menerima pensijilan logistik halal daripada Jabatan Kemajuan Islam Malaysia (JAKIM) pada Disember tahun lalu bagi 76 lori tangki yang beroperasi di depot Pasir Gudang, Johor. Pensijilan logistik halal berada di bawah kategori Sistem Pengurusan Rantaian Bekalan Halal untuk pengangkutan, dan termasuk perkhidmatan pengangkutan untuk produk cecair berasaskan sawit seperti minyak sawit mentah, minyak isirong sawit serta minyak sawit yang diproses.