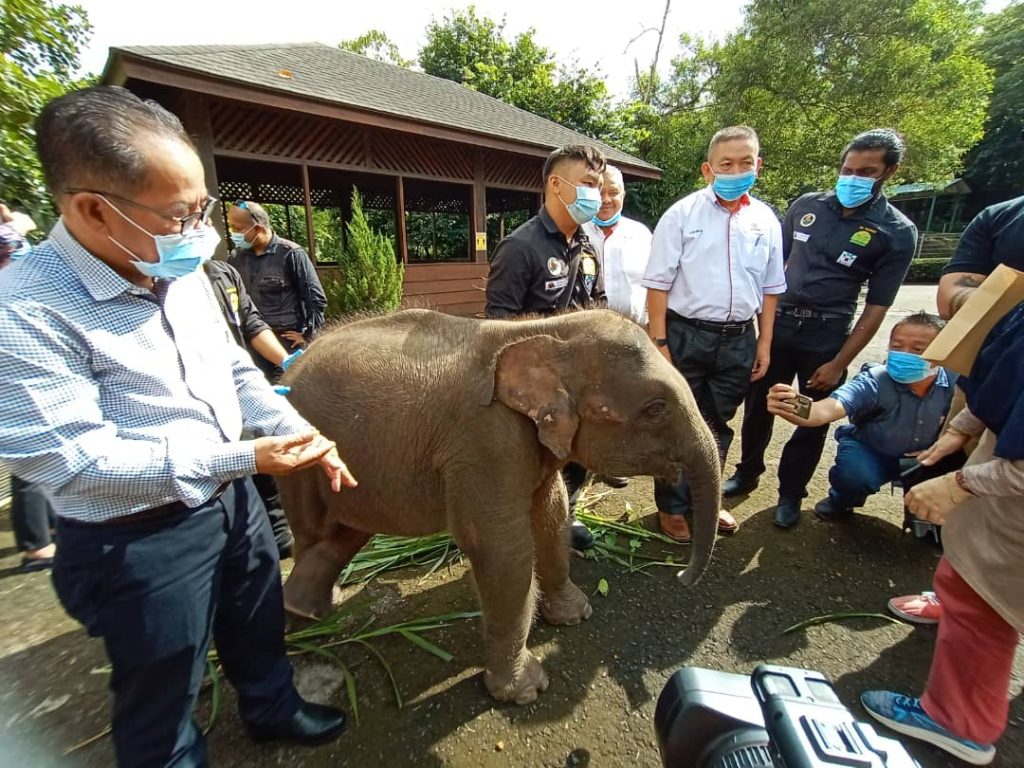 (From left) SWD Director, Augustine Tuunga, and FGV Regional Controller for Sabah Zone, Tn Yahaya Judin and Dr Navaneetha Roopan, SWD veterinarian posing with FGV's adopted elephant named Sahabat
KOTA KINABALU, 10 July 2020: Following the rescue of a baby Borneo elephant by plantation workers at Sahabat 54 near Tabin Reserve Forest border in April, FGV Holdings Berhad (FGV) announced that it will assist the Sabah Wildlife Department (SWD) by covering the costs of its treatment and care.
The two-year-old Borneo elephant named 'Sahabat', was found wandering around the plantation area by FGV workers and while waiting for SWD and Wildlife Rescue Unit (WRU), they built a temporary shelter for the elephant.
The workers took extra precautionary measures due to COVID-19 and assisted SWD and WRU personnel who came to examine the baby elephant. It was later found that both of its eyes suffered from severe infection, which may have affected its vision, causing Sahabat to wander away from the herd.
They then made a special holding crate to transport it for further treatment at Lok Kawi Wildlife Park in Kota Kinabalu, more than 500km away from the plantation. FGV drivers volunteered to make the journey for Sahabat.
"We are proud of our workers who went for the extra mile to render the support needed by SWD and WRU. The rescue mission took six days and we are glad that Sahabat is in good hands. We are also pleased to adopt Sahabat and cover the costs of treatment, food, and care during the whole period of its hospitalisation," said FGV Group Chief Executive Officer Dato' Haris Fadzilah Hassan.
"The total estimated expenditure for the adoption programme of three to six months is around RM16,000.00, depending on Sahabat's recovery status and readiness for release back into the wild. We view this as fulfilling our national duty to protect the endangered wildlife, and as part of our commitment to RSPO and MSPO requirements" added Haris Fadzilah.
"We are very grateful for the kind assistance by FGV in assisting SWD's Rescue Unit in the rescue mission of this baby elephant as well as providing the funding for the treatment and care of baby Sahabat," said Director of SWD, Augustine Tuuga.
"Our vets and rangers worked round, literally 24 hours for more than two months making sure Sahabat's meds are given on an hourly basis. I would also like to thank Dr. Sheena Alexander and Dr. Liew On Heong from the Ophthalmology Department of Queen Elizabeth Hospital Kota Kinabalu, who gave technical advice on the treatment protocol for Sahabat" he said.
"The injury to baby Sahabat, which was a twin Bacterial and fungal infection to the conjunctiva. If left untreated in the wild, it would have most definitely led to total blindness. Thus the decision was made to rescue Sahabat and bring him to a facility that would be able to treat his condition. Sahabat has now regained 95% of his eyesight and we hope to slowly rehabilitate him back to his normal self and send him back to his herd in the wild, we do hope though that his family group will accept him back into the fold" he said.
"I would like to take this juncture to thank Malaysian Palm Oil Council and a British NGO, Orangutan Appeal UK for funding the very important work of SWD's WRU," added Tuuga.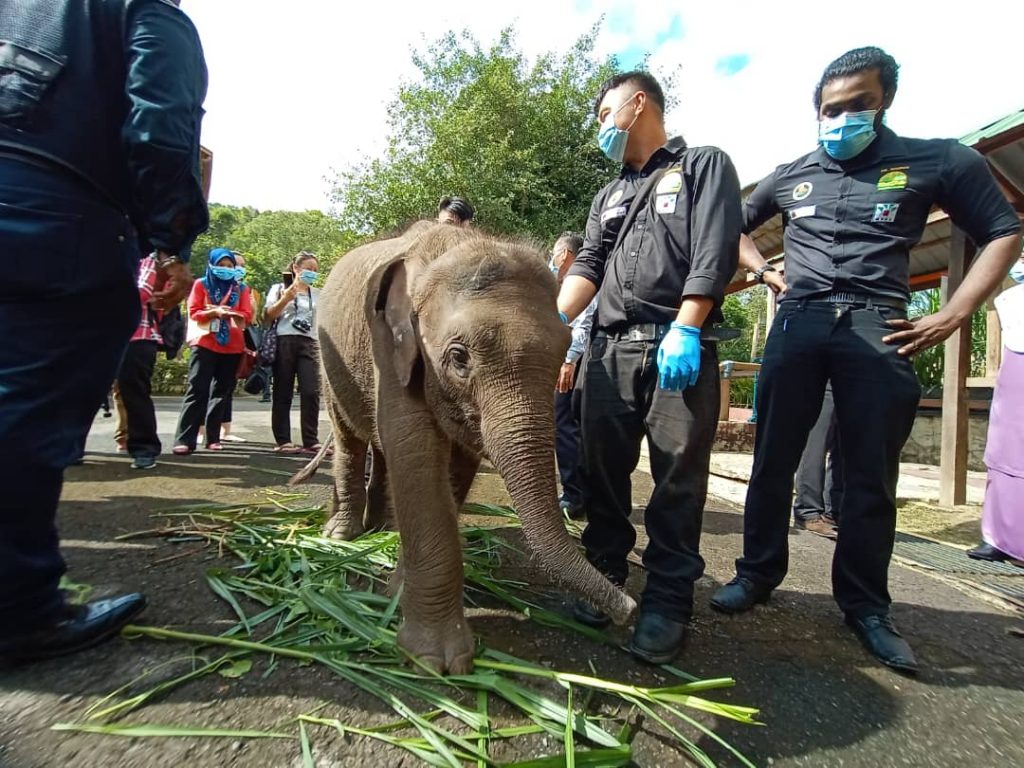 Sahabat with Leo, one of the SWD rangers and Dr. Roopan, SWD veterinarian
This was not the first time that FGV workers have rescued Borneo elephants in the plantation area. In March, four Borneo elephants were trapped overnight in Sahabat 50 estate's pond, which led the workers to level down the side of the pond, allowing the elephants to escape safely into the nearby forest.
Several cases reported about the unfortunate death of Borneo elephants in palm oil plantations negatively impacted the industry at large. In November 2019, FGV, FELDA, MPOC, and SWD organised a workshop to identify and address issues related to human-elephant conflicts. 70 participants representing plantation companies in Sabah attended the workshop and discussed the role of plantation companies, public and private agencies as well as the general public on the conservation of Borneo elephants.
Borneo elephant (elephas maximus borneensis) is a protected wildlife under Part 1 of the Schedule 1, Section 25 (1) of the Sabah Wildlife Conservation Enactment 1997 and any offense related to this species warrants a fine of up to RM250,000 and a prison sentence of not less than five years.
End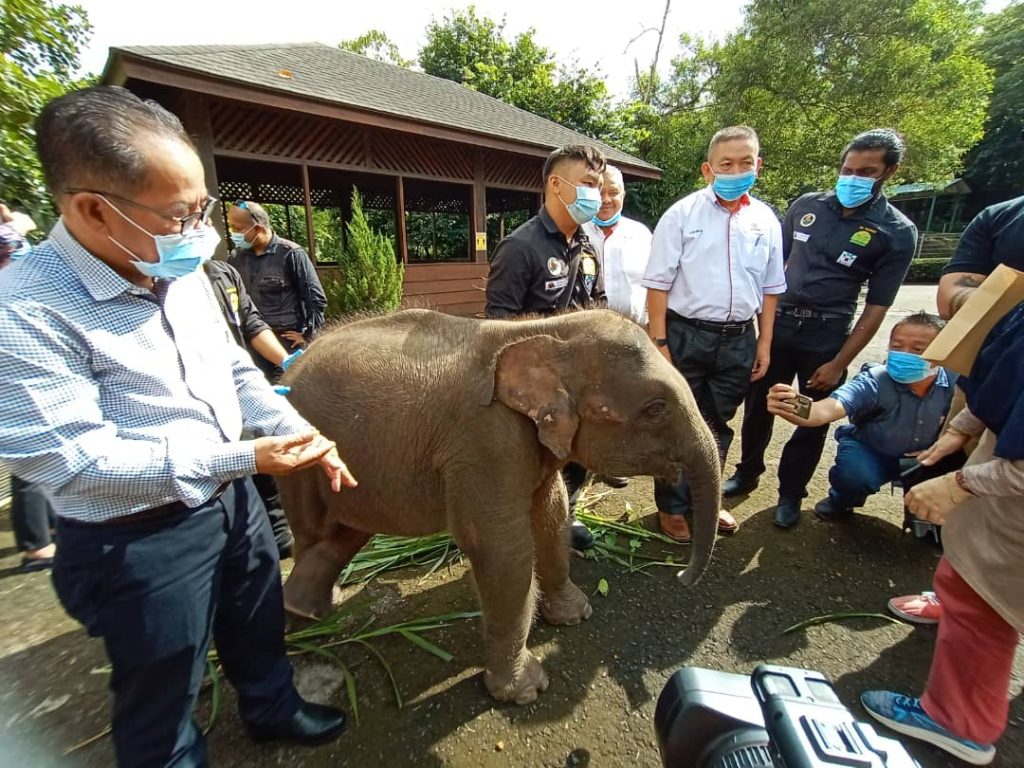 (Dari kiri) Pengarah JHLS, Augustine Tuunga, dan Pengawal Wilayah Zon Sabah FGV, Tn Yahaya Judin dan Dr Navaneetha Roopan, pakar veterinar JHLS bergambar dengan gajah angkat FGV bernama Sahabat
KOTA KINABALU, 10 Julai 2020: Berikutan kejayaan seekor anak gajah Borneo yang diselamatkan oleh pekerja ladang di Sahabat 54 berhampiran sempadan Hutan Simpan Tabin pada bulan April, FGV Holdings Berhad (FGV) mengumumkan bahawa ia akan membantu Jabatan Hidupan Liar Sabah (JHLS) dengan menanggung kos rawatan dan jagaan haiwan tersebut.
Gajah Borneo berusia dua tahun yang diberi nama 'Sahabat', ditemui berkeliaran di kawasan ladang oleh pekerja FGV dan sementara menunggu JHLS dan Unit Penyelamat Hidupan Liar (WRU) tiba, mereka membina tempat perlindungan sementara untuk gajah itu.
Para pekerja telah mengambil lebih langkah berjaga-jaga kerana COVID-19 dan membantu pegawai JHLS dan WRU yang datang untuk memeriksa anak gajah. Hasil pemeriksaan mendapati bahawa kedua-dua mata anak gajah terkena jangkitan teruk, memberi kesan kepada penglihatan dan menyebabkan Sahabat terpisah dari kawanannya.
Mereka kemudiannya membina peti khas bagi menempatkan Sahabat untuk mendapatkan rawatan lanjut di Taman Hidupan Liar Lok Kawi di Kota Kinabalu, lebih dari 500km dari ladang. Pemandu FGV secara sukarela melakukan perjalanan itu demi Sahabat.
"Kami bangga dengan pekerja kami yang berusaha gigih memberikan sokongan yang diperlukan oleh JHLS dan WRU. Misi menyelamat mengambil masa selama enam hari dan kami gembira kerana Sahabat berada dalam jagaan yang baik. Kami juga berbesar hati menjadikan Sahabat sebagai gajah angkat dan menanggung kos rawatan, makanan dan jagaan sepanjang tempoh rawatan" kata Ketua Pegawai Eksekutif Kumpulan Dato' Haris Fadzilah Hassan.
"Jumlah anggaran perbelanjaan untuk program selama tiga hingga enam bulan adalah sekitar RM16,000.00, bergantung pada status pemulihan Sahabat dan kesediaan untuk dilepaskan kembali ke habitat asal. Kami menganggap ini sebagai memenuhi tugas kepada negara untuk melindungi hidupan liar yang terancam, dan sebagai sebahagian daripada komitmen kami kepada keperluan RSPO dan MSPO," tambah Haris Fadzilah.
"Kami sangat berterima kasih atas bantuan baik dari FGV dalam membantu Unit Penyelamat JHLS dalam misi menyelamatkan gajah ini serta memberikan dana untuk rawatan dan penjagaan Sahabat," kata Pengarah SWD, Augustine Tuuga.
"Doktor haiwan dan renjer kami bekerja 24 jam selama lebih dari dua bulan memastikan Sahabat menerima rawatan dan ubatan diberikan setiap jam. Saya juga ingin mengucapkan terima kasih kepada Dr. Sheena Alexander dan Dr. Liew On Heong dari Jabatan Oftalmologi Hospital Queen Elizabeth Kota Kinabalu, yang memberikan nasihat teknikal mengenai protokol rawatan untuk Sahabat," kata Augustine Tuuga.
"Kecederaan Sahabat merupakan jangkitan dwi-kuman dan bakteria pada konjungtiva. Sekiranya tidak dirawat, ia pasti akan menyebabkan hilang daya penglihatan kekal. Oleh itu, keputusan dibuat untuk menyelamatkan Sahabat dan membawanya ke sebuah fasiliti yang dapat merawat keadaannya. 95% penglihatan Sahabat telah kembali dan kami berharap dapat memulihkannya dengan cermat agar dia dapat kembali normal dan pulang ke kawanannya ke hutan, kami juga berharap keluarga Sahabat akan menerimanya kembali," jelas beliau.
"Saya ingin mengambil kesempatan ini untuk mengucapkan terima kasih kepada Majlis Minyak Sawit Malaysia dan sebuah NGO Britain, Orangutan Appeal UK kerana membiayai kerja penting Unit Penyelamat Hidupan Liar Jabatan Hidupan Liar Sabah" tambah Tuuga.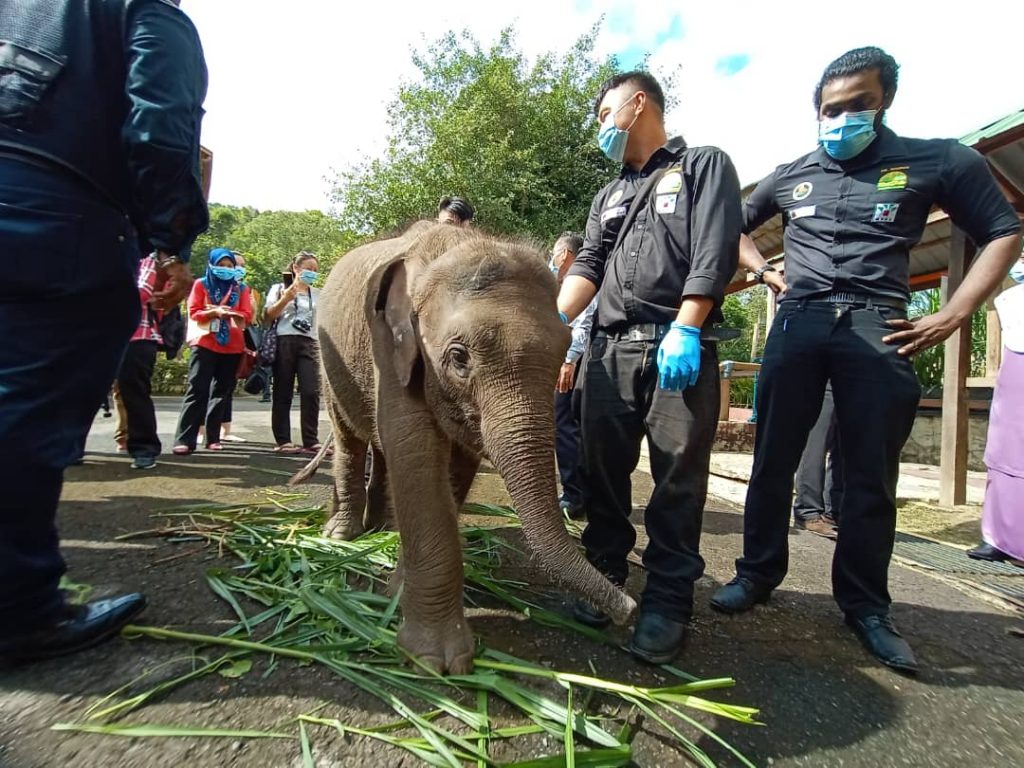 Sahabat bersama dengan Leo, salah seorang renjer JHLS dan Dr. Roopan, pakar veterinar JHLS
Ini bukan kali pertama pekerja FGV menyelamatkan gajah Borneo di kawasan ladang. Pada bulan Mac, empat ekor gajah Borneo terperangkap semalaman di kolam Sahabat 50, menyebabkan para pekerja mengambil keputusan untuk merendahkan sisi kolam, bagi membolehkan gajah tersebut melepaskan diri dengan selamat ke hutan berdekatan.
Beberapa kes mengenai kematian tidak diingini gajah Borneo di ladang kelapa sawit pernah dilaporkan yang memberi kesan buruk kepada industri secara amnya. Pada bulan November 2019, FGV, FELDA, Majlis Minyak Sawit Malaysia (MPOC) dan JHLS menganjurkan bengkel untuk mengenal pasti dan menangani isu-isu yang berkaitan dengan konflik manusia-gajah. 70 peserta yang mewakili syarikat perladangan di Sabah menghadiri bengkel tersebut dan membincangkan peranan syarikat perladangan, agensi awam dan swasta serta masyarakat umum mengenai pemuliharaan gajah Borneo.
Gajah Borneo (elephas maximus borneensis) kini merupakan hidupan liar yang dilindungi sepenuhnya di bawah Bahagian 1 Jadual 1, Seksyen 25 (1) Haiwan Dilindungi Sepenuhnya di bawah Enakmen Pemeliharaan Hidupan Liar (EPHL) 1997 negeri Sabah dan sebarang kesalahan berkaitan spesis ini memperuntukkan denda sehingga RM250,000 dan penjara tidak kurang daripada lima tahun.
Tamat