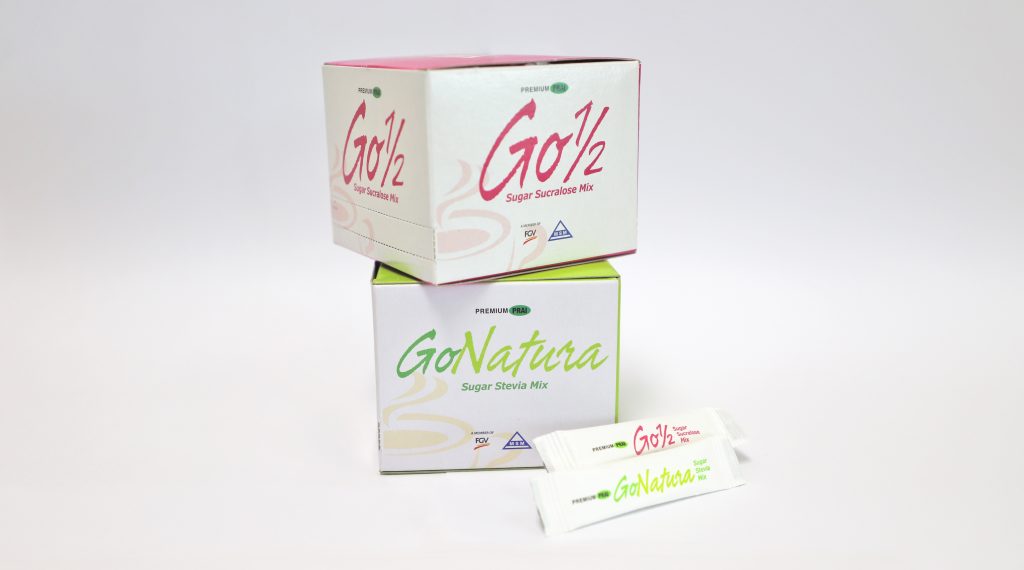 New range of sweetener products: low-calorie sucralose, "Go½" and the sugar stevia mix, "GoNatura"
KUALA LUMPUR, 14 August 2020 – FGV Holdings Berhad (FGV) and its public listed subsidiary, MSM Malaysia Holdings Berhad (MSM) continue to leverage on its high-quality refined sugar repute through its brand new range of sweetener products.
The products in-line under the brand "Premium Prai" include the low-calorie sucralose, "Go½" and the sugar stevia mix, "GoNatura" to fulfil the emerging trends among consumers seeking healthier lifestyle choices.
These new variants entered the market in July 2020 and en route to enter local modern trade chains. 
MSM Group Chief Executive Officer, Dato' Khairil Anuar Aziz said, "Gula Prai has been the most in-demand refined sugar brand among consumers in Malaysia with 61% market share. Being in the business for more than 50 years, we must adapt to current industry and consumer demands, hence the new products will strengthen MSM's position as a market leader."
"To be consistent with FGV Group's emergent initiatives for growth, MSM will continue to employ sustainable strategies that redefine opportunities in view of the progressive market demand and accessibilities. More product and business opportunities will be explored this year in order to diversify its income streams," added Khairil Anuar.
Go½ is a sugar blended with sucralose, a zero-calorie sweetener that is widely used to enhance the taste in a variety of food and beverage products that include soft drinks. Despite its high-intensity of about 600 times sweeter than sugar, sucralose contributes to the sweetness without adding calories or carbohydrates. Intriguingly, Go½ delivers the sweetness with less sugar by cutting the sugar intake in half.
Instead of replacing the sugar entirely with stevia, GoNatura complements smaller sugar portions with the natural sweetness of stevia. This unique mixture ensures a distinctive taste for consumers to experience sweetness with less sugar intake.
Khairil Anuar said, "We are mindful that consumers are now more health-conscious. Attentively, there is a need for us to create balanced lifestyle choices, offering alternative sweetening solutions for consumers. Our products provide the right balance of sweetness that control the consumers' sugar intake without losing their appetite."
"The expansion of our production portfolio through these new products will also increase the utilisation rate of our new refinery in Johor. Currently, the utilisation rate is at 34% and is expected to boost up between 48% to 50% for FY2020 following the Group's development in new market segmentation and product diversification," added Khairil Anuar.
Go½ and GoNatura are conveniently packed in small boxes with 50 sachets each for easy storage. Currently, both products are available in Elewsmart and can also be purchased online through KedaiFGV on Shopee.
-ENDS-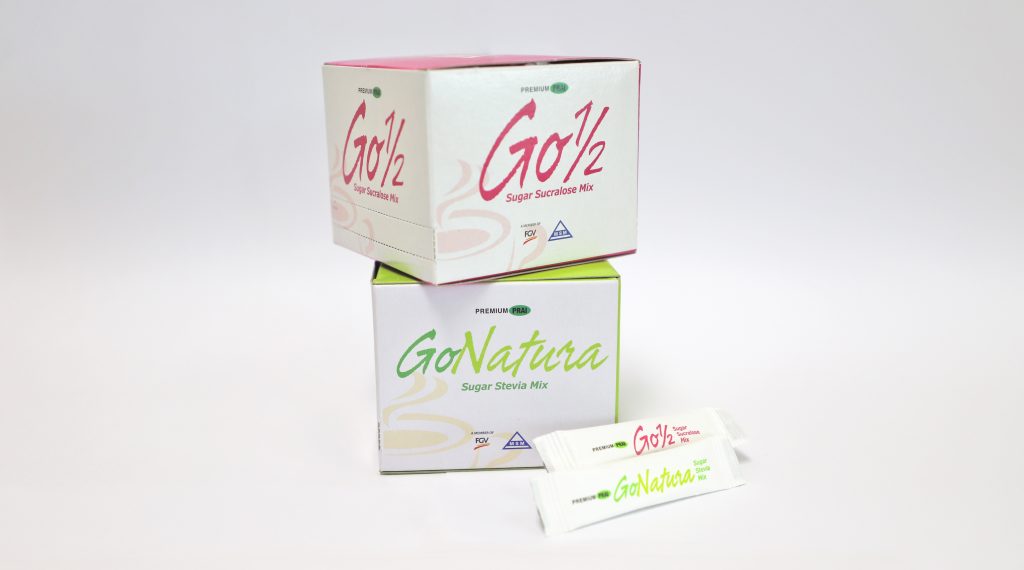 Rangkaian produk pemanis baharu: sukrosa rendah kalori, "Go½" dan campuran gula stevia, "GoNatura"
KUALA LUMPUR, 14 Ogos 2020 – FGV Holdings Berhad (FGV) dan anak syarikat tersenarai awamnya, MSM Malaysia Holdings Berhad (MSM) terus memanfaatkan reputasinya sebagai pengeluar gula halus bertapis berkualiti tinggi melalui rangkaian produk pemanis baharu.
Produk baharu ini dikeluarkan di bawah jenama " Premium Prai" termasuk sukrosa rendah kalori, "Go½" dan campuran gula stevia, "GoNatura" untuk memenuhi kehendak trend di kalangan pengguna yang memilih gaya hidup yang lebih sihat.
Varian baharu ini sudah berada di pasaran pada bulan Julai 2020 dan akan memasuki rangkaian perdagangan moden tempatan.
Ketua Pegawai Eksekutif Kumpulan MSM, Dato' Khairil Anuar Aziz berkata," Gula Prai telah menjadi jenama gula halus bertapis yang paling diminati di kalangan pengguna di Malaysia dengan pegangan pasaran sebanyak 61%. Berada dalam perniagaan selama lebih daripada 50 tahun, kita harus menyesuaikan diri dengan permintaan industri dan pengguna semasa, oleh itu produk baharu akan memperkukuhkan kedudukan MSM sebagai peneraju pasaran. "
"Agar konsisten dengan inisiatif pertumbuhan Kumpulan FGV, MSM akan terus menggunakan strategi lestari yang mentakrifkan kembali peluang memandangkan permintaan dan aksesibiliti pasaran yang progresif. Lebih banyak produk dan peluang perniagaan akan diterokai tahun ini untuk mempelbagaikan aliran pendapatannya," tambah Khairil Anuar.
Go½ adalah gula yang diadunkan dengan sukrosa, pemanis tanpa kalori yang banyak digunakan untuk meningkatkan rasa dalam pelbagai produk makanan dan minuman termasuk minuman ringan. Walaupun mempunyai kadar intensiti tinggi sekitar 600 kali lebih manis daripada gula, sukrosa menyumbang kepada kemanisan tanpa menambahkan kalori atau karbohidrat. Menariknya, Go½ memberikan rasa manis kurang gula dengan mengurangkan pengambilan gula menjadi separuh.
Daripada menggantikan gula sepenuhnya dengan stevia, GoNatura melengkapkan sebahagian kecil gula dengan rasa manis semula jadi stevia. Campuran unik ini memastikan rasa yang khas bagi pengguna untuk menikmati kemanisan dengan mengurangkan pengambilan gula.
Khairil Anuar Aziz berkata,"Kami sedar bahawa pengguna sekarang lebih mementingkan kesihatan. Ada keperluan untuk kita membuat pilihan gaya hidup seimbang, yang menawarkan pemanis alternatif untuk pengguna. Produk kami memberikan keseimbangan rasa manis yang tepat dan mengawal pengambilan gula pengguna tanpa kehilangan selera."
"Perluasan portfolio pengeluaran kami melalui produk baharu ini juga akan meningkatkan kadar penggunaan kilang baharu kami di Johor. Pada masa ini, kadar penggunaan berada pada kadar 34% dan dijangka akan meningkat antara 48% hingga 50% untuk TK2020 berikutan perkembangan Kumpulan dalam segmentasi pasaran baharu dan pelbagai rangkaian produk," tambah Khairil Anuar.
Go½ dan GoNatura dibungkus dalam kotak kecil dengan 50 paket kecil setiap satu untuk penyimpanan yang mudah.
Pada masa ini, kedua-dua boleh didapati di Elewsmart dan juga boleh dibeli secara dalam talian melalui KedaiFGV di Shopee.
TAMAT