Various other programmes held throughout last year, to support the rights of children in FGV's plantations
KUALA LUMPUR, 7 JANUARY 2021 – To ensure that the children of its plantation workers do not fall behind in their studies in the midst of the COVID-19 pandemic, FGV Holdings Berhad's (FGV) Community Learning Centres (CLC) in Sabah have gone the extra mile to facilitate 1,046 students in taking their year-end examinations safely from home. The year-end exams took place over a duration of five days in mid-December 2020 and results are due to be out in mid-January 2021.
Printed examination questions were delivered by 36 teachers to the homes of 876 primary students, and 170 secondary students, residing in nine villages in FGV's Sahabat Complex in Lahad Datu, namely Kampung Baiduri Ayu, Kampung Cenderawasih, Kampung Embara Budi, Kampung Fajar Harapan, Kampung Gemalapura, Kampung Hamparan Badai, Kampung Jeragan Bistari, Kampung Kembara Sakti and Kampung Mercu Puspita.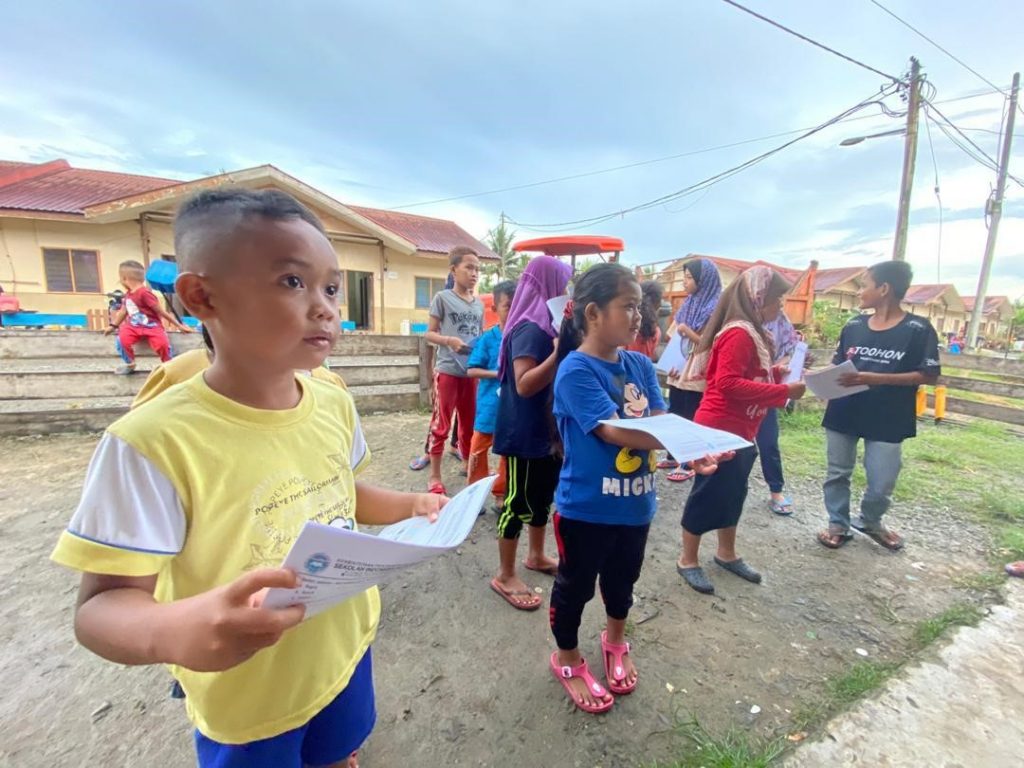 FGV's CLC students receiving exam papers delivered to Kampung Cenderawasih, in Sahabat Sabah
Dato' Haris Fadzilah Hassan, FGV's Group Chief Executive Officer said, "We salute the dedication of all the teachers in our CLCs, who continue to assist students beyond the classroom. At FGV, we believe that education and educational activities are essential in building good values for a dignified life. We strive to protect the rights of the children of our workers, and are committed to ensuring that they are given equal opportunity to gain knowledge and enjoy their right to education."
As most of FGV's plantation workers in Sabah are from Indonesia, FGV works closely with the Embassy of The Republic of Indonesia in Malaysia through its Consulate in Tawau, as well as the Private Education and Special Education Sector of the Sabah State Education Department. This is to provide the CLCs with syllabus, teaching aids, textbooks and teachers who are accredited by the Indonesian Ministry of Education and Culture.
Adi Tri Sutrisno, Headmaster of FGV's CLCs in Sahabat said, "Leading up to the final year-end exam, we managed to conduct online learning sessions utilising mobile platforms and applications for classes and homework throughout the challenging time of the Movement Control Order, so that our students would not miss out on their lessons."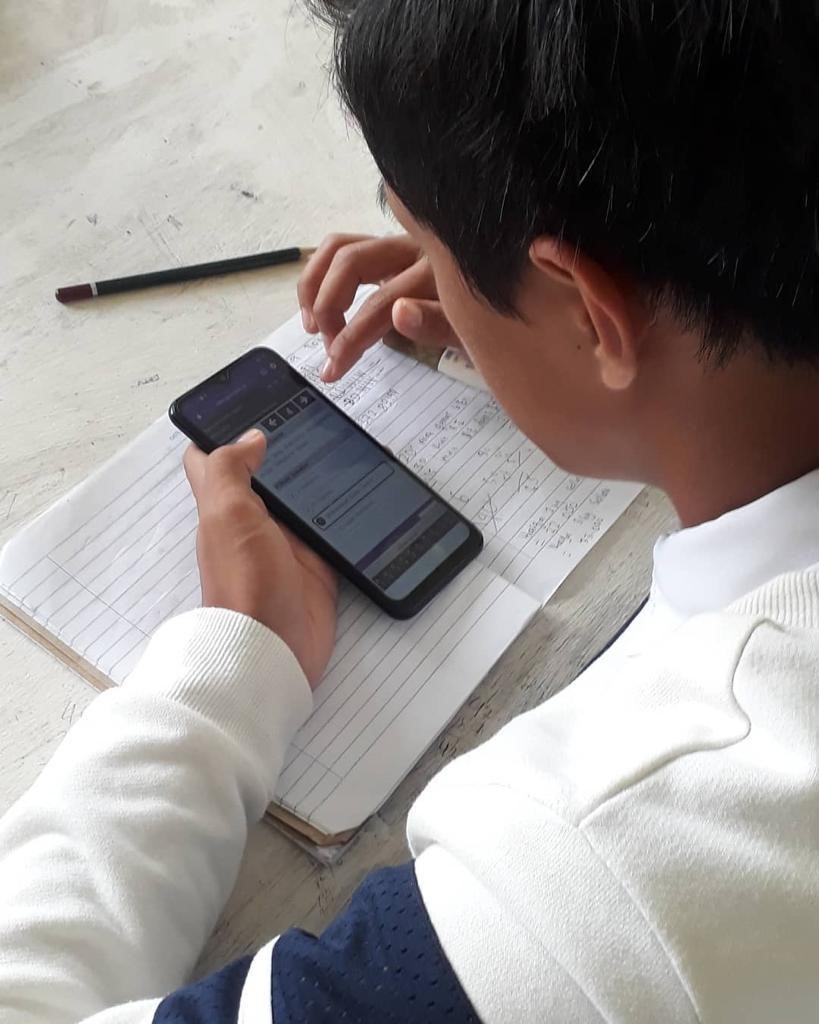 "The main challenge was in introducing the usage of gadgets and online applications to students who have never used them before. In time, they adapted and responded well to e-learning conducted through Whatsapp, Google Classroom and Zoom Meeting applications. Examination subjects include Religious Studies, Mathematics, Bahasa Indonesia, English Language, Science, Social Studies, National Education, Sports and Physical Education, Creative Appreciation and Cultural Arts," he added.
Furthermore, 14 students from FGV's CLCs in Sahabat also took part in the 'Appreciation of Creativity, Science and Arts (APKRES) 2020' online competition for Sabah and Sarawak in November 2020. The competition called for participants to submit creative videos in several cultural categories such as storytelling, debate, drawing, culinary skills, online chess, singing, musical performance, and poster design among others. Two students received official certificates for winning runner up in the drawing and culinary skills categories, and had their winning videos uploaded on FGV's CLC Sahabat's YouTube channel.
In an effort to ensure that the right to nationality is fulfilled for children in FGV's plantations, a registration programme was held by the Republic of Indonesian Consulate in Tawau in July 2020, where a total of 302 children received their official birth certificates and Indonesian citizenships. In addition to that, a new CLC was launched in Kampung Jeragan Bistari and officiated by Sulistijo Djati Ismojo, Consul of The Republic of Indonesia in Tawau. The event ran concurrently with FGV's CLC Graduation Ceremony for year 2020 which saw 95 graduates from primary six to secondary three.
FGV also participated in the Sabah Polio Immunisation Campaign (KIPS) under the Ministry of Health for children below 12 years old in collaboration with the Lahad Datu District Health Office in February last year. 171 children at its plantations were successfully immunised at the FGV Sahabat 36's Jeragan Bistari Clinic in the Lahad Datu area.
FGV has taken the initiative to invest RM5 million in establishing the 11 CLCs in Sahabat and Kinabatangan in Sabah. The CLCs function as alternative learning centres for children who are not enrolled in formal education. The project which began in 2018 is expected to be completed in 2021 when four more CLCs in Kalabakan and Yapidmas will be operational.
End
Pelbagai program diadakan sepanjang tahun lalu, untuk menyokong hak kanak-kanak di ladang FGV
KUALA LUMPUR, 7 JANUARI 2021 – Bagi memastikan anak-anak pekerja ladang tidak ketinggalan dalam pelajaran mereka ketika pandemik COVID-19, Pusat Pembelajaran Komuniti (CLC) FGV Holdings Berhad (FGV) telah mengambil langkah wajar dalam membantu seramai 1,046 orang pelajar terbabit menduduki peperiksaan akhir tahun di rumah dengan selamat. Peperiksaan akhir tahun tersebut berlangsung selama lima hari pada pertengahan Disember 2020 yang lalu manakala keputusan peperiksaan pula bakal diperolehi pada pertengahan Januari 2021.
Soalan peperiksaan yang dicetak diserahkan sendiri oleh 36 orang guru ke rumah 876 orang pelajar peringkat rendah dan 170 orang pelajar peringkat menengah yang menetap di sembilan kampung di Kompleks FGV Sahabat di Lahad Datu khususnya di Kampung Baiduri Ayu, Kampung Cenderawasih, Kampung Embara Budi, Kampung Fajar Harapan, Kampung Gemalapura, Kampung Hamparan Badai, Kampung Jeragan Bistari, Kampung Kembara Sakti dan Kampung Mercu Puspita.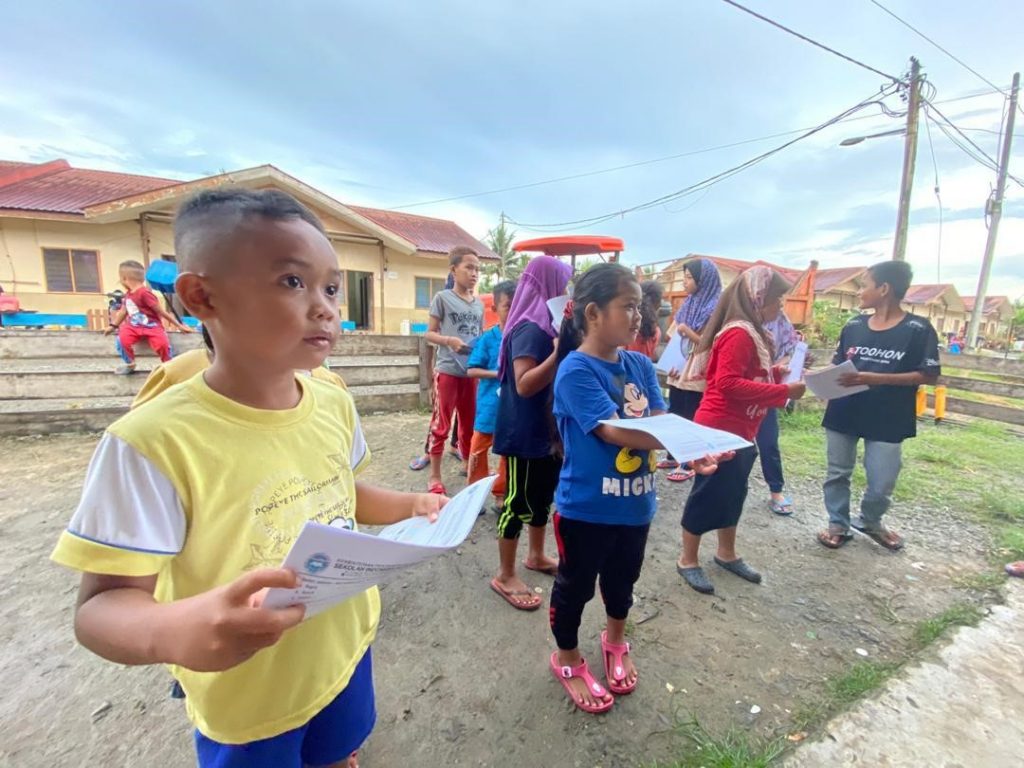 Pelajar-pelajar CLC FGV menerima kertas peperiksaan yang dihantar ke Kampung Cenderawasih, Sahabat Sabah
Dato' Haris Fadzilah Hassan, Ketua Pegawai Eksekutif Kumpulan FGV berkata, "Kami menyanjung tinggi dedikasi semua guru di CLC yang terus membantu pelajar-pelajar ini meskipun di luar waktu kelas. Di FGV, kami percaya pendidikan dan aktiviti pembelajaran amat penting dalam membina nilai-nilai murni bagi kehidupan yang lebih baik. Kami berazam melindungi hak anak-anak pekerja ladang dan komited memastikan mereka diberikan peluang saksama dalam menimba ilmu dan menikmati hak terhadap pendidikan."
Memandangkan ramai pekerja ladang FGV di Sabah berasal dari Indonesia, FGV bekerjasama rapat dengan Kedutaan Besar Republik Indonesia di Malaysia menerusi Konsulatnya di Tawau serta Sektor Pendidikan Swasta dan Pendidikan Khas di Jabatan Pendidikan Negeri Sabah. Kerjasama ini melibatkan penyediaan sukatan pelajaran, alat bantuan mengajar, buku teks serta guru yang diiktiraf oleh Kementerian Pendidikan dan Kebudayaan Republik Indonesia.
Adi Tri Sutrisno, Guru Besar di CLC FGV di Sahabat berkata, "Sebelum peperiksaan akhir tahun, kami telah berjaya mengadakan sesi pembelajaran secara dalam talian dengan menggunakan platform dan aplikasi mudah-alih untuk kelas pembelajaran serta kerja rumah sepanjang tempoh Perintah Kawalan Pergerakan yang mencabar agar mereka tidak ketinggalan dalam pembelajaran."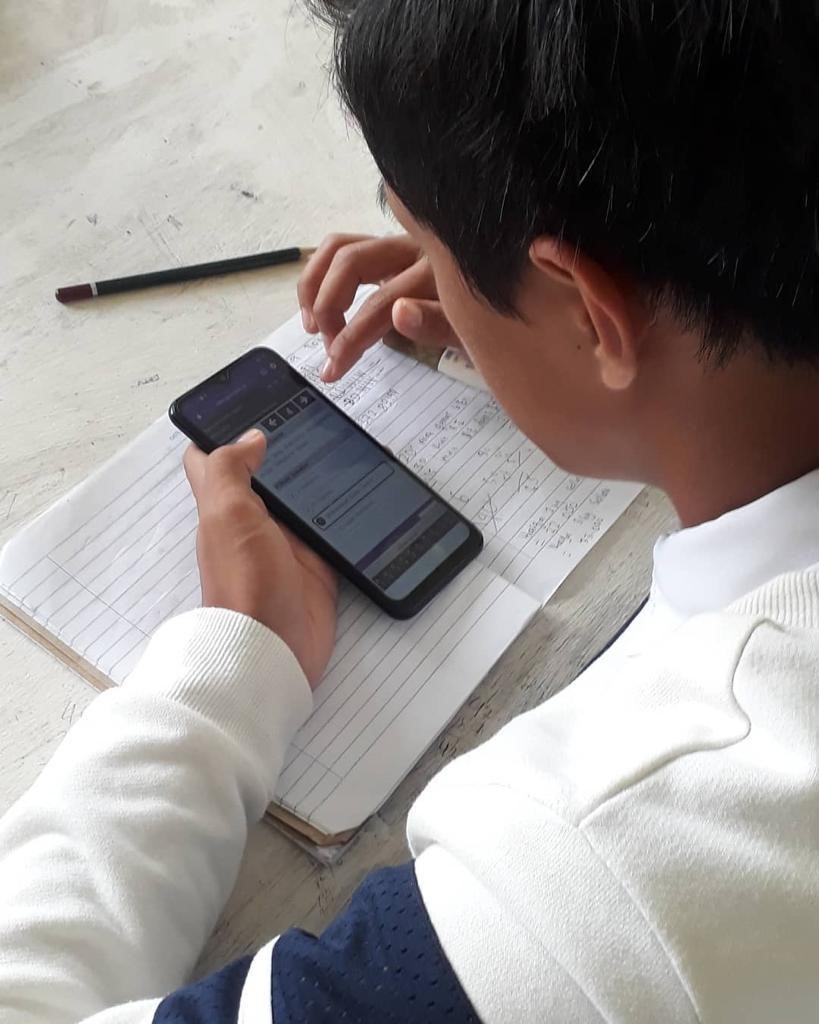 "Cabaran utama adalah memperkenalkan kepada pelajar-pelajar ini penggunaan alatan serta aplikasi dalam talian yang belum pernah mereka gunakan sebelum ini. Bagaimanapun, mereka mampu menyesuaikan diri dan memberikan maklumbalas dengan baik terhadap e-pembelajaran yang dikendalikan menerusi aplikasi WhatsApp, Google Classroom dan Zoom Meeting. Mata pelajaran bagi peperiksaan meliputi Pengajian Agama, Matematik, Bahasa Indonesia, Bahasa Inggeris, Sains, Pengajian Sosial, Pendidikan Kebangsaan, Sukan dan Pembelajaran Fizikal, Penghayatan Kreativiti dan Seni Kebudayaan," tambah beliau.
Selain itu, 14 orang pelajar dari CLC FGV di Sahabat juga turut mengambil bahagian secara dalam talian di 'Pertandingan Sains, Seni dan Sukan 2020 (APKRES)' bagi peringkat negeri Sabah dan Sarawak pada bulan November 2020. Pertandingan ini memerlukan para peserta menghantar video kreatif mereka dalam beberapa kategori antaranya bercerita, debat, melukis, kemahiran memasak, catur dalam talian, menyanyi, persembahan muzik, serta melukis poster. Dua pelajar telah menerima sijil rasmi bagi pemenang tempat kedua bagi kategori melukis dan kemahiran memasak sementara video yang dimenangi mereka telah dimuatnaik ke dalam saluran YouTube CLC FGV Sahabat.
Dalam usaha memastikan hak kewarganegaraan bagi kanak-kanak di ladang-ladang FGV dipenuhi, sebuah program pendaftaran telah dikelolakan oleh Konsulat Republik Indonesia di Tawau pada bulan Julai 2020 dengan 302 orang kanak-kanak telah menerima sijil kelahiran mereka selain turut memperolehi kewarganegaraan Indonesia secara rasmi. Di samping itu, sebuah CLC baharu telah dilancarkan di Kampung Jeragan Bistari yang dirasmikan oleh Bapak Sulistijo Djati Ismojo selaku Konsul Republik Indonesia di Tawau. Majlis berkenaan berlangsung serentak dengan Majlis Graduasi CLC FGV bagi tahun 2020 yang turut menyaksikan seramai 95 orang pelajar sekolah dari tahun enam hingga tingkatan tiga berjaya menamatkan persekolahan.
FGV turut mengambil bahagian dalam Kempen Imunisasi Polio Sabah (KIPS) di bawah Kementerian Kesihatan Malaysia bagi kanak-kanak berumur bawah 12 tahun dengan kerjasama daripada Pejabat Kesihatan Daerah Lahad Datu pada bulan Februari tahun lalu. Seramai 171 orang kanak-kanak di ladang-ladang terbabit telah menerima imunisasi di Klinik Jeragan Bistari FGV Sahabat 36 di kawasan Lahad Datu.
FGV juga mengambil inisiatif melabur RM5 juta bagi mewujudkan 11 buah CLC di Sahabat dan Kinabatangan di Sabah. CLC berkenaan berperanan sebagai pusat pembelajaran alternatif bagi kanak-kanak yang tidak didaftarkan ke dalam pendidikan rasmi. Projek yang bermula pada tahun 2018 ini dijangka siap sepenuhnya apabila empat buah CLC di Kalabakan dan Yapidmas bakal beroperasi sepenuhnya pada tahun 2021.
Tamat