With reference to the Media Statement made on 20 October 2020, FGV Holdings Berhad (FGV) wishes to provide further clarification on the Land Lease Agreement (LLA) between FGV and the Federal Land Development Authority (FELDA).
Land Leased to FGV Does Not Involve Land Cultivated by Felda Settlers
The LLA, which was signed on 1 November 2011 specifies that the assets involved are estates that do not include land cultivated by existing Felda settlers, and do not include FGV's palm oil mills.
Currently, the size of FELDA land amounts to more than 850,000 hectares, and the land owned by Felda settlers amounts to 450,632 hectares. FELDA-owned land that was leased to FGV amounts to 350,733 hectares.
The Relationship of FGV and FELDA after Initial Public Offering (IPO)
As at 28 August 2020, FELDA's shareholdings is 21.24% and Felda Asset Holdings Company Sdn Bhd's (FAHC) shareholdings is 12.42%. Subsequently, a FELDA representative was placed on the Board of Directors of FGV.
Koperasi Permodalan Felda Malaysia Bhd's (KPF) shareholdings is 4.751%.
On 29 June 2018, the company's name was changed to FGV Holdings Berhad with the approval of all shareholders.
FGV provides services, technical support and planting materials for its estates, settlers, and smallholders. Felda settlers on the other hand supply Fresh Fruit Bunches (FFB) to FGV's palm oil mills.
 FGV's Payment to FELDA
The LLA states that the amount payable to FELDA is RM248 million (based on the hectarage) plus 15% of the operating profit from LLA land yearly. Beginning from 2016, there was a decrease in the LLA fixed payment to FELDA due to adjustments in hectarage leased.
This decrease was due to several reasons including land acquisition by FELDA, surrender of land to FELDA for the purpose of mining, encroachment to third party land, overlapping of mill land as well as the reconciliation process between land title and the Department of Survey and Mapping Malaysia (JUPEM).
We wish to update that at the present moment, FELDA has yet to contact FGV regarding the LLA.
FGV is prepared to follow the procedures outlined in the LLA, once we receive a notice from FELDA regarding this matter.
We will make the relevant announcements at the appropriate time in the event of any material development on this matter.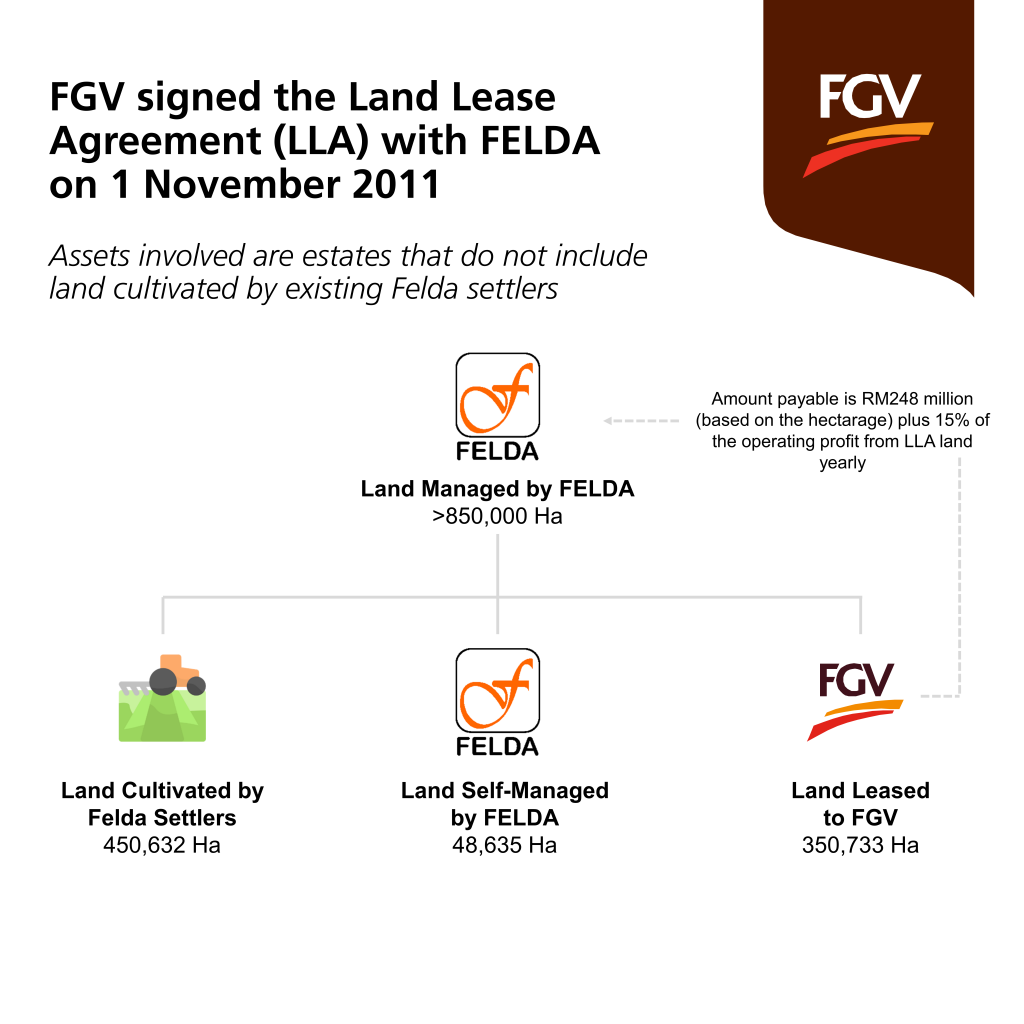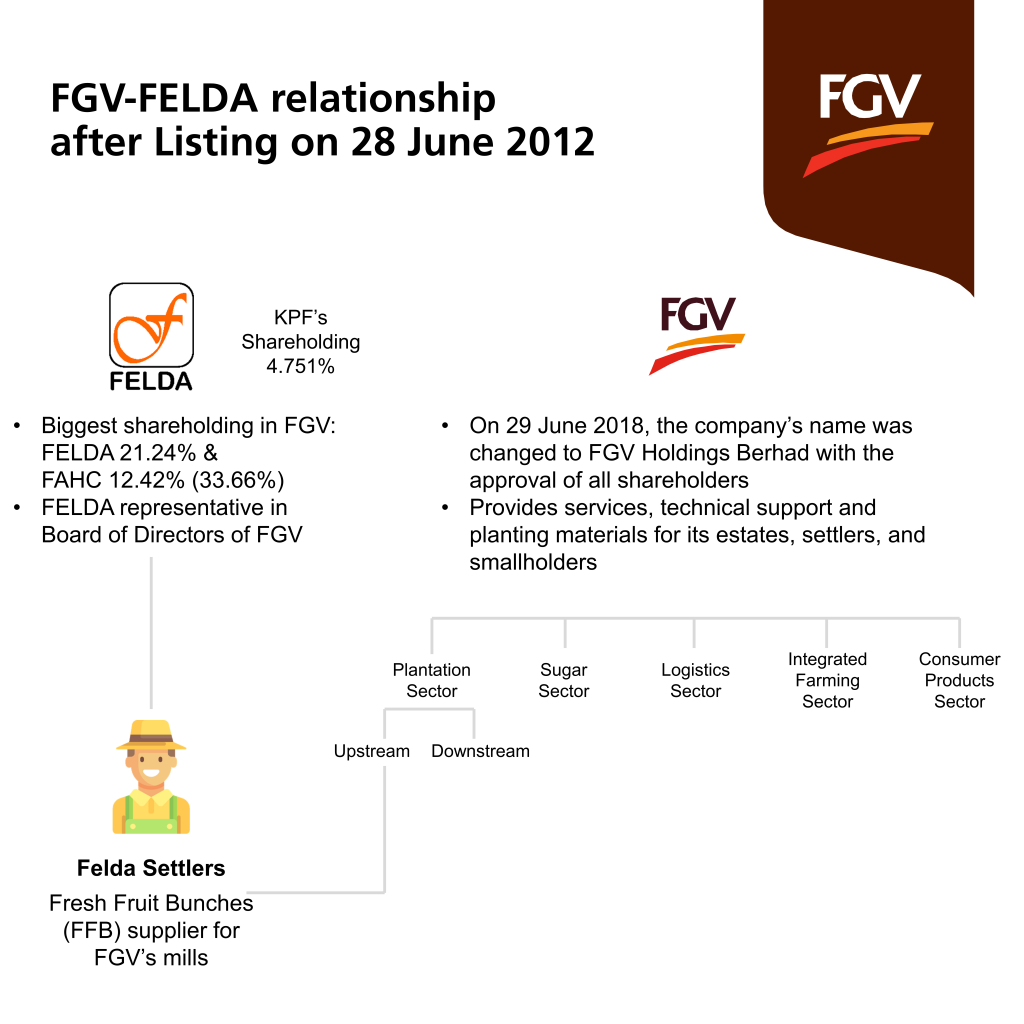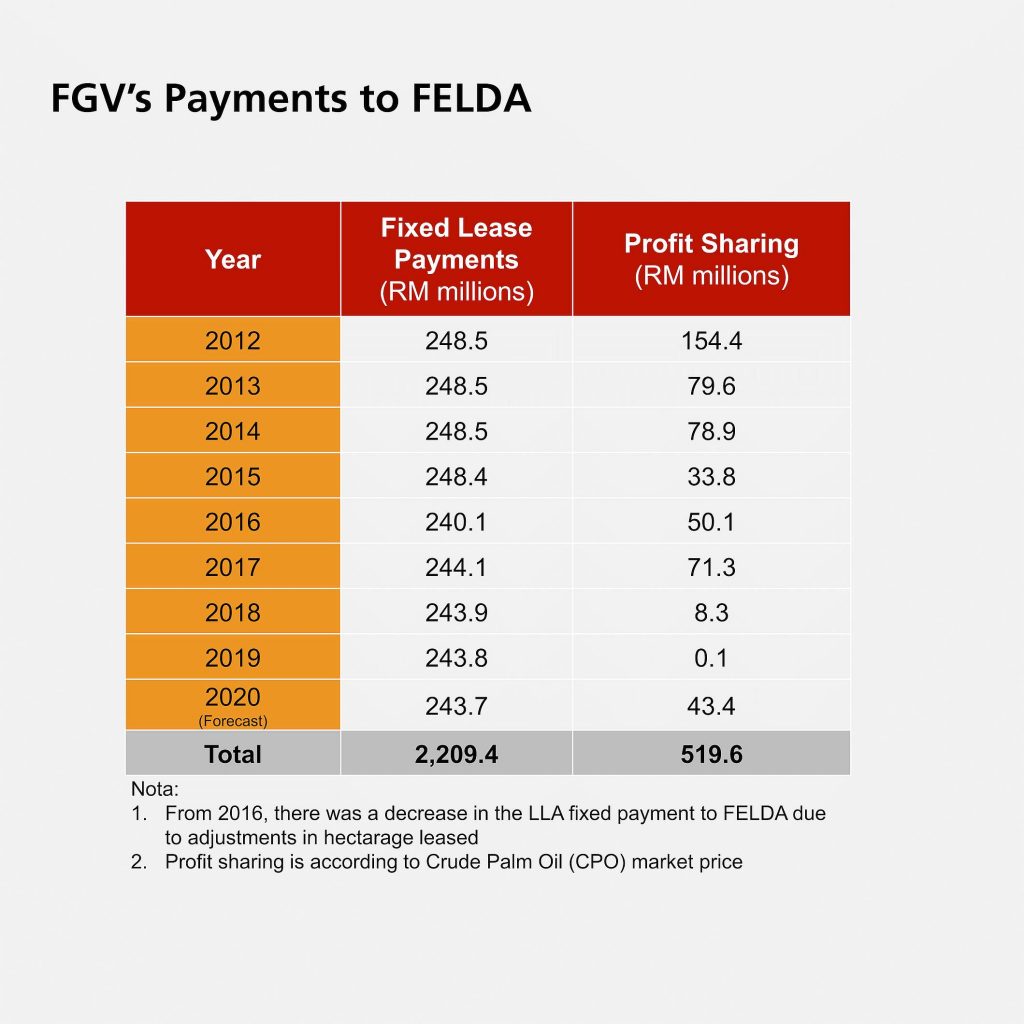 FGV Holdings Berhad
Merujuk kepada Kenyataan Media yang dibuat pada 20 Oktober 2020, FGV Holdings Berhad (FGV) ingin memberi penjelasan lanjut mengenai Perjanjian Pajakan Tanah (LLA) antara FGV dengan Lembaga Kemajuan Tanah Persekutuan (FELDA).
Tanah Yang Dipajakkan Kepada FGV Tidak Melibatkan Tanah Yang Diusahakan Oleh Peneroka Felda
LLA yang ditandatangani pada 1 November 2011 menetapkan bahawa aset-aset yang terlibat adalah ladang-ladang yang tidak termasuk tanah yang diusahakan oleh peneroka Felda sedia ada, dan juga tidak termasuk kilang-kilang kelapa sawit milik FGV.
Pada masa ini keluasan tanah FELDA berjumlah lebih daripada 850,000 hektar dan tanah yang dimiliki oleh peneroka Felda berjumlah 450,632 hektar. Tanah milik FELDA yang dipajakkan kepada FGV berjumlah 350,733 hektar.
Hubungan antara FGV dan FELDA selepas Tawaran Awam Permulaan (IPO)
Sehingga 28 Ogos 2020, pegangan saham FELDA adalah sebanyak 21.24% dan pegangan saham Felda Asset Holdings Company Sdn Bhd (FAHC) adalah sebanyak 12.42%. Oleh itu, wakil FELDA berada di dalam Lembaga Pengarah FGV.
Pegangan saham Koperasi Permodalan Felda Malaysia Bhd (KPF) adalah sebanyak 4.751%.
Pada 29 Jun 2018, nama syarikat telah ditukar menjadi FGV Holdings Berhad dengan persetujuan semua pemegang-pemegang saham.
FGV menyediakan perkhidmatan, sokongan teknikal dan bahan penanaman untuk ladang-ladang, peneroka-peneroka dan pekebun kecilnya. Peneroka Felda pula membekalkan Tandan Buah Segar (TBS) ke kilang-kilang kelapa sawit milik FGV.
Pembayaran FGV kepada FELDA
Di dalam LLA, telah di nyatakan bahawa jumlah yang perlu dibayar kepada FELDA adalah RM248 juta (berdasarkan jumlah hektar tanah) serta 15% daripada keuntungan operasi dari tanah LLA setiap tahun. Bermula dari 2016, terdapat penurunan pembayaran tetap LLA kepada FELDA kerana penyesuaian jumlah hektar tanah yang dipajakkan.
Penurunan ini disebabkan oleh beberapa perkara termasuk pengambilan tanah oleh FELDA, penyerahan tanah kepada FELDA untuk tujuan perlombongan, pencerobohan ke tanah pihak ketiga, pertindihan tanah kilang serta proses perdamaian antara hak milik tanah dan Jabatan Ukur dan Pemetaan Malaysia (JUPEM).
Kami ingin memaklumkan bahawa buat masa ini, FELDA masih belum menghubungi FGV mengenai LLA.
FGV bersedia mengikuti prosedur yang telah digariskan dalam LLA, sekiranya kami menerima notis daripada FELDA mengenai perkara ini.
Kami akan membuat pengumuman yang sewajarnya pada waktu yang sesuai sekiranya terdapat perkembangan mengenai perkara ini.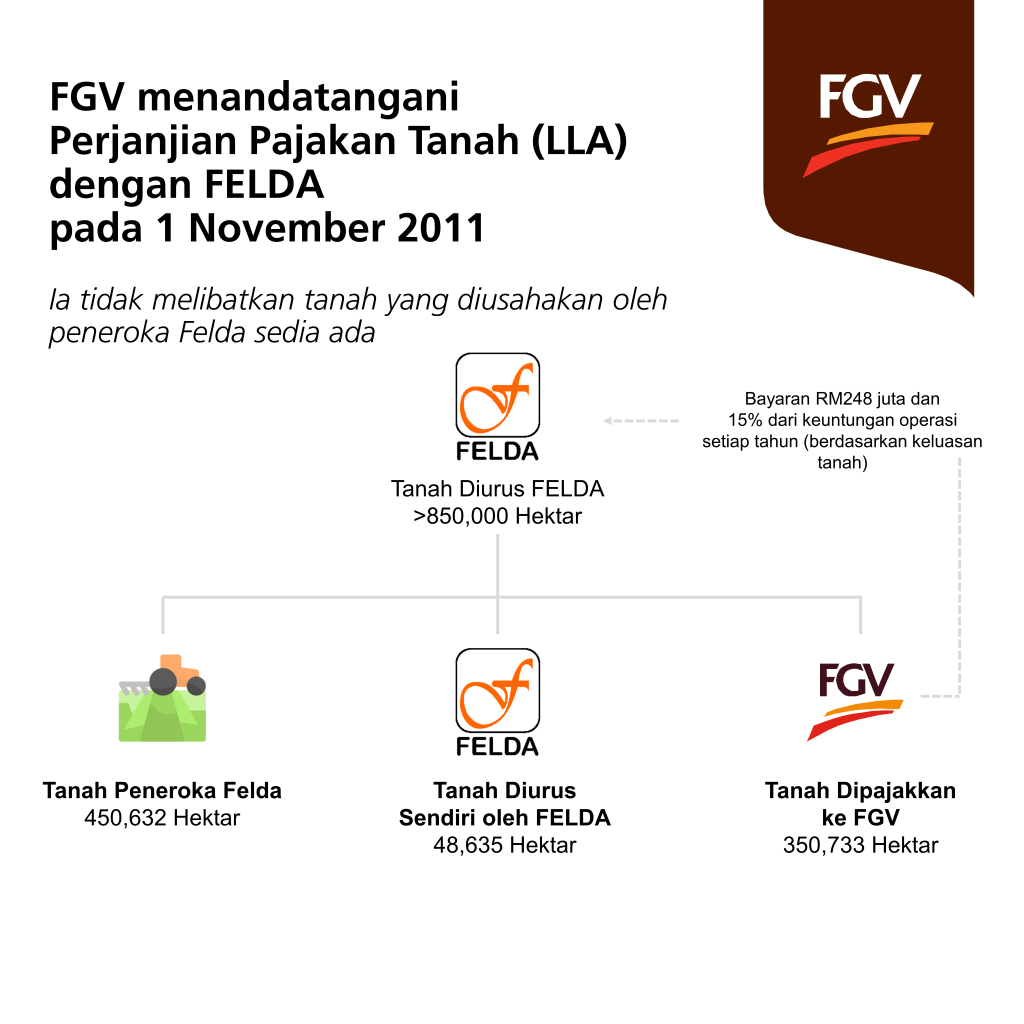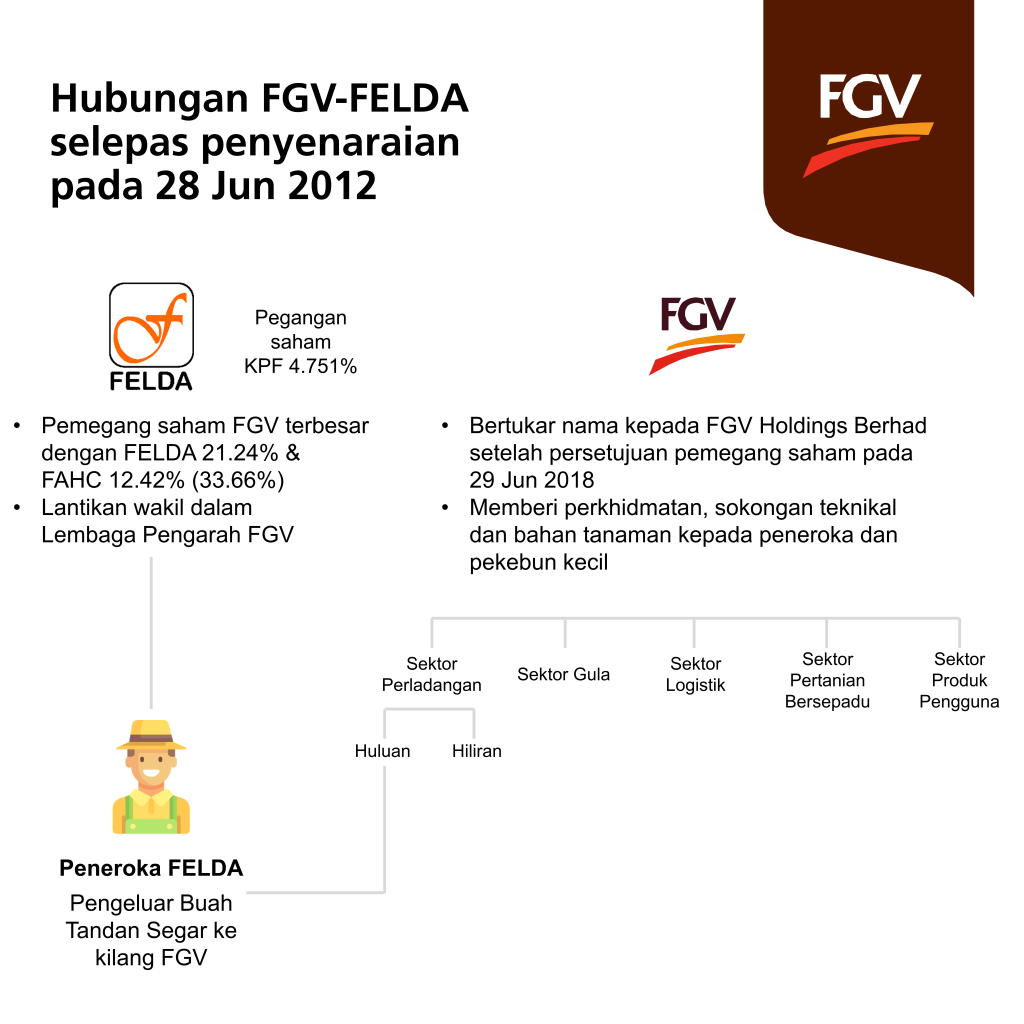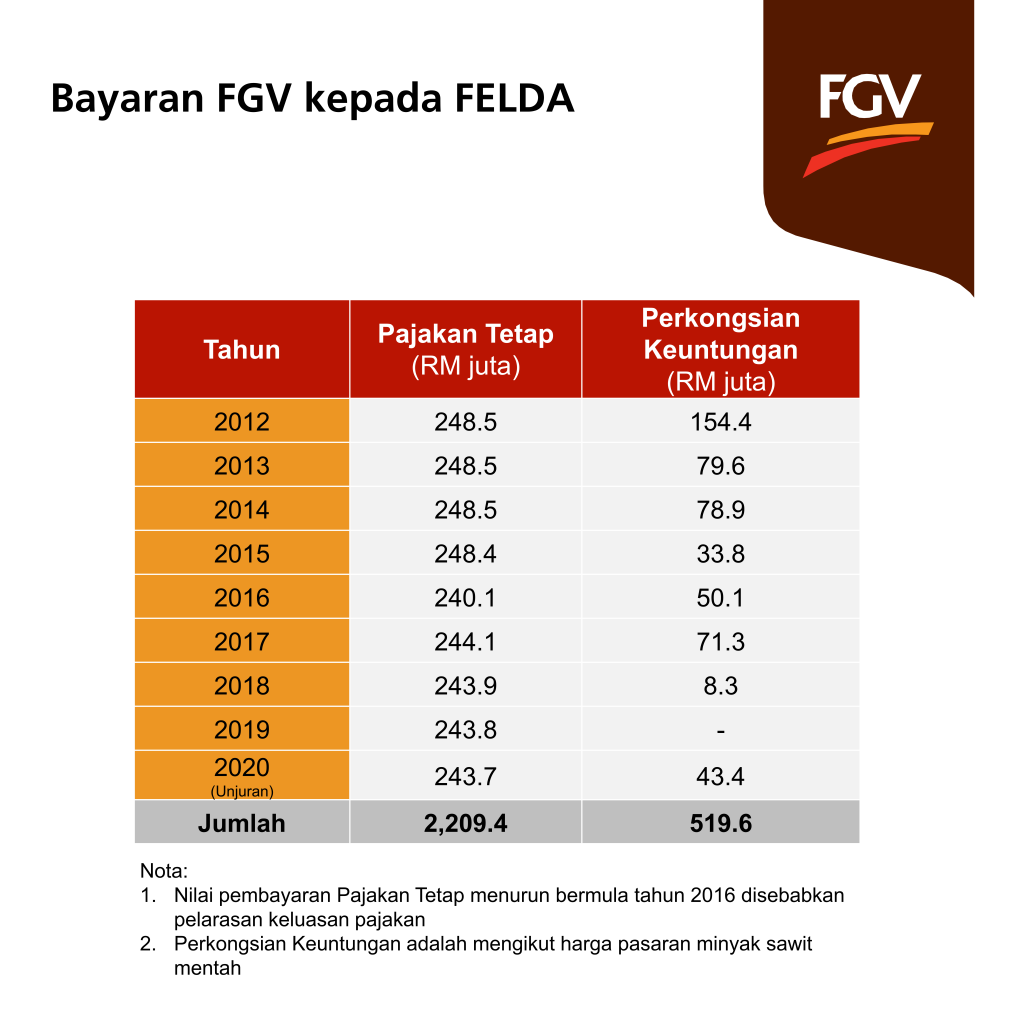 FGV Holdings Berhad