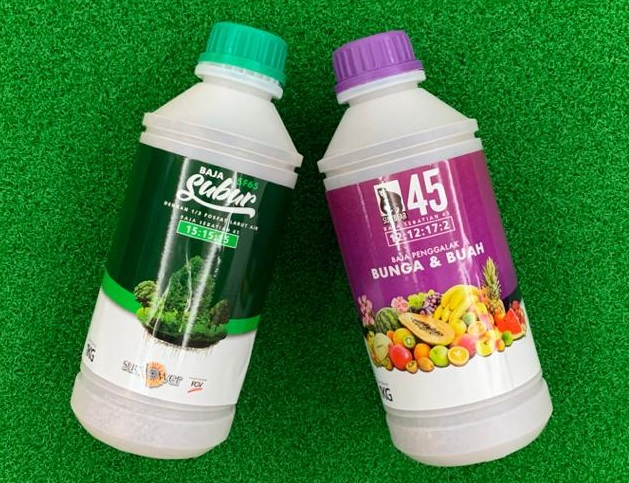 The bottled fertilisers by FGV: SF65: Baja Subur and SB45: Baja Penggalak Bunga dan Buah 
KUALA LUMPUR, 7 August 2020: FGV Holdings Berhad (FGV) found a niche market for its fertiliser business following a surge in demand during the Movement Control Order (MCO) period amongst home gardeners and urban farming communities.
FGV Group Chief Executive Officer, Dato' Haris Fadzilah Hassan said, "This is a positive trend as communities are more aware about food security. It gives us an opportunity to explore the consumer market with a product which we are already producing for many years. Our initiatives into consumer products segment will create diversification, add value and capture new markets."
Through its subsidiary FGV Fertiliser Sdn Bhd, FGV is already producing 15% market share or more than 680,000 MT of compound fertiliser, compacted fertiliser and mixture/straight fertiliser annually, including customised-formulations to suit customers' requirements. FGV fertilisers are marketed under its own brands such as Sun Bear, Sunflower and Felda Series.
To meet the new increasing demand for retail purchase, FGV started to bottle a formulation of its fertiliser in 1kg bottles for home plants, fruit trees, ornamental plants and landscape plants named SB45: Baja Penggalak Bunga dan Buah.
In July, FGV has also formulated SF65: Baja Subur, which is suitable for vegetables as well as fruit trees.
Both fertilisers are formulated to obtain good quality production for fruit trees, vegetables and plants by stimulating fruiting in fruit trees while helping to develop a strong resistance to diseases which are vital for vigorous plant growth.
"FGV has sold more than 13,000 bottles up to July this year compared to a total sale of 16,000 bottles throughout last year. The surge of interest in home gardening and urban farming throughout the MCO period has given FGV the opportunity to expand its fertiliser business. We target to sell 40,000 bottles of compound fertiliser in 2021. Additionally, we will be announcing a series of organic fertilisers to meet wide-ranging consumer demands," added Haris Fadzilah.
Backed with more than 30 years of industry expertise, FGV is one of the biggest compound fertiliser manufacturers in Malaysia, owning the first production plant in the world that has the flexibility to produce either Urea or Ammonium Sulphate-based compounds. The plant was built with the assistance of experts from International Fertiliser Development Centre. This makes FGV a unique and very competitive compound fertiliser producer in the region.
Compound fertiliser is a chemical fertiliser which contains complete and balanced nutrients for crops through a homogenous mix of nitrogen (N), phosphorus (P) and kalium (K) or NPK compounds in each granule. The three macro-nutrient fertiliser NPK is widely known among gardening enthusiasts for its robust effect in promoting healthier and higher production of fruits and vegetables.
End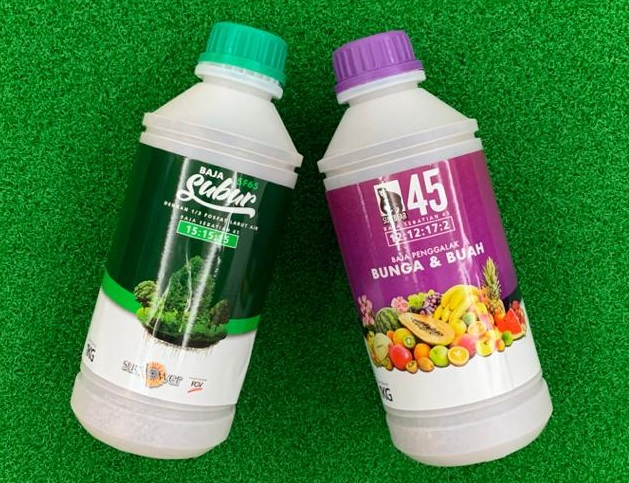 Produk baja oleh FGV: SF65: Baja Subur and SB45: Baja Penggalak Bunga dan Buah 
KUALA LUMPUR, 7 Ogos 2020: FGV Holdings Berhad (FGV) menemui pasaran khusus untuk perniagaan bajanya berikutan peningkatan permintaan dalam tempoh Perintah Kawalan Pergerakan (PKP) di kalangan perkebun persendirian dan komuniti pertanian bandar.
Ketua Pegawai Eksekutif Kumpulan FGV, Dato' Haris Fadzilah Hassan berkata, "Ini adalah trend positif di mana masyarakat lebih peka mengenai jaminan makanan. Ianya memberi kami peluang untuk meneroka pasaran pengguna dengan produk sedia ada yang telah dihasilkan selama bertahun-tahun. Inisiatif kami ke segmen produk pengguna akan mewujudkan kepelbagaian, menambah nilai dan penembusan pasaran baru."
Melalui anak syarikatnya FGV Fertiliser Sdn Bhd, FGV memiliki 15% pegangan pasaran dengan lebih daripada 680,000 MT baja sebatian, baja padat dan baja campuran/tunggal dihasilkan setiap tahun, termasuk formulasi yang disesuaikan dengan kehendak pelanggan. Baja FGV dipasarkan dengan jenama sendiri iaitu Sun Bear, Sunflower dan Felda Series.
Untuk memenuhi permintaan baharu bagi pembelian runcit, FGV mulai membungkus formulasi bajanya dalam botol 1kg untuk tanaman rumah, pohon buah-buahan, tanaman hiasan dan tanaman lanskap dengan jenama SB45: Baja Penggalak Bunga dan Buah.
Pada bulan Julai, FGV juga telah memformulasikan jenama SF65: Baja Subur, yang sesuai untuk sayur-sayuran dan juga buah-buahan.
Kedua-dua baja ini diformulasikan untuk memperoleh pengeluaran yang berkualiti untuk pohon buah-buahan, sayur-sayuran dan tanaman. Ia merangsang penghasilan buah untuk pohon buah-buahan dan membantu tanaman lain membangunkan daya tahan terhadap penyakit, yang merupakan faktor penting untuk menggalakkan pertumbuhan tanaman.
"FGV telah menjual lebih daripada 13,000 botol hingga bulan Julai tahun ini berbanding penjualan 16,000 botol sepanjang tahun lalu. Lonjakan minat dalam aktiviti perkebunan di rumah dan pertanian bandar sepanjang tempoh PKP telah memberi peluang kepada FGV untuk mengembangkan perniagaan bajanya. Kami mensasarkan untuk menjual 40,000 botol baja sebatian pada tahun 2021. Selain itu, kami juga akan mengumumkan siri baja organik untuk memenuhi permintaan pengguna yang luas," tambah Haris Fadzilah.
Dengan kepakaran industri lebih 30 tahun, FGV adalah salah satu pengeluar baja sebatian terbesar di Malaysia, dengan kilang pengeluaran pertama di dunia yang mempunyai fleksibiliti untuk menghasilkan sebatian berasaskan Urea atau Ammonium Sulphate. Kilang ini dibina dengan bantuan pakar daripada Pusat Pembangunan Baja Antarabangsa, dan ini menjadikan FGV sebagai pengeluar baja sebatian yang unik dan sangat kompetitif di rantau ini.
Baja sebatian adalah baja kimia yang mengandungi nutrien yang lengkap dan seimbang untuk tanaman melalui campuran nitrogen (N), fosforus (P) dan kalium (K) atau NPK terkandung di dalam setiap butiran. Ketiga-tiga baja nutrien makro NPK dikenali di kalangan peminat aktiviti berkebun kerana berkesan dalam mengalakkan pengeluaran tinggi buah-buahan dan sayur-sayuran yang lebih sihat.
Tamat