Fortified Field™ Fragrant Rice (3FR) programme integrates effective paddy cultivation methods through Agriculture 4.0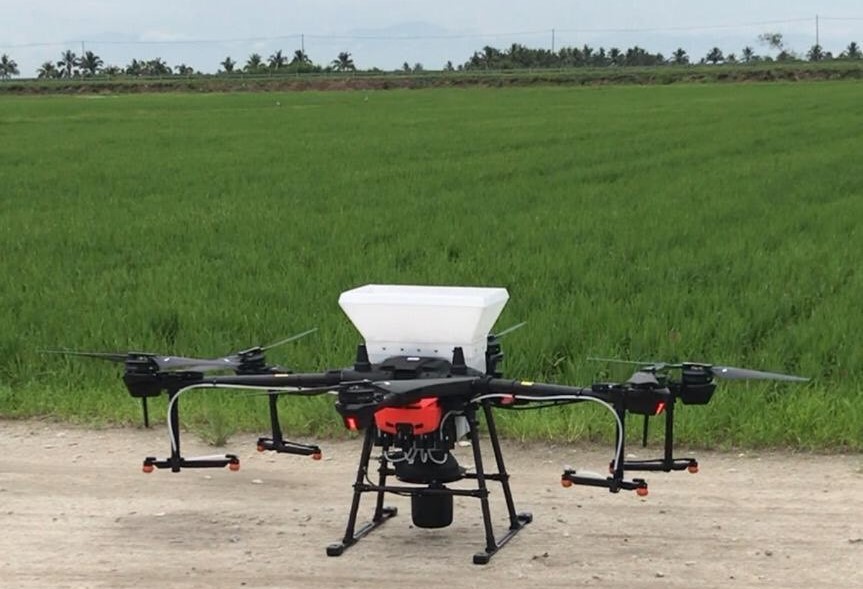 The DJI T20 Agras drone is used to map farming areas and monitor crop health, which enables treatment for specific affected areas
KUALA LUMPUR, 13 JULY 2021 – FGV Holdings Berhad (FGV) through its subsidiary, FGV Integrated Farming Holdings Sdn Bhd (FGVIF), innovates the local paddy and rice industry with the introduction of its Fortified Field™ Fragrant Rice (3FR) programme for effective fragrant rice paddy cultivation.
The 3FR programme is a comprehensive planting system that integrates paddy farming activities through smart agriculture practices, mechanisation, automation and Internet of Things (IoT) technologies. The initiative combines FGV's expertise in research, agronomy, crop nutrition, drone technology, and remote sensing to increase fragrant rice yields.
To date, FGV's 3FR programme has significantly increased the local fragrant paddy yield to seven metric tonnes (MT) per hectare, making it a preferred planting system among farmers. According to a report produced by Khazanah Research Institute, the national average paddy yield is hovering around four MT per hectare, while low yield granaries produce below three MT per hectare.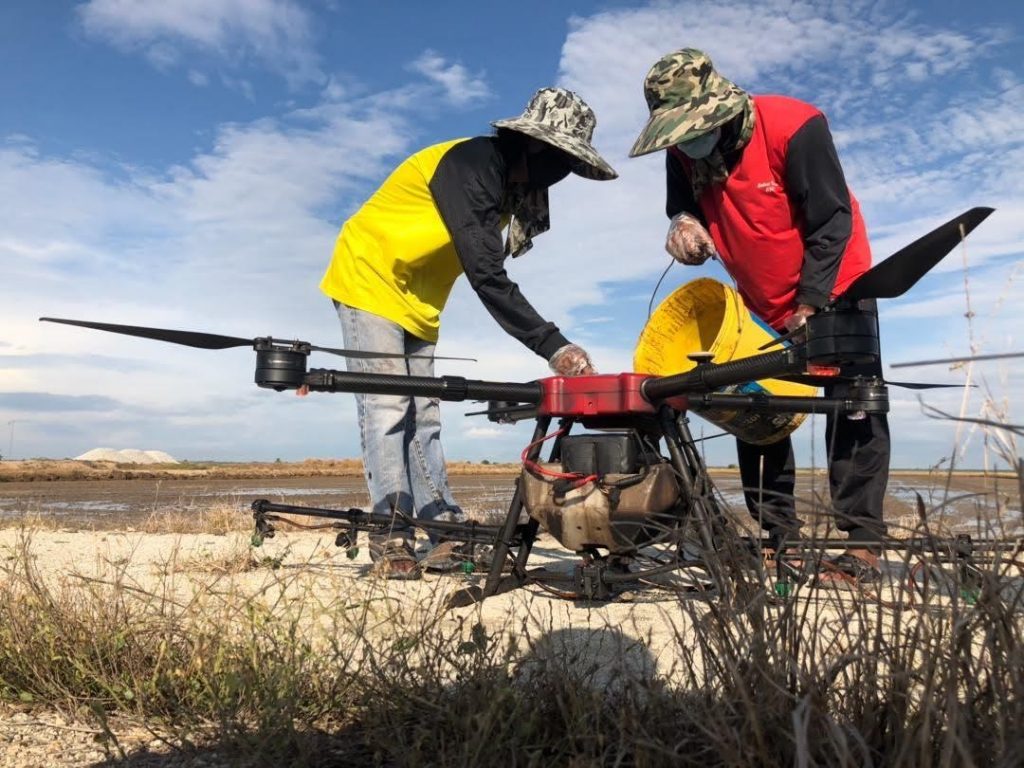 Harvesters filling up herbicide inside the drone, which has a maximum capacity of 20 litres for spraying to prevent weed growth
Azman Ahmad, FGV Group's Officer-In-Charge and Group Divisional Director of Logistics and Support Businesses said, that FGV will continue to pioneer in smart farming solutions and Agriculture 4.0 to increase production capacity and capabilities of local fragrant rice paddy farming.
"From utilising drone technology in the fields, to hyperspectral imaging in pest and disease control, the methods used in our 3FR programme has set a new benchmark for the paddy and rice industry in Malaysia. To ensure quality and traceability of our paddy, FGV also cultivates our own premium MRQ76 fragrant rice certified seeds to be distributed to appointed contract farmers participating in the programme."
"By providing continuous support and guidance, farmers will be able to increase their paddy yield and gain a potential income of RM13,300 per hectare, as compared to RM6,240 per hectare for traditional white rice paddy planting. Through this unique partnership with farmers, we hope to strengthen the rice supply chains in an economical and sustainable way, and build more resilient farms and communities," he continued.
FGV's 3FR programme includes advanced farming applications, automated transplanting machines, artificial intelligence in field and water resource monitoring, drones for spraying, lighter weight combined harvesters, and soil rejuvenating methods using microbes and biotechnology. For the upcoming planting season, FGV plans to expand its applications to include smart tractors, weather stations and field sensors to monitor field performance through precision farming.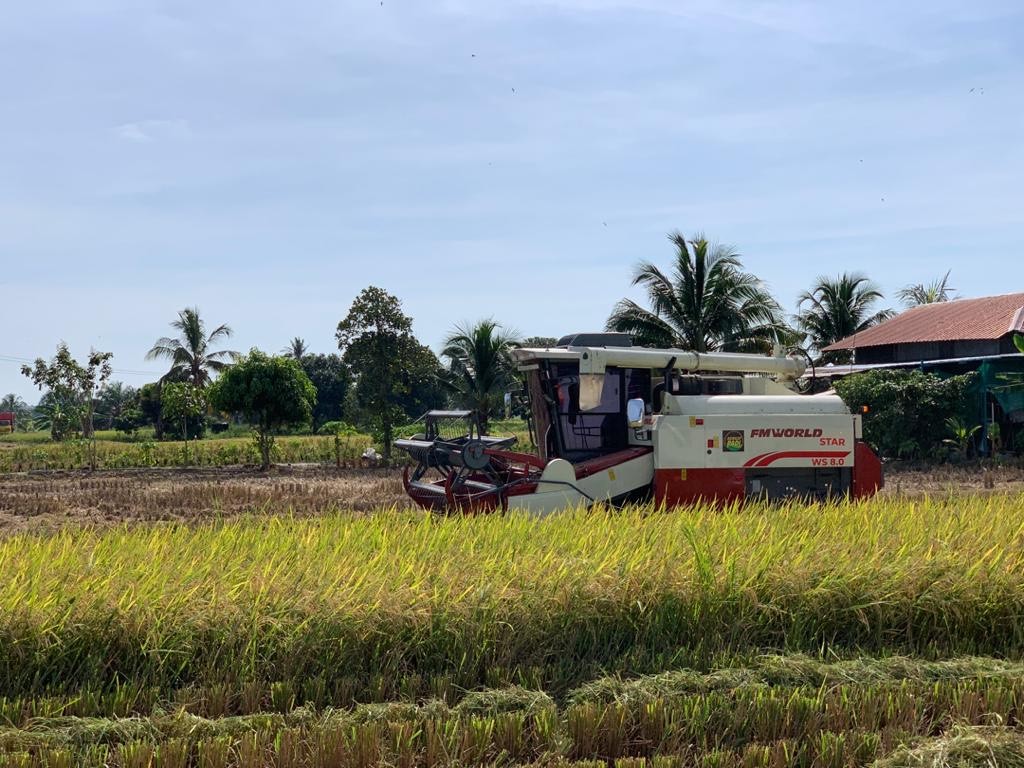 The light weight combined harvester is used to prevent damage on hardpan soil
As part of its business strategy moving forward, FGV targets to further expand the use of IoT by developing blockchain technology for agri-food production, which can ease access to supply chain data from farmers, as well as other chain stakeholders and consumers. This will result in an increase in food production traceability.
FGV's 3FR programme is in support of the Large-Scale Smart Paddy Field Programme (Smart SBB) initiated by the Ministry of Agriculture and Food Industry (MAFI) in February 2021. It is currently being implemented in 310 hectares of granary fields in IADA Seberang Perak and IADA Barat Laut in Selangor, together with more than 100 appointed local contract farmers.
The total area is expected to increase to 600 hectares by the harvest season at the end of July 2021, with a plan to expand to 1,500 hectares in the next three years.
 End
Program tanaman padi beras wangi Fortified Field (3FR) gabung kaedah tanaman padi secara berkesan menerusi Pertanian 4.0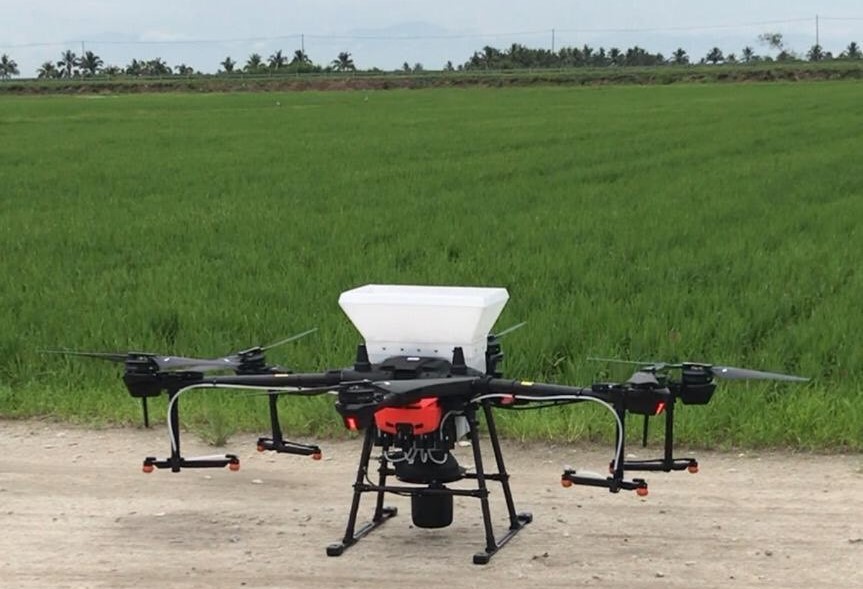 Drone DJI T20 Agras digunakan untuk pemetaan kawasan pertanian dan memantau kesihatan tanaman yang membolehkan rawatan untuk kawasan yang terjejas
KUALA LUMPUR, 13 JULAI 2021 – FGV Holdings Berhad (FGV) menerusi anak syarikatnya, FGV Integrated Farming Holdings Sdn Bhd (FGVIF), menginovasi industri padi dan beras tempatan dengan pengenalan program Beras Wangi Fortified Field™ (3FR) untuk penanaman padi wangi yang berkesan.
Program 3FR merupakan sistem penanaman komprehensif yang mengintegrasikan pertanian padi menerusi aktiviti amalan pertanian pintar, mekanisasi, automasi dan penggunaan teknologi Internet Kebendaan (IoT). Inisiatif ini menggabungkan kepakaran FGV dalam penyelidikan, agronomi, nutrisi tanaman, teknologi dron dan pengawasan jarak jauh bagi meningkatkan hasil beras wangi.
Sehingga kini, program 3FR FGV telah berjaya meningkatkan hasil beras wangi tempatan kepada tujuh tan metrik (MT) sehektar sekaligus menjadikan ia sistem tanaman pilihan para pesawah. Menerusi laporan yang dikeluarkan oleh Institut Penyelidikan Khazanah, purata hasil padi negara adalah sekitar empat MT sehektar, manakala jelapang hasil rendah menghasilkan bawah tiga MT sehektar.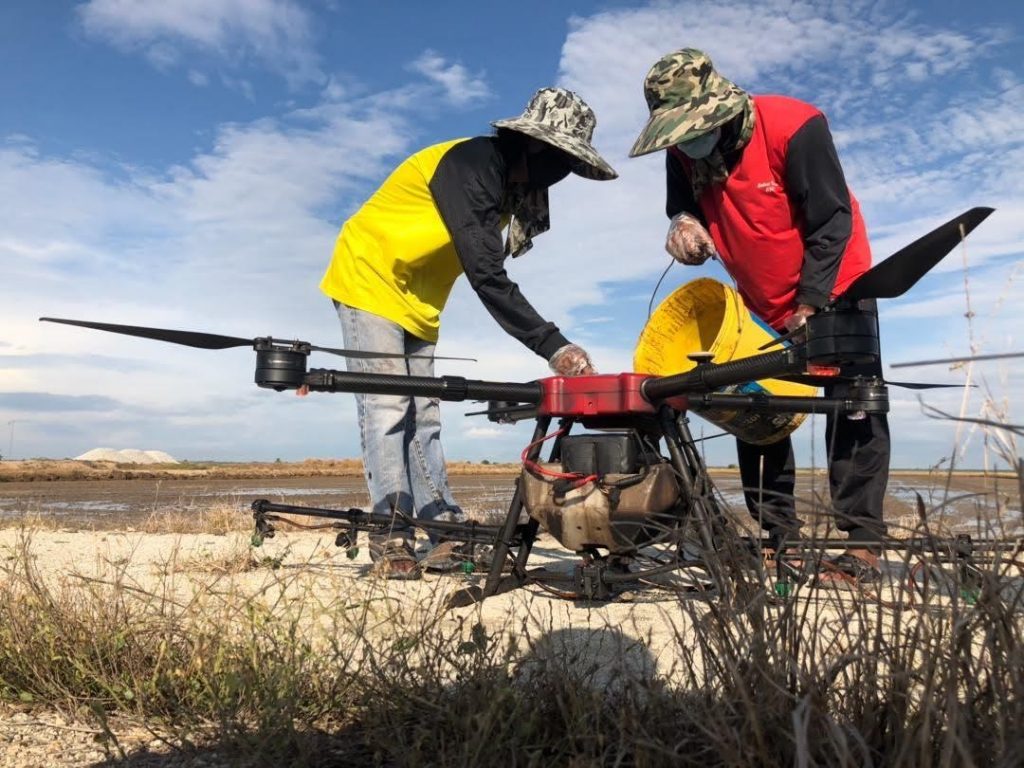 Penuai mengisi racun herba di dalam drone, yang mempunyai kapasiti maksimum 20 liter untuk penyemburan bagi mencegah pertumbuhan rumpai sawah
Azman Ahmad, Pegawai Bertanggungjawab (Officer-In-Charge) dan Pengarah Bahagian Sektor Logistik dan Perniagaan Sokongan Kumpulan FGV berkata, FGV akan terus menerajui solusi perladangan pintar dan Pertanian 4.0 bagi meningkatkan kapasiti pengeluaran dan keupayaan perladangan padi beras wangi tempatan.
"Kaedah yang digunakan di dalam program 3FR ini telah menjadi penanda aras baharu dalam industri padi dan beras negara, apabila penggunaan dron dimanfaatkan dari peringkat sawah padi hingga ke aspek hyperspectral imaging bagi kawalan penyakit dan makhluk perosak. Untuk memastikan kualiti dan kebolehkesanan padi, FGV turut menyemai benih padi wangi premium MRQ76 keluaran sendiri dan diperakui untuk diedarkan kepada pesawah kontrak yang dilantik dan mengambil bahagian dalam program ini."
"Menerusi bimbingan dan sokongan berterusan, pesawah mampu meningkatkan hasil padi mereka dan menambah pendapatan sehingga RM13,300 sehektar jika dibandingkan dengan RM6,240 sehektar bagi kaedah penanaman padi putih tradisional. Melalui perkongsian unik dengan pesawah ini, kami berharap dapat mengukuhkan lagi rantaian bekalan beras secara lebih ekonomi dan lestari, seterusnya mewujudkan pesawah dan komuniti yang lebih berdaya tahan," tambah beliau.  
Program 3FR FGV ini merangkumi penggunaan aplikasi termaju pertanian seperti mesin automasi penanaman, kecerdasan buatan dalam pemantauan sawah dan sumber air, dron bagi penyemburan, mesin penuai padi dan kaedah pemugaran tanah dengan menggunakan mikrob dan teknologi bio. Pada musim penanaman akan datang, FGV merancang mengembangkan lagi penggunaan aplikasi seperti  traktor pintar, stesen cuaca dan sensor sawah bagi memantau prestasi sawah-sawah menerusi pertanian jitu.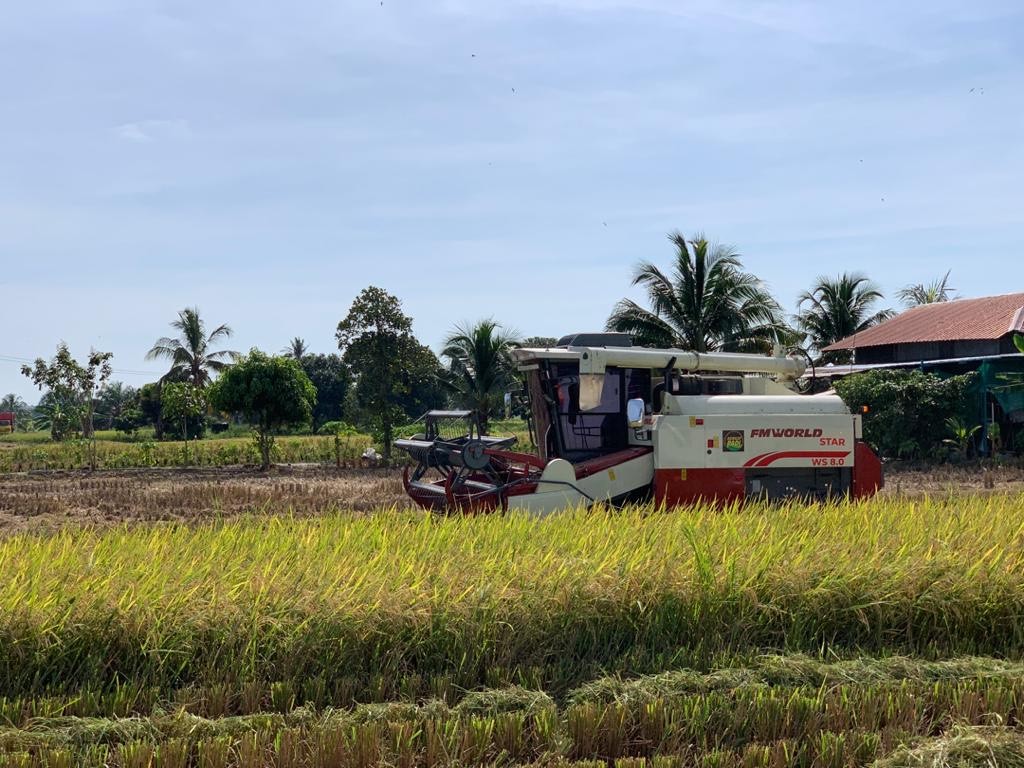 Penuai gabungan ringan 'combined harvester' digunakan untuk mencegah kerosakan pada tanah keras
Sebagai sebahagian daripada strategi perniagaan masa hadapan, FGV menyasar untuk mengembangkan lagi penggunaan IoT dengan membangunkan rantaian blok teknologi dalam pengeluaran agri pertanian yang memudahkan capaian kepada data rantaian bekalan pesawah, di samping lain-lain rantaian pemegang taruh dan pengguna. Ini akan meningkatkan lagi kebolehkesanan pengeluaran makanan.
Program 3FR FGV ini sebagai menyokong usaha Kementerian Pertanian dan Industri Makanan (MAFI) dalam Program Smart Sawah Berskala Besar (Smart SBB) pada Februari 2021. Program ini sedang giat dilaksanakan di jelapang padi berkeluasan 310 hektar di IADA Seberang Perak, Perak dan IADA Barat Laut di Selangor yang disertai oleh 100 pesawah kontrak tempatan yang dilantik.
Keseluruhan kawasan ini dijangka akan dipertingkatkan ke 600 hektar pada musim menuai pada penghujung Julai 2021, dengan perancangan untuk memperluaskan kawasan tanaman ke 1,500 hektar dalam tempoh tiga tahun akan datang. 
Tamat