To date, FGV has 12 clinics nationwide with five in Sabah, four in Peninsular Malaysia, and three in Sarawak.
KUALA LUMPUR, 20 May 2021 – To fulfil its ongoing commitment to human rights, in particular the right to health for all its employees, FGV Holdings Berhad (FGV) has allocated RM2.3 million to upgrade three clinics and build three new clinics on its plantations. The allocation includes expenditure for the cost of building construction, purchase of medical operating equipment, medicine, communication facilities, ambulances and other necessities.
To date, FGV has 12 clinics nationwide offering outpatient treatment services to local and migrant plantation workers, with five in Sabah, four in Peninsular Malaysia and three in Sarawak.
Three office buildings in Aring 6, Kelantan, Lepar 11, Pahang and Sahabat 36, Sabah have been renovated and transformed into FGV plantation clinics. Meanwhile, three brand new clinic buildings have been built in FGV's plantations in Selendang 3 and Kechau 6 in Pahang, and in Sampadi 4, Sarawak. These plantations were chosen given their remote locations that are far from existing healthcare facilities.
The most recently completed clinic in Sampadi is expected to be fully operational by the third quarter of 2021. The clinic will benefit 400 plantation workers and nearly 200 employees in five FGV plantations namely Sampadi 1, 3, 4, 5 and 6.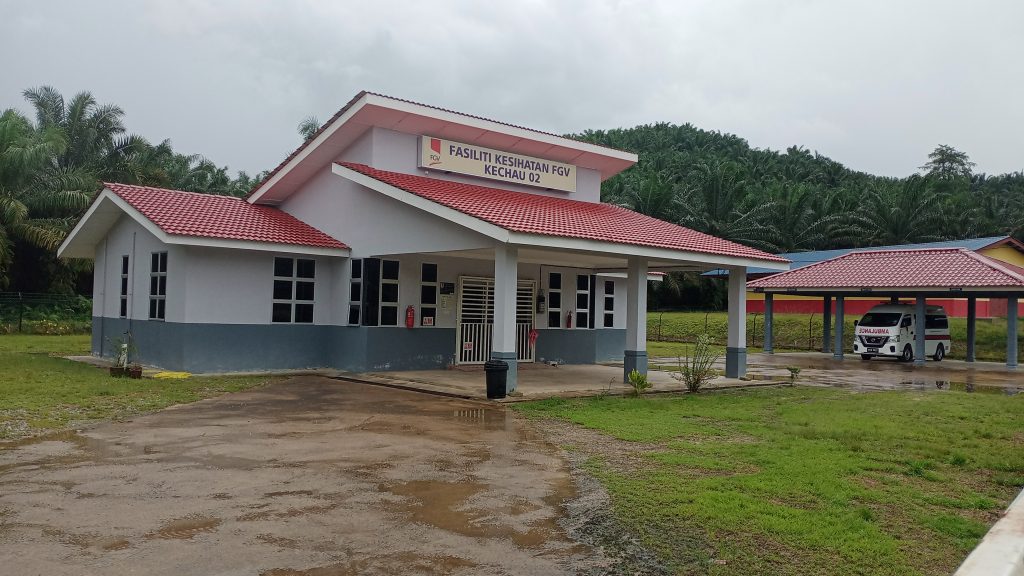 One of FGV's medical facilities in Pahang
Syed Mahdhar Syed Hussain, Group Divisional Director of FGV's Plantation Sector said the construction of health facilities within these plantations is crucial to facilitate access to healthcare by all FGV employees. Such access becomes more pressing in these unprecedented times of COVID-19.
"FGV strives to ensure that all our plantation workers have access to health services and facilities. With these new clinics, which are under the guidance of the Ministry of Health Malaysia, our workers will have better and easier access to medical treatment."
As part of this initiative, the construction of a clinic in FGV Ladang Bera Selatan 4 plantation in Pahang is expected to be completed in the third quarter of this year. The clinic will provide access to healthcare for 1319 workers in nearby FGV plantations. While in Sabah, FGV has in its pipeline to establish a mobile clinic for workers in its Sahabat plantation.
Furthermore, to create a holistic FGV One Stop Centre (FGV OSC), a clinic will be set up in FGV OSC in Gemencheh, Negeri Sembilan to facilitate medical check-ups for FGV's migrant workers as required by the Foreign Workers Medical Examination Monitoring Agency (FOMEMA).  
End
Sehingga kini, FGV memiliki 12 klinik di seluruh negara termasuk lima di Sabah, empat di Semenanjung Malaysia dan tiga di Sarawak.
KUALA LUMPUR, 20 Mei 2021 – FGV Holdings Berhad (FGV) telah memperuntukkan RM2.3 juta untuk menaik taraf tiga klinik dan membina tiga klinik baru di ladang demi memenuhi komitmen berterusan syarikat terhadap hak asasi manusia, khususnya hak untuk kesihatan bagi semua pekerjanya. Peruntukan tersebut merangkumi perbelanjaan untuk kos pembinaan bangunan, pembelian peralatan perubatan, ubat-ubatan, kemudahan komunikasi, ambulans dan keperluan lain.
Sehingga kini, FGV mempunyai 12 klinik di seluruh negara yang menawarkan perkhidmatan rawatan pesakit luar kepada pekerja ladang tempatan dan migran, termasuk lima di Sabah, empat di Semenanjung Malaysia dan tiga di Sarawak.
Tiga bangunan pejabat di Aring 6, Kelantan, Lepar 11, Pahang dan Sahabat 36, Sabah telah diubahsuai dan dijadikan klinik perladangan FGV. Sementara itu, tiga bangunan klinik baru telah dibina di ladang FGV di Selendang 3 dan Kechau 6 di Pahang, dan di Sampadi 4, Sarawak. Ladang-ladang ini dipilih memandangkan lokasi terpencil mereka yang jauh dari fasiliti kesihatan yang ada.
Klinik yang paling baru siap di Sampadi dijangka akan beroperasi sepenuhnya pada suku ketiga 2021. Klinik ini akan memberi manfaat kepada 400 pekerja ladang dan hampir 200 pekerja di lima ladang FGV iaitu Sampadi 1, 3, 4, 5 dan 6.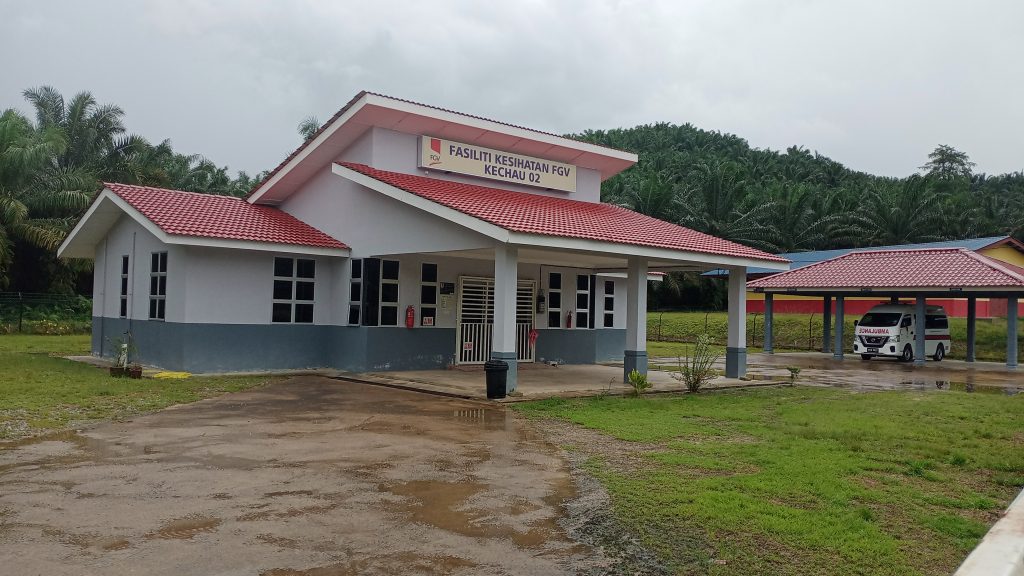 Salah satu fasiliti kesihatan FGV di Pahang
Syed Mahdhar Syed Hussain, Pengarah Bahagian Perladangan Kumpulan FGV mengatakan bahawa pembinaan fasiliti kesihatan di ladang-ladang ini sangat penting untuk memudahkan akses kepada penjagaan kesihatan untuk semua pekerja FGV. Akses sedemikian menjadi lebih penting ketika situasi COVID-19 yang melanda.
"FGV berusaha untuk memastikan bahawa semua pekerja ladang kami memiliki akses kepada perkhidmatan dan fasiliti kesihatan. Dengan klinik-klinik baru ini yang berada di bawah bimbingan Kementerian Kesihatan Malaysia, pekerja kami akan mendapat akses yang lebih baik dan lebih mudah untuk mendapatkan rawatan perubatan."
Sebagai sebahagian daripada inisiatif ini, pembinaan klinik di ladang Ladang Bera Selatan 4 FGV di Pahang dijangka akan siap pada suku ketiga tahun ini. Klinik ini akan menyediakan akses penjagaan kesihatan untuk 1319 pekerja di ladang FGV berdekatan. Manakala di Sabah, FGV sedang dalam perancangan untuk mewujudkan klinik bergerak untuk pekerja di ladang Sahabat.
Tambahan pula, demi mewujudkan FGV One Stop Centre (FGV OSC) yang holistik, sebuah klinik akan dibina di FGV OSC di Gemencheh, Negeri Sembilan untuk memudahkan pemeriksaan perubatan bagi pekerja migran FGV seperti yang dikehendaki oleh Agensi Pemantauan Pemeriksaan Perubatan Pekerja Asing (FOMEMA).
Tamat