Delima Oil Products Sdn Bhd (DOPSB) won SME100 Fast Moving Companies 2015 for Consumer Goods segment.
SME100 is an Annual Recognition Award programme organised by SME & Entrepreneurship Magazine – one of the bestselling business magazines in Asia. DOP markets palm-oil based downstream products such as RBD's bulk oil, cooking oil, margarine, shortening & dough fat, pure vegetable ghee, bread spread and culinary products. Its industrial products are widely accepted and consumed by major local biscuit factories.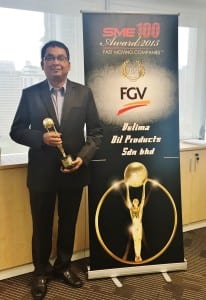 The SME Awards 2015 was officiated by Datuk Dr Abu Bakar bin Mohamad Diah, Deputy Minister of Science, Technology and Innovation.  The awards identify and recognise Asia's fast moving small & medium enterprises (SMEs) with a focus on growth (turnover, profit and market share) and resilience (best practices, sustainability and vision.)
Independently researched, ranked and published by SME & Entrepreneurship Magazine, SME100 ranks the top 100 fast moving companies in selected countries in Asia based on both quantitative and qualitative criteria.
Questionnaires/participation forms were sent to 5,000 pre-selected SMEs in each country based on a proportionate representation of the 20 industry grouping using SME100 Scorecard. After intricate compilation and analysis, the final 100 are determined by the highest weighted average score with heavy weightage on growth and resilience.
Congratulations DOPSB!
More details on winners at http://sme100.asia/sme100malaysia/winnerkl2015.html