FGV Holdings Berhad (FGV) wishes to clarify that it has NOT appointed any recruitment agency or company in India to hire plantation workers as per the advertisement and letter above, or in any other countries, for that matter.
FGV has never engaged the services of one Searising Overseas Training and Manpower Solution Pvt. Ltd. nor are they authorised to recruit workers for FGV.
We urge our stakeholders and other interested parties to be cautious when receiving information regarding FGV's recruitment process and advertisements from third-party sources and to verify the information directly with us at fgv.enquiries@fgvholdings.com or visit our website at www.fgvholdings.com.
End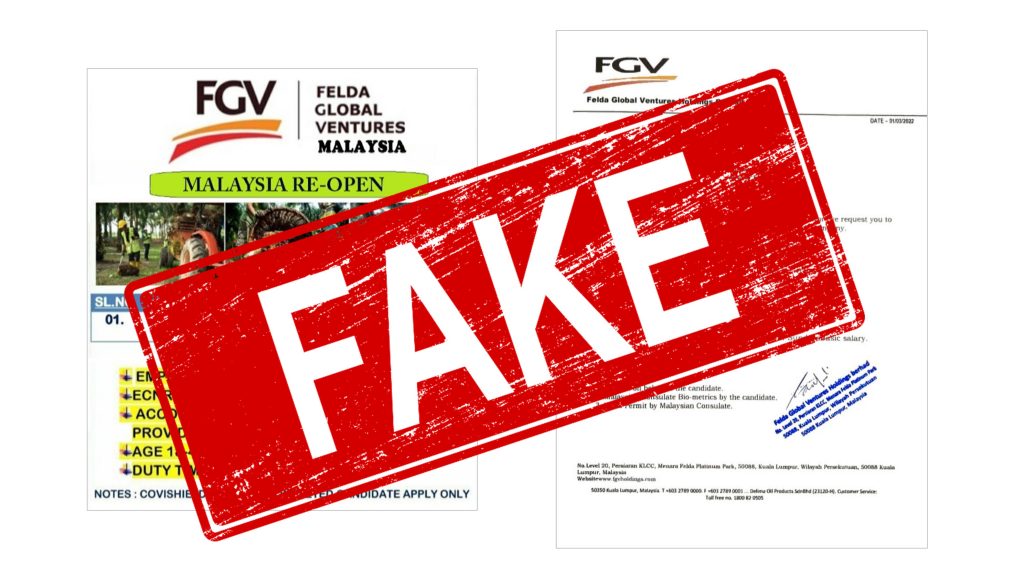 FGV Holdings Berhad (FGV) ingin menjelaskan bahawa ia TIDAK melantik mana-mana agensi pekerjaan atau syarikat di India untuk mengambil pekerja ladang seperti dalam iklan dan surat di atas, mahupun di mana-mana negara lain.
FGV juga tidak pernah menggunakan perkhidmatan Searising Overseas Training and Manpower Solution Pvt. Ltd. Ltd. atau memberi kuasa kepada syarikat tersebut untuk mengambil pekerja untuk FGV.
Kami menggesa pihak berkepentingan kami dan mana-mana pihak lain supaya berhati-hati apabila menerima maklumat dan iklan mengenai proses pengambilan FGV daripada sumber pihak ketiga dan untuk mengesahkan maklumat secara terus dengan kami di fgv.enquiries@fgvholdings.com atau layari laman web kami di www.fgvholdings.com.
Tamat