KUALA LUMPUR, 29 June 2016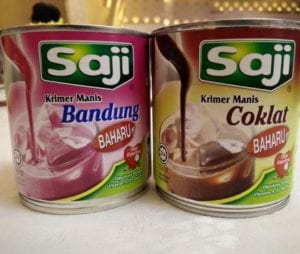 Felda Global Ventures Holdings Berhad (FGV) through its subsidiary, Delima Oil Products Sdn. Bhd. (Delima Oil) extends its product offering with the launch of a new range of creamers.
Under the SAJI brand, Delima Oil introduces the SAJI Chocolate Creamer and SAJI Bandung Creamer to add to its range of creamer products.
The new products, SAJI Chocolate Creamer and SAJI Bandung Creamer sets itself apart from the rest by being the first major brand in the market of beverage creamer to come in two new flavored variants, to further enhance SAJI brand in the consumers' mind.
SAJI has been in the creamer market since 2010 with the launch of SAJI Sweetened Creamer and SAJI Evaporated Creamer. Both these products has been gaining good support from consumers especially in the month of Ramadhan.
Head of FGV Downstream Cluster, Encik Azman Ahmad said, "Delima Oil has been putting a lot of effort in research and development to diversify its product range in its bid to strengthen its downstream business.
It will thus continue to diversify its product offering to meet the various needs of customers. Encouraged by the positive feedback by customers on the products, Delima Oil sees an opportunity to bolster its position as a key market player in the Fast Moving Consumer Goods (FMCG) industry by producing palm oil based products," he said.
He added, "2016 is the year of FGV downstream business. Delima Oil, being part of the downstream business and its strong stream of new products will support the Groups' growth to stamp its mark as a strong agri-business conglomerate."
Also present at the launch was FGV Group Chairman Tan Sri Mohd Isa Abdul Samad and FGV Group President and Chief Executive Officer, Dato' Zakaria Arshad.
SAJI Chocolate Creamer is made using high quality cocoa powder to create the ideal balance between creamy sweetness and chocolate taste. SAJI Bandung Creamer is a popular combination of sweetened beverage creamer with rose syrup, a favorite drink often prepared in Malaysian households.
SAJI Chocolate Creamer and SAJI Bandung Creamer are best enjoyed chilled with ice. Aside from making tasty drinks, SAJI Chocolate Creamer also makes a great topping for ice cream, fried bananas or air batu campur (ABC).
Both SAJI Chocolate Creamer and SAJI Bandung Creamer retails at RM 2.80 per 380gm can.
"SAJI Chocolate Creamer simplifies the process to prepare tasty chocolate drink, suitable for both hot or cold consumption. Consumers would now need just one can of SAJI Chocolate Creamer and hot water or ice to enjoy tasty and refreshing chocolate beverage. The same preparation method also applies to SAJI Bandung Creamer. It's very convenient, fast to prepare and price is affordable." quipped Chief Executive Officer of Delima Oil, Encik Ahmad Salman Omar.
He added, "Delima Oil has several brands under its belt apart from SAJI, including Adela, SunBear and Seri Pelangi. Delima Oil will continue to develop and produce goods with higher margin through value added and packaged products as these products will continue to contribute to the Group positively. It currently has over 50 products in its portfolio."
Delima Oil is currently a market leader in cooking oil under the brand name Saji. It also manufactures and markets other palm oil-based downstream products including multi-purpose margarine, vegetable ghee, shortening, dough fat and coating fat as well as butter spread, instant noodles, sambal paste, all purpose season flour and milk creamer for both consumer and industrial markets.