Kuala Lumpur, 15 December 2015
Felda Global Ventures Holdings Berhad (FGV) today signed a Memorandum of Understanding (MOU) with Newlight Technologies LLC (Newlight Technologies) and Innogas Technologies Sdn Bhd (Innogas Technologies) for a project to produce biodegradable plastics from palm oil biomass waste in Malaysia.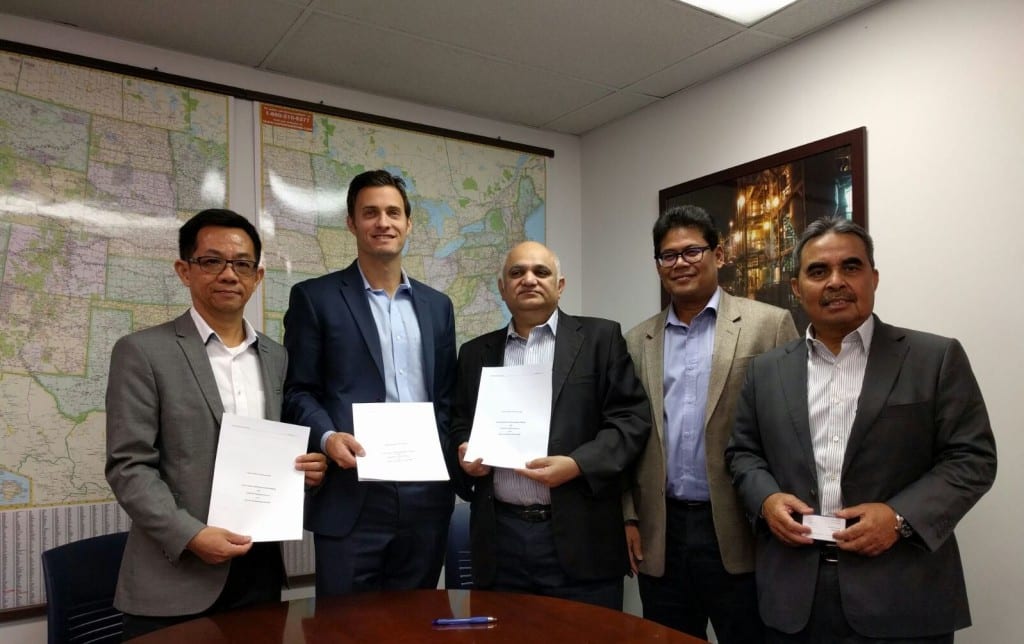 The sustainable biomass project is aimed at diversifying and further developing the company's new revenue streams, in line with a core pillar in its five-year transformation strategy of revenue enhancement.
Based in California, Newlight Technologies specialises in producing thermoplastic materials made from air and greenhouse gases. Innogas Technologies is a Malaysia based company focused on the business of consulting, process plant engineering and technology for chemical and renewable energy.
FGV Group President and CEO Dato' Mohd Emir Mavani Abdullah said as part of the company's commitment to sustainability, it is always looking for innovative ways to manage its palm oil waste effectively.
"This waste to wealth project will elevate the sustainability standards of the palm oil industries in Malaysia and the region as a whole, significantly reducing carbon emissions emitted.
"FGV is keen to partner of Newlight Technologies and Innogas Technologies through this MOU to bring the first cost effective technology in the world to produce biodegradable plastic by processing 100% of bio-waste from our palm oil mills," said Dato Emir.
Newlight Technologies CEO Mark Herrema said; "By converting biogas from FGV's palm oil mills into AirCarbon thermoplastics, we will create important benefits by harnessing greenhouse gas as a resource while using carbon that would otherwise become part of the air to replace fossil fuels.
"Together, FGV and Newlight Technologies have the opportunity to make important economic and environmental progress, and we look forward to working together in this project."
The parties involved has planned for the project to kick off in Q2 2016 with first plant construction to begin in Q4 2016 with a 14 months completion target.  Eventually, the project will be expanded to 10 palm oil mills over the next five years.
Innogas Technologies CEO Denny Yeoh said; "Innogas Technologies holds an exclusive license for a patented state-of-the art technology to process ligno-cellulosic biomass material such as palm oil mill waste which generates a significant amount of biogas, compared to conventional technologies.
"The Company will transfer this licence to the joint-venture company which will then have the exclusive use of this licence in Malaysia."