KUALA LUMPUR, 17 March 2022 – Ladang'57, FGV Holdings Berhad's premium brand for its cash crop products, will be available from this month onwards at the MYDIN chain of outlets throughout the nation.
Consumers can find premium quality local produce in 62 MYDIN outlets such as MD2 pineapple, Cavendish banana, sweet corn, pandan coconut, MD2 juice and MD2 cuts. Other seasonal products will be available from time to time, including its Chuping Harumanis mangoes targeted from April onwards.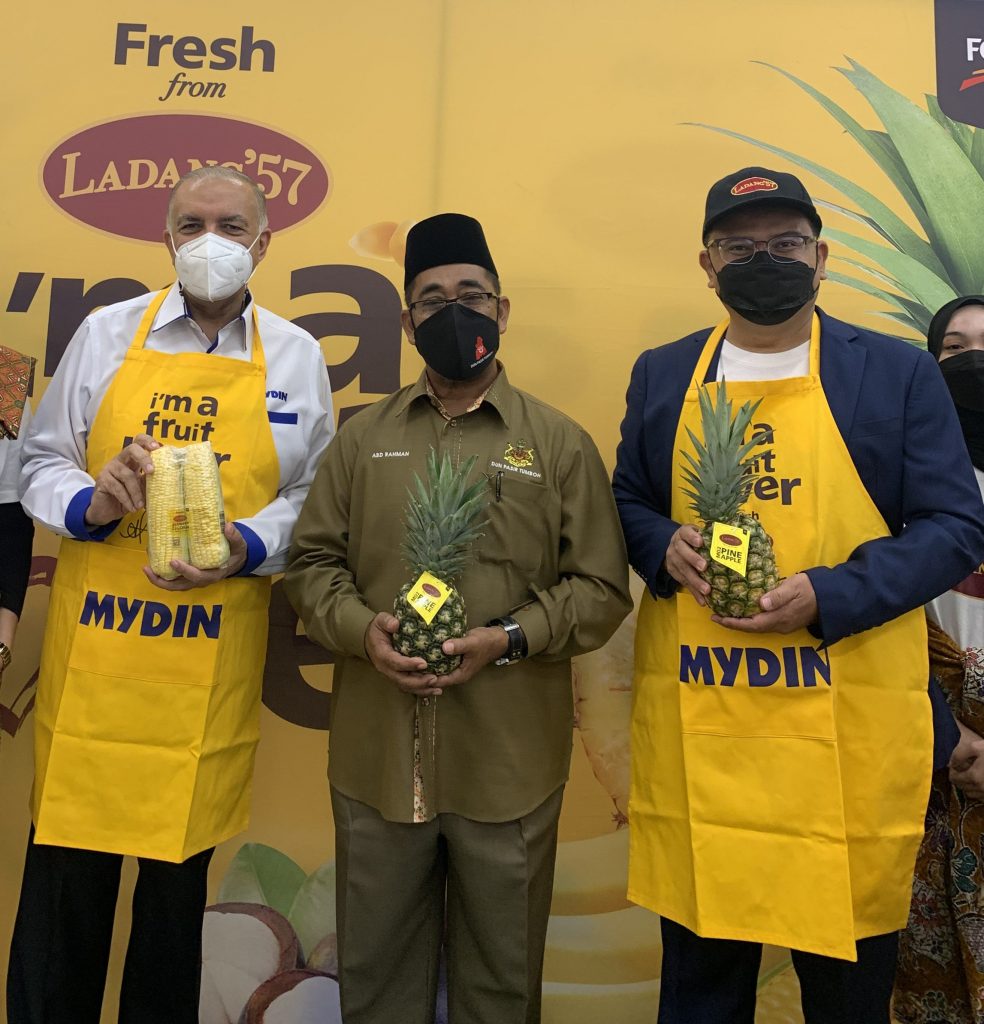 From Left: Datuk Wira Dr Ameer Ali Mydin, MYDIN's Managing Director, Abdul Rahman Yunus, Pasir Tumboh state assemblyman and Abdul Razak Aya, Head of Integrated Farming, FGV Holdings Berhad.
"Our products are sourced straight from the farm with the best quality and taste. Through our subsidiary, FGV Integrated Farming Holdings Sdn Bhd (FGVIF), we promise consistent supply and premium quality of fruits for customers of MYDIN," said Mohd Nazrul Izam Mansor, Group Chief Executive Officer of FGV.
Produced and grown in Malaysia by FGV and its contract farmers, Nazrul said, Ladang'57 represents its commitment towards the nation's food security programme by supporting and upscaling local farmers and their produce, which are safe and sustainable.
"We are also positioning Ladang'57 as one of the food brands under the FGV Group to propel FGV as a leading food producer in Malaysia," added Nazrul.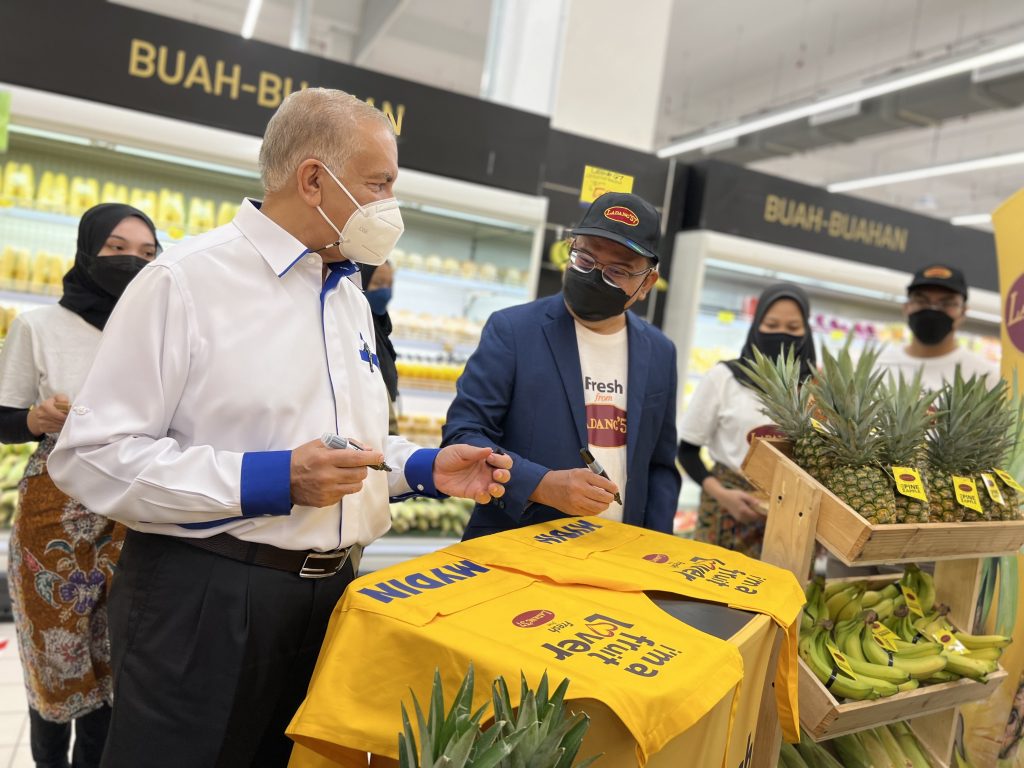 Ladang'57 debut in MYDIN coincided with their latest and largest outlet in Tunjong, Kelantan recently in the presence of MYDIN's Managing Director, Datuk Wira Dr Ameer Ali Mydin and Pasir Tumboh state assemblyman Abdul Rahman Yunus.
Ladang'57 was officially launched in February 2021 and is currently available in Klang Valley. Customers can get their daily dose of fresh fruits via gogopasar.com, FGV's e-grocery platform for the Klang Valley market.
End
KUALA LUMPUR, 17 Mac 2022 – Ladang'57, jenama premium FGV Holdings Berhad untuk produk tanaman kontannya kini boleh didapati di rangkaian cawangan MYDIN di seluruh negara mulai bulan ini.
Pengguna boleh mendapatkan hasil tempatan berkualiti premium di 62 cawangan MYDIN seperti nanas MD2, pisang Cavendish, jagung manis, kelapa pandan, jus MD2 dan potongan MD2. Produk bermusim lain akan turut dijual dari semasa ke semasa, termasuk mangga Chuping Harumanis yang bakal dipasarkan bermula April.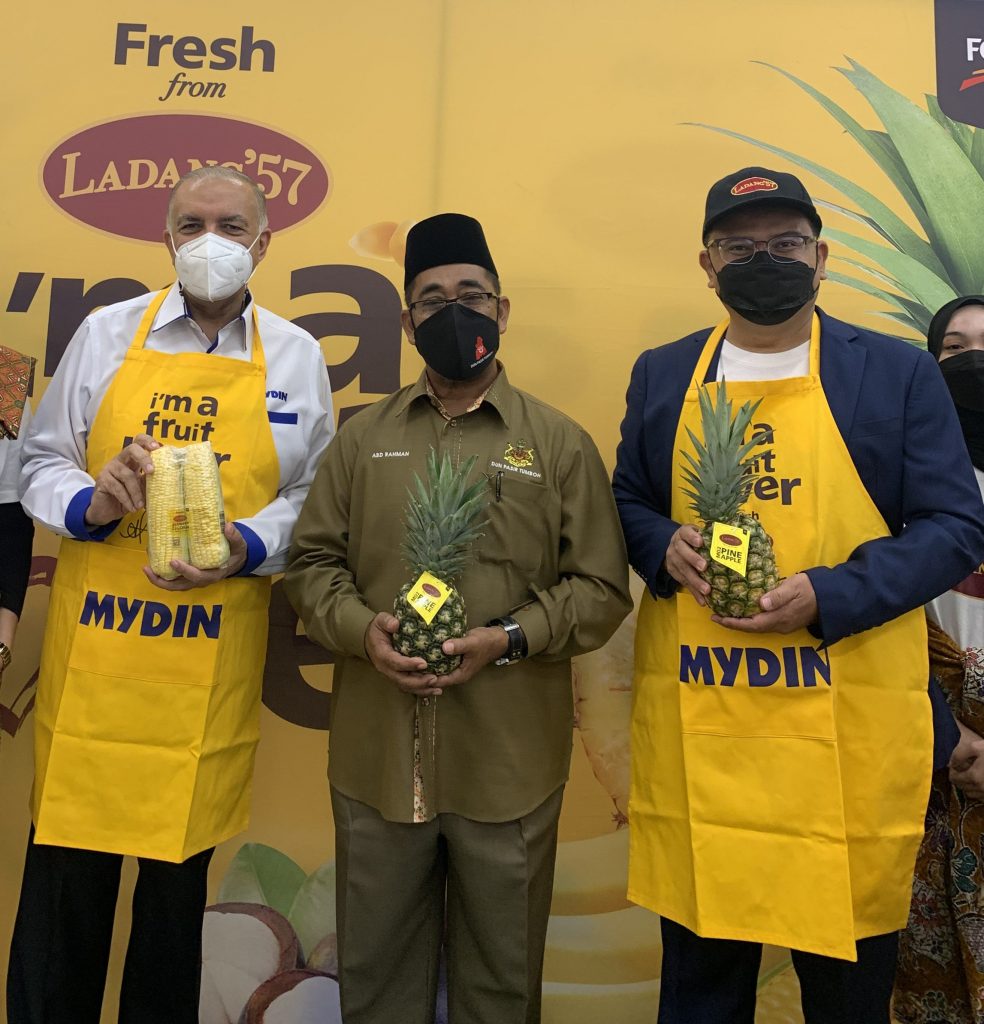 Dari Kiri: Datuk Wira Dr Ameer Ali Mydin, Pengarah Urusan MYDIN, Abdul Rahman Yunus, ADUN Pasir Tumboh dan Abdul Razak Aya, Ketua Pertanian Bersepadu, FGV Holdings Berhad.
"Produk kami diperoleh terus dari ladang dengan kualiti dan rasa yang terbaik. Melalui anak syarikat kami, FGV Integrated Farming Holdings Sdn Bhd (FGVIF), kami menjanjikan bekalan konsisten dan kualiti premium buah-buahan untuk pelanggan MYDIN," kata Mohd Nazrul Izam Mansor, Ketua Pegawai Eksekutif Kumpulan FGV.
Dihasilkan dan ditanam di Malaysia oleh FGV dan peladang kontraknya, Nazrul berkata, Ladang'57 menterjemahkan komitmen Kumpulan terhadap program jaminan makanan negara dengan menyokong dan meningkatkan kemahiran petani tempatan dan hasil mereka, yang selamat dan mampan.
"Kami juga meletakkan Ladang'57 sebagai salah satu jenama makanan di bawah Kumpulan FGV untuk memacu FGV sebagai pengeluar makanan terkemuka di Malaysia," tambah Nazrul.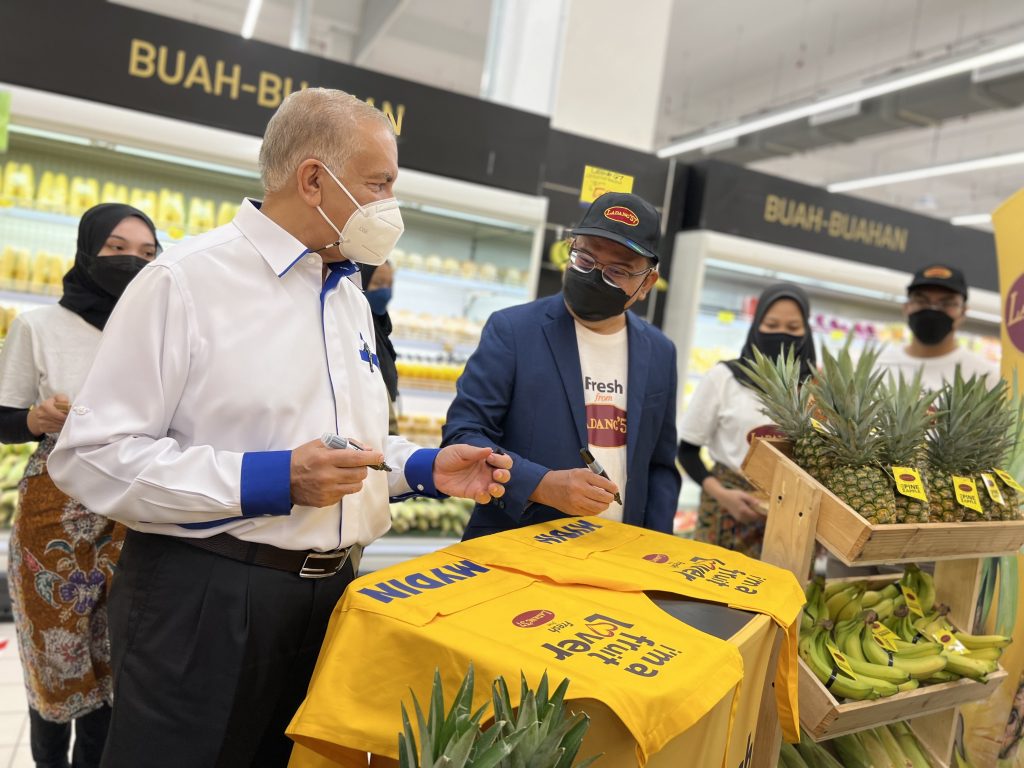 Kemunculan pertama kali Ladang'57 di MYDIN bertepatan dengan pelancaran cawangan terbaharu dan terbesar mereka di Tunjong, Kelantan baru-baru ini yang turut dihadiri oleh Pengarah Urusan MYDIN, Datuk Wira Dr Ameer Ali Mydin dan ADUN Pasir Tumboh Abdul Rahman Yunus.
Ladang'57 telah dilancarkan di Lembah Klang pada Februari 2021. Para pelanggan boleh mendapatkan buah-buahan segar setiap hari melalui gogopasar.com, platform e-runcit FGV untuk pasaran Lembah Klang.
Tamat