PREMEO Animal Fat Replacer, PREMEO Dairy Fat Replacer and PREMEO Frying Oil
KUALA LUMPUR, 27 January 2021 – FGV Holdings Berhad (FGV) through its subsidiary company Delima Oil Products Sdn Bhd (DOPSB), targets to expand its downstream segment through value-added offerings to the Asia-Pacific region, by introducing three new plant-based industrial products under the PREMEO brand.
The products are PREMEO Animal Fat Replacer, PREMEO Dairy Fat Replacer, and PREMEO Frying Oil, all of which are specially formulated as healthier plant-based alternative fats for food and dessert manufacturers, as well as for industrial use such as heavy-duty deep frying for quick service restaurants.
The introduction of the new PREMEO product range is in line with FGV's endeavour to meet the growing demand for genuine high-quality plant-based fats and oils, in countries such as South Korea and Japan, especially in the frozen food and desserts sectors.
Dato' Haris Fadzilah Hassan, Group Chief Executive Officer of FGV said the company is aware of the growing interest towards more sustainable food sources and increased preference in plant-based foods, fuelled by a shift in consumer diets.
"With this new offering from PREMEO, food manufacturers will be able to offer top-grade products with a wide range of health benefits which are free from pathogenic content and pest microbes. Developed through extensive research at the FGV Innovation Centre in Nilai, Negeri Sembilan, our new specialty fats and oils offer industrial customers more choices which are naturally cholesterol-free, rich in Vitamin E, and consists zero trans-fat," explained Haris Fadzilah.
"Our fat replacers provide similar function and texture of animal and dairy fats, while enhancing nutritional value at more affordable costs. As for our premium frying oil, it has been proven to be able to withstand longer heavy-duty frying, giving more value to our customers while producing superior results," he added.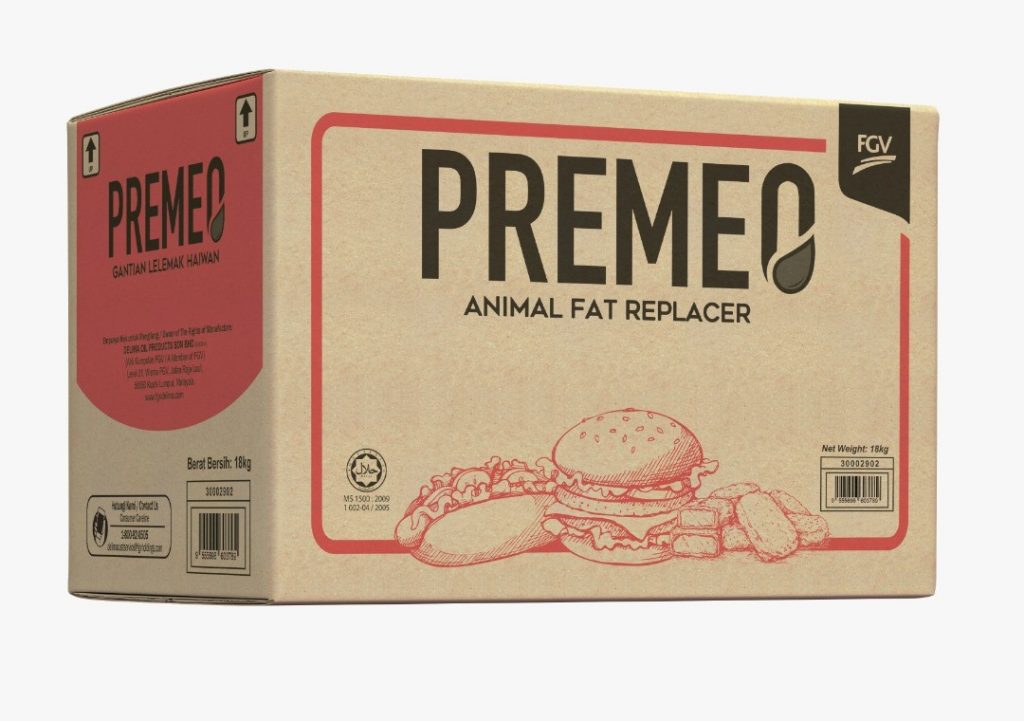 PREMEO Animal Fat Replacer is a high end vegetable-based fat that imitates the mouth-feel of animal fat in food products. An affordable alternative for animal fat made from palm oil, it is scientifically designed and formulated to replace either raw beef fat or chicken fat in the manufacturing of emulsion meat specialty products and formed meat specialty products.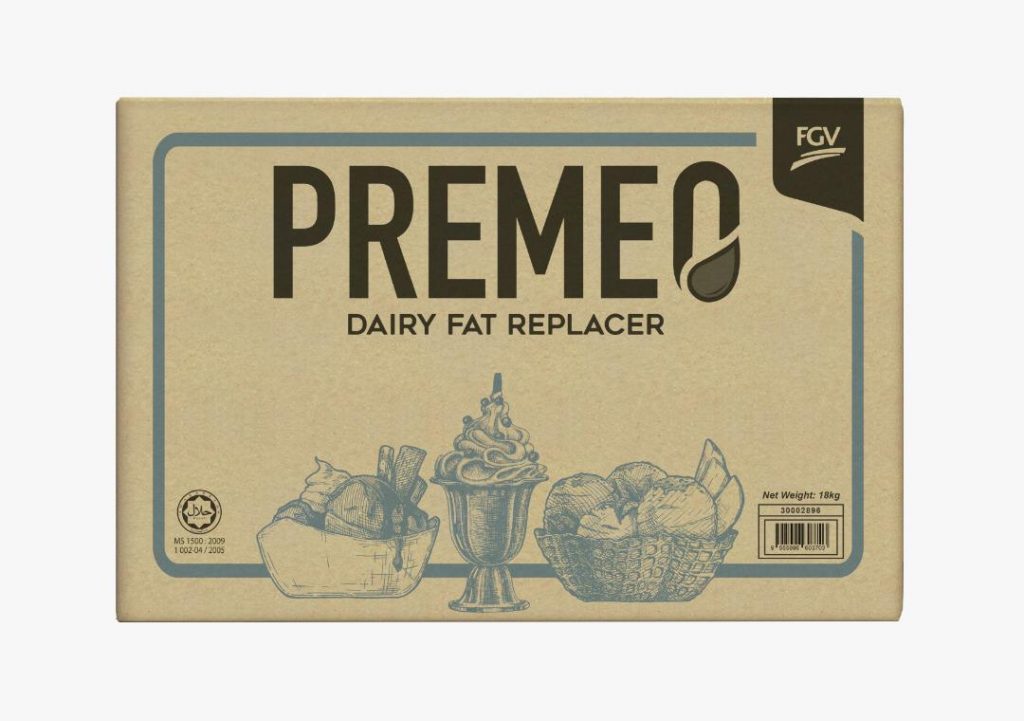 As for PREMEO Dairy Fat Replacer, it is a palm-based vegetable fat which imitates the function of milk fat while offering a healthier and more economical substitute to the dairy fat typically used to produce frozen desserts.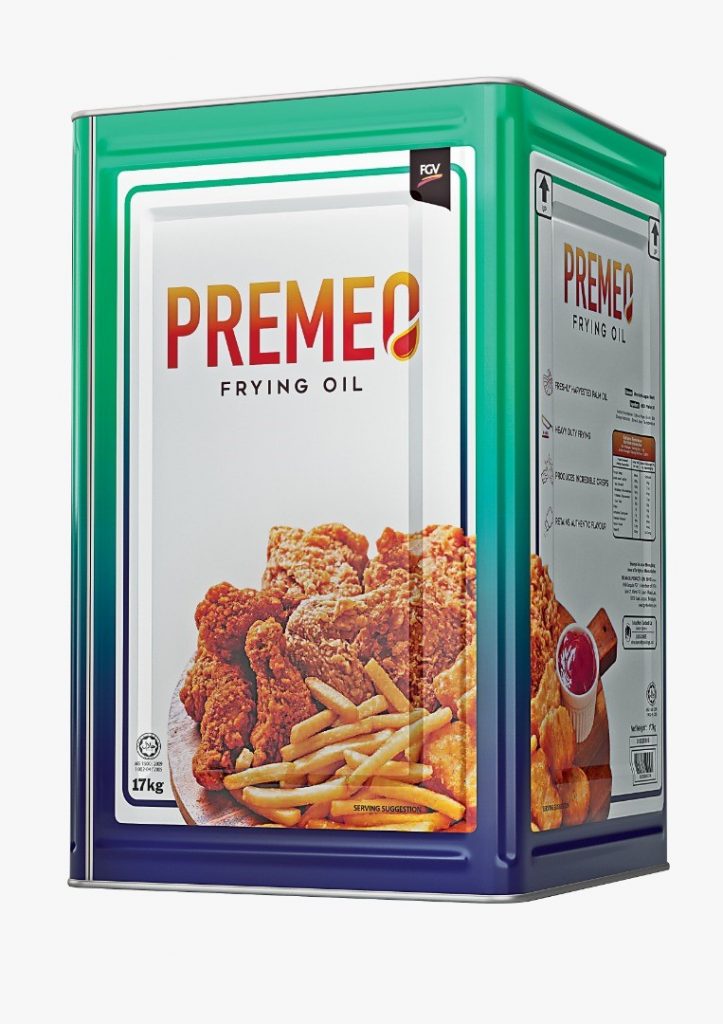 PREMEO Frying Oil is a premium grade cooking oil made from specially harvested palm fruits that are processed within a very short period of time to achieve low free fatty acid content. Offering excellent colour stability without compromising the quality of taste, frying activities can be carried out 30% longer than palm oil and palm olein which are produced based on specifications set by the Palm Oil Refiners Association of Malaysia (PORAM). Ultimately, this reduces oil wastage, improves productivity with 40% extra frying life when topped up, and better cost savings of up to 20-40%.
Industry players interested to purchase or obtain samples of the latest PREMEO products may directly contact Delima Oil Products Sdn Bhd by emailing delimacustservice@fgvholdings.com or visiting www.fgvdelima.com.
END
Gantian Lelemak Haiwan PREMEO, Gantian Lelemak Tenusu PREMEO dan Minyak Gorengan PREMEO
KUALA LUMPUR, 27 Januari 2021 – FGV Holdings Berhad (FGV) menerusi anak syarikatnya Delima Oil Products Sdn Bhd (DOPSB) sasar untuk memperluaskan segmen hilirannya menerusi produk-produk nilai tambah ke rantau Asia Pasifik, dengan memperkenalkan tiga produk industri baharu yang berasaskan tumbuhan di bawah jenama PREMEO.
Produk berkenaan iaitu Gantian Lelemak Haiwan PREMEO, Gantian Lelemak Tenusu PREMEO dan Minyak Gorengan PREMEO, semuanya telah diformulasikan sebagai gantian lelemak berasaskan tumbuhan yang lebih sihat bagi pengilang makanan dan pencuci mulut, dan juga untuk kegunaan industri yang kerap menggunakan gorengan seperti restoran perkhidmatan segera.
Pengenalan rangkaian produk baharu PREMEO ini selaras dengan hasrat FGV dalam memenuhi permintaan yang semakin meningkat terhadap produk lelemak dan minyak berasaskan tumbuhan berkualiti tinggi khususnya dalam sektor makanan sejuk beku dan pencuci mulut di negara-negara seperti Korea Selatan dan Jepun.
Dato' Haris Fadzilah Hassan, Ketua Pegawai Eksekutif Kumpulan FGV berkata, syarikat menyedari akan peningkatan minat dan kecenderungan pengguna terhadap sumber makanan yang lebih lestari dan berasaskan tumbuhan yang didorong oleh perubahan diet pengguna.
"Dengan produk baharu PREMEO ini, pengeluar makanan akan dapat menawarkan produk bergred tinggi dengan pelbagai manfaat kesihatan seperti bebas dari kandungan patogen dan mikrob perosak. Dibangunkan menerusi penyelidikan secara khusus di Pusat Inovasi FGV di Nilai, Negeri Sembilan, lelemak dan minyak khas kami ini menawarkan pilihan kepada para pelanggan industri iaitu bebas daripada kandungan kolesterol secara semulajadi, kaya dengan vitamin E, serta tidak mengandungi lelemak tepu," jelas Haris Fadzilah.
"Gantian lelemak kami membekalkan fungsi dan tekstur yang sama seperti lelemak tenusu dan haiwan, selain menambahkan lagi khasiat pemakanan pada harga yang berpatutan. Bagi minyak gorengan premium pula, ia terbukti mampu menggoreng dengan lebih lama dan ini memberikan lebih nilai kepada para pelanggan serta menghasilkan gorengan yang lebih baik," tambah beliau.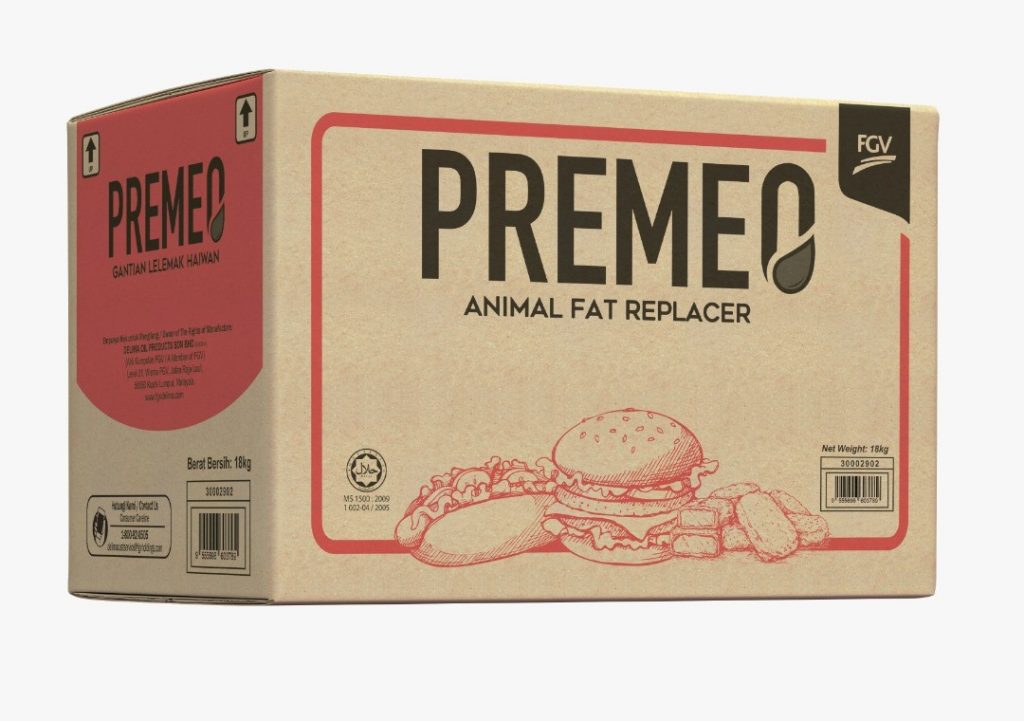 Gantian Lelemak Haiwan PREMEO adalah lelemak berasaskan sayuran berkualiti tinggi yang mempunyai rasa seakan-akan lelemak haiwan di dalam produk makanan. Lelemak haiwan alternatif dengan harga berpatutan ini dihasilkan daripada minyak sawit, ia direka dan diformulasikan secara saintifik untuk menggantikan sama ada lelemak daging mentah atau lelemak ayam dalam pembuatan produk khas daging emulsi dan produk khas berbentuk daging.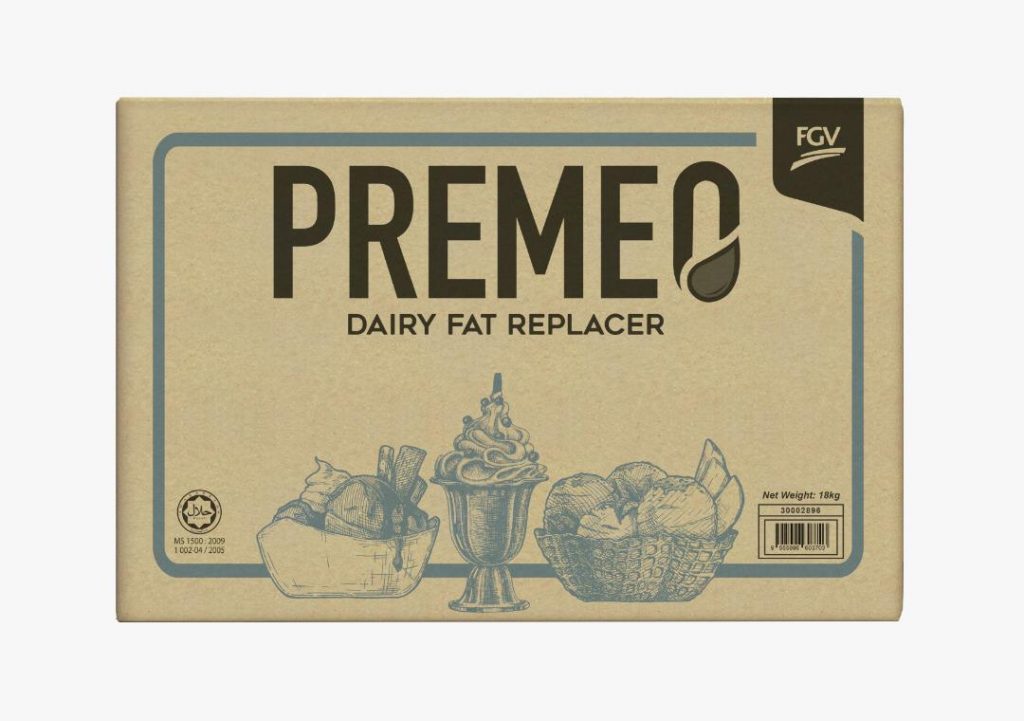 Gantian Lelemak Tenusu PREMEO pula merupakan lelemak sayuran berasaskan sawit yang menyamai fungsi lelemak susu, sambil menawarkan pengganti lelemak tenusu yang lebih sihat dan ekonomi daripada lelemak tenusu yang biasa digunakan dalam penghasilan produk pencuci mulut sejuk beku.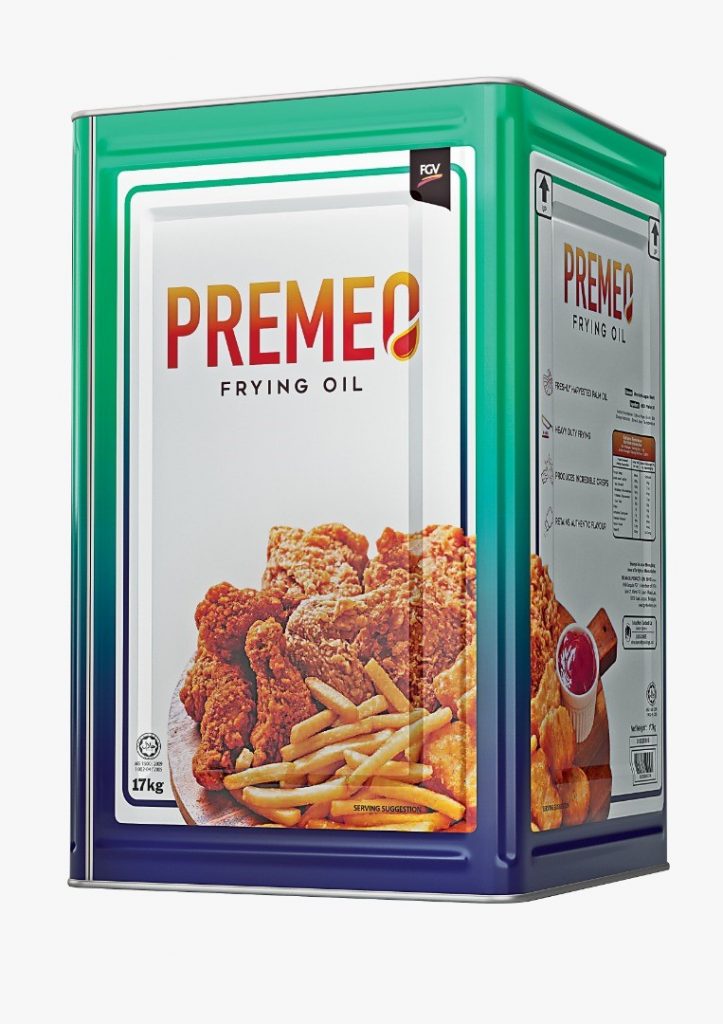 Sementara itu, Minyak Gorengan PREMEO pula ialah minyak masak gred premium yang dihasilkan menerusi buah kelapa sawit yang dituai khusus dan diproses dalam tempoh yang amat singkat bagi mencapai kandungan bebas asid lemak yang rendah. Menawarkan kestabilan warna yang sangat baik tanpa menjejaskan kualiti rasa, aktiviti mengoreng kini 30 peratus lebih lama daripada minyak sawit dan olein sawit biasa yang dihasilkan berdasarkan spesifikasi yang ditetapkan oleh Persatuan Penapis Minyak Sawit Malaysia (PORAM).
Ini dapat mengurangkan sisa buangan minyak, meningkatkan produktiviti dengan 40 peratus tempoh tambahan untuk menggoreng  apabila minyak ditambah, dan lebih menjimatkan kos sehingga 20 hingga 40 peratus.
Pemain industri yang berminat untuk membeli atau mendapatkan contoh produk baharu PREMEO boleh menghubungi terus Delima Oil Products Sdn Bhd menerusi emel di delimacustservice@fgvholdings.com atau layari www.fgvdelima.com.
TAMAT