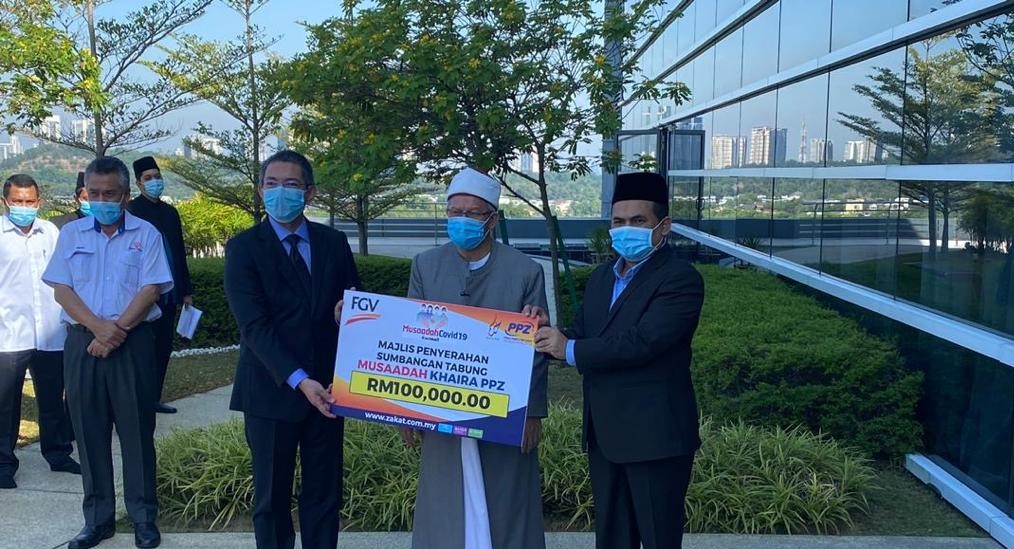 KUALA LUMPUR, 22 APRIL 2020: FGV Holdings Berhad (FGV) returns RM100,000 in wakalah zakat funds to the Federal Territories Islamic Religious Council's Zakat Collection Centre (PPZ-MAIWP) in order to be channelled to the Musa'adah Khaira PPZ Fund, specifically to assist B40 families, hawkers, small traders, daily wage workers, and individuals affected by sources of income as a result of the COVID-19 pandemic.
(Wakalah zakat – In paying the company's annual zakat, FGV receives back a certain amount from the respective state religious councils and acts as a trustee to distribute the funds to those eligible).
FGV Group Strategic Communication Officer Datuk Najmuddin Abdullah handed over the funds to the Minister in the Prime Minister's Department (Religious Affairs), Datuk Seri Dr Zulkifli Mohamad Al-Bakri in Putrajaya yesterday.
FGV Group Chief Executive Officer, Dato' Haris Fadzilah Hassan said the contribution was part of the FGV wakalah zakat fund, which is a business zakat payment for 2019 to PPZ-MAIWP.
"The movement control order (MCO) period is a difficult time for everyone and FGV strives to assist the community as part of its social responsibility. We hope that this effort will ease the burden on Muslims during the Ramadan," Haris Fadzilah explained.
FGV also returns the wakalah zakat funds received from the Islamic Religious Malay and Customs Council Perak (MAIPk) amounting to RM26,434.75, which was part of business zakat paid in 2019. The amount was channelled to MAIPk's emergency fund to assist government hospitals and clinics in Perak to combat with the COVID-19 pandemic.
Through the FGV Zakat Fund, a one-off contribution of RM500 would be given to 90 kidney patients undergoing dialysis treatment at the Felda Haemodialysis Center run by Yayasan Felda and 15 staff who manages the centre for a total of RM52,500. Affected by the MCO as many of them have no permanent or self-employed, the assistance could assist patients to pay for their treatment and daily expenses.
End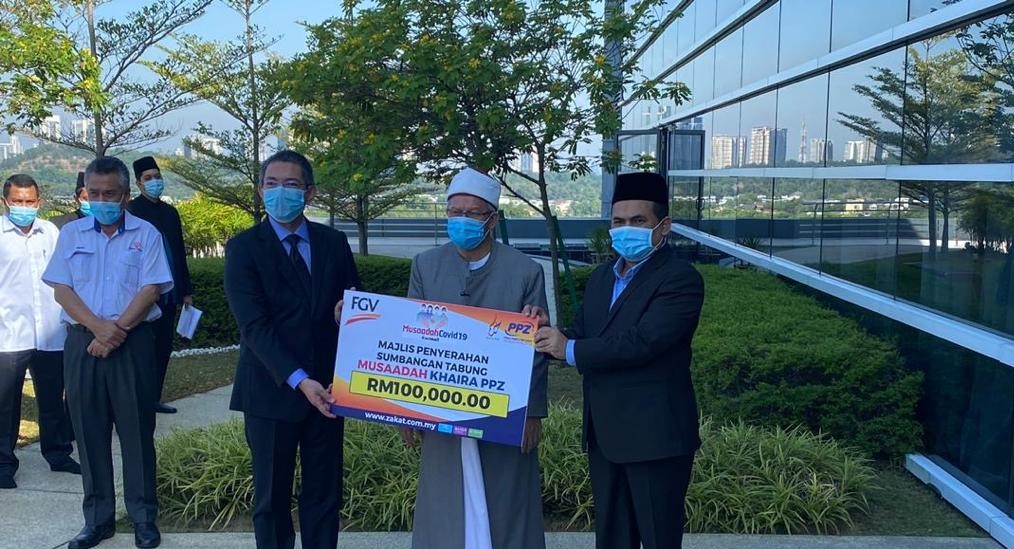 KUALA LUMPUR, 22 APRIL 2020: FGV Holdings Berhad (FGV) menyerahkan semula dana wakalah zakat sebanyak RM100,000 kepada Pusat Pungutan Zakat – Majlis Agama Islam Wilayah Persekutuan (PPZ-MAIWP) untuk disalurkan kepada Tabung Musa'adah Khaira PPZ. Tabung ini ditubuhkan khusus untuk membantu keluarga B40, penjaja, peniaga kecil, pekerja gaji harian, dan individu-individu yang terjejas sumber pendapatan akibat penularan wabak COVID-19. Ketua Pegawai Komunikasi Strategik Kumpulan FGV, Datuk Najmuddin Abdullah telah menyerahkan sumbangan tersebut kepada Menteri di Jabatan Perdana Menteri (Hal Ehwal Agama), Datuk Seri Dr Zulkifli Mohamad Al-Bakri dalam satu majlis di Putrajaya semalam.
Ketua Pegawai Eksekutif Kumpulan FGV, Dato' Haris Fadzilah Hassan berkata, sumbangan tersebut merupakan sebahagian dana wakalah zakat FGV iaitu bayaran zakat perniagaan untuk tahun 2019 kepada PPZ-MAIWP. "Tempoh PKP merupakan waktu sukar untuk semua rakyat dan FGV berusaha membantu masyarakat atas tanggungjawab sosial. Semoga usaha ini dapat meringankan beban di kala umat Islam menjalani ibadah di bulan Ramadan," jelas Haris Fadzilah.
FGV turut menyerahkan semula dana wakalah zakat yang diterima daripada Majlis Agama Islam Dan Adat Istiadat Melayu Perak (MAIPk) berjumlah RM26,434.75 dan ia sebahagian zakat yang telah dibayar FGV untuk tahun 2019. Jumlah tersebut disalurkan kepada dana kecemasan beberapa hospital dan klinik kerajaan dalam negeri Perak untuk menangani wabak COVID-19.
Melalui Tabung Zakat FGV juga, bantuan khas one-off sebanyak RM500 seorang disalurkan kepada 90 pesakit buah pinggang yang menjalani rawatan dialisis di Pusat Hemodialisis Felda (PHF), Yayasan Felda dan 15 kakitangan yang menguruskan operasi PHF dengan jumlah agihan sebanyak RM52,500. Bantuan ini membantu pesakit membuat bayaran rawatan serta perbelanjaan keperluan harian memandangkan ramai pesakit di PHF turut terjejas akibat PKP kerana tidak mempunyai perkerjaan tetap atau bekerja sendiri.
Tamat