KUALA LUMPUR, 15 April – FGV Holdings Berhad (FGV), Malaysia's premier food and agribusiness company launches its corporate social responsibility (CSR) program dubbed 'FGV Seikhlas Hati' which aims to offer products at affordable price to B40 communities in Klang Valley.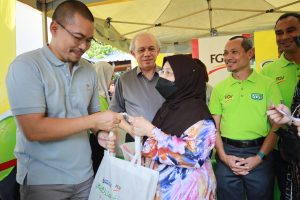 From left: Dato' Nazrul Mansor, Group Chief Executive Officer of FGV with Senior Management of FGV distributing FGV Seikhlas Hati food packs at PPR Seri Perak, Bandar Baru Sentul today. 
The first phase of the program will offer 10,000 packs consisting basic food items at exclusive discounted price to underprivileged households residing in selected Projek Perumahan Rakyat (PPR) across the Klang Valley. Each FGV Seikhlas Hati food pack will include a bottle of 2kg SAJI cooking oil, a can of 500 gram SAJI sweetened creamer, a box of 200 gram SAJI coconut cream, and a packet of 1kg Gula Prai sugar. These items with the total retail price of RM22 is sold to identified PPR households at a low price of only RM10.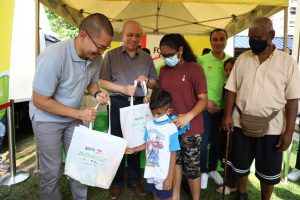 To ensure fairness and transparency, FGV also collaborates with local community leaders, charity organizations as well as government agencies to identify eligible and in-need households, whom will use redemption vouchers to purchase FGV Seikhlas Hati packs. This noble initiative started-off with the sale of 1,000 packs at Pangsapuri Seri Perak, Bandar Baru Sentul. FGV intends to continue the sales drive throughout the holy month of Ramadan and the upcoming Hari Raya celebration, providing the underprivileged with essential food items at a discounted, more than affordable price.
Dato' Nazrul Mansor, Group Chief Executive Officer of FGV said, "The surge in prices of essential items, including food, has become a growing concern. It has impacted not only the B40 households but also those in the middle-income category (M40) especially those residing in big cities. FGV Seikhlas Hati is a perfect opportunity for FGV to give back to the community that has been using and buying our products. This is a reflection of our values and commitment to making a difference in the communities where we operate."
"As a Malaysian food company, our aim is to have at least 50% of Malaysians' cooking ingredients to come from FGV. We hope that this little contribution will help to create more awareness on our products among the B40 communities and put a smile on their faces especially in ushering the Raya festival. We are also glad that the program complements the Malaysia Madani aspiration as mooted by the 10th Prime Minister which embraces compassion, one of its core values and as encapsulated in its slogan, Negara Bangsa Progresif." he added.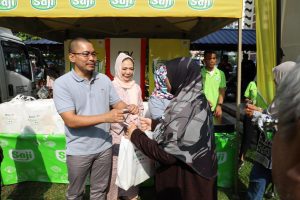 "It is good for FGV to subsidise part of the goods sold here for the underprivileged people like me. The pack sold does make a difference especially with the rising cost of goods today," said 56 years old T. Gandhi Nathy Raman.
40 year-old, Fairul Iskandar added, "It is wise for FGV to identify the deserving households by working with our community representative as they know us better. This assistance can help ease the financial burden of the community where people usually will buy more of these essential ingredients for their Ramadan and Syawal preparations."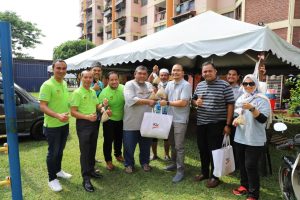 FGV is dedicated to making a positive impact in underprivileged communities through various CSR initiatives under its FGV Seikhlas Hati program. The company remains steadfast in its commitment to serving these communities and will continue its efforts to improve livelihood as enshrined in its Corporate Responsibility pillars.
ENDS
Kuala Lumpur, 15 April – FGV Holdings Berhad (FGV), syarikat pengeluar makanan dan perniagaan agri terulung di Malaysia, hari ini melancarkan program tanggungjawab sosial korporat (CSR), 'FGV Seikhlas Hati' yang menawarkan produk keluarannya pada harga berpatutan kepada komuniti-komuniti B40 di sekitar Lembah Klang.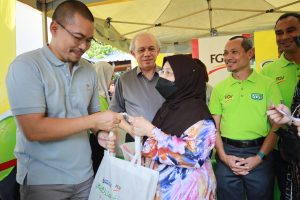 Dari kiri: Dato' Nazrul Mansor, Ketua Pegawai Eksekutif Kumpulan FGV bersama Pengurusan Kanan FGV mengedarkan pek makanan FGV Seikhlas Hati di PPR Seri Perak, Bandar Baru Sentul hari ini.
Fasa pertama program ini menawarkan 10,000 pek barangan makanan asas pada harga istimewa khusus untuk golongan memerlukan di kawasan-kawasan Projek Perumahan Rakyat (PPR) sekitar Lembah Klang. Setiap pek barangan makanan FGV Seikhlas Hati mengandungi sebotol minyak masak SAJI 2kg, setin krimer manis SAJI 500 gram, sekotak krim kelapa SAJI 200 gram, serta sebungkus Gula Prai 1kg. Barangan yang bernilai RM22 itu akan dijual kepada warga PPR terpilih pada harga serendah RM10 sahaja.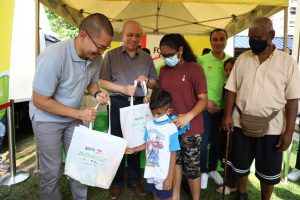 Bagi mengenalpasti penerima yang layak, FGV turut bekerjasama dengan ketua-ketua penduduk, pertubuhan-pertubuhan amal serta agensi-agensi kerajaan untuk mengagihkan baucar-baucar FGV yang boleh ditebus untuk pembelian pek FGV Seikhlas Hati. Inisiatif CSR ini dimulakan pada hari ini dengan penjualan 1,000 pek di Pangsapuri Seri Perak, Bandar Baru Sentul. FGV berhasrat untuk meneruskan usaha jualan pek FGV Seikhlas Hati ini sepanjang bulan Ramadan dan Hari Raya, bagi membekalkan barangan keperluan makanan pada harga yang lebih rendah kepada golongan memerlukan.
Dato' Nazrul Mansor, Ketua Pegawai Eksekutif Kumpulan FGV berkata, "Kenaikan harga barangan keperluan termasuk makanan kini amat membimbangkan. Ianya bukan sahaja memberi kesan kepada isi rumah golongan B40 tetapi juga kepada mereka dalam kategori berpendapatan sederhana (M40), terutamanya yang menetap di kawasan bandar. Melalui program FGV Seikhlas Hati, FGV dapat membantu masyarakat terutamanya pembeli setia produk-produk kami. Usaha ini mencerminkan komitmen kami untuk membantu komuniti-komuniti setempat disekitar operasi perniagaan FGV."
"Sebagai sebuah syarikat pengeluar makanan di Malaysia, matlamat kami adalah untuk memastikan sekurang-kurangnya 50% daripada bahan-bahan keperluan masakan rakyat Malaysia terdiri daripada produk keluaran FGV. Kami berharap jualan ini dapat memperkenalkan seleksi produk kami kepada masyarakat khususnya golongan B40 serta dapat mengukir senyuman di wajah mereka dalam membuat persedian Hari Raya Aidilfitri. Kami juga bersyukur kerana objektif program FGV Seikhlas Hati ini seiringan dengan aspirasi Malaysia Madani yang diperkenalkan oleh Perdana Menteri ke-10, aspirasi yang berteraskan nilai kemanusian dengan slogannya, 'Negara Bangsa Progresif'," tambah Dato' Nazrul.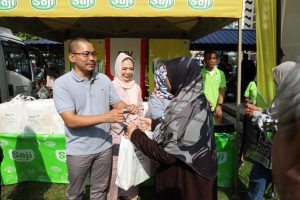 "Usaha FGV menanggung sebahagian daripada kos barangan yang dijual di sini untuk golongan kurang berkemampuan seperti saya adalah sangat bagus. Pek yang dijual memang membantu terutama dengan kenaikan kos barangan pada hari ini," kata T. Gandhi Nathy Raman, yang berumur 56 tahun.
Fairul Iskandar yang berumur 40 tahun pula berkata, "FGV mengambil langkah bijak dalam usaha mengenalpasti penerima-penerima yang layak menerusi kerjasama dengan wakil masyarakat setempat kerana mereka lebih tahu siapa yang memerlukan. Bantuan ini sedikit sebanyak dapat membantu meringankan beban kewangan kami dalam membuat persiapan masakan untuk Ramadan dan Syawal."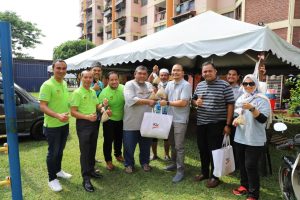 FGV akan terus komited untuk membantu masyarakat terutamanya golongan yang kurang bernasib baik melalui pelbagai inisiatif CSR di bawah program FGV Seikhlas Hati. FGV tetap fokus untuk berkhidmat kepada komuniti setempat dan akan meneruskan usaha bagi meningkatkan kualiti kehidupan mereka seperti yang termaktub dalam tonggak Tanggungjawab Korporat FGV.
TAMAT