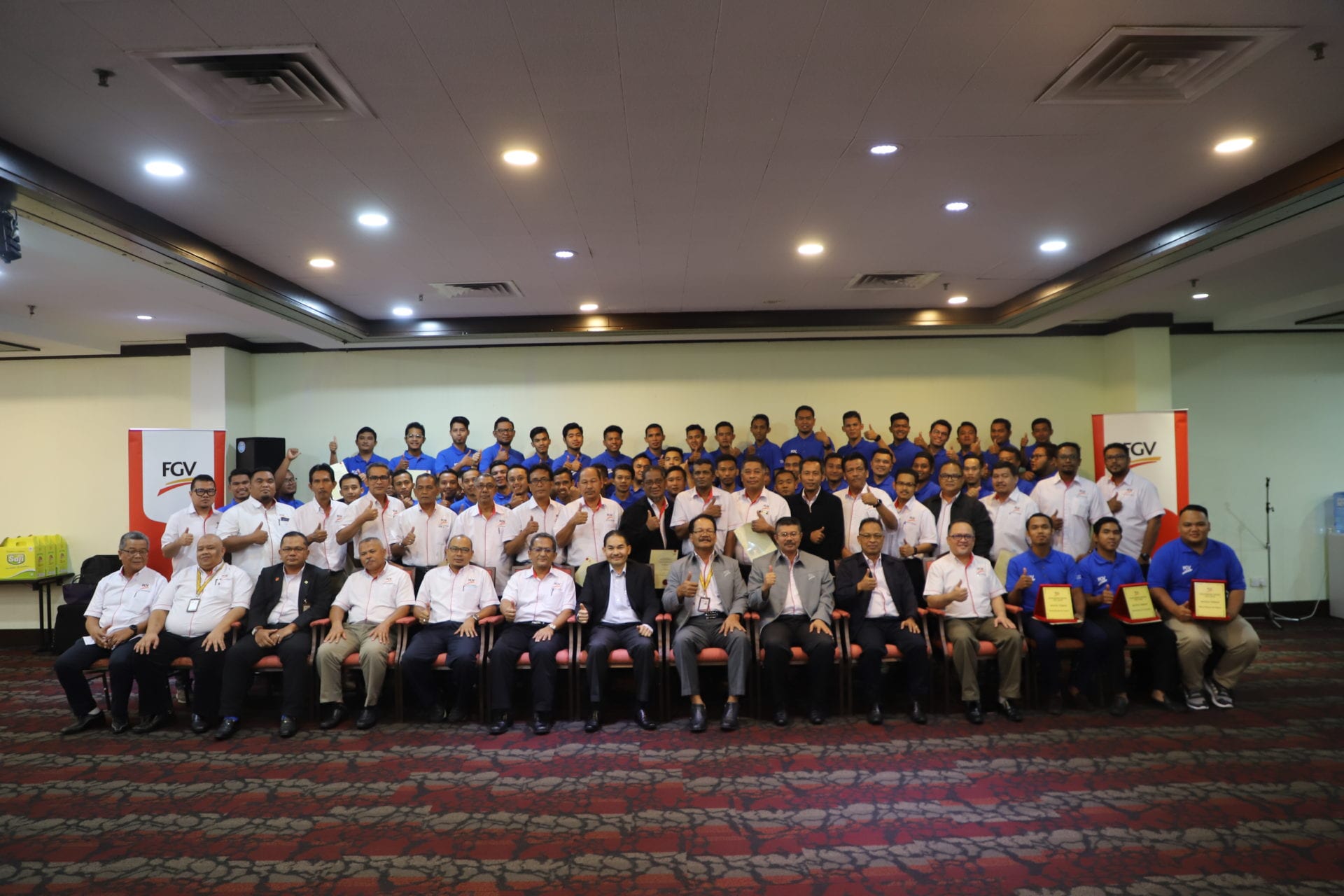 Forty nine young entrepreneurs graduated from the inaugural FGV Young Entrepreneurs Programme 2018 on 7 November 2018. The programme, which was developed and implemented by FGV Holdings Berhad, was designed to equip the next generation of Felda settlers with the necessary skill sets required within the plantation industry. FGV has also carved out RM2.5 million worth of contracts from its annual procurement budget to give these young entrepreneurs a head start in the business world. FGV Chairman and Interim CEO Azhar Abdul Hamid said, "Through such programme, we hope to develop a new group of entrepreneurs who are skilled and knowledgeable about the plantation industry. With the training they have undergone, these young entrepreneurs can perform some of the tasks that are often outsourced by companies to third parties."
Other than the skills needed to work within the plantation industry, the young graduates were also taught the basics of business management at the FGV Academy. Additionally, they have also been schooled in the requirements of the Roundtable on Sustainable Palm Oil (RSPO) and Malaysian Palm Oil Certification Council's (MPOCC) standards for Malaysian Sustainable Palm Oil (MSPO) certification.
The programme was launched in April and attracted about 300 applications nationwide. While 60 participants were selected to undergo training at FGV's plantations, 49 participants successfully completed the six-month programme.
The trainees were taught how to handle chemicals and other hazardous substances that are commonly used for weeding and fertilizing. They were also taught the processes in a well-managed estate from tending the fields to harvesting and transporting fresh fruit bunches (FFB) to the mill. Each trainee was assigned to plantation managers who served as their mentors.
The cost of the six-month programme was fully borne by FGV, during which time, each participant received a monthly allowance of RM1,150.
At the end of the programme, FGV also arranged for the participants to explore business financing opportunities from MARA, TEKUN Nasional and Agrobank. The young entrepreneurs could then set up companies in groups or individually and they could also pitch for tenders from other companies.
"We plan to make this programme part of our Corporate Responsibility (CR) commitment to provide more opportunities for local communities, especially the underprivileged. FGV is committed to producing more skilled young entrepreneurs for the plantation industry," Azhar added.
*** END ***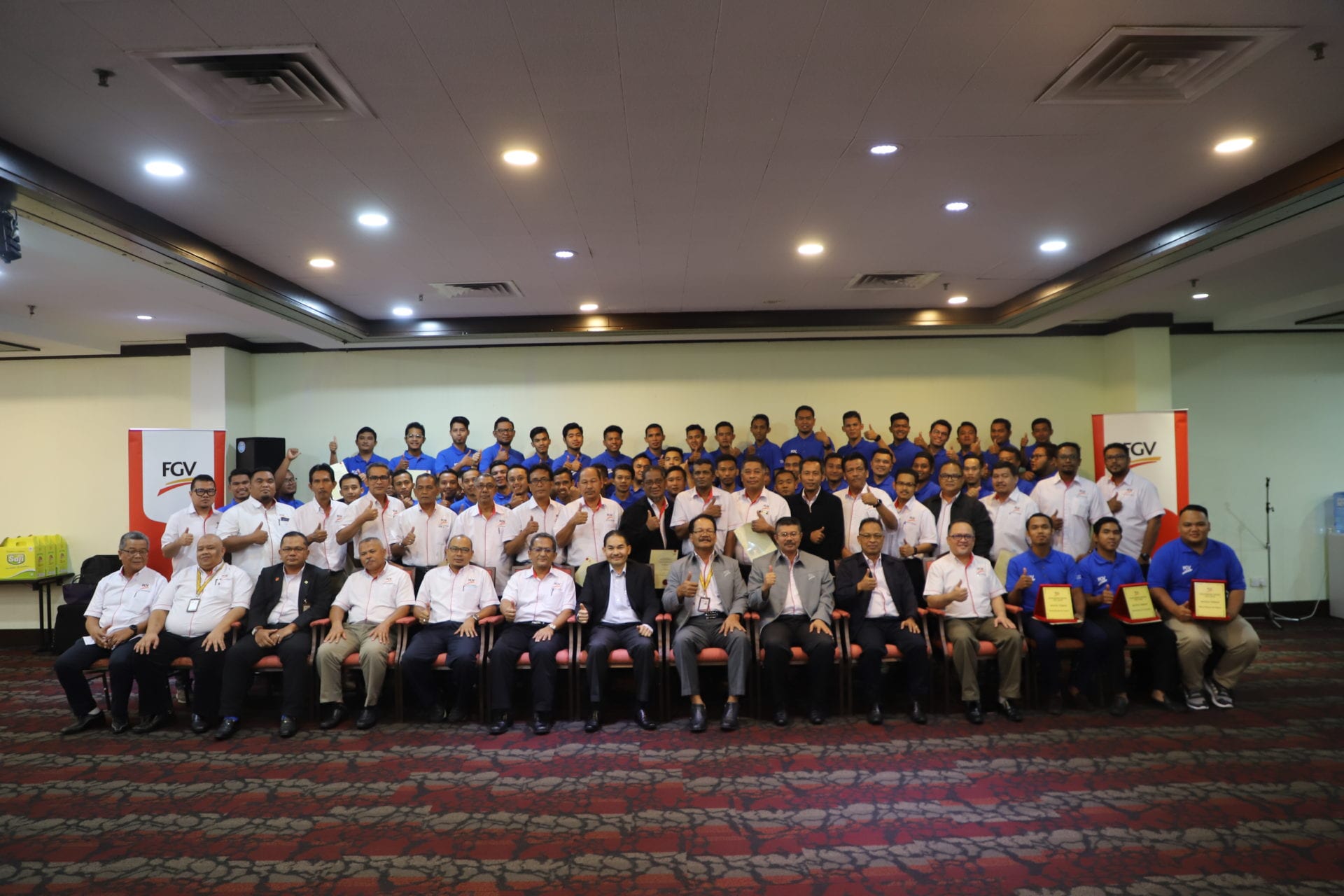 Seramai 49 usahawan muda menamatkan pengajian daripada Program Usahawan Muda FGV 2018 pada 7 November 2018. Program yang dibangunkan dan dilaksanakan oleh FGV Holdings Berhad, telah direka untuk melengkapkan generasi baharu Felda dengan kemahiran yang diperlukan dalam industri perladangan. FGV juga telah memperuntukkan kontrak-kontrak bernilai RM2.5 juta daripada bajet perolehan tahunannya untuk diberikan kepada usahawan muda ini bagi memulakan langkah di dalam dunia perniagaan.
Pengerusi dan Ketua Pegawai Eksekutif Interim FGV Azhar Abdul Hamid berkata, "Melalui program ini, kami berharap dapat melahirkan kumpulan usahawan baharu yang mahir dan berpengetahuan tentang industri perladangan. Dengan latihan yang telah dilalui, usahawan muda ini mampu untuk melaksanakan sebahagian tugasan yang sering diberikan kepada pihak ketiga"
Selain daripada kemahiran yang diperlukan untuk bekerja di dalam industri perladangan, para  graduan muda juga diajar asas pengurusan perniagaan di Akademi FGV. Di samping itu, mereka juga telah dididik mengenai keperluan Rundingan Meja Bulat Minyak Sawit Lestari (RSPO) dan standard Majlis Pensijilan Minyak Sawit Malaysia (MPOCC) untuk pensijilan Minyak Sawit Mampan Malaysia (MSPO).
Program ini telah dilancarkan pada bulan April yang lalu dan menarik kira-kira 300 permohonan dari seluruh negara. Seramai 60 peserta telah dipilih untuk menjalani latihan di ladang FGV, hanya 49 peserta berjaya menyempurnakan program yang berjalan selama enam bulan.
Para pelatih telah diajar untuk mengendalikan bahan kimia dan bahan berbahaya yang biasa digunakan untuk merumput, dan membaja. Di ladang yang diurus dengan baik, mereka diajar mengenai proses-proses daripada mengendalikan ladang untuk menuai dan mengangkut buah tandan segar (BTS) ke kilang. Setiap pelatih ditugaskan kepada pengurus ladang yang menjadi mentor mereka.
Kos program selama enam bulan ditanggung sepenuhnya oleh FGV dan setiap peserta menerima elaun bulanan sebanyak RM1,150.
Di akhir program ini, FGV telah membantu para peserta meneroka peluang pembiayaan perniagaan daripada MARA, TEKUN Nasional dan Agrobank. Para usahawan muda kemudiannya berpeluang menubuhkan syarikat secara berkumpulan atau individu dan mereka juga boleh mendapatkan tender daripada syarikat-syarikat lain.
"Kami merancang untuk menjadikan program ini sebahagian daripada komitmen Tanggungjawab Korporat (CR) kami untuk memberi lebih banyak peluang kepada komuniti setempat, terutamanya yang kurang berkemampuan. FGV komited untuk melahirkan lebih ramai usahawan muda yang lebih berkemahiran untuk industri perladangan," tambah Azhar.
***Tamat***