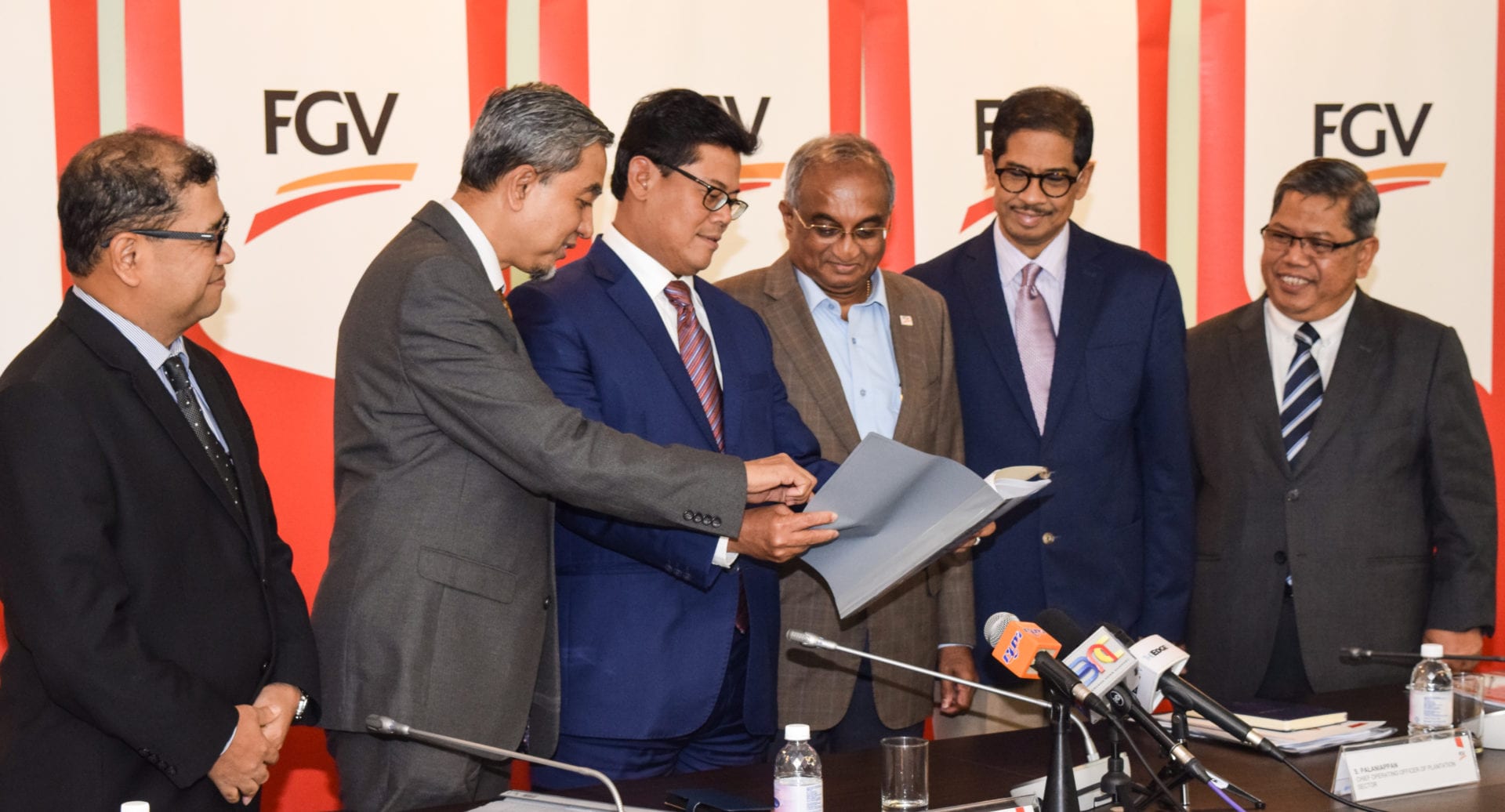 FGV has recorded a Profit Before Zakat and Tax (PBZT) of RM170 million for the nine months ended 30 September 2017 compared to RM44 million in the same period last year contributed mainly by a strong performance from the Plantation Sector and Logistics & Others (LO) Sector.
FGV's revenue rose by 5 percent to RM12.70 billion compared to RM12.09 billion registered in the corresponding period.
Group President and Chief Executive Officer, Dato' Zakaria Arshad said, for 9M 2017, the Plantation Sector's performance posted a marked improvement by achieving a RM255 million profit against a loss of RM30 million in same period last year.
"We are encouraged by our strong set of results. The improvement is due to higher Crude Palm Oil (CPO) production by 10 percent supported by a 3 percent increase in Fresh Fruit Bunches (FFB) production to 3.07 million MT on the back of higher CPO prices, an increase in share of profits from our joint ventures and higher margins in the fertiliser business.  In addition, the LO Sector has recorded increased profits due to higher throughput and tonnage carried by transport operations in tandem with the increase in CPO production volume.
Meanwhile, for the third quarter 2017, FGV posted 31 percent higher PBZT at RM114 million compared to the preceding quarter on the back of improvements by both the Sugar and Logistics & Others (LO) Sectors. The Plantation Sector also recorded RM107 million profit in the third quarter on the back of 18 percent QoQ increase in FFB production; however, performance was offset by a higher LLA charge, whilst the sugar business returned to black against the preceding quarter mainly due to a decline in raw sugar prices," he added.
"In our continuous effort to maximise yield, we have strengthened the estates operations through labour optimisation towards harvesting activities, extended working hours and aggressive foreign labour recruitment. The outlook is further supported by the transition of our younger palms into productive stage.
"Our performance has been on a positive upward trend since Q1 up to Q3. Based on the significant improvement in our FFB production for October, we expect FGV to perform better at the close of the financial year compared to 2016," he said.
"To further strengthen our core business, we have appointed professional subject matter experts to strengthen the composition of the FGV Board and senior management. These subject matter experts have the right experience and expertise to help move FGV forward and generate sustainable returns for our shareholders and stakeholders.
The Board of Directors has also declared an interim dividend payment of 5.0 sen per share on 3,648,151,500 ordinary shares under a single-tier system for the quarter ended 30 September 2017 amounting to RM182.41 million. The dividend is expected to be paid by 28 December 2017.
-End-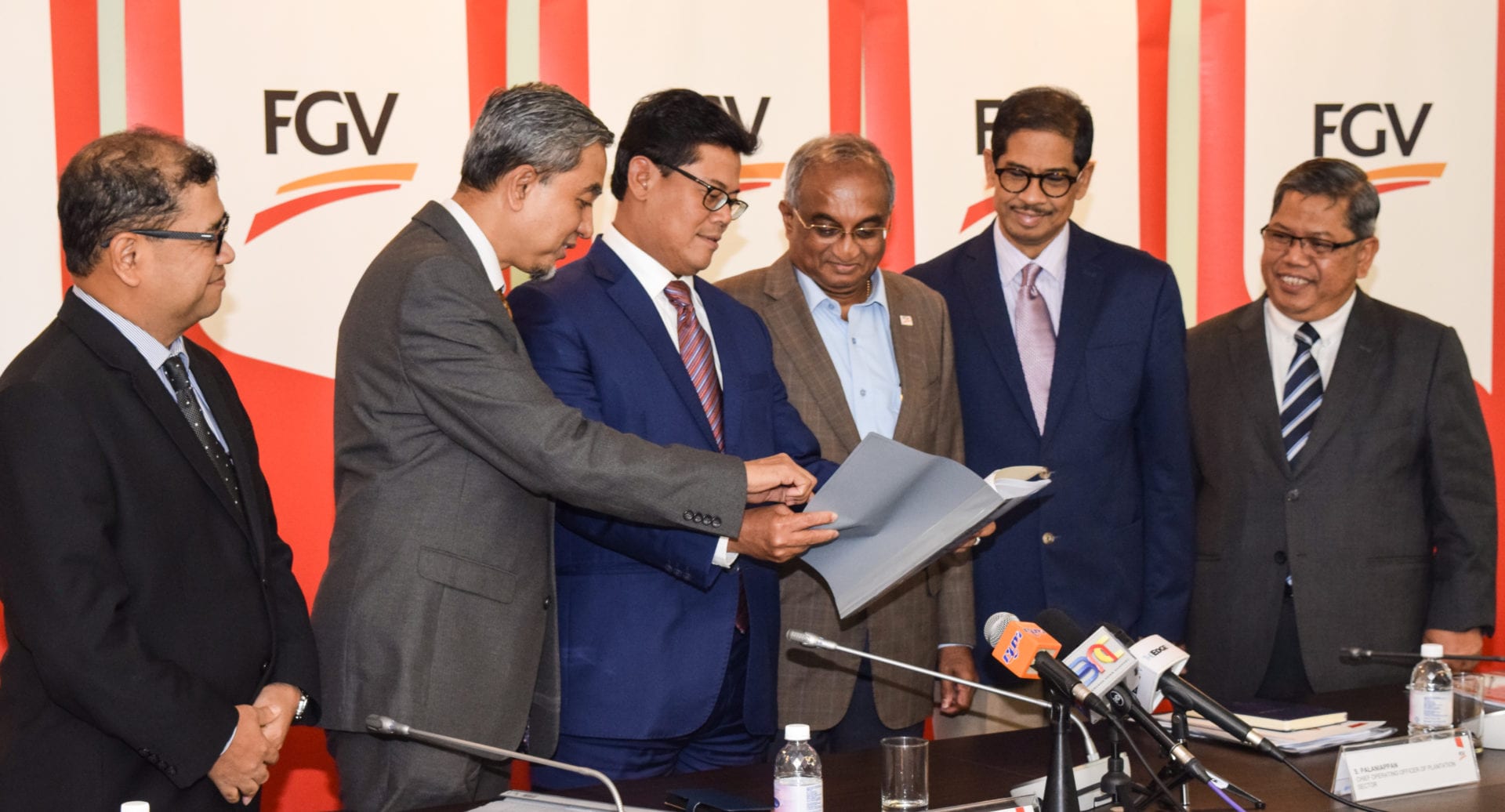 FGV mencatatkan keuntungan sebelum zakat dan cukai (PBZT) sebanyak RM170 juta untuk tempoh sembilan bulan berakhir 30 September 2017 (9M 2017) berbanding RM44 juta pada tempoh sama tahun lalu, disumbangkan oleh prestasi kukuh Sektor Perladangan dan Logistik & Lain-lain (LO).
Perolehan FGV meningkat 5 peratus kepada RM12.70 bilion berbanding RM12.09 bilion yang direkodkan pada tempoh sama tahun lalu.
Presiden dan Ketua Pegawai Eksekutif Kumpulan FGV, Dato' Zakaria Arshad berkata, untuk tempoh 9M 2017, Sektor Perladangan mencatatkan prestasi positif dengan keuntungan sebanyak RM225 juta berbanding rugi RM30 juta pada tempoh sama tahun lalu.
"Prestasi kukuh berkenaan disebabkan oleh pengeluaran minyak sawit mentah (MSM) yang tinggi sebanyak 10 peratus disokong oleh peningkatan pengeluaran buah tandan segar (BTS) sebanyak 3 peratus kepada 3.07 juta MT, selain turut disumbangkan oleh harga MSM yang tinggi, untung daripada syarikat kerjasama dan margin tinggi daripada perniagaan baja. Selain itu, Sektor LO mencatatkan peningkatan keuntungan berikutan peningkatan jumlah tan dalam operasi pengangkutan selari dengan kenaikan jumlah pengeluaran MSM.
Sementara itu, untuk suku ketiga 2017, FGV merekodkan peningkatan PBZT sebanyak 31 peratus kepada RM114 juta berbanding suku sebelumnya disokong oleh pengukuhan Sektor Gula dan LO. Sektor Perladangan mencatatkan keuntungan RM107 juta pada suku ketiga disokong oleh peningkatan sebanyak 18 peratus pengeluaran BTS; bagaimanapun prestasi positif berkenaan telah terkesan dengan peningkatan caj LLA, manakala perniagaan gula kembali untung berbanding rugi pada suku sebelumnya disokong oleh penurunan harga gula mentah," tambah beliau.
"Untuk meneruskan komitmen untuk meningkatkan hasil, kami telah mengukuhkan operasi ladang dengan mengoptimumkan pekerja ladang dalam aktiviti penuaian, penawaran kerja lebih masa dan meningkatkan rekrut pekerja asing secara agresif. Jangkaan positif juga disokong oleh proses transisi pokok muda kepada fasa pokok yang produktif.
"Prestasi kami telah menunjukkan trend positif sejak suku pertama hingga suku ketiga. Berdasarkan peningkatan ketara dalam pengeluaran BTS pada Oktober lalu, kami jangka prestasi keseluruhan FGV akan lebih baik berbanding 2016," katanya.
"Bagi menambahbaik perniagaan teras, kami telah melantik individu profesional yang pakar dalam bidang tertentu dalam Lembaga Pengarah FGV dan pengurusan kanan. Individu berkenaan mempunyai pengalaman dan kemahiran tinggi dalam membantu pertumbuhan FGV dan menjana pulangan yang mampan kepada pemegang saham dan pihak berkepentingan.
Lembaga Pengarah FGV telah mengumumkan dividen interim sebanyak 5.0 sen sesaham kepada 3,648,151,500 saham biasa di bawah sistem tahap tunggal untuk suku tahun berakhir 30 September 2017 berjumlah RM182.41 juta. Dividen dijangka dibayar pada 28 Disember 2017.
-Tamat –