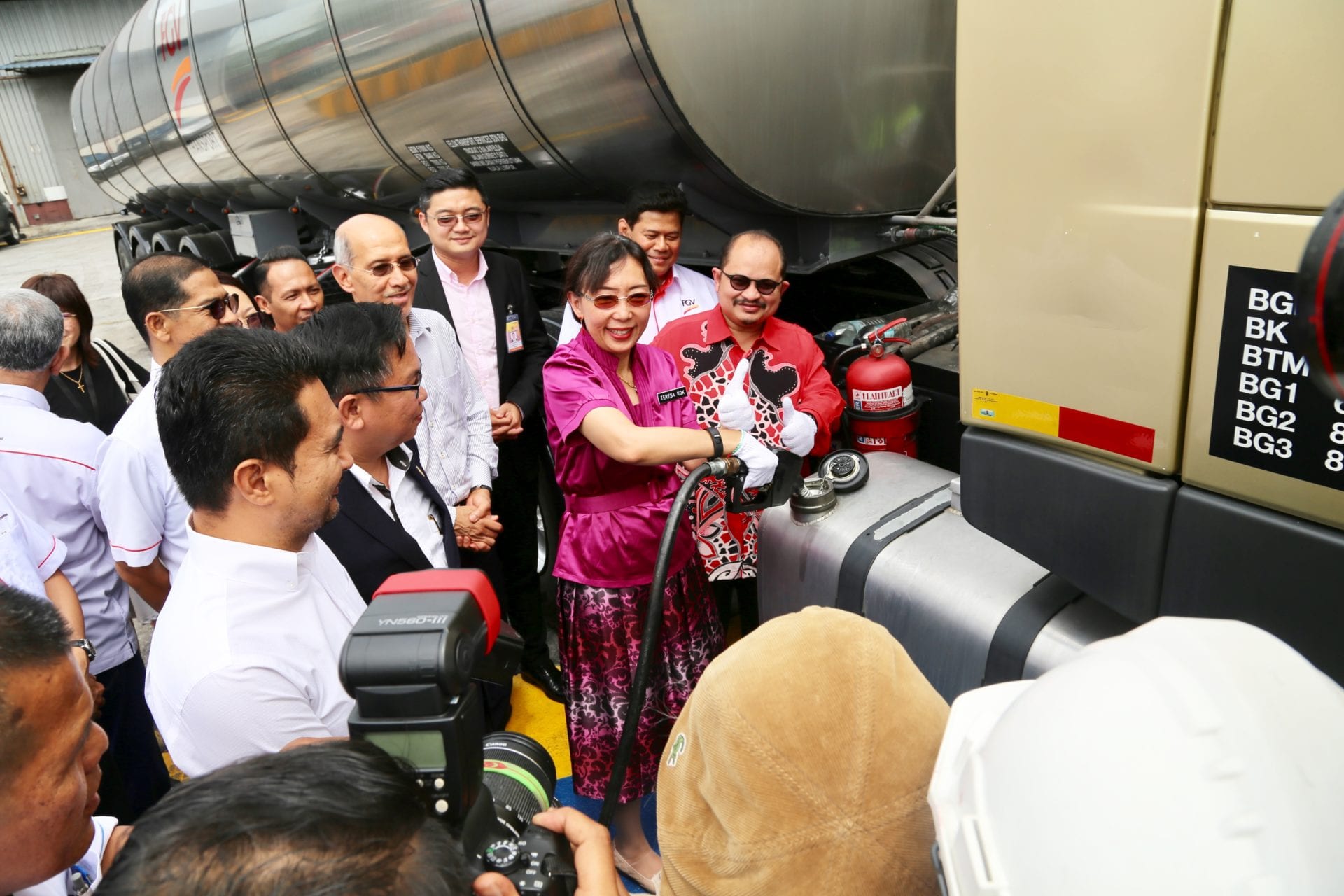 FGV Holdings Berhad (FGV) in collaboration with the Malaysian Palm Oil Board (MPOB), has achieved impressive results in biodiesel testing using a 10% (B10) palm methyl ester (PME) mixture in its logistics, plant and plant operations.
The objective of the B10 usage test is a sign of support for government efforts to increase the current B7 biodiesel usage mandate to B10 and to prove scientifically that an increase of 3% does not negatively impact the performance and safety of transport and industrial machinery.
FGV Group President and Chief Executive Officer, Dato' Zakaria Arshad said FGV and MPOB conducted a comprehensive B10 usage test since August 2017 through the logistics division before being expanded to selected plantation and mill sectors beginning May 2018.
"As at end August 2018, the FGV logistics division has used 91,536 liters of B10 with a distance of 172,932 km, while in plantation and factory operations each uses 26,347 liters and 59,077 liters respectively."
"During the testing period, there are no technical issues reported and scientific studies through MPOB also showed positive results. We will continue this test until October to ensure we achieve a consistent and comprehensive data" he said.
FGV and MPOB agreed that now is a good time for the government to reconsider the proposal to implement the B10 mandate following the low crude palm oil (CPO) prices and is expected to remain until the end of the year as well as rising world crude oil prices since the beginning of the year.
Market analysts also expect stocks of Malaysia and Indonesia CPO likely to increase in the second half of this year due to high output and this is seen adding further pressure on world CPO market prices.
End.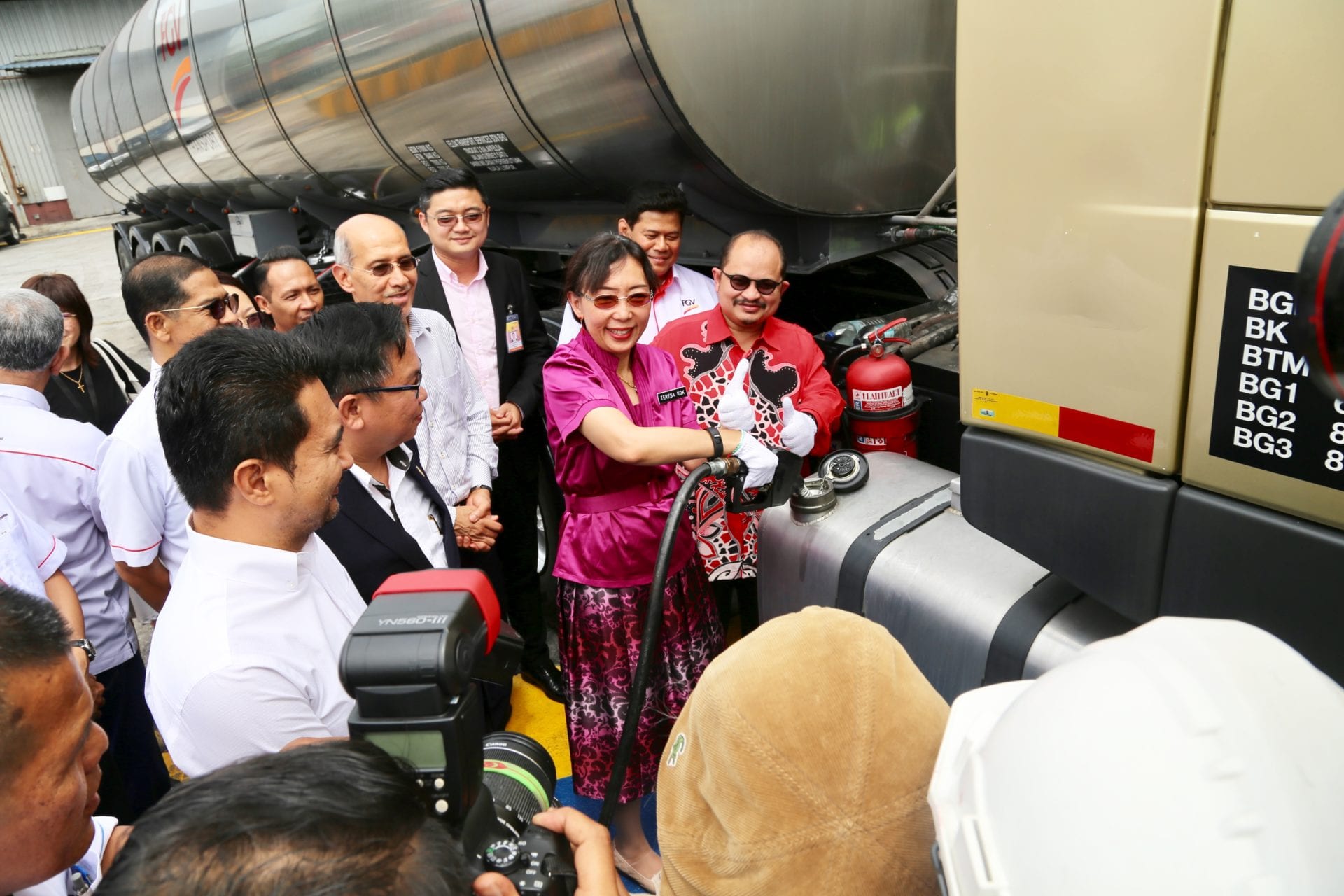 FGV Holdings Berhad (FGV) dengan kerjasama Lembaga Minyak Sawit Malaysia (MPOB) telah berjaya mencatatkan keputusan yang memberangsangkan dalam ujian penggunaan biodiesel dengan campuran ester metil sawit (PME) sebanyak 10% (B10) dalam operasi logistik, kilang dan ladangnya.
Matlamat ujian penggunaan B10 ini adalah tanda sokongan kepada usaha kerajaan untuk meningkatkan mandat penggunaan biodiesel B7 ketika ini kepada B10 dan membuktikan secara saintifik bahawa peningkatan sebanyak 3% tidak memberikan sebarang kesan negatif kepada prestasi dan keselamatan jentera pengangkutan dan industri.
Presiden dan Ketua Pegawai Eksekutif Kumpulan FGV, Dato' Zakaria Arshad berkata, FGV dan MPOB telah menjalankan ujian penggunaan B10 secara komprehensif sejak Ogos 2017 menerusi bahagian logistik sebelum dikembangkan ke sektor ladang dan kilang terpilih bermula Mei 2018.
"Setakat hujung Ogos 2018, bahagian logistik FGV telah menggunakan 91,536 liter B10 dengan jarak perjalanan sejauh 172,932 km, manakala dalam operasi ladang dan kilang masing-masing menggunakan 26,347 liter dan 59,077 liter.ie
"Sepanjang tempoh berkenaan tiada sebarang isu teknikal dilaporkan dan kajian saintifik menerusi MPOB juga menunjukkan hasil yang positif. Kami akan meneruskan ujian ini sehingga Oktober bagi memastikan data yang diperolehi konsisten dan menyeluruh," katanya.
FGV dan MPOB bersetuju bahawa sekarang adalah waktu terbaik untuk kerajaan mempertimbangkan semula cadangan untuk melaksanakan mandat B10 berikutan harga minyak sawit mentah (MSM) yang rendah dan dijangka berterusan sehingga hujung tahun serta kenaikan harga minyak mentah dunia sejak awal tahun ini.
Penganalisa pasaran juga menjangkakan stok MSM Malaysia dan Indonesia dijangka meningkat pada separuh kedua tahun ini disebabkan pengeluaran tinggi dan ini dilihat bakal menambahkan lagi tekanan kepada harga pasaran MSM dunia.
Tamat.