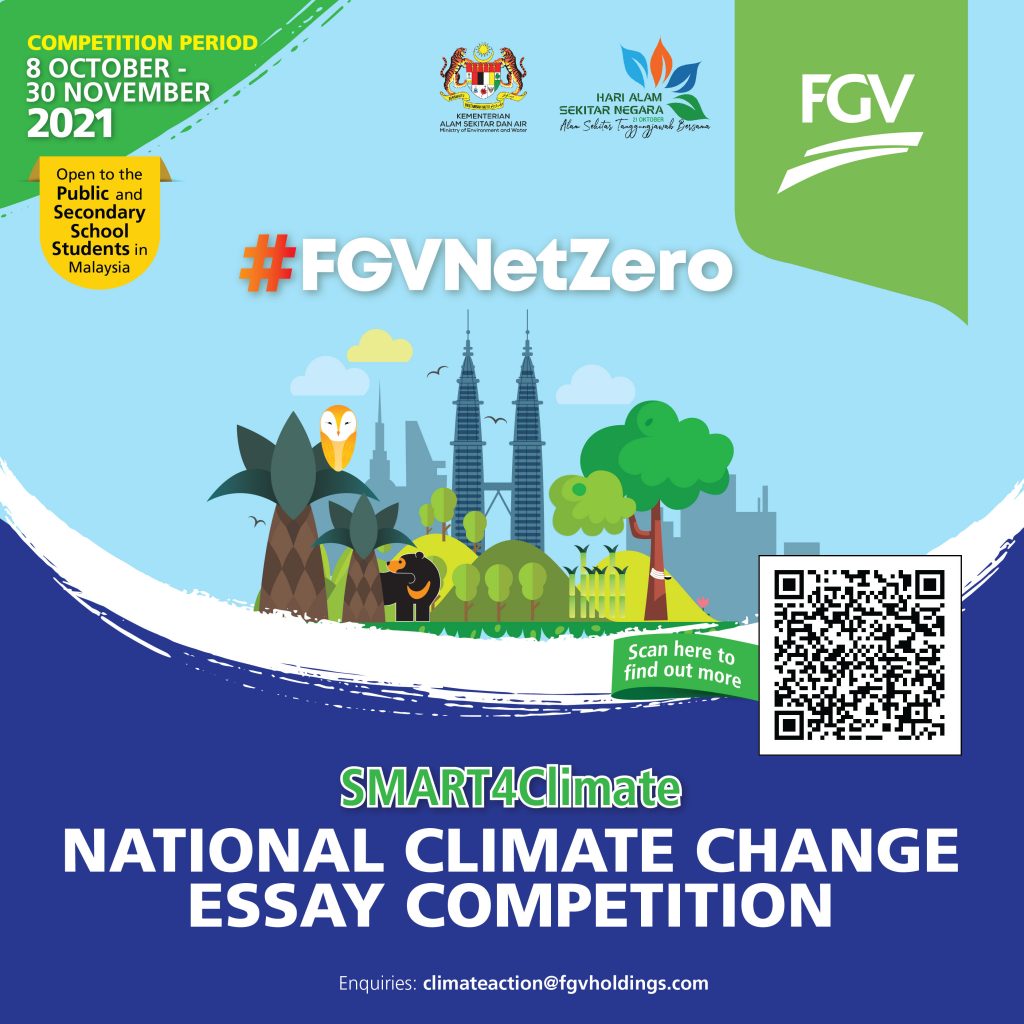 KUALA LUMPUR, 8 October 2021 – FGV Holdings Berhad (FGV), in collaboration with the Ministry of Environment and Water (KASA), launches a national essay writing competition today under SMART4Climate, FGV's inaugural climate awareness and education campaign.
Named 'Write4Climate', the writing competition aims to advocate climate change awareness among Malaysians and will run until 30 November 2021. Participants are free to choose a topic that is relevant to the theme 'Malaysia's Role in Keeping the World Below 1.5°C'.
Mohd Nazrul Izam Mansor, FGV's Group Chief Executive Officer said, Write4Climate will provide an avenue for aspiring writers to express thoughts and recommendations with regards to global climate change issues.
"The pen is mightier than the sword. At FGV, we believe the Write4Climate competition will provide a constructive platform to help increase climate action awareness among Malaysians, especially the youth. By encouraging freedom of expression through writing on critical global issues such as climate change, youths are empowered to become the catalyst of nation-building and to contribute to the national climate agenda," said Mohd Nazrul.
Write4Climate is organised in conjunction with the upcoming National Environment Day on 21 October 2021, as well as the 26th United Nations Climate Change Conference of the Parties (COP26) which will take place in Glasgow, Scotland in November this year. The contest is open to secondary school students aged 13 to 17 and the public aged 18 and above.
Essay entries may be submitted in English or Bahasa Melayu under the competition's student or public categories. Under each category, the winner will receive RM1,500, while the first and second runner-up will receive RM1,000 and RM500 respectively. Consolation prizes of RM200 each will be awarded to ten selected entries, and all participants will receive a certificate of participation from FGV.
Speaking on its collaboration with KASA, Mohd Nazrul said, "We believe concerted actions by the government and private sector will further accelerate the success of the country's climate agenda. We are delighted to have KASA as our dynamic partner for this competition, as their support adds tremendous value and impact to our climate awareness programmes.
"We hope the launch of Write4Climate will inspire more companies to join us in driving nationwide climate awareness," continued Mohd Nazrul.
FGV welcomes and supports the recently announced 12th Malaysia Plan that puts great emphasis on sustainability and climate action. Commenting on this, Mohd Nazrul stated that the national plan was timely and necessary in addressing the climate emergency set by the sixth assessment report by the Intergovernmental Panel on Climate Change (IPCC).
"FGV applauds the government's underlining commitment to sustainability that allows Malaysia to fully drive climate action initiatives. We hope the realisation of the plan will pave the way for the country's transition and adoption of a low carbon economy," said Mohd Nazrul.
In September 2021, FGV announced its commitment to science-based targets and net-zero ambition, making it Malaysia's first food and agriculture company to commit to such ambitious carbon reduction targets. These targets are in line with the latest climate science to limit global temperature rise at 1.5°C.
For more details, please click here or email climateaction@fgvholdings.com for enquiries.
END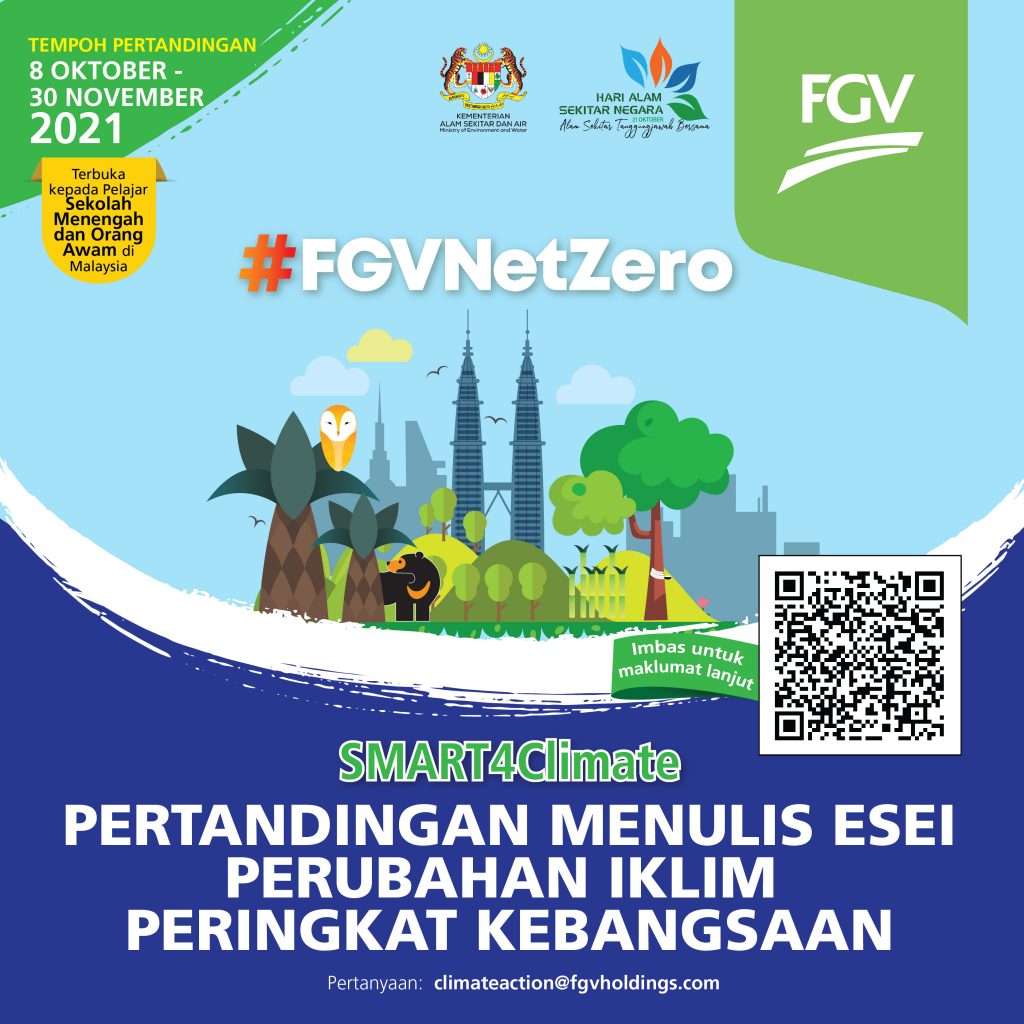 KUALA LUMPUR, 8 Oktober 2021 – FGV Holdings Berhad (FGV), dengan kerjasama Kementerian Alam Sekitar dan Air (KASA), melancarkan pertandingan menulis esei peringkat kebangsaan di bawah inisiatif SMART4Climate, kempen kesedaran dan pendidikan iklim FGV yang pertama. 
Dijenamakan sebagai 'Write4Climate', pertandingan menulis esei tersebut bertujuan untuk meningkatkan kesedaran rakyat Malaysia mengenai perubahan iklim, dan akan berlangsung sehingga 30 November 2021. Peserta bebas untuk memilih tajuk yang berkaitan dengan tema yang dinyatakan iaitu 'Peranan Malaysia dalam Mengehadkan Peningkatan Suhu Global di Bawah Paras 1.5°C'.
Mohd Nazrul Izam Mansor, Ketua Pegawai Eksekutif Kumpulan FGV berkata, Write4Climate membuka peluang bagi para penulis mengeskpresikan pendapat dan cadangan berkenaan dengan isu perubahan iklim global.
"Mata pena lebih tajam daripada mata pedang. FGV yakin pertandingan Write4Climate ini merupakan platform yang konstruktif untuk membantu meningkatkan kesedaran mengenai perubahan iklim dalam kalangan warga Malaysia, terutamanya golongan belia. Dengan mendorong kebebasan bersuara melalui penulisan mengenai isu-isu global yang kritikal seperti perubahan iklim, orang awam dan golongan belia diperkasa untuk menjadi pemangkin pembinaan negara dan menyumbang kepada agenda iklim nasional," kata Mohd Nazrul.
Write4Climate dianjurkan bersempena dengan Hari Alam Sekitar Negara yang akan datang pada 21 Oktober 2021, dan juga Persidangan Perubahan Iklim Persatuan Bangsa-Bangsa Bersatu yang ke-26 (COP26) yang dijadualkan berlangsung di Glasgow, Scotland November ini. Pertandingan dibuka kepada semua pelajar sekolah menengah yang berumur 13 hingga 17 tahun, dan juga kepada orang awam yang berumur 18 tahun dan ke atas.
Esei yang dihantar harus ditulis di dalam Bahasa Inggeris atau Bahasa Melayu melalui dua kategori utama iaitu pelajar sekolah atau orang awam. Untuk setiap kategori, pemenang utama akan memenangi hadiah wang tunai berjumlah RM1,500 manakala pemenang tempat kedua dan ketiga masing-masing akan memperolehi hadiah wang tunai berjumlah RM1,000 dan RM500. Hadiah wang tunai saguhati berjumlah RM200 turut diberikan kepada sepuluh peserta pilihan. Semua peserta akan menerima sijil penyertaan daripada FGV.
Mengenai kerjasama FGV dengan pihak KASA, Mohd Nazrul berkata, "Kami yakin tindakan secara kolektif dan bersama oleh pihak kerajaan dan sektor swasta mampu merealisasikan kejayaan agenda tindakan perubahan iklim negara. Kami amat berbesar hati dengan jalinan kerjasama bersama KASA sebagai rakan kongsi dan penyokong utama, dan penglibatan KASA semestinya memberi impak besar kepada kejayaan penganjuran pertandingan ini."
"Kami berharap pelancaran Write4Climate ini akan memberi inspirasi kepada syarikat-syarikat lain untuk turut serta bersama kami dalam menjayakan agenda tindakan perubahan iklim negara," sambung Mohd Nazrul.
FGV mengalu-alukan dan menyokong Rancangan Malaysia Ke-12 (RMK-12) yang diumumkan baru-baru ini yang menyaksikan komitmen kerajaan mementingkan aspek kelestarian dan tindakan perubahan iklim. Mohd Nazrul turut mengatakan bahawa pelan negara tersebut itu juga dilihat tepat pada masanya dan amat penting dalam menangani isu perubahan iklim yang melanda dunia. Ini mengambil kira dapatan utama laporan Penilaian Perubahan Iklim Ke-6 yang dikeluarkan oleh Panel Perubahan Iklim Antara-Kerajaan (IPCC).
"Kami memuji komitmen kerajaan terhadap isu kelestarian yang menyokong gerakan dan inisiatif-inisiatif tindakan perubahan iklim negara. Kami berharap pelaksanaan rancangan ini akan membuka jalan bagi peralihan dan penerapan ekonomi rendah karbon negara," kata Mohd Nazrul.
Pada September tahun ini, FGV telah mengumumkan komitmennya terhadap sasaran berpandukan sains dan pencapaian emisi sifar bersih, menjadikan FGV syarikat pertama di Malaysia daripada sektor perladangan dan makanan yang komited kepada aspirasi sasaran pengurangan perlepasan karbon tersebut. Pengurangan pelepasan karbon yang berpandukan sains adalah selari dengan sains iklim semasa yang menjadi asas untuk mengehadkan peningkatan suhu global di paras 1.5°C.
Untuk maklumat lanjut, sila layari pautan ini atau emel pihak penganjur di climateaction@fgvholdings.com untuk sebarang pertanyaan.
Tamat