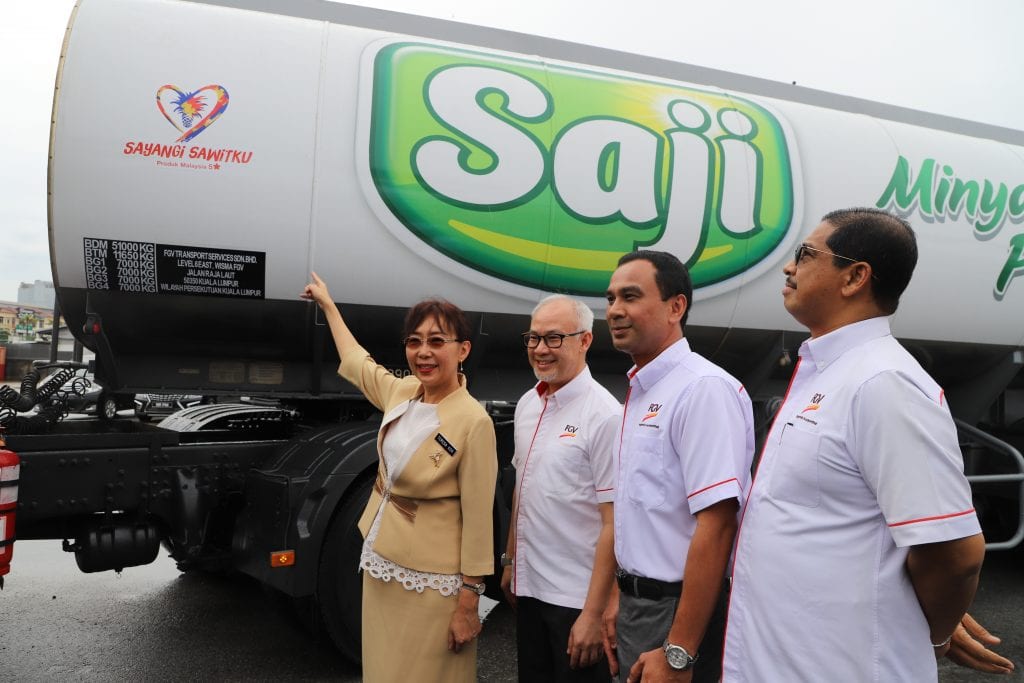 FGV Holdings Berhad (FGV), through its subsidiary Delima Oil Products Sdn. Bhd. (DOP), today launched its SAJI Sayangi Sawitku campaign in support of the Ministry of Primary Industries' Love My Palm Oil campaign.
FGV Group Chief Executive Officer, Dato' Haris Fadzilah Hassan said, as the leading cooking oil brand in Malaysia, SAJI is the best Halal product to support the government's initiative to increase the consumption of palm-based products. We also view this campaign as our appreciation towards smallholders who contribute 70% of the palm fruit FGV processes.
"Starting today, SAJI Sayangi Sawitku logo will be displayed on SAJI cooking oil products, commercial advertisements and FGV tankers.
"Apart from this, in conjunction with the forthcoming Ramadan, FGV also launched its Infak Ramadan SAJI campaign where every SAJI 5kg cooking oil sold, 50 sen, will be donated to local non-governmental organisations including those related to Felda settlers and international humanitarian aid," he said at the programme, which was officiated by MPI Minister YB Teresa Kok.
Since last year, market research showed that the consumption rate of local cooking oil rose compared to other types of cooking oils. This is strengthened by continuous awareness campaigns on the quality of palm oil as a healthier option that is competitively priced.
In 2018, SAJI controls 27% of the non-subsidised local cooking oil market and with the launch of this new campaign, FGV targets a sales increase by 11.5% compared to last year. For the Infak Ramadan SAJI program, the company expects a collection of RM300,000.
END
FGV Holdings Berhad (FGV), menerusi anak syarikatnya Delima Oil Products Sdn. Bhd. (DOP), hari ini melancarkan kempen SAJI Sayangi Sawitku sempena menyokong kempen Sayangi Sawitku oleh Kementerian Industri Utama.
Ketua Pegawai Eksekutif Kumpulan FGV, Dato' Haris Fadzilah Hassan berkata, sebagai jenama utama minyak masak di Malaysia, SAJI merupakan produk Halal terbaik bagi menyokong inisiatif kerajaan untuk meningkatkan penggunaan produk berasaskan sawit. Kami juga melihat kempen ini sebagai penghargaan kepada para pekebun kecil yang menyumbang 70% buah sawit yang diproses FGV.
"Mulai hari ini, logo SAJI Sayangi Sawitku akan dipaparkan pada produk minyak masak SAJI, iklan komersil dan lori tangki FGV.
"Selain itu juga, sempena dengan bulan Ramadan yang bakal tiba tidak lama lagi, FGV turut melancarkan kempen Infak Ramadan SAJI di mana dengan setiap pembelian minyak masak SAJI 5kg, sebanyak 50 sen akan didermakan kepada badan-badan kebajikan tempatan termasuk yang berkaitan dengan peneroka Felda dan badan bantuan kemanusian antarabangsa," ujar beliau di program yang dirasmikan oleh Menteri Industri Utama YB Puan Teresa Kok.
Sejak tahun lalu, kajian pasaran menunjukkan kadar penggunaan minyak masak sawit tempatan semakin meningkat berbanding minyak masakan lain. Ini dikuatkan lagi dengan kempen kesedaran yang berterusan tentang kualiti minyak sawit yang baik untuk kesihatan dengan harga yang kompetitif.
Pada tahun 2018, SAJI menguasai 27% pasaran minyak masak tempatan tanpa subsidi dan dengan pelancaran kempen baharu ini FGV menyasarkan peningkatan jualan sebanyak 11.5% berbanding tahun lalu. Bagi program Infak Ramadan SAJI pula, syarikat menjangkakan sebanyak RM300,000 dana dapat dikumpul.
TAMAT