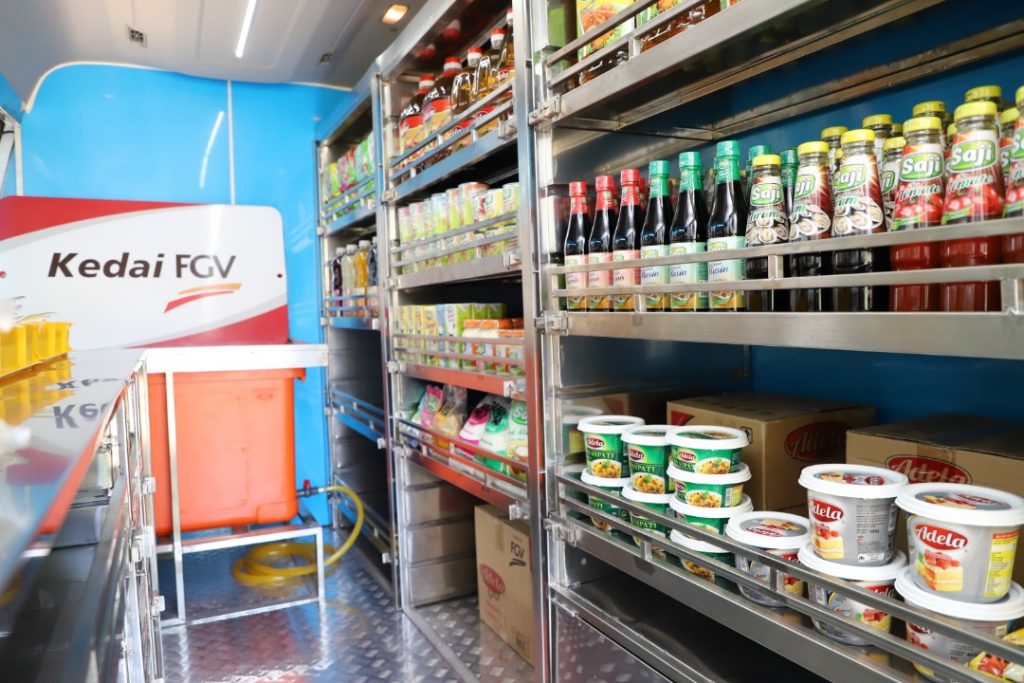 Mobile Kedai FGV offers plantation workers with various FGV food products and fresh raw materials
KUALA LUMPUR, 24 January 2022 – FGV Holdings Berhad (FGV) launches its mobile Kedai FGV pilot project at its plantation operation in Sampadi, Sarawak for the convenience of its workers.
Mohd Nazrul Izam Mansor, FGV's Group Chief Executive Officer said that everyone including FGV's workers has the right to a good standard of living including access to food and basic necessities.
"Since the grocery stores at FGV's plantation in Sampadi are quite far from where the workers live, and as a responsible employer, FGV has decided to set up the mobile Kedai FGV service so that our plantation workers can enjoy the supply of fresh raw materials for their daily needs easily and at a more affordable price," said Mohd Nazrul.
In ensuring the smooth running of the mobile shops, FGV's regional offices will manage all related needs such as the arrangement of drivers, supply of raw materials and daily necessities as well as operational maintenance.
In line with FGV's efforts to support the Government's initiatives towards cashless transactions, all purchases and payments at the mobile shops are conducted through the FGV e-wallet application, which was introduced in 2020.
"Through the use of this e-wallet, plantation workers, especially migrant workers can manage their finances efficiently," Mohd Nazrul explained.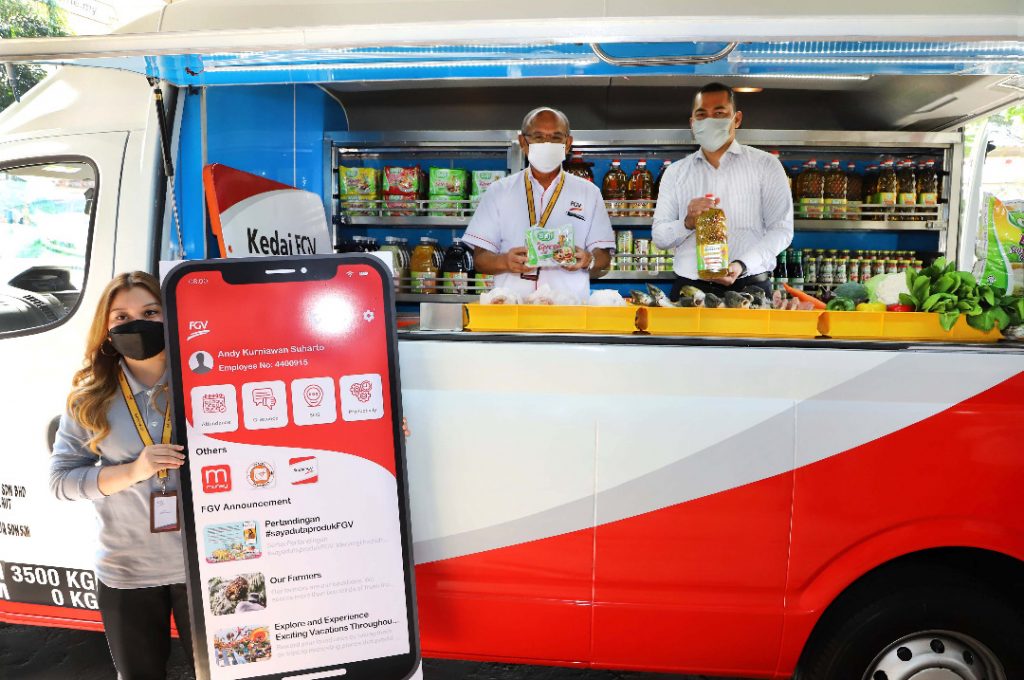 Dato' Dzulkifli Abd Wahab, Chairman (left) and Mohd Nazrul Izam Mansor, Group Chief Executive Officer (right) of FGV Holdings Berhad pose inside the mobile Kedai FGV 
In addition to cashless transactions, the application allows migrant workers to make remittances to their families in their country of origin, purchase mobile prepaid and withdraw cash at any VISA-registered automatic teller machine (ATM), or through registered merchants. Workers can also channel any grievances or complaints through the application.
In addition to the mobile Kedai FGV, the same application can also be used in other Kedai FGV in all FGV plantation operations nationwide.
"FGV has now taken a step forward by achieving 100 percent implementation of salary payment as well as daily transactions of our plantation workers through FGV's e-wallet. This has benefited a total of 23,716 of our plantation workers in the Peninsula, Sabah and Sarawak," added Mohd Nazrul.
End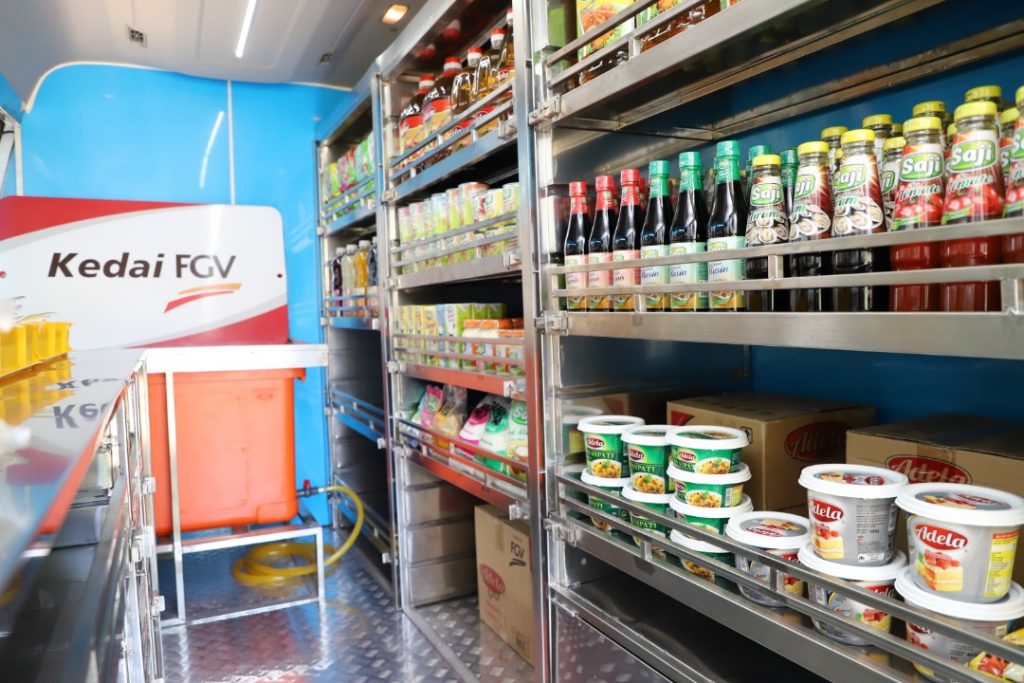 Kedai FGV bergerak menawarkan pelbagai produk makanan FGV dan bahan mentah segar
KUALA LUMPUR, 24 Januari 2022 – FGV Holdings Berhad (FGV) melancarkan projek perintis Kedai FGV bergerak di operasi perladangan FGV di Sampadi, Sarawak bagi tujuan kemudahan pekerja ladang FGV.
Mohd Nazrul Izam Mansor, Ketua Pegawai Eksekutif Kumpulan FGV berkata, semua orang termasuk pekerja FGV mempunyai hak kepada taraf hidup yang baik termasuk akses kepada makanan dan keperluan asas.
"Memandangkan kedai-kedai runcit di ladang FGV di Sampadi agak jauh dari tempat tinggal pekerja ladang, dan sebagai majikan bertanggungjawab, FGV memutuskan untuk mengadakan sendiri perkhidmatan Kedai FGV bergerak ini bagi membolehkan pekerja ladang terus menikmati bekalan bahan mentah segar untuk keperluan harian mereka dengan lebih mudah dan harga yang lebih berpatutan" kata Mohd Nazrul.
Bagi melancarkan lagi perjalanan Kedai FGV bergerak, Pejabat Wilayah FGV akan menguruskan segala keperluan berkaitan seperti penyediaan pekerja bagi membawa kenderaan, pembekalan bahan mentah dan keperluan harian serta aspek penyelenggaraan operasi tersebut.
Selaras dengan usaha FGV untuk menyokong inisiatif Kerajaan ke arah transaksi tanpa tunai, semua urusan pembelian dan pembayaran di Kedai Bergerak FGV dijalankan melalui sistem e-dompet FGV yang telah diperkenalkan sejak 2020.
"Menerusi penggunaan e-dompet ini, pekerja ladang terutamanya pekerja migran dapat menguruskan kewangan mereka secara lebih efisyen," jelas Mohd Nazrul.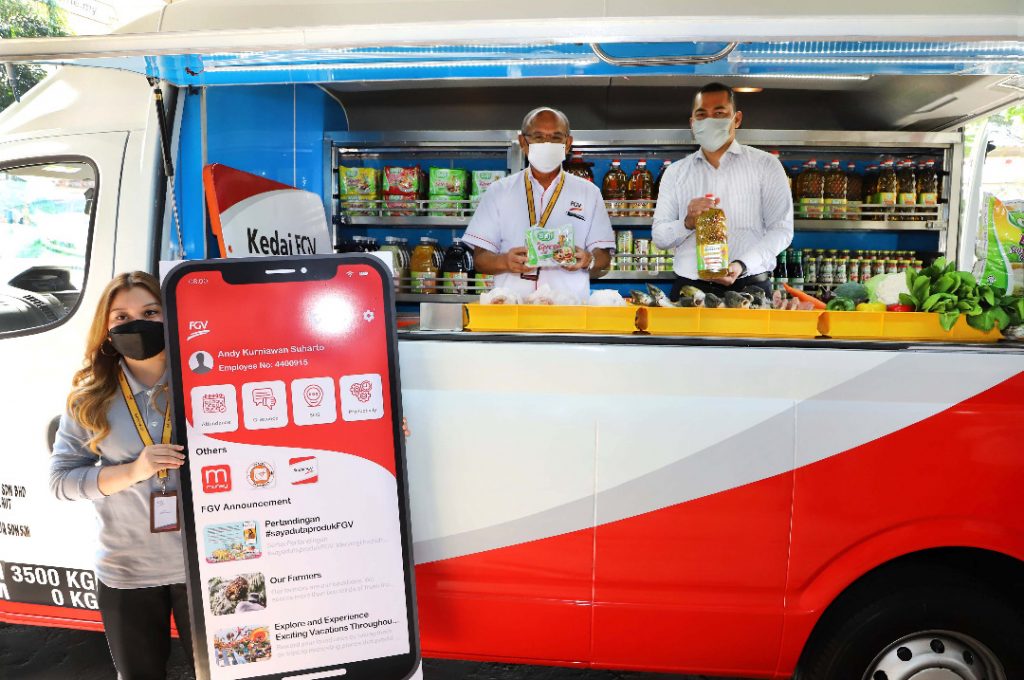 Dato' Dzulkifli Abd Wahab, Pengerusi dan Mohd Nazrul Izam Mansor, Ketua Pegawai Eksekutif Kumpulan FGV Holdings Berhad bergambar di dalam Kedai FGV bergerak
Selain transaksi tanpa tunai, aplikasi ini membolehkan pekerja migran melakukan pengiriman wang kepada ahli keluarga mereka di negara asal, membeli prabayar mudah alih dan mengeluarkan wang tunai di mana-mana mesin juruwang automatik (ATM) yang berdaftar dengan VISA, atau melalui peniaga berdaftar. Pekerja juga boleh menyalurkan sebarang rungutan atau aduan melalui aplikasi tersebut.
Selain Kedai FGV bergerak, aplikasi sama boleh digunapakai di kedai-kedai FGV lain di semua operasi perladangan FGV di seluruh negara.
"FGV kini telah maju selangkah ke hadapan apabila mencapai 100 peratus pelaksanaan urusan pembayaran gaji serta transaksi harian pekerja ladang kami melalui e-dompet FGV. Kemajuan ini memanfaatkan seramai 23,716 pekerja ladang kami di Semenanjung, Sabah dan Sarawak," ujar Mohd Nazrul.
Tamat