KUALA LUMPUR, 29 April 2019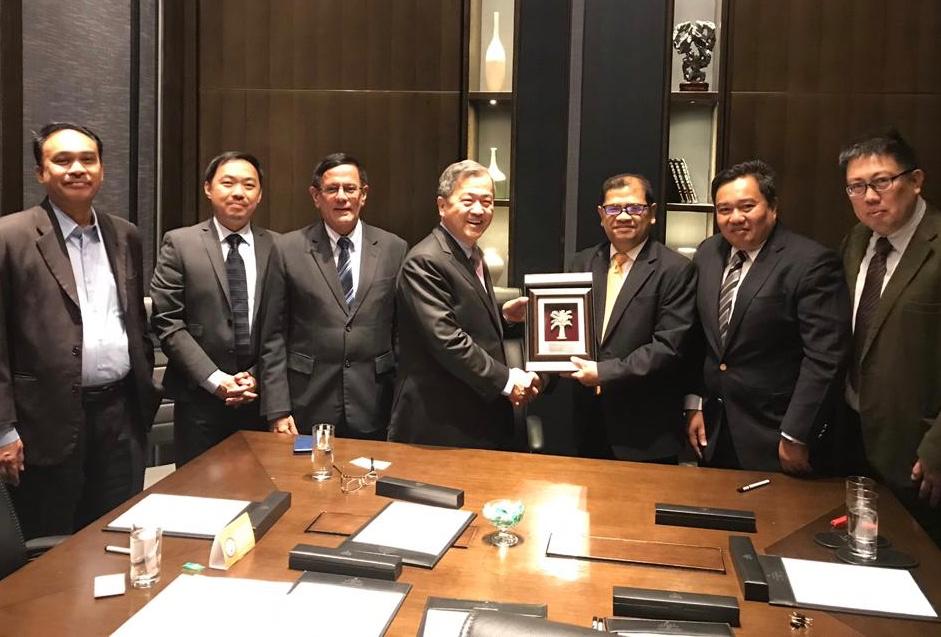 FGV Holdings Berhad (FGV) signed a Heads of Agreement (HoA) with PLS Plantation Berhad (PLS) on 27 April 2019, at the Belt & Road Forum in Beijing, China, to form a potential joint venture in the development of cash crop plantations, primarily durian.
FGV's Group Chief Executive Officer, Dato' Haris Fadzilah Hassan said this collaboration is part of the Group's strategy to make productive use of unplanted areas that are not suitable for oil palm, and to explore additional revenue streams by increasing the percentage of cash crops. FGV's Logistics and Support Businesses Sector will also benefit from this partnership as it is able to offer a reliable logistical network to create a regional logistic gateway through strategic collaborations.
"With this HoA, FGV hopes to explore the opportunity for both parties to form a JV, in line with the proposed National Durian Plantation Program initiated by PLS. In August 2018, Malaysia's Agriculture and Agro-based Industry Ministry signed an export protocol with China's General Administration of Customs for fresh and frozen durians. There is huge potential for the Malaysian durian industry as China is currently the world's largest durian consumer," Haris Fadzilah said.
PLS, through its subsidiary Dulai Fruits, has successfully penetrated markets in ten countries, of which China accounts for the largest segment. Dulai Fruits has 30 years of experience in durian planting and exporting. FGV will also be able to leverage on PLS's market intelligence and networks to further strengthen its products and brand positioning in China.
Haris added, "FGV has identified approximately 1,398 hectares of land that is potentially suitable for large scale commercial planting of durian. However, to determine the best areas for durian planting, further investigation into several factors, including the suitability of the soil, terrain and the availability of water sources for irrigation is necessary. Other potential cash crops for cultivation include rubber, Meranti wood, Teak and Eucalyptus."
Durian is the most widely planted and harvested fruit in Malaysia. In 2017 a total of 72,391 ha and 35,179 ha of land were planted and harvested respectively. Total production during the year amounted to 210,874 metric tonnes, valued at RM2.79 billion. The price of durian has also been steadily increasing, with the growing demand for the fruit. The average retail price for durian was less than RM9 per kg in 2013, but had escalated to an average of RM24.80 per kg in 2017, an increase of more than 100%.
According to the United Nations' trade data, durian exports to China have been increasing by 35% on average a year, and was worth US$1.1 billion in 2017, which was significantly higher than US$243 million a decade ago. Although, Thailand dominates the market, the Malaysian Government is targeting a 50% increase in exports by 2030, as the local industry is reshaping itself for the global marketplace.
"Durian is the most profit-making cash crop from a value per hectare perspective and FGV aims to capitalise on China's demand for the King of Fruits. We believe that this venture will contribute positively to FGV's financial performance, which will in turn improve shareholders' value," Haris said.
-End-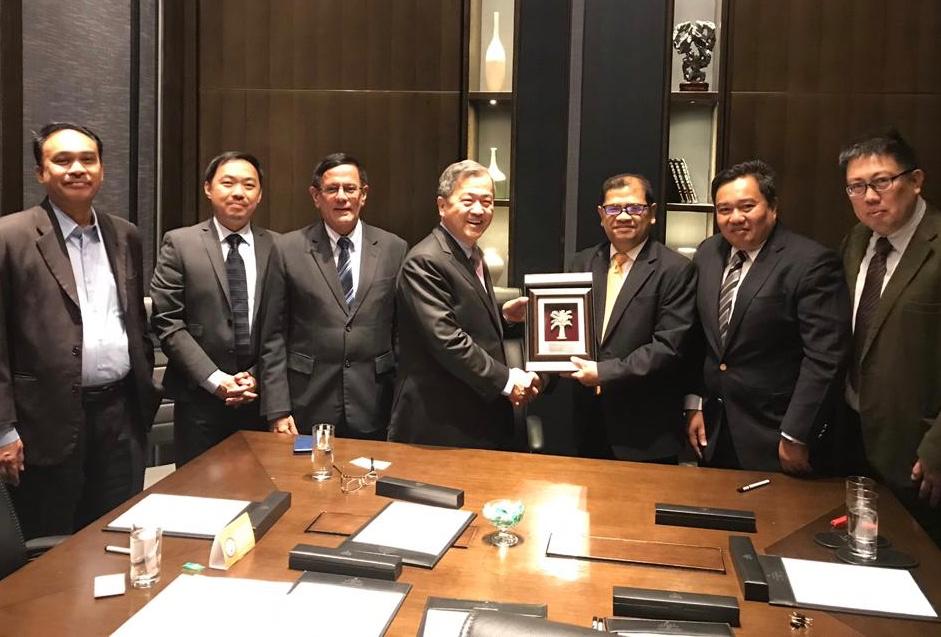 FGV Holdings Berhad (FGV) telah menandatangani Perjanjian Induk (HoA)  dengan PLS Plantation Berhad (PLS) di Forum Belt & Road di Beijing, China pada 27 April 2019 untuk membentuk usahasama yang berpotensi dalam pembangunan perladangan tanaman jangka pendek (cash crops), terutamanya durian.
Ketua Pegawai Eksekutif Kumpulan FGV, Dato' Haris Fadzilah Hassan berkata kerjasama ini adalah sebahagian daripada perancangan strategik Kumpulan untuk menambah nilai tanah-tanah tidak produktif disebabkan tidak sesuai untuk penanaman sawit dan menerokai pendapatan tambahan dengan meningkatkan peratusan tanaman jangka pendek. Sektor Logistik dan Perniagaan Sokongan FGV turut akan mendapat manfaat daripada kerjasama  ini di mana sektor ini mampu menawarkan rangkaian logistik untuk membentuk hub serantau menerusi kerjasama strategik ini.
"Menerusi HoA ini, FGV berharap untuk menerokai peluang membentuk kerjasama (JV) antara kedua-dua pihak, selari dengan cadangan PLS untuk melaksanakan Program Perladangan Durian Kebangsaan. Pada Ogos 2018, Kementerian Pertanian dan Asas Tani telah menandatangani protokol eksport dengan Pentadbiran Am Kastam China untuk durian segar dan sejuk beku. Ini merupakan potensi besar kepada industri durian Malaysia memandangkan China ketika ini merupakan pembeli durian terbesar dunia," Haris Fadzilah.
PLS menerusi anak syarikatnya, Dulai Fruits telah berjaya menerokai pasaran di 10 buah negara dengan China adalah penyumbang terbesar. Dulai Fruits mempunyai pengalaman lebih 30 tahun dalam perladangan dan eksport durian. FGV juga boleh memanfaatkan kelebihan dan rangkaian pasaran PLS untuk mengukuhkan jenama dan produknya di China.
Tambah Haris, "FGV telah mengenal pasti kira-kira 1,398 hektar (ha) tanah yang bersesuaian untuk penanaman durian secara komersial dalam skala besar. Bagaimanapun, bagi menentukan kawasan yang benar-benar sesuai untuk penanaman durian, penyelidikan lanjut perlu dilaksanakan terutamanya melibatkan kesesuaian tanah, permukaan dan kesediaan sumber air untuk pengairan. Tanaman jangka pendek lain yang berpotensi adalah getah, kayu Meranti, Teak dan  Eucalyptus."
Durian merupakan buah yang paling banyak ditanam dan dituai di Malaysia. Pada 2017, masing-masing sebanyak 72,391 ha dan 35,179 ha tanah telah ditanam dan dituai. Jumlah pengeluaran pada tahun berkenaan adalah berjumlah 210,874 tan metrik dengan nilai RM2.79 bilion. Harga durian juga meningkat dengan stabil seiring dengan pertumbuhan permintaannya. Purata harga runcit durian adalah kurang daripada RM9 sekilo pada 2013 tetapi meningkat kepada purata RM24.80 sekilo pada 2017, meningkat lebih dari 100%.
Menurut data Pertubuhan Bangsa-bangsa Bersatu, eksport durian telah meningkat secara purata sebanyak 35% setahun dan bernilai lebih AS$1.1 bilion pada 2017, jauh lebih tinggi berbanding hanya AS$243 juta sedekad lalu. Walaupun Thailand mendominasi pasaran eksport, kerajaan Malaysia telah menyasarkan untuk meningkatkan pasaran eksport sebanyak 50% menjelang 2030, di mana pemain industri tempatan sedang bersedia untuk bersaing di pasaran dunia.
"Durian merupakan tanaman jangka pendek paling menguntungkan dari segi hasil setiap hektar dan FGV sasar untuk memanfaatkan permintaan tinggi China terhadap raja buah berkenaan. Kami yakin kerjasama ini akan memberi impak positif kepada prestasi kewangan FGV dan secara langsung menambah nilai kepada pemegang saham," katanya.
-Tamat-