KUALA LUMPUR, 12 April 2019
FGV Holdings Berhad welcomes the government's plans to revive FELDA and its new commitment to alleviate the financial situation of Felda settlers.
The plans to diversify the income streams of settlers is a positive move and FGV would be happy to participate in strategic discussions to seek viable solutions and explore potential synergies that will benefit all stakeholders.
FGV also agrees that there is an urgent need to discuss the terms of the Land Lease Agreement (LLA) with FELDA as this matter has been raised repeatedly over the last three years, causing much uncertainty and concern for our shareholders.
Under the current terms of the LLA, FGV is required to pay a fixed lease payment of about RM250 million per year for 99 years, commencing from 2012. The RM250 million is paid irrespective of prevailing crude palm oil prices. In 2012 when the LLA was negotiated, average CPO price was RM2,843 per MT. CPO price on 10 April 2019 was RM2,047 per MT.
Additionally, FGV has committed to pay FELDA a 15% share of estate operating profits. For the total sum FGV has paid FELDA after its listing, see table below.
FGV has met all its obligations under the LLA.
As a listed company, FGV would also be required to seek the approval of its shareholders for any proposed amendments to the LLA.
FGV, under its new management, is focused on its groupwide transformation plan which has started to show results. FGV will be announcing its 1Q2019 financial results in May 2019 and is positive that all the measures implemented since October 2018, will set the company on a path for sustainable growth.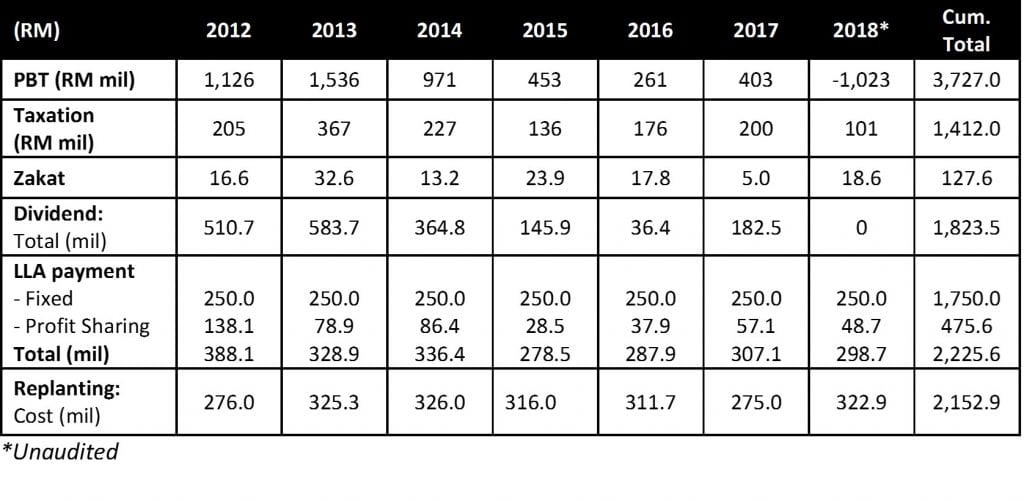 END
FGV Holdings Berhad (FGV) mengalu-alukan perancangan kerajaan untuk memulihkan FELDA dan komitmen baharu mereka untuk mengukuhkan situasi kewangan peneroka-peneroka Felda.
Perancangan untuk mempelbagaikan sumber pendapatan peneroka merupakan langkah positif dan FGV terbuka untuk terlibat dengan perbincangan strategik dalam mencari penyelesaian terbaik dan menerokai potensi kerjasama yang boleh memberi manfaat kepada pemegang saham.
FGV juga bersetuju bahawa terdapat keperluan segera untuk menyemak semula terma dalam Perjanjian Pajakan Tanah (LLA) dengan FELDA memandangkan perkara ini telah kerap kali dibangkitkan sejak tiga tahun lalu, hingga mencetuskan ketindaktentuan dan kebimbangan di kalangan pemegang saham kami.
Di bawah terma semasa LLA, FGV perlu membayar pajakan tetap kira-kira RM250 juta setahun untuk tempoh selama 99 tahun, bermula dari tahun 2012. Bayaran sebanyak RM250 juta ini dibayar tanpa mengira pergerakkan harga semasa minyak sawit mentah (MSM). Pada 2012 semasa rundingan LLA dibuat, purata harga MSM adalah RM2,843 setan metrik (MT). Harga MSM pada 10 April 2019 adalah RM2,047/MT.
Tambahan pula, FGV juga komited untuk membayar FELDA sebanyak 15% daripada keuntungan hasil ladang LLA. Jumlah keseluruhan yang telah dibayar FGV kepada FELDA sejak penyenaraian adalah seperti rajah di bawah.
FGV telah memenuhi semua tanggungjawab di bawah LLA.
Sebagai sebuah syarikat senaraian awam, FGV perlu mendapatkan kelulusan daripada pemegang saham jika mahu melakukan sebarang pindaan dalam LLA.
Di bawah pengurusan baharu, FGV fokus kepada pelan transformasi secara menyeluruh yang mana telah mula membuahkan hasil. FGV akan mengumumkan keputusan kewangan suku pertama 2019 pada Mei 2019 dan ini bakal meletakkan FGV di landasan betul untuk mencapai pertumbuhan mampan hasil daripada semua langkah-langkah positif yang telah diambil sejak Oktober 2018.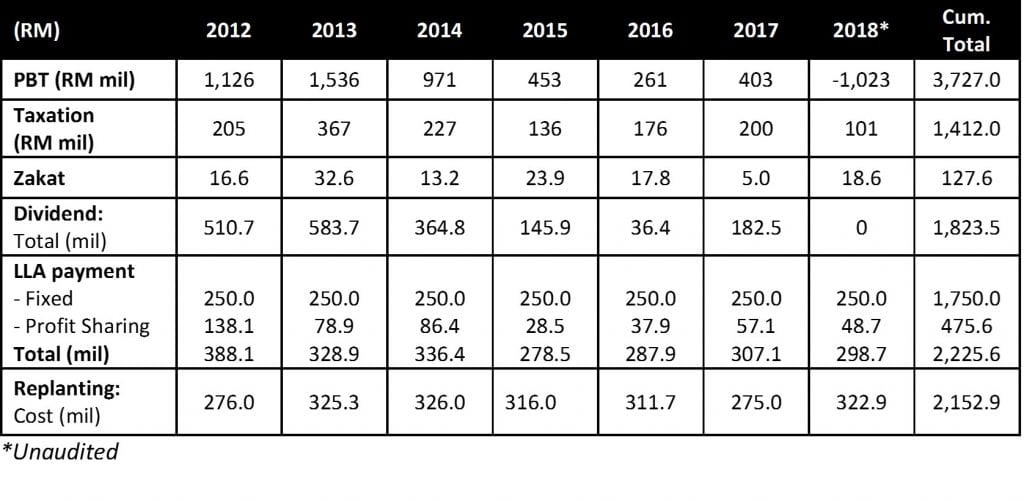 END