KUALA LUMPUR, 10 FEBRUARY 2021 – FGV Holdings Berhad (FGV) is extending the COVID-19 screening test to all migrant plantation workers who are employed with FGV's plantations all over the country.
Throughout January this year, FGV has conducted screening programmes for 1,029 migrant plantation workers in Negeri Sembilan and Pahang, 6,261 workers in Sabah, and 703 workers in Terengganu.
In the first week of February, an additional 1,402 FGV migrant plantation workers in Pahang and 4,114 migrant workers in Sabah were screened.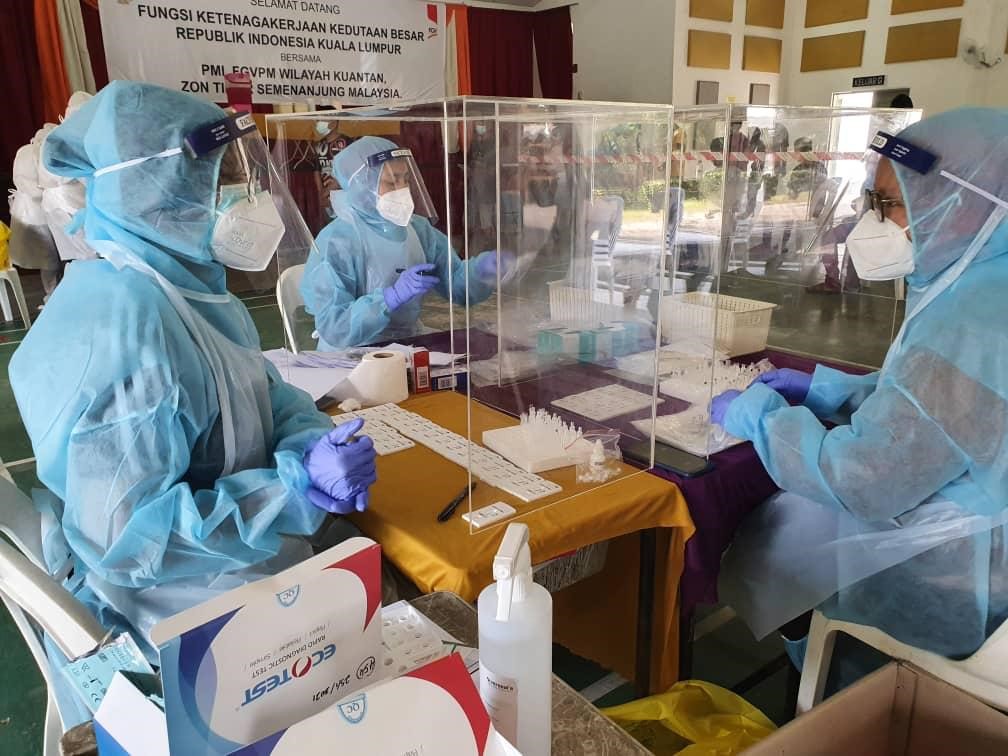 Frontline health workers preparing the RTK Antigen Kit to screen FGV's migrant plantation workers for COVID-19 in Kuantan
The overall screening test results for January are negative, except for 25 workers in Sabah who have gone through the quarantine process. The workers have fully recovered and have been discharged from the quarantine centre in Lahad Datu.
Dato' Haris Fadzilah Hassan, FGV's Group Chief Executive Officer said, "we are pleased with the progress of this COVID-19 screening test extension, of which 13,509 workers have been screened successfully."
"This effort is to ensure that all FGV migrant plantation workers remain healthy and do not become spreading agents of the epidemic. It is also in line with the government's directives which require employers to provide screening tests for all its migrant workers respectively beginning from 2 February 2021."
"FGV also provides temporary COVID-19 Quarantine and Treatment Centres (PKRC) at its plantation complexes to enable the isolation process for migrant plantation workers who are found positive with mild symptoms," he added.
FGV's migrant plantation worker undergoing the COVID-19 screening test at FGV's estate in Sabah recently
The screening programme is conducted in phases for all FGV migrant plantation workers which currently amounts to 26,114 workers. From this amount, 15,119 are working in Peninsular Malaysia, 10,375 in Sabah and 620 in Sarawak.
All FGV migrant plantation workers from Indonesia, Bangladesh, Nepal, Philipines, Sri Lanka, India and Myanmar are registered contributors under the Social Security Organisation (SOCSO).
In line with the Prevention and Control of Infectious Diseases Act 1988 (Act 342) for the control of COVID-19, FGV will continue this programme in other states in the near future. COVID-19 screening tests for FGV's migrant workers across its plantation operations are expected to be completed by the end of the first quarter of 2021.
End
KUALA LUMPUR, 10 FEBRUARI 2021 – FGV Holdings Berhad (FGV) memperluaskan ujian saringan COVID-19 untuk semua pekerja migran yang berkhidmat di ladang-ladangnya di seluruh negara.
Sepanjang Januari tahun ini FGV telah menjalankan program saringan ke atas 1,029 pekerja ladang migran di Negeri Sembilan dan Pahang, 6,261 pekerja di Sabah serta 703 pekerja di Terengganu.
Pada minggu pertama Februari, tambahan 1,402 pekerja ladang migran FGV di Pahang dan 4,114 pekerja migran di Sabah pula disaring.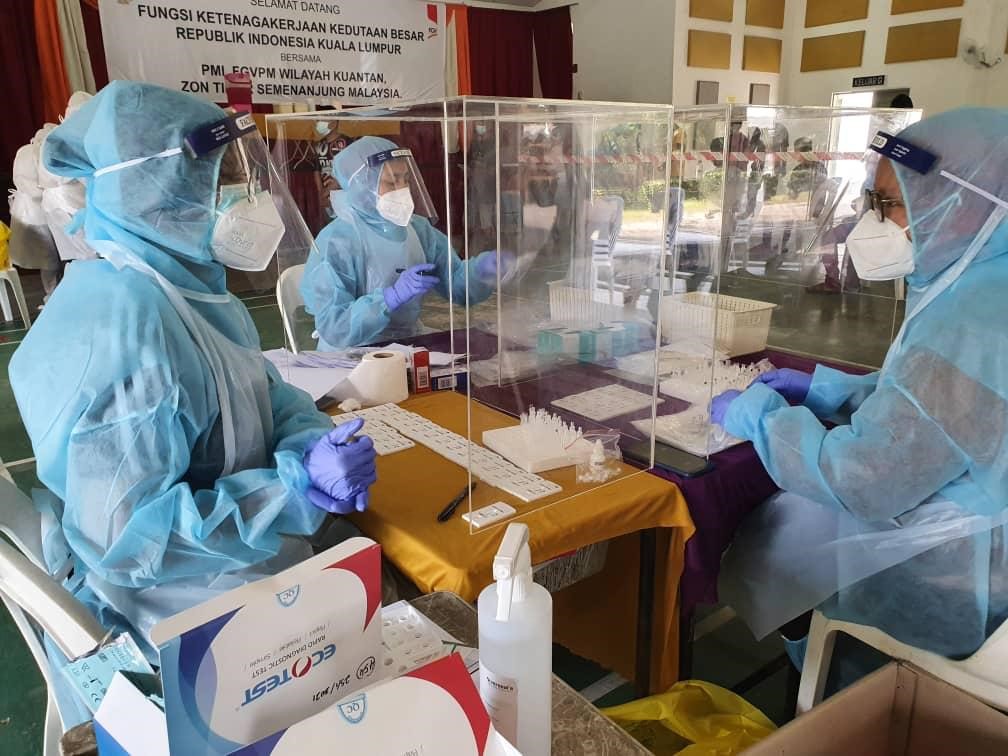 Pegawai kesihatan menyediakan kit Antigen RTK semasa ujian saringan COVID-19 ke atas pekerja ladang migran FGV di Kuantan
Keseluruhan keputusan ujian saringan pada Januari adalah negatif, kecuali 25 pekerja di Sabah dan mereka telah menjalani proses pengasingan. Mereka kini telah pulih sepenuhnya dan discaj dari pusat kuarantin di Lahad Datu.
Dato' Haris Fadzilah Hassan, Ketua Pegawai Eksekutif Kumpulan FGV berkata, "kami berpuas hati dengan kemajuan usaha perluasan ujian saringan COVID-19 ini, di mana seramai 13,509 pekerja telah disaring dengan lancar."
"Usaha ini adalah untuk memastikan semua pekerja ladang migran FGV kekal sihat dan tidak menjadi agen penyebar wabak. Ianya juga selaras dengan arahan kerajaan yang mewajibkan majikan menyediakan saringan untuk semua pekerja migran masing-masing bermula 2 Februari 2021."
"FGV turut menyediakan Pusat Kuarantin dan Rawatan COVID-19 (PKRC) sementara di kompleks-kompleks ladang bagi membolehkan proses pengasingan sekiranya pekerja ladang migran didapati positif dan bergejala ringan," tambah beliau.
Pekerja ladang migran FGV menjalani ujian saringan COVID-19 di ladang FGV di Sabah baru-baru ini
Program ujian saringan ini dijalankan secara berperingkat untuk semua pekerja ladang migran FGV yang kini berjumlah 26,114 orang. Daripada jumlah tersebut, seramai 15,119 pekerja berkhidmat di Semenanjung Malaysia, 10,375 berkhidmat di Sabah dan 620 di Sarawak.
Semua pekerja ladang migran FGV yang berasal dari Indonesia, Bangladesh, Nepal, Filipina, Sri Lanka, India dan Myanmar merupakan pencarum yang berdaftar di bawah Pertubuhan Keselamatan Sosial (PERKESO).
Selaras dengan Akta Pencegahan dan Pengawalan Penyakit Berjangkit 1988 (Akta 342) bagi kawalan COVID-19, FGV akan meneruskan program ini ke negeri-negeri lain dalam waktu terdekat. Ujian saringan COVID-19 pekerja migran FGV di seluruh operasi perladangannya dijangka selesai pada akhir suku pertama 2021.
Tamat