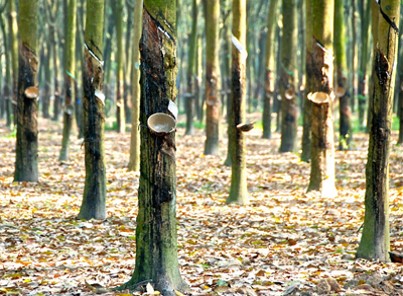 KUALA LUMPUR, 2 October 2020 – FGV Holdings Berhad (FGV), through its subsidiary, FGV Rubber Industries Sdn. Bhd. (FGVRI) is expanding its rubber business to Europe and North America through the appointment of Rubber Heart Ltd (RHL) – a rubber marketing agency based in the United Kingdom.
The appointment includes developing strategic marketing and sales of FGV's various grades of high-quality Technically Specified Rubber and other Specialty Natural Rubber-based materials exclusively for the countries in these continents.
FGV Group Chief Executive Officer, Dato' Haris Fadzilah Hassan said, "As one of the leading Standard Malaysian Rubber (SMR) producers in Malaysia with 50 years of experience in the rubber industry, this is an excellent opportunity for FGV to further expand and strengthen the list of our international clients. Through RHL key persons' decades of global experience in marketing rubber business, it will bring confidence and add value to our rubber product offerings."
RHL is already an expert on the technical and sustainable merits of FGV's Green Rubber (Epoxidised Natural Rubber and Deproteinised Natural Rubber), of which FGVRI is the sole producer in Malaysia.
"I am confident that this appointment will also help to propel FGV's Green Rubber products to meet the increasing demand for green rubber as a substitute to synthetic rubber, especially in the tyre industry," added Haris Fadzilah.
FGV's Green Rubber is a modified rubber of which its molecular structure is altered to enhance the properties to be comparable to synthetic rubber. It is exclusively produced at FGV's Palong 8 rubber factory in Negeri Sembilan. Smallholders producing latex will also be able to command higher income due to the higher price for latex compared to cup lump.
RHL Director, David Cawthra said, "We are looking forward to this partnership with FGV and to continue our long-standing relationship with the rubber industry in Malaysia. We truly admire and are in support of FGV's aims to be a global leader in natural rubber processing and offer premium quality rubber products through good manufacturing and eco-friendly practices. We are thrilled to expand FGV's Green Rubber products to new markets in Europe and North America."
FGV operates four rubber processing facilities in Malaysia, which are licensed by the Malaysian Rubber Board as SMR factories, with a total annual group production capacity of 230,000 MT. FGV also owns one Latex Concentrate factory in Thailand and one factory in Cambodia producing Cambodian Standard Rubber.
FGV's rubber operations are supported by two in-house accredited laboratories by the Department of Standards Malaysia with ISO/IEC 17025:2017. FGV's various grades of natural rubber meet the Technical Specified Rubber specification. FGV's client base includes major international tyre producers. 
End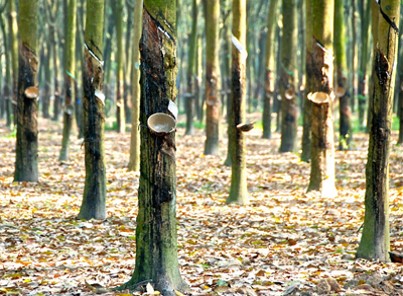 KUALA LUMPUR, 2 Oktober 2020 – FGV Holdings Berhad (FGV), melalui anak syarikatnya, FGV Rubber Industries Sdn. Bhd. (FGVRI) mengembangkan pasaran getahnya ke Eropah dan Amerika Utara melalui pelantikan Rubber Heart Ltd (RHL) – sebuah agensi pemasaran getah yang berpusat di United Kingdom.
Pelantikan tersebut merangkumi pengembangan pasaran dan jualan strategik pelbagai gred Getah Spesifikasi Teknikal (Technically Specified Rubber) dan bahan berasaskan Getah Asli Khas (Specialty Natural Rubber) lain yang eksklusif untuk negara-negara di benua ini.
Ketua Pegawai Eksekutif FGV, Dato' Haris Fadzilah Hassan berkata, "Sebagai salah satu pengeluar Standard Malaysian Rubber (SMR) utama di Malaysia dengan 50 tahun pengalaman di dalam industri getah, ini adalah peluang terbaik bagi FGV untuk mengembangkan dan memperkukuhkan senarai pelanggan antarabangsa kami. Pengalaman global selama bertahun-tahun oleh RHL dalam pemasaran perniagaan getah akan memberi keyakinan dan menambah nilai dalam penawaran produk getah FGVRI."
RHL merupakan pakar teknikal dan kelestarian untuk Getah Mesra Alam FGV (Epoxidised Natural Rubber dan Deproteinised Natural Rubber), di mana FGVRI adalah satu-satunya pengeluar di Malaysia.
"Saya yakin bahawa dengan pelantikan RHL ini juga akan membantu mendorong produk Getah Mesra Alam kita dalam memenuhi permintaan yang semakin meningkat sebagai pengganti getah sintetik, terutama dalam industri tayar." tambah Haris Fadzilah.
Getah Mesra Alam FGV adalah getah yang diubah suai dari segi struktur molekulnya untuk menambah baik ciri-ciri agar setanding dengan getah sintetik. Ia dihasilkan secara eksklusif di kilang getah FGV Palong 8 di Negeri Sembilan. Pekebun kecil yang menghasilkan susu getah atau lateks juga dapat meraih pendapatan yang lebih lumayan kerana harganya yang lebih tinggi berbanding dengan getah skrap.
Pengarah RHL, David Cawthra berkata, "Kami amat gembira dapat bekerjasama dengan FGV dan meneruskan hubungan berterusan dengan industri getah di Malaysia. Kami sangat mengagumi dan menyokong matlamat FGV untuk menjadi peneraju global dalam pemprosesan getah asli dan menawarkan produk getah berkualiti tinggi melalui pembuatan yang baik dan amalan mesra alam. Kami gembira dapat mengembangkan produk Getah Mesra Alam FGV ke pasaran baru di Eropah dan Amerika Utara."
FGV mengendalikan empat kemudahan pemprosesan getah di Malaysia, yang dilesenkan oleh Lembaga Getah Malaysia (MRB) sebagai kilang SMR, dengan jumlah kapasiti pengeluaran kumpulan tahunan sebanyak 230,000 MT. FGV juga memiliki satu kilang Lateks Pekat di Thailand dan satu kilang di Kemboja yang menghasilkan Cambodian Standard Rubber (CSR).
Operasi getah FGV disokong oleh dua makmal yang diakreditasi oleh Jabatan Standard Malaysia dengan ISO/IEC 17025:2017. Pelbagai jenis getah asli FGV memenuhi spesifikasi Technical Specified Rubber (TSR). Pelanggan FGVRI terdiri daripada pengeluar-pengeluar tayar utama dunia.
Tamat