ALOR SETAR, 8 JUNE 2022– FGV Holdings Bhd (FGV), through its subsidiary, FGV Agri Services Sdn Bhd (FGVAS) has introduced BUTIK S, a first-generation rodenticide that can be used in integration with barn owls under the Paddy Production Incentive Scheme or Skim Insentif Pengeluaran Padi (SIPP).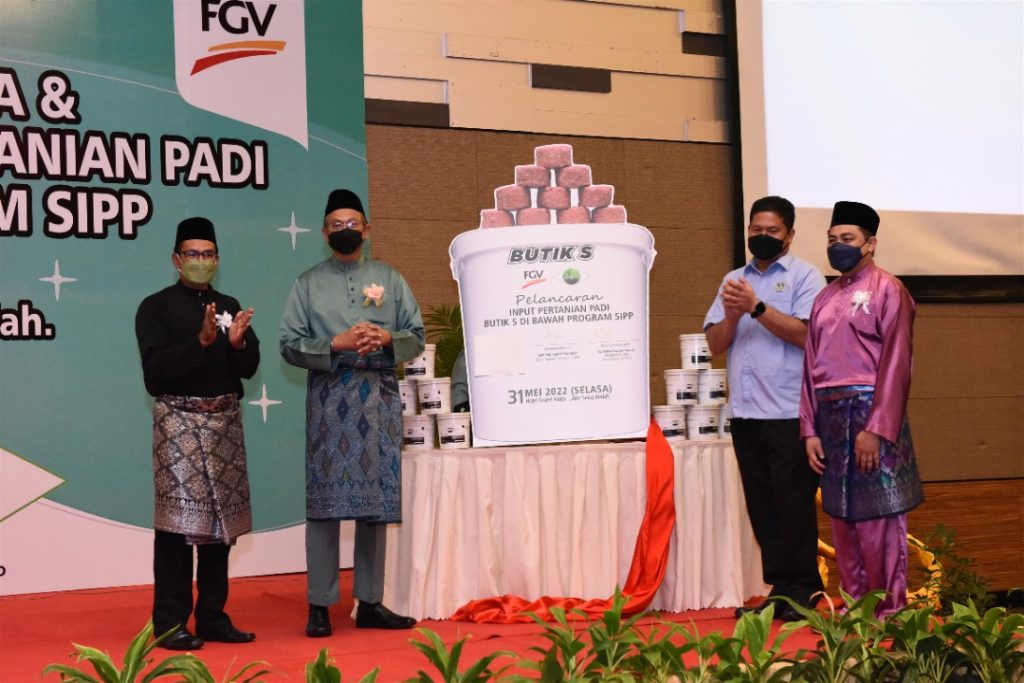 From left: Encik Yahya Bazlan, Managing Director of AMCO Niaga Sdn Bhd, Tuan Haji Romzi Ishak, Chief Executive Officer, FGVAS, Encik Muhamad Hisham Mohd Noor, Director of Paddy Industry Division, MADA, Encik Mustazah Mohamed, Head of Commercial Business & Manufacturing Department, FGVAS.
BUTIK S is an anticoagulant bait formulated from several ingredients that are palatable for rats. The bait is designed to have the proper weight, shape, and colour to attract rats at all paddy life stages.
FGV Group Chief Executive Officer, Mohd Nazrul Izam Mansor, said FGV group took this initiative to increase farmers' awareness regarding safety aspects especially when it comes to handling rat poison. Through the use of BUTIK S bait which is ready to be applied in the field and less toxic than second-generation rodenticides, the safety of our farmers can be ensured. In addition, BUTIK S is suitable to be implemented in Integrated Pest Management (IPM) as it has no secondary effects to the non-target species such as barn owls and cats.
He added, BUTIK S is easy to use, requiring only 40 pieces of bait for 1 hectare, or the equivalent of 12 pieces of bait for each rice field relong. The cost of its application is very competitive and more economical at up to 15 percent per hectare compared to self-mixed rat baits. Through this, paddy production could also be increased, and ultimately would help address the ongoing food shortage crisis.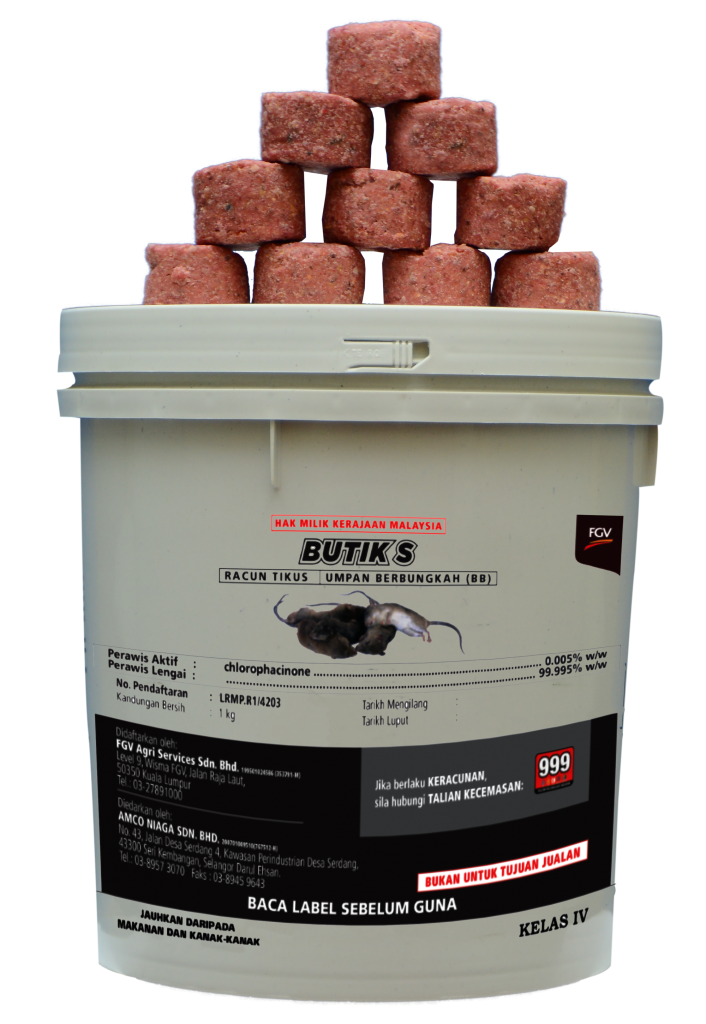 He reiterated that FGV constantly strives towards providing sustainable agricultural products and solutions to its customers, and is therefore thrilled to engage more closely with our local farmers, particularly in the paddy sector.
According to research conducted, rat infestations can result in losses of up to RM43 million a year or equivalent to 87,332 tonnes of rice or a 5 percent loss of national rice production. Cases of severe rat infestation can cause losses of up to 25 percent.
Previously, farmers use several methods in dealing with rat attacks which include biological control methods using barn owls and mechanical methods such as installing traps and destruction of rat holes. For infestations that are serious, the use of rodenticides is more practical. Nevertheless, safety aspects need to be prioritised, especially when farmers mix their own rat baits to be used in the paddy field.
BUTIK S is registered as a chemical pesticide input under the SIPP program of the Ministry of Agriculture and Food Industry (MAFI) in January 2021. However, efforts to introduce it to the public earlier have been delayed due to the lockdown in 2021.
FGV Agri Services Sdn Bhd collaborates with AMCO Niaga Sdn Bhd, a pesticides supply and distribution company in the agricultural sector, that has extensive marketing chain presence especially for the paddy sector.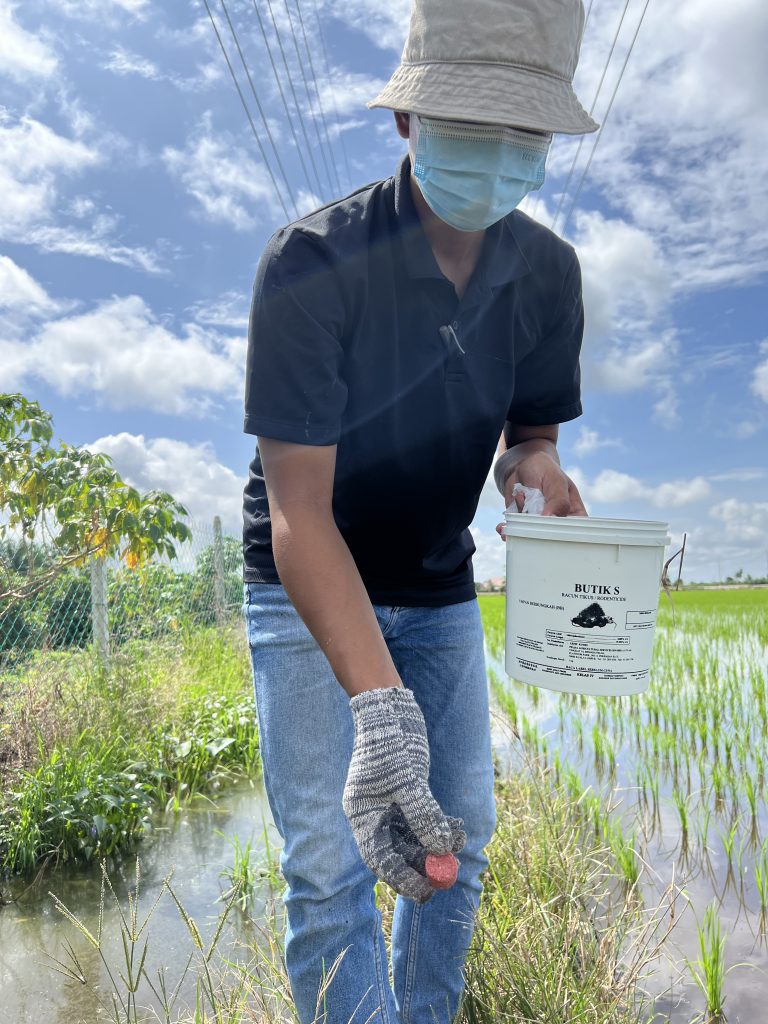 Through this strategic partnership, AMCO Niaga Sdn. Bhd is tasked to expand BUTIK S's distribution reach for paddy crops in Malaysia.
FGVAS is an industry leader in the production and supply of high-quality oil palm planting materials, rat bait, bio pesticides and other premium agricultural products. It is also the largest producer of oil palm seeds in Malaysia with an annual market share of about 40 percent. BUTIK S brand is a first-generation rat bait product that is widely used in the oil palm plantation sector.
ALOR SETAR, 8 JUN 2022 – FGV Holdings Bhd (FGV), melalui anak syarikatnya, FGV Agri Services Sdn Bhd (FGVAS) memperkenalkan BUTIK S, produk kawalan perosak tikus generasi pertama yang dapat digunakan secara integrasi bersama burung pungguk jelapang di bawah Skim Insentif Pengeluaran Padi (SIPP).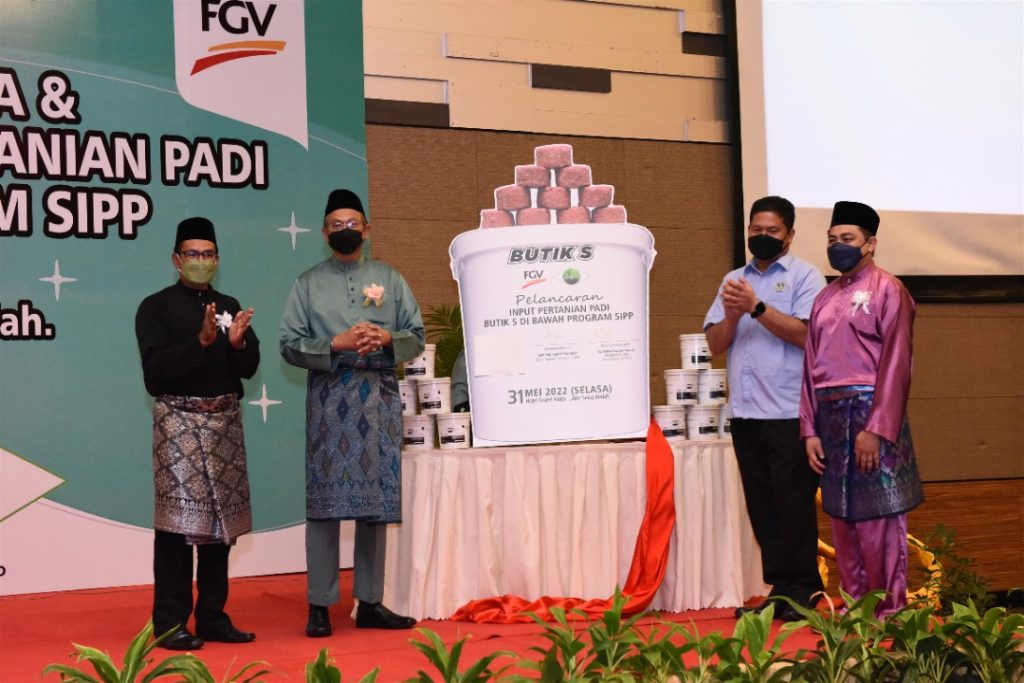 Dari kiri : Encik Yahya Bazlan, Pengarah Urusan AMCO Niaga Sdn Bhd, Tuan Haji Romzi Ishak, Ketua Pegawai Eksekutif, FGVAS, Encik Muhamad Hisham Mohd Noor, Pengarah Bahagian Industri Padi, MADA, Encik Mustazah Mohamed, Ketua Jabatan Perniagaan Komersial & Perkilangan, FGVAS.
BUTIK S adalah umpan berbungkah anti penggumpalan yang dirumus daripada beberapa bahan yang sesuai dengan pemakanan tikus, berat yang sesuai, bentuk dan warna umpan yang menarik menjadikannya lebih digemari tikus di setiap peringkat tanaman padi.
Ketua Pegawai Eksekutif Kumpulan FGV, Mohd Nazrul Izam Mansor, berkata kumpulan FGV mengambil inisiatif ini untuk meningkatkan kesedaran pesawah tentang aspek keselamatan mengendalikan racun tikus. Melalui penggunaan umpan BUTIK S yang telah tersedia untuk ditabur dan kurang toksik berbanding racun generasi kedua dapat memastikan keselamatan pesawah. Justeru, penggunaan BUTIK S ini sesuai untuk dilaksanakan secara  kawalan perosak bersepadu (IPM) kerana tidak memberikan kesan sampingan kepada haiwan bukan sasaran seperti pungguk jelapang dan kucing.
Mengulas lanjut, BUTIK S sangat mudah digunakan di mana sebanyak 40 ketul umpan sahaja perlu ditabur untuk 1 hektar atau bersamaan 12 ketul umpan bagi setiap relong sawah padi. Kos aplikasinya sangat kompetitif dan lebih menjimatkan sehingga 15 peratus per hektar berbanding kaedah racun bancuhan sendiri.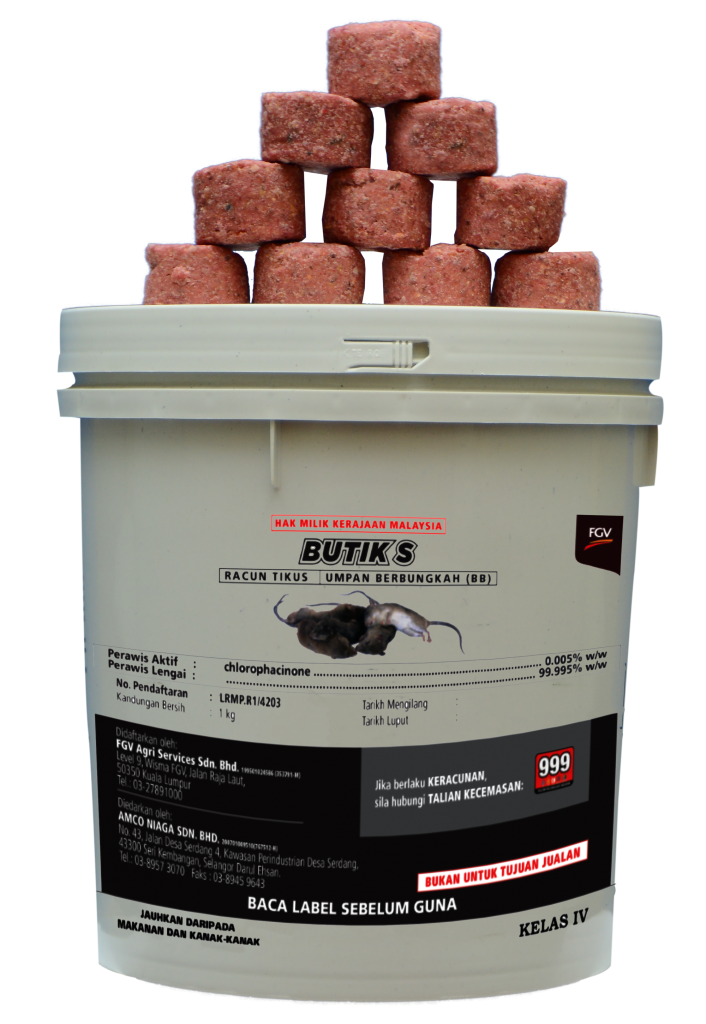 Beliau berkata, dengan berbuat demikian, hasil pengeluaran padi juga boleh ditingkatkan dan seterusnya dapat membantu menangani krisis kekurangan makanan yang sedang berlaku.
Katanya lagi, FGV sentiasa berusaha ke arah menyediakan produk dan penyelesaian pertanian lestari kepada pelanggannya, justeru sangat teruja untuk turut terlibat secara lebih dekat dengan petani khususnya dalam sektor padi.
Mengikut kajian, serangan tikus boleh menyebabkan kerugian mencecah RM43 juta setahun bersamaan 87,332 tan beras atau 5 peratus kehilangan hasil pengeluaran beras negara. Kes serangan tikus yang serius boleh menyebabkan kerugian sehingga 25 peratus.
Kebiasaanya pesawah menggunakan beberapa kaedah dalam menangani serangan tikus. Antaranya kaedah kawalan biologi menggunakan burung pungguk jelapang dan kaedah mekanikal seperti memasang perangkap serta memusnahkan lubang tikus. Dalam keadaan serangan yang lebih tinggi kawalan menggunakan racun kimia adalah lebih praktikal. Sungguhpun demikian, aspek keselamatan perlu dititik beratkan terutamanya apabila pesawah membancuh sendiri racun untuk dijadikan umpan.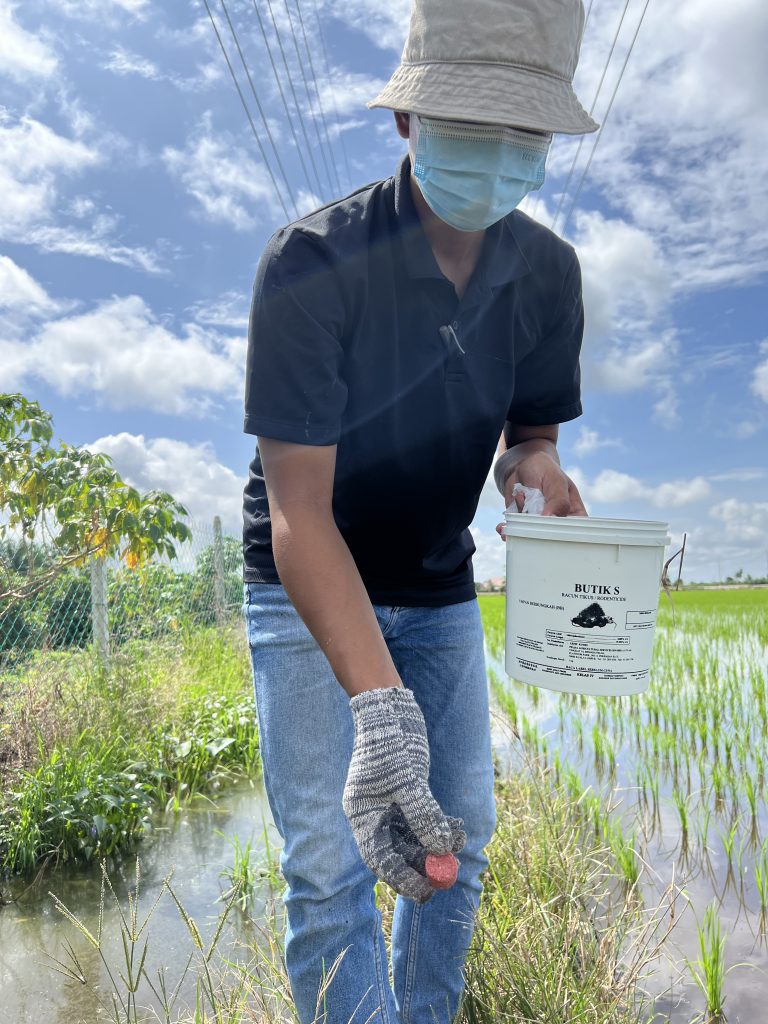 BUTIK S telah berjaya didaftarkan sebagai input racun kimia di bawah program SIPP Kementerian Pertanian dan Industri Makanan (MAFI) pada Januari 2021. Bagaimanapun, usaha untuk memperkenalkan secara meluas telah terjejas disebabkan oleh penularan COVID-19.
FGV Agri Services Sdn Bhd berkerjasama dengan AMCO Niaga Sdn Bhd, sebuah syarikat pembekalan input pertanian racun kimia dalam sektor pertanian dan mempunyai rantaian pemasaran yang luas khususnya bagi sektor padi.
Melalui perkongsian strategik itu, AMCO Niaga Sdn. Bhd. membantu untuk mengembangkan pasaran BUTIK S bagi tanaman padi di Malaysia.
FGVAS ialah peneraju industri dalam pengeluaran dan pembekalan bahan tanaman kelapa sawit berkualiti tinggi, umpan tikus, biopestisid dan produk pertanian premium yang lain.
Ia adalah pengeluar benih kelapa sawit terbesar di Malaysia dengan pegangan pasaran tahunan kira-kira 40 peratus. Jenama BUTIK S pula adalah produk umpan tikus generasi pertama yang digunakan secara meluas dalam sektor perladangan sawit.