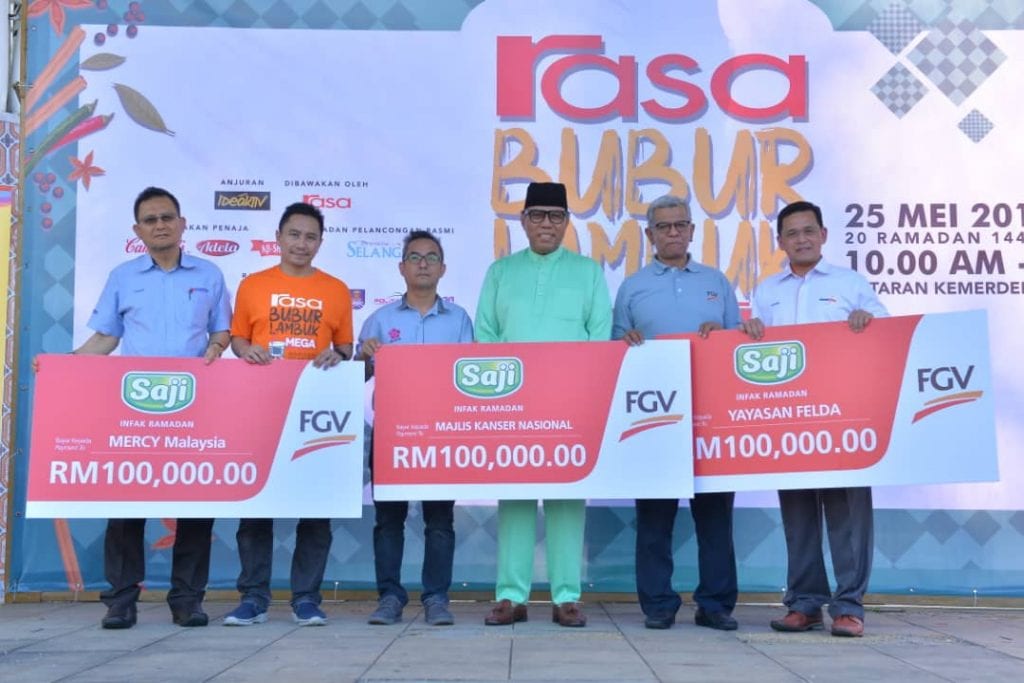 FGV Holdings Berhad (FGV), through its subsidiary Delima Oil Products Sdn. Bhd. (DOP) today handed over RM300,000 worth of donation to Yayasan FELDA, MERCY Malaysia and National Cancer Council (MAKNA), collected through its Infak Ramadan SAJI campaign.
FGV Group Chief Executive Officer, Dato' Haris Fadzilah Hassan said the Infak Ramadan SAJI campaign was launched on April 30, 2019, whereby 50 sen from each sale of SAJI 5 kilogram (kg) cooking oil will be donated to the campaign fund that runs throughout the month of Ramadan.
"This contribution is part of FGV's corporate responsibility initiative to the people, especially to the settlers and the less fortunate.
"The charity organisations were chosen based on the effectiveness of their past programmes and I hope with this contribution, many more beneficial programmes can be implemented," he said.
FGV's donation was handed-over to the selected charities by FGV Plantation Sector Chief Operating Officer, Tuan Syed Mahdhar Syed Hussain witnessed by Selangor Menteri Besar, YAB Tuan Amirudin Shari at the RASA Bubur Lambuk Mega event organised by Nu Ideaktiv – a joint venture company by Astro and Karangkraf.
This charity event where ADELA Vanaspathi is a co-sponsor, involves NGOs, IPTA & IPTS students, women's associations and masjid members assisted by local celebrity chefs to produce nearly 5,000 packs of bubur lambuk to be distributed to the local community.
A product brand under DOP, ADELA Vanaspathi is a vegetable oil fat which contains Vitamin E and free of trans-fatty acids and cholesterol.
END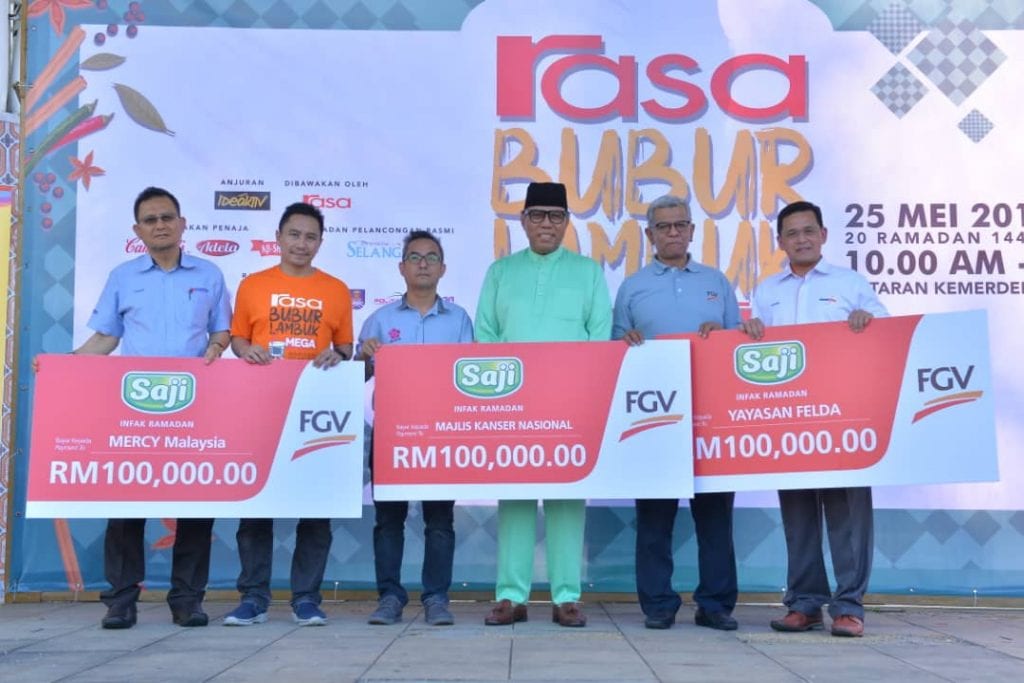 FGV Holdings Berhad (FGV), menerusi anak syarikatnya Delima Oil Products Sdn. Bhd. (DOP), hari ini menyerahkan sumbangan bernilai RM300,000 kepada Yayasan FELDA, MERCY Malaysia dan Majlis Kanser Nasional (MAKNA) hasil jualan daripada kempen Infak Ramadan SAJI.
Ketua Pegawai Eksekutif Kumpulan FGV, Dato' Haris Fadzilah Hassan berkata, kempen Infak Ramadan SAJI telah dilancarkan pada 30 April 2019 lalu di mana sebanyak 50 sen daripada setiap jualan minyak masak SAJI bersaiz 5 kilogram (kg) akan didermakan ke tabung kempen yang berlangsung sepanjang bulan Ramadan.
"Sumbangan ini merupakan sebahagian daripada inisiatif tanggungjawab korporat FGV kepada masyarakat khususnya kepada peneroka dan juga golongan kurang bernasib baik.
"Organisasi tersebut dipilih berdasarkan keberkesanan program-program yang mereka laksanakan dan saya harap dengan sumbangan ini lebih banyak program-program bermanfaat dapat dilaksanakan," ujar beliau
Sumbangan FGV telah disampaikan oleh Ketua Pegawai Operasi Sektor Perladangan FGV, Tuan Syed Mahdhar Syed Hussain bersama Menteri Besar Selangor, YAB Tuan Amirudin Shari pada majlis RASA Bubur Lambuk Mega anjuran Nu Ideaktiv, syarikat usahasama Astro dan Karangkraf.
ADELA Vanaspathi adalah rakan penaja untuk majlis ini yang  melibatkan NGO, pelajar IPTA dan IPTS, persatuan wanita dan ahli masjid yang dibantu oleh chef selebriti tempatan untuk menghasilkan hampir 5,000 pek bubur lambuk untuk diedarkan kepada masyarakat setempat.
Merupakan salah satu jenama produk di bawah DOP, ADELA Vanaspathi adalah lemak minyak sayuran yang mengandungi Vitamin E dan bebas daripada asid trans-lemak dan kolesterol.
Tamat