95 percent of FGV's plantation operations in Peninsular Malaysia have implemented cashless salary payment
KUALA LUMPUR, 18 MARCH 2021 – FGV Holdings Berhad (FGV) continues its initiative in empowering its migrant plantation workers by enabling them to control and manage finances more efficiently.
As the first Malaysian plantation company to pioneer the application of the electronic wallet (e-wallet) system, FGV has implemented cashless salary payments to 95 percent of its plantation operations in Peninsular Malaysia, involving 17,682 migrant plantation workers. The remaining five percent which involves 861 migrant plantation workers will be completed by end of March 2021.
Through the e-wallet system, FGV makes it easier for migrant plantation workers to control and manage their finances more efficiently
264 e-wallet registrations in Sarawak will be implemented through the salary payment of this month. As for Sabah, 10,925 registrations will be implemented simultaneously in early April 2021. This includes migrant plantation workers from FGV Plantations (M) Sdn Bhd, FGV Agri Services Sdn Bhd, Pontian United Plantations Berhad and Yapidmas Plantation Sdn Bhd.
Dato' Haris Fadzilah Hassan, FGV's Group Chief Executive Officer said, digitalised plantation management is one of FGV's efforts in respecting the rights of migrant plantation workers.
"As a responsible company, FGV continues to empower and add benefits for our migrant plantation workers. With full control of their wages without involving middlemen, workers are able to personally control their expenses and account balance through the e-wallet application on their individual mobile phones."
"Besides the cashless payroll system launched last year (using Merchantrade Money mobile application), FGV will be introducing four new e-wallet application features starting April 2021 which include e-grievances, e-attendance, panic button, and e-learning. For e-grievances, migrant plantation workers have the option to channel their grievance at any time. Grievances or complaints can be made in the form of texts, audio or video and will be centrally managed by FGV's One Stop Centre in Gemencheh, Negeri Sembilan," said Haris Fadzilah.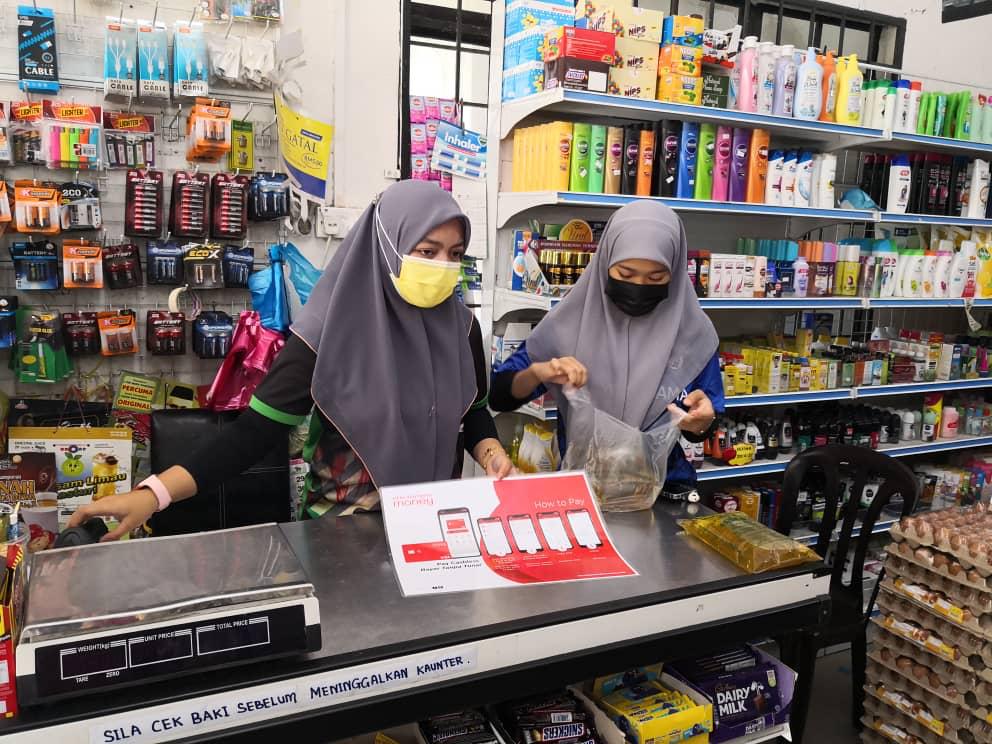 Retailers providing cashless payment services to facilitate the purchase of essential items
Through e-attendance, FGV migrant plantation workers can access information related to attendance and daily tasks. The information is directly coordinated through FGV's centralised database e-Plantation Information Network, which also enables migrant plantation workers to view their performance on a daily basis.
The panic button feature aims to enhance safety and enable the estate management to respond immediately in handling emergency cases or accidents at the workplace. With just a touch of a specific button on the app, FGV's migrant plantation workers are able to send an emergency signal to inform of their location in order to receive assistance.
As for the e-learning feature, it will facilitate migrant plantation workers in accessing the latest information regarding SOCSO's contribution, health and medical benefits, employment contracts, occupational health and safety, rate for wages and other related facts.
FGV plans to continuously implement improvements for a few more e-wallet digital functions for the benefit of its migrant plantation workers in the future. 
END
95 peratus operasi perladangan FGV di Semenanjung Malaysia telah melaksanakan pembayaran gaji tanpa tunai
KUALA LUMPUR, 18 MAC 2021: FGV Holdings Berhad (FGV) meneruskan inisiatif memperkasa pekerja ladang migrannya, dengan membolehkan pekerja mengawal dan mengurus kewangan mereka secara lebih efisien.
Sebagai syarikat perladangan pertama di Malaysia yang mempelopori aplikasi sistem dompet elektronik (e-dompet), FGV telah melaksanakan pembayaran gaji tanpa tunai untuk 95 peratus operasi perladangannya di Semenanjung Malaysia, melibatkan 17,682 pekerja ladang migran. Baki lima peratus melibatkan 861 pekerja ladang migran akan selesai dilaksanakan pada penghujung Mac 2021.
Melalui sistem e-dompet, FGV memudahkan pekerja ladang migran mengawal dan mengurus kewangan dengan lebih efisien
264 pendaftaran e-dompet di Sarawak akan dilaksanakan menerusi pembayaran gaji bulan ini. 10,925 pendaftaran di Sabah pula akan dilaksanakan serentak pada awal April 2021. Ia meliputi pekerja ladang migran FGV Plantations (M) Sdn Bhd, FGV Agri Services Sdn Bhd, Pontian United Plantation Berhad dan Yapidmas Plantation Sdn Bhd.
Dato' Haris Fadzilah Hassan, Ketua Pegawai Eksekutif Kumpulan FGV berkata, pengurusan ladang secara digital merupakan salah satu usaha FGV untuk menghormati hak-hak pekerja ladang migrannya.
"Sebagai syarikat yang bertanggungjawab, FGV terus berusaha memperkasa serta menambah manfaat untuk setiap pekerja ladang migran kami. Dengan kawalan penuh ke atas gaji tanpa menggunakan orang tengah, pekerja dapat mengawal perbelanjaan dan baki akaun secara peribadi melalui aplikasi e-dompet di telefon bimbit masing-masing."
"Selain sistem pembayaran gaji tanpa tunai yang dilancarkan tahun lalu (menggunakan aplikasi mudah alih Merchantrade Money), FGV akan memperkenalkan empat ciri baharu aplikasi e-dompet mulai April 2021 iaitu e-rungutan, e-kehadiran, butang kecemasan dan e-pembelajaran. Bagi ciri e-rungutan, pekerja ladang migran FGV mempunyai pilihan untuk membuat aduan pada bila-bila masa. Aduan atau rungutan boleh dibuat di dalam bentuk teks, audio atau video dan dikendalikan secara berpusat di Pusat Sehenti FGV di Gemencheh, Negeri Sembilan," kata Haris Fadzilah.
Melalui e-kehadiran, pekerja ladang migran FGV dapat mengakses maklumat berkaitan kehadiran serta butiran tugasan. Maklumat ini diselaraskan secara terus dari pangkalan data berpusat e-Rangkaian Maklumat Ladang FGV, turut membolehkan pekerja ladang migran melihat hasil prestasi kerja pada setiap hari.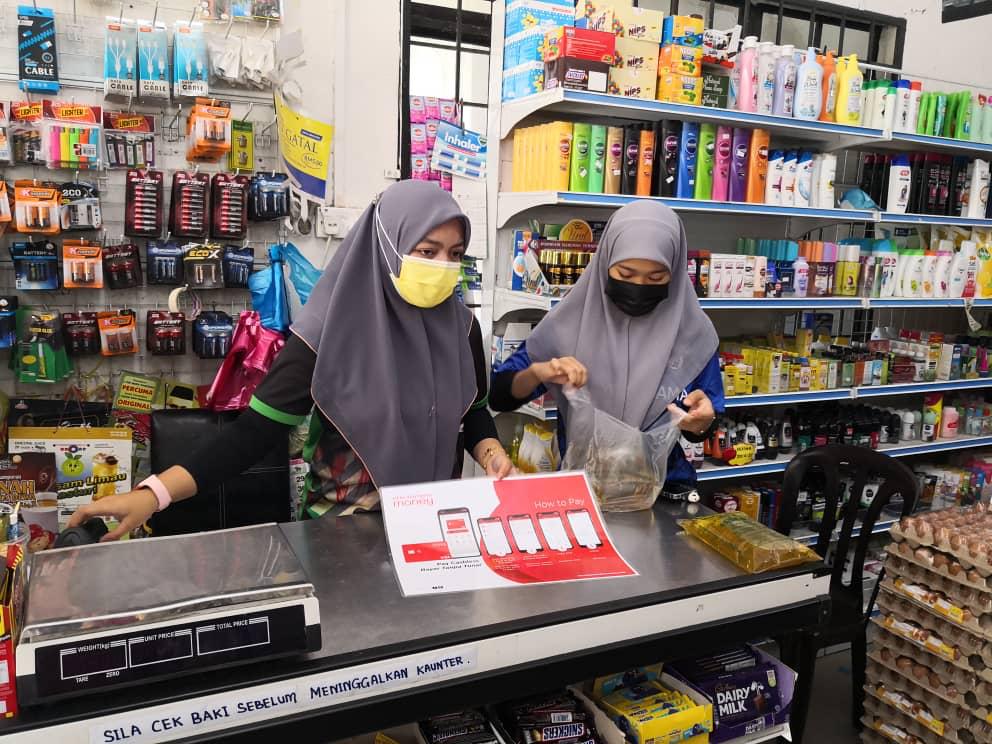 Peruncit menyediakan khidmat pembayaran tanpa tunai untuk memudahkan pembelian barangan keperluan
Ciri butang kecemasan (panic button) bertujuan meningkatkan keselamatan dan membolehkan pengurusan ladang bertindak segera menangani kes kecemasan atau kemalangan di tempat kerja. Dengan menekan tombol khas di aplikasi, pekerja ladang migran FGV dapat menghantar isyarat kecemasan serta memaklumkan kedudukannya untuk membolehkan bantuan dihantar. 
Ciri e-pembelajaran pula memudahkan pekerja ladang migran mendapat maklumat terkini tentang caruman PERKESO, manfaat kesihatan dan perubatan, kontrak pekerjaan, keselamatan dan kesihatan pekerjaan, kadar upah kerja dan lain-lain maklumat berkaitan.
FGV merancang untuk melaksanakan penambahbaikan beberapa lagi fungsi digital e-dompet secara berterusan untuk kemudahan pekerja ladang migrannya di masa hadapan.
TAMAT