Felda Global Ventures Holdings Berhad (FGV) celebrated Malaysia Day on Saturday by planting 60 trees of various local species at the Forest Research Institute Malaysia (FRIM), Kepong.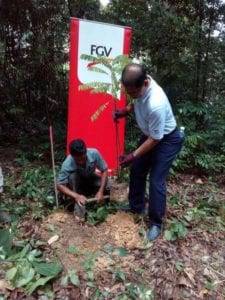 About 100 FGV staff including 30 children hiked 2.5km into the FRIM forest to plant saplings such as Cengal, Meranti, Merbau and Balau whilst enjoying the flora and fauna, learning about the origins and different species along the way.
FGV Officer-in-Charge Dato' Khairil Anuar Aziz said; "The trees we plant today are not for us, but for our children and the future generation. This programme demonstrates FGV's commitment to sustainable practices, not only at our plantations."
Dato' Khairil also expressed his gratitude to FRIM for organising the programme for FGV staff and their family members.
FGV and FRIM also has another collaboration to establish a Rafflesia Conservation and Interpretation Center in Grik, Perak, which is expected to be completed next year. The centre was established following the discovery of the Rafflesia population in the Lebey River area of Felda Bersia. The centre is intended to serve as a 'one-stop-centre' for research, education and conservation of the endangered species of Rafflesia.