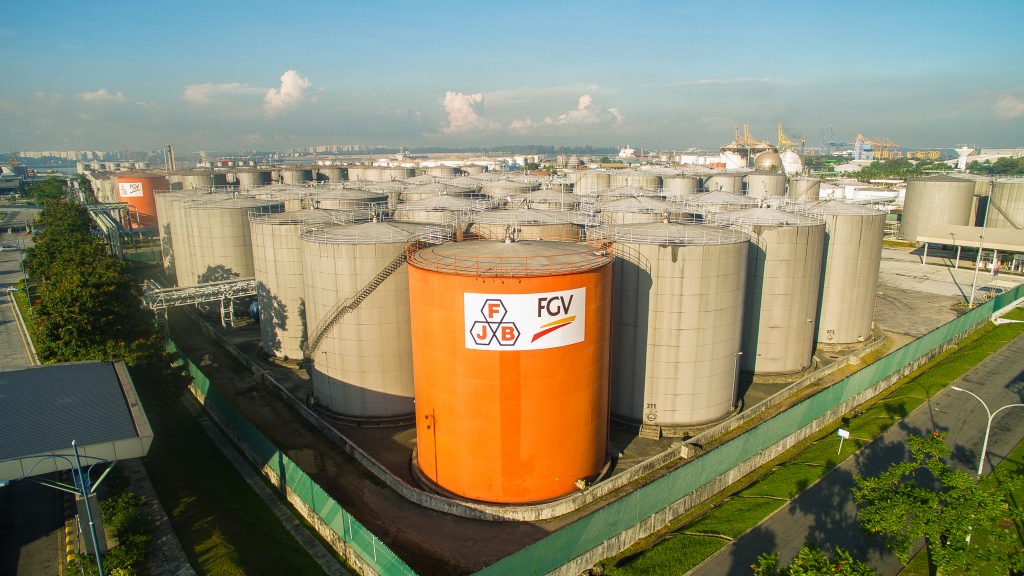 KUALA LUMPUR, 16 October 2020 – FGV Holdings Berhad (FGV) owns one of the world's largest and most modern storage facilities for vegetable oils with a total capacity of more than 1.1 million MT through 12 liquid terminals located in Malaysia, Indonesia and Pakistan.
FGV operates its bulking and storage business through its subsidiary, FGV Johor Bulkers Sdn. Bhd. (FJB). FJB handles 25% of Malaysia's total palm oil exports and provides ample tank space solutions for international vegetable oil traders to effectively conduct business worldwide.
Due to increasing market demand and to fulfil the government B20 biodiesel mandate for the transport sector, FGV has expanded its bulking facility by adding six new vegetable oil storage tanks. Four of the tanks are located in Pasir Gudang, Johor with 10,400 MT capacity completed in August 2020 and two tanks with 5,200 MT capacity in Port Klang, Selangor completed in February 2020, are ready for use. Nine additional tanks in Tanjung Langsat, Johor with 20,000 MT capacity are currently under construction and will be completed by the third quarter of 2021.
FGV Group Chief Executive Officer, Dato' Haris Fadzilah Hassan said the additional tanks attested to the team's expertise in handling edible and non-edible vegetable oil products. It complements with a fully computerised system, stringent quantity and quality controls, strict security and safety measures as well as comprehensive receipt-storage-dispatch facilities.
"FJB is one of the most well-equipped terminals to handle all types of storage and cargo movement needs. Moving forward, FGV plans to expand its bulking business overseas and we are exploring the best options available," said Haris Fadzilah.
In 2019, FJB marked a historical moment when the company ventured into the handling of basic chemicals in line with its strategy to expand the Group's business beyond vegetable oils. By the year 2021, FJB is anticipated to handle more than 80,000 MT per year of basic chemicals at its dedicated facilities in Tanjung Langsat, Johor as demand increases.
FJB also operates two warehouses for the storage of palm kernel expellers (PKE), palm kernel shells (PKS) and grains. The warehouses are located in Pasir Gudang, Johor and Kuantan, Pahang with area sizes of 252,683 square feet and 179,611 square feet respectively. On top of that, a new warehouse with a 59,200 square feet capacity for dry cargo will also be constructed in the Pasir Gudang port area and is expected to be completed by next year to fulfil demands from local and neighbouring countries.
FJB acts as a one-stop independent centre for storage and handling of vegetable oils, olechemicals, biodiesel, PKE, PKS, grains and basic chemicals via vessels, road tankers and pipelines in all major ports including Pasir Gudang, Tanjung Langsat, Port Klang, Kuantan, Lahad Datu and Sahabat in Malaysia and Palembang in Indonesia.
FJB is accredited with ISO 9001 (Quality Management), ISO 22000 (Food Safety), ISO 14001 (Environment), OHSAS 18001 (Safety), ISO/IEC 17025 (Laboratory), ISCC (Carbon Control), GMP+ B3 (Warehouse) and is certified as Halalan-Toyyiban and KOSHER.
Ends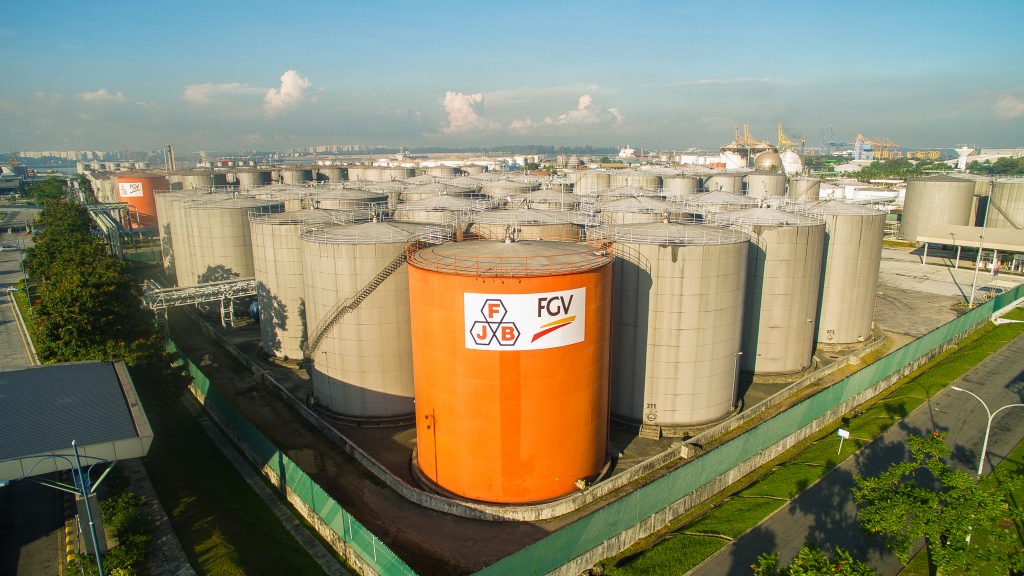 KUALA LUMPUR, 16 Oktober 2020 – FGV Holdings Berhad (FGV) memiliki salah sebuah kemudahan simpanan minyak sayuran terbesar dan termoden di dunia dengan jumlah kapasiti simpanan lebih 1.1 juta MT menerusi 12 terminal cecair yang terletak di Malaysia, Indonesia dan Pakistan.
FGV mengendali perniagaan simpanan pukal menerusi anak syarikatnya, FGV Johor Bulkers Sdn. Bhd. (FJB). FJB mengendalikan 25% keseluruhan eksport minyak sawit Malaysia di samping menyediakan ruang simpanan yang cukup kepada pedagang minyak sayuran antarabangsa bagi menjalankan perniagaan secara lebih berkesan di serata dunia.
Berikutan peningkatan permintaan di pasaran dan untuk memenuhi mandat biodiesel B20 kerajaan untuk sektor pengangkutan, FGV telah meluaskan kemudahan simpanan pukal dengan menambah enam lagi tangki simpanan baharu untuk minyak sayuran. Empat tangki berkenaan terletak di Pasir Gudang, Johor dengan kapasiti simpanan sebanyak 10,400 MT telah siap pada Ogos 2020, dan dua tangki dengan kapasiti 5,200 MT di Pelabuhan Klang, Selangor yang telah siap pada Februari 2020, kini sedia untuk digunakan. Sementara tambahan sembilan buah tangki lagi terletak di Tanjung Langsat, Johor berkapasiti 20,000 MT pula kini sedang dalam pembinaan dan dijangka siap sepenuhnya pada suku tahun ketiga 2021.
Ketua Pegawai Eksekutif Kumpulan FGV, Dato' Haris Fadzilah Hassan berkata penambahan tangki simpanan ini membuktikan kepakaran petugas Kumpulan berkenaan mengendalikan produk-produk minyak sayuran dan bukan sayuran. Ia turut disokong oleh sistem pengkomputeran sepenuhnya, kawalan kualiti dan kuantiti yang ketat, langkah-langkah keselamatan yang tegas selain kemudahan terima-simpan-hantar yang menyeluruh.
"FJB adalah salah sebuah terminal paling lengkap untuk mengendalikan pelbagai jenis simpanan serta keperluan pergerakan kargo. Melangkah ke hadapan, FGV merancang meluaskan lagi perniagaan simpanan pukal ke luar negara dan kami sedang meneroka pilihan terbaik yang ada," kata Haris Fadzilah.
Pada 2019, FJB mencatat sejarah apabila syarikat berkenaan menceburi bidang pengendalian kimia asas sejajar dengan strateginya dalam mengembangkan perniagaan Kumpulan berkenaan selain dari minyak sayuran. Menjelang 2021, FJB menjangkakan bakal mengendalikan lebih dari 80,000 MT kimia asas setahun di kemudahan mereka di Tanjung Langsat, Johor berikutan peningkatan permintaan.
FJB juga mengendalikan dua gudang untuk penyimpanan dedak isirung sawit (PKE), tempurung isirung sawit (PKS), serta bijirin. Gudang berkenaan terletak di Pasir Gudang, Johor dan Kuantan, Pahang dengan masing-masing berkeluasan 252,683 kaki persegi dan 179,611 kaki persegi. Selain itu, sebuah gudang baharu berkeluasan 59,200 kaki persegi bagi kegunaan kargo kering juga bakal dibina di Pelabuhan Pasir Gudang dan dijangka siap pada tahun hadapan bagi memenuhi permintaan tempatan dan negara jiran.
FJB bertindak sebagai pusat sehenti bebas bagi simpanan dan pengendalian minyak sayuran, oleokimia, biodiesel, PKE, PKS, bijirin serta kimia asas menerusi kapal, lori tangki dan saluran paip di semua pelabuhan utama termasuk di Pasir Gudang, Tanjung Langsat, Pelabuhan Klang, Kuantan, Lahad Datu dan Sahabat di Malaysia manakala Palembang di Indonesia.
FJB telah menerima pensijilan ISO 9001 (Pengurusan Kualiti), ISO 22000 (Keselamatan Makanan), ISO 14001 (Alam Sekitar), OHSAS 18001 (Keselamatan), ISO/IEC 17205 (Makmal), ICSC (Kawalan Karbon), GMP+ B3 (Gudang) dan disahkan sebagai Halalan –Toyyiban dan KOSHER.
Tamat