KUALA LUMPUR, 28 January 2019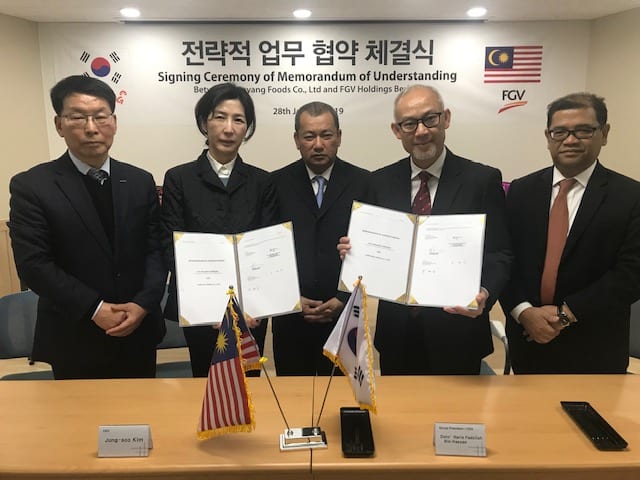 FGV Holdings Berhad (FGV) has signed a Memorandum of Understanding (MoU) with Samyang Foods Co., Ltd. (Samyang Foods) to establish a Halal Ramen manufacturing facility in Malaysia for local and global markets. FGV's Group Chief Executive Officer, Dato' Haris Fadzilah Hassan said this collaboration is part of our strategic direction to expand the Group's downstream business by diversifying our product offerings and penetrating into new markets. FGV's Logistics and Support Businesses Sector (LSB) will also benefit from this partnership by providing a total logistics supply chain solution.
"With this MoU, FGV hopes to explore the opportunity for both parties to establish a Halal Ramen and instant noodle manufacturing plant in Malaysia. The global halal food market is one of the fastest growing segments in the food industry and is expected to reach more than USD 740 billion in value by 2025," Haris said.
In addition to Samyang Foods new halal manufacturing facility in Malaysia, this collaboration will also give FGV access to Samyang Foods supply chain, which includes cooking oil, vegetable fats and sugar for their existing Ramen Plant in Wonju, South Korea.
Samyang Foods is a company incorporated in South Korea and listed on the Korean Stock  Exchange with a current market capitalisation of KRW459.514 billion (approximately RM1.68 billion). The company is in the business of manufacturing and selling various food products such as ramen, snacks, dairy products, sauces, and frozen dumplings.
Samyang Foods' Ramen products are becoming increasingly popular in Asia, Europe, Oceania, the Middle East, North America and South American markets and have sold over 400 million packs in 2017.
FGV's wholly owned subsidiary, Delima Oil Products Sdn. Bhd. (DOP) which is leading the Group's downstream business expansion can leverage on Samyang Foods strong R&D and global distribution networks to improve quality and expand the reach of its SAJI products regionally and globally. In addition, DOP will benefit from Samyang Foods' over 50 years' experience in the Ramen and instant noodle industry to strengthen its own products and brand positioning.
Samyang Foods' CEO, Madam Kim Jung Soo said, "Samyang is excited at the prospect of expanding our line of products to the vast and growing global halal market by collaborating with FGV as they have valuable experience producing high quality and halal food products.
Haris added, "Samyang Foods is an established global brand. Therefore this is a fantastic business prospect for FGV to explore and will ultimately benefit Malaysia by further positioning it as an integrated Halal hub for global markets. We will be able to leverage on our local expertise in the Halal industry including Malaysian halal accreditation which is recognised worldwide".
END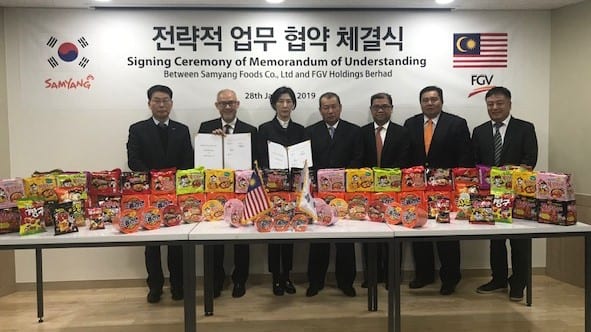 FGV Holdings Berhad (FGV) telah menandatangani Memorandum Persefahaman (MoU) dengan Samyang Foods Co., Ltd. (Samyang Foods) untuk mewujudkan fasiliti pengilangan Halal Ramen di Malaysia untuk pasaran tempatan dan global.
Ketua Pegawai Eksekutif Kumpulan FGV, Dato' Haris Fadzilah Hassan berkata, kerjasama ini merupakan sebahagian daripada hala tuju strategik FGV untuk mengembangkan perniagaan Hiliran Kumpulan dengan mempelbagaikan penawaran produk dan menembusi pasaran baharu. Sektor Logistik dan Perniagaan Sokongan FGV (LSB) juga akan mendapat manfaat daripada kerjsama ini dengan menyediakan penyelesaian rantaian bekalan logistik.
"Menerusi MoU ini, FGV berharap dapat menerokai peluang di mana kedua-dua pihak akan menubuhkan fasiliti pembuatan Ramen Halal dan mi segera di Malaysia. Pasaran makanan halal global merupakan salah satu segmen yang paling pesat berkembang dalam industri makanan dan dijangka mencapai nilai lebih daripada USD 740 bilion pada 2025, " ujar Haris.
Selain daripada kemudahan pengilangan Halal baharu Samyang Foods di Malaysia, kerjasama ini juga akan memberikan FGV akses kepada rantaian bekalan Samyang Foods, termasuk minyak masak, leleemak sayuran dan gula untuk Kilang Ramen sedia ada di Wonju, Korea Selatan.
Samyang Foods  adalah sebuah syarikat yang diperbadankan di Korea Selatan dan disenaraikan di Korea Stock Exhange dengan modal pasaran semasa sebanyak KRW459.514 bilion (kira-kira RM1.68 bilion). Syarikat ini menjalankan perniagaan pembuatan dan penjualan pelbagai produk makanan seperti ramen, makanan ringan, produk tenusu, sos, dan ladu beku. Produk Ramen Samyang Foods dikenali di pasaran Asia, Eropah, Oceania, Asia Barat, Amerika Utara dan Amerika Selatan serta telah berjaya menjual lebih 400 juta bungkusan produk pada tahun 2017.
Anak syarikat milik penuh FGV, Delima Oil Products Sdn. Bhd. (DOP) yang menerajui  perniagaan Hiliran Kumpulan dilihat boleh memanfaatkan rangkaian R&D dan  pengedaran global Samyang Foods yang kukuh untuk meningkatkan kualiti dan memperluaskan pasaran produk di bawah jenama SAJI di peringkat serantau dan seluruh dunia. Di samping itu, DOP akan memperoleh manfaat daripada Samyang Foods yang mempunyai pengalaman lebih lebih 50 tahun di dalam industri Ramen dan mi segera serta berjaya mengukuhkan produk dan kedudukan jenama mereka sendiri.
Ketua Pegawai Eksekutif Samyang Foods, Kim Jung Soo berkata, "Samyang teruja dengan prospek untuk mengembangkan barisan produk kami ke pasaran halal global yang luas dan berkembang pesat melalui kerjasama dengan FGV, kerana mereka mempunyai pengalaman luas dalam menghasilkan produk makanan halal dan berkualiti tinggi.
Haris menambah, "Samyang Foods adalah jenama global yang dikenali. Ini merupakan prospek perniagaan yang hebat untuk FGV terokai dan akan memberi manfaat kepada Malaysia khususnya dengan meletakkan kedudukan negara ini sebagai Hab Halal bersepadu bagi pasaran global. Kami akan memanfaatkan kepakaran tempatan dalam industri Halal termasuk pensijilan halal Malaysia yang diiktiraf di seluruh dunia ".
TAMAT