KUALA LUMPUR, 22 June 2022 – Major plantation organisations, a non-profit and academia have agreed to cooperate in building human-elephant coexistence. The agreement exchange will take place at The Vida Bukit Ceylon, Kuala Lumpur on 22 June 2022. The signatories of this agreement include plantation organisations Sime Darby Plantation, IOI Plantation, Aramijaya Agri and Agro Sdn. Bhd, FGV Holdings Berhad, FELDA, academia University of Nottingham Malaysia and non-profit organisation Earthworm Foundation. Meanwhile, Kulim (Malaysia) Plantation and Wildlife Conservation Society-Malaysia Program have not signed the agreement but are currently working together with the coalition.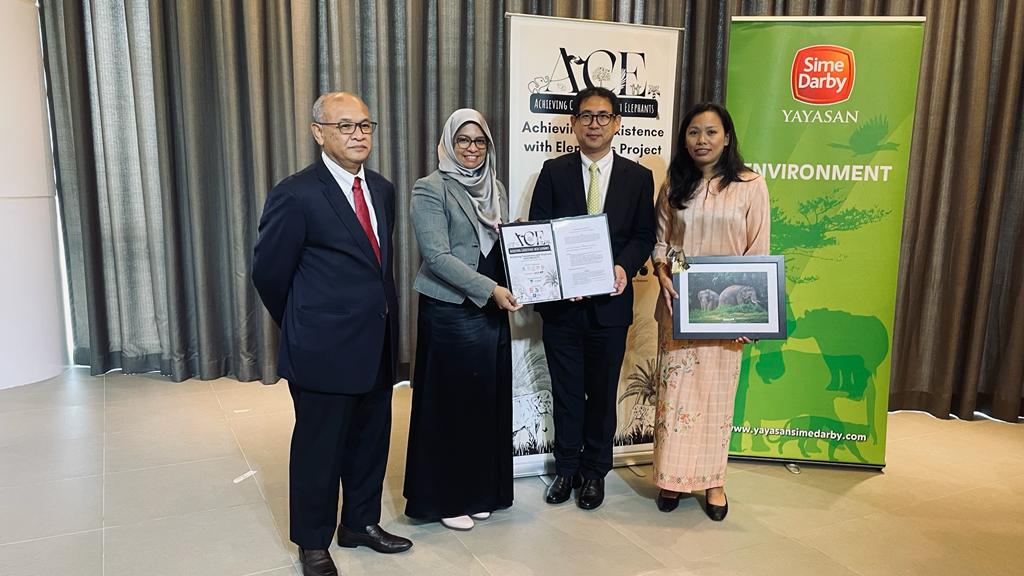 The agreement exchange formalises the "Achieving Coexistence with Elephants" (ACE) Project in the southern landscape of Peninsular Malaysia involving plantations in Johor. This project is significant as it is among the first multi-agency human-elephant coexistence projects in Peninsular Malaysia using a large landscape approach, covering 19 estates with approximately 9000 people. This ceremony was witnessed by the subject matter expert from PERHILITAN, En. Salman Saaban.
The project aims to promote cooperation between agricultural communities, NGOs and academia to conserve wild elephants and increase safety among participating smallholders and plantations. Wild elephants have large home ranges of 200 square kilometres or more. When elephant home ranges overlap with a complex landscape with rapid human development like Johor, then active monitoring and management of the wild elephant population is needed.
En. Salman Saaban, who is also the Director of Protected Areas in the Department of Wildlife and National Parks Peninsular Malaysia (PERHILITAN), says, "this is an excellent initiative that provides an active platform for the plantations and conservation groups to collaborate and exchange knowledge, creating a win-win 1 situation for the people (plantations, smallholders, and local communities) and for the conservation of wild elephants. Johor is currently a hotspot for elephant-vehicle collisions. This endangers both human and elephant lives, and results in further cost from vehicle damages."
One component of the project recognises that habitat fragmentation and roads can impact elephant movements, and looks into securing safe movement passages for elephants. Dato' Haji Salim bin Aman, the Director of Johor State Forestry Department shared, "We are supporting the National Physical Plan to establish and strengthen the ecological corridor. One of the initiatives taken is through the establishment of Panti Conservation Area, comprising the whole Panti Forest Reserve. Additionally, the corridor initiatives by the ACE Project will enhance the on-going efforts by the department on the ground to restore ecological linkages in the Central Forest Spine of Peninsular Malaysia."
By working in a coalition across Segamat, Kluang, Mersing and Kota Tinggi districts, the ACE project is trying to increase the sense of safety for people, support the agriculture sector in mitigating human-elephant conflict responsibly, while at the same time carry out scientific research to study elephants' roaming behaviour and habitat needs. It is very encouraging that to date, the project has attracted large plantations like Sime Darby Plantation, IOI Plantation, Aramijaya, FGV Holdings Berhad and FELDA to join the coalition.
The plantations here have quickly realised that the conflict situation can pose danger to human lives, and that translocation of elephants is only a temporary solution. The coalition hopes that other plantations in Johor will be willing to follow suit and support the coexistence efforts. En. Rasyhid Redza Anwarudin, the Chief Sustainability Officer from Sime Darby Plantation shared, "We are truly delighted to be part of a coalition of multi-agencies to help achieve human-elephant coexistence. We are sharing our protocols, existing research and experience with other coalition members to ensure the successful implementation of this initiative. In the spirit of continuous improvement, we always believe that working with partners will enable us to further refine our internal operations."
The agreement for the coalition outlines the roles and responsibilities of the partners, and helps promote knowledge exchanges among the signatories. Using adaptive management, the members will actively monitor human-elephant conflict and the wild elephant population, identify elephant passages, and test out plantation protocols to increase safety and sustainability. The researchers from Management & Ecology of Malaysian Elephants (MEME), under the University of Nottingham Malaysia, supported the project by conducting studies 2 on elephant behaviour and movement ecology, including the impact of linear infrastructure on elephants. Further efforts to engage with smallholders and villagers on the ground are supported by non-profit organisations such as Earthworm Foundation, as well as the Wildlife Conservation Society-Malaysia Program.
Activities under the coalition entail capacity building, and co-management of human-elephant conflict with the plantations. Informally, the coalition has been conducting meetings since 2020. In March 2022, it carried out a four-day training on human-elephant conflict and coexistence focused on plantation managers and their sustainability teams. FGV Group Chief Executive Officer (GCEO), Encik Nazrul Izam Mansor said, "FGV is supportive towards this effort. We believe this coalition provides a good platform for the major stakeholders operating in the Southern Johor region to share our experiences and challenges faced over the years." He further added, "in regards to addressing human-elephant conflict and working together in this complex landscape, FGV is fully committed to playing its part".
The eventual project outcome would enable agricultural communities to autonomously coexist with elephants. Specifically, the ground staff will be competent in managing interactions with elephants, and the use of early-warning systems to increase safety, patrolling efficiency and reduce damage to young palms. The plantations will test out standard operating procedures to increase safety of staff and promote sustainable certification, while harmonising the need for elephant movement passages and feeding grounds.
Dato' Amiruddin Abdul Satar, one of the signatories from FELDA, extolled, "FELDA has a Sustainability Department that will look into human-elephant coexistence. Although it is challenging for our smallholders to deal with elephant conflict, through this coalition, we hope to be able to support our FELDA communities and at the same time, help fulfill Malaysia's aspiration to balance development for people with environment and wildlife conservation. FELDA can play a role to support the Central Forest Spine initiative in Peninsular Malaysia together with other partners."
The coalition has identified five potential elephant corridors in the landscape and is currently in the process of selecting two corridors with highest potential for advocacy. The coalition secretariat is continuing their efforts to engage with other plantations in the landscape.
ENDS
KUALA LUMPUR, 22 June 2022 – Beberapa syarikat perladangan utama serta sebuah badan bukan berasaskan keuntungan dan ahli akademik bersetuju untuk bekerjasama dalam menghasilkan persekitaran yang membolehkan kewujudan bersama antara manusia dan gajah.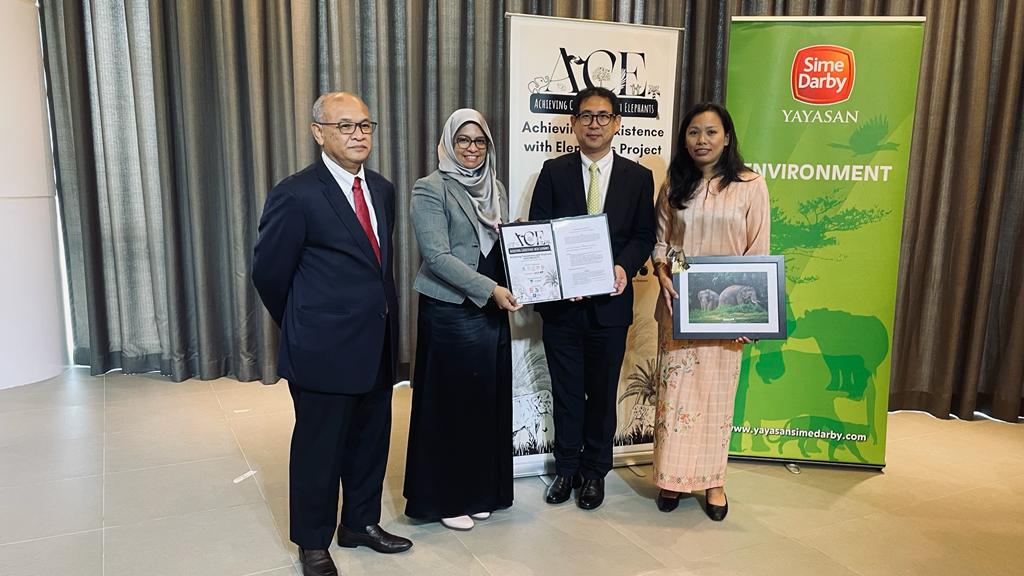 Majlis pertukaran perjanjian itu telah berlangsung di The Vida Bukit Ceylon, Kuala Lumpur pada 22 Jun 2022.
Pihak yang menandatangani perjanjian ini termasuklah syarikat perladangan Sime Darby Plantation, IOI Plantation, Aramijaya Agri, Agro Sdn. Bhd, FGV Holdings Berhad dan FELDA, selain ahli akademik daripada University of Nottingham Malaysia serta badan bukan berasaskan keuntungan, Yayasan Earthworm.
Pada masa sama, Kulim (Malaysia) Plantation dan Wildlife Conservation Society-Malaysia Program turut bekerjasama dengan gabungan itu, meskipun tidak menandatangani perjanjian berkenaan.
Majlis pertukaran perjanjian itu bakal merasmikan Projek "Mencapai Kewujudan Bersama dengan Gajah" (ACE) di selatan Semenanjung Malaysia yang membabitkan tanah perladangan di Johor.
Projek ini amat signifikan kerana ia adalah antara projek pelbagai agensi pertama bagi menghasilkan persekitaran yang membolehkan kewujudan bersama antara manusia dan gajah di Semenanjung Malaysia menggunakan pendekatan landskap secara meluas, yang merangkumi 19 ladang dan membabitkan kira-kira 9,000 orang. Majlis ini akan disaksikan oleh pakar dalam bidang berkaitan daripada PERHILITAN, En. Salman Saaban.
Projek ini bertujuan menggalakkan kerjasama antara komuniti pertanian, NGO dan ahli akademik untuk memulihara gajah liar dan meningkatkan tahap keselamatan peserta dalam kalangan pekebun kecil dan syarikat perladangan. Gajah liar memerlukan kawasan pembiakan yang luas sekitar 200 kilometer persegi atau lebih. Apabila kediaman gajah bertindih dengan landskap yang kompleks dengan pertumbuhan manusia yang pantas seperti di Johor, pemantauan yang aktif dan pengurusan populasi gajah liar adalah diperlukan.
Encik Salman Saaban, Pengarah Kawasan Perlindungan dalam Jabatan Hidupan Liar dan PERHILITAN berkata, "Ini adalah suatu inisiatif yang bagus bagi menyediakan platform kepada syarikat perladangan dan kumpulan konservasi untuk berkolaborasi dan bertukar maklumat, mewujudkan situasi win-win kepada manusia dan gajah liar. Johor kini adalah tempat yang sering berlakunya kemalangan yang membabitkan gajah liar. Akibatnya, ini membahayakan manusia dan juga gajah liar disamping melibatkan kos kerosakan kenderaan."
Satu komponen dalam projek ini mengenalpasti bahawa pemecahan habitat dan jalanraya boleh memberi kesan kepada pergerakan gajah dan akan meneliti usaha mewujudkan laluan yang selamat buat gajah.
Dato Haji Salim bin Aman, Pengarah Perhutanan Johor berkongsi, "kami menyokong Pelan Fizikal Nasional untuk mewujudkan dan memperkukuh koridor ekologi. Antara inisiatif yang di ambil adalah dengan mewujudkan Kawasan Pemuliharaan Panti, merangkumi keseluruhan Hutan Simpan Panti. Selain itu inisiatif koridor menerusi Projek ACE akan memperkukuh usaha oleh jabatan ini untuk memulihkan rangkaian ekologi di 'Central Forest Spine' di Semenanjung Malaysia."
Dengan kerjasama merentasi Segamat, Kluang, Mersing dan Kota Tinggi, Projek ACE ini berusaha bagi meningkatkan keselamatan manusia, disamping menyokong dalam mitigasi konflik antara manusia dan gajah liar.
Pada masa yang sama menjalankan kajian saintifik bagi mengkaji aktiviti dan habitat gajah. Projek ini telah berjaya menarik minat Sime Darby Plantation, IOI Plantation, Aramijaya, FGV Holdings Berhad serta FELDA.
Syarikat perladangan menyedari bahawa konflik ini boleh membahayakan kehidupan manusia, namun pemindahan gajah hanyalah solusi sementara.
Gabungan pelbagai pihak ini berharap syarikat peladangan di Johor akan mengikut jejak langkah dan menyokong kerjasama ini. Encik Rasyhid Redza Anwarudin, Ketua Pegawai Pelestarian Sime Darby Plantation berkata, "Kami amat gembira menjadi sebahagian dari pelbagai agensi untuk membantu mewujudkan persekitaran bersama gajah dan manusia. Kami berkongsi protokol, penyelidikan sedia ada dan pengalaman dengan anggota gabungan yang lain bagi memastikan kejayaan inisiatif ini. Berdasarkan semangat untuk penambahbaikan berterusan, kami sentiasa percaya bahawa bekerjasama dengan rakan kongsi akan membolehkan untuk terus memperhalusi operasi dalaman kami."
Perjanjian gabungan ini menggariskan peranan dan tanggungjawab rakan kongsi dan membantu menggalakkan pertukaran maklumat dalam kalangan pihak yang terlibat.
Menerusi pengurusan mudah suai, pihak yang terlibat akan memantau secara aktif konflik antara manusia dan gajah serta populasi gajah liar, mengenal pasti laluan gajah, dan menguji protokol perladangan untuk meningkatkan keselamatan dan kemampanan.
Penyelidik daripada Pengurusan & Ekologi Gajah Malaysia (MEME) di bawah University of Nottingham Malaysia, menyokong projek ini dengan menjalankan dua kajian berhubung sikap dan ekologi pergerakan gajah, termasuk kesan infrastruktur linear terhadap gajah. Usaha berterusan untuk mengadakan libaturus dengan pekebun kecil dan penduduk kampung turut disokong oleh badan bukan keuntungan seperti Yayasan Earthworm serta Program Konservasi Hidupan Liar.
Aktiviti dibawah gabungan ini termasuk pembinaan kapasiti dan Pengurusan bersama konflik antara manusia dan gajah. Secara tidak formal, gabungan ini telah mengadakan perbincangan sejak tahun 2020. Ketika Mac 2022, telah diadakan kursus mengenai konflik manusia dan gajah yang melibatkan pengurus ladang dan kumpulan kelestarian.
Ketua Pegawai Eksekutif Kumpulan FGV, Encik Nazrul Izam Mansor berkata, FGV amat menyokong usaha berkenaan. "Kami percaya gabungan ini menyediakan platform yang baik kepasa pemegang taruh utama yang beroperasi di wilayah Johor Selatan untuk berkongsi pengalaman dan cabaran yang dihadapi selama ini.
Beliau turut menegaskan bahawa FGV komited sepenuhnya untuk memainkan peranannya dalam menangani konflik antara manusia dan gajah serta bekerjasama dalam landskap yang kompleks ini.
Hasil projek akhirnya membolehkan komuniti pertanian menjadi autonomi dalam wujud bersama gajah. Khususnya, kakitangan darat cekap dalam menguruskan interaksi dengan gajah, dan penggunaan sistem amaran awal untuk meningkatkan keselamatan, kecekapan rondaan dan mengurangkan kerosakan gajah pada pokok kelapa sawit.
Syarikat-syarikat perladang akan menguji prosedur operasi standard untuk meningkatkan keselamatan kakitangan, menggalakkan pensijilan mampan, sambil mengharmonikan keperluan untuk laluan pergerakan gajah dan tempat makan bersama-sama dengan pihak berkepentingan di lapangan.
Dato' Amiruddin Abdul Satar, salah seorang yang menandatangani bagi pihak FELDA berkata, "FELDA memiliki Jabatan Kelestarian yang akan meneliti hubungan antara manusia dan gajah. Walaupun ianya mencabar bagi pekebun kecil untuk berdepan dengan konflik gajah, menerusi gabungan ini kami harap untuk menyokong komuniti FELDA dan pasa masa yang sama, membantu merealisasikan aspirasi Malaysia untuk mengimbangi pembangunan untuk pihak yang memulihara alam sekitar dan hidupan liar. FELDA boleh memainkan peranan untuk menyokong inisiatif Central Forest Spine di Semenanjung Malaysia bersama-sama dengan rakan kongsi yang lain."
Gabungan ini mengenal pasti lima persekitaran yang berpotensi menjadi koridor gajah dan kini dalam proses memilih dua koridor yang paling berpotensi sebagai advokasi. Sekretariat gabungan akan meneruskan usaha mereka untuk mengadakan libat urus dengan syarikat perladangan lain di kawasan itu.
TAMAT