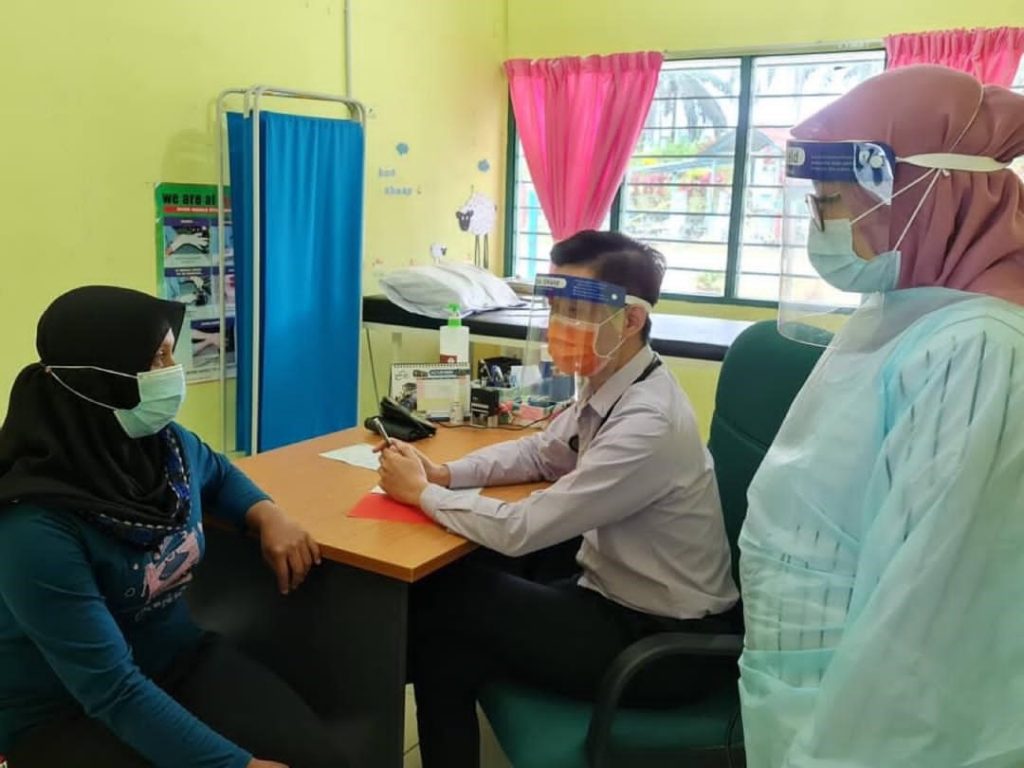 FGV's migrant worker receiving medical consultation at FGV's Jeragan Bestari Clinic, Sahabat, Sabah
KUALA LUMPUR, 8 December 2020 – To fulfil its commitment in ensuring that all employees working on its plantations have access to health rights, FGV Holdings Berhad (FGV) has provided a health facility allocation of RM5.6 million per year for its 28,000 migrant workers.
The allocation allows FGV migrant workers to seek outpatient treatment and undergo health check-ups at nearby health clinics. FGV also bears the medical and treatment costs for employees who need long-term treatment in the hospital either as a result of accidents inside and outside of the workplace or for other chronic and non-chronic diseases.
Syed Mahdhar Syed Hussain, Chief Operating Officer of FGV Group Plantation Sector said, "To provide faster access to health services, especially in rural areas, FGV has taken proactive steps to build clinics on our operating plantations under the guidance of the Ministry of Health Malaysia. To date, RM350,000 has been allocated to build five clinics on plantations located in Aring (Kelantan), Selendang 3, Lepar Utara 11 and Kechau 2 (Pahang), and Sahabat 36 (Sabah), where access to nearby health clinic facilities is limited."
"Every migrant worker who serves on FGV's plantations also receives full protection under the Employees' Social Security Act of the Social Security Organisation (SOCSO), especially for claims of injury. In addition to fulfilling the employer's obligations in compliance with the law, SOCSO's contribution enables our plantation workers to take advantage of various emergency treatment facilities and compensation in the event of an accident at work," added Syed Mahdhar.
FGV also bears the cost of flight tickets to send migrant workers back to their home countries if the workers would like to seek further treatment there. In the event of death or loss of life in service, FGV bears the cost of repatriating the body of the employee to the country of origin.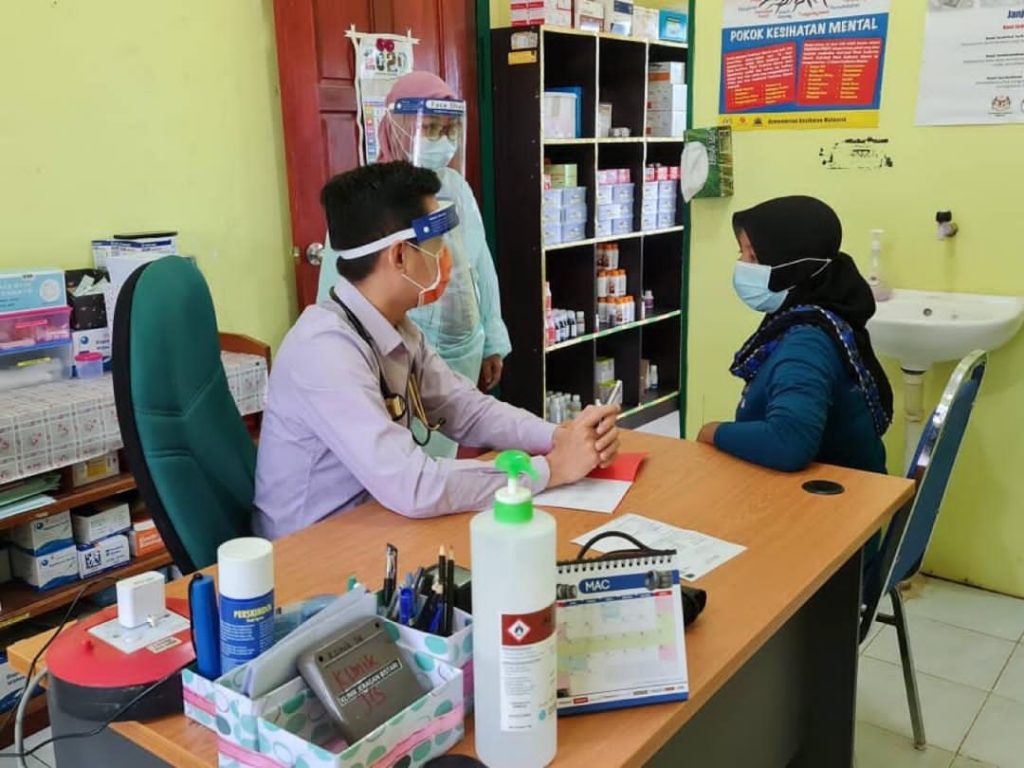 FGV's migrant worker receiving medical consultation at FGV's Jeragan Bestari Clinic, Sahabat, Sabah
As an initiative to facilitate migrant workers to undergo health screening examinations, FGV is currently in talks with private medical practitioners with joint membership of the Foreign Workers Medical Examination Monitoring Agency (FOMEMA) to establish screening facilities at the FGV One Stop Centre (FGV OSC). All applications with FOMEMA will be handled by the medical practitioner.
With this facility, all arrangements related to FOMEMA for new employees as well as contract extensions can be carried out in an orderly manner while reducing transportation costs to the health screening venue. This medical facility can also be utilised by settlers and residents of the surrounding area.
END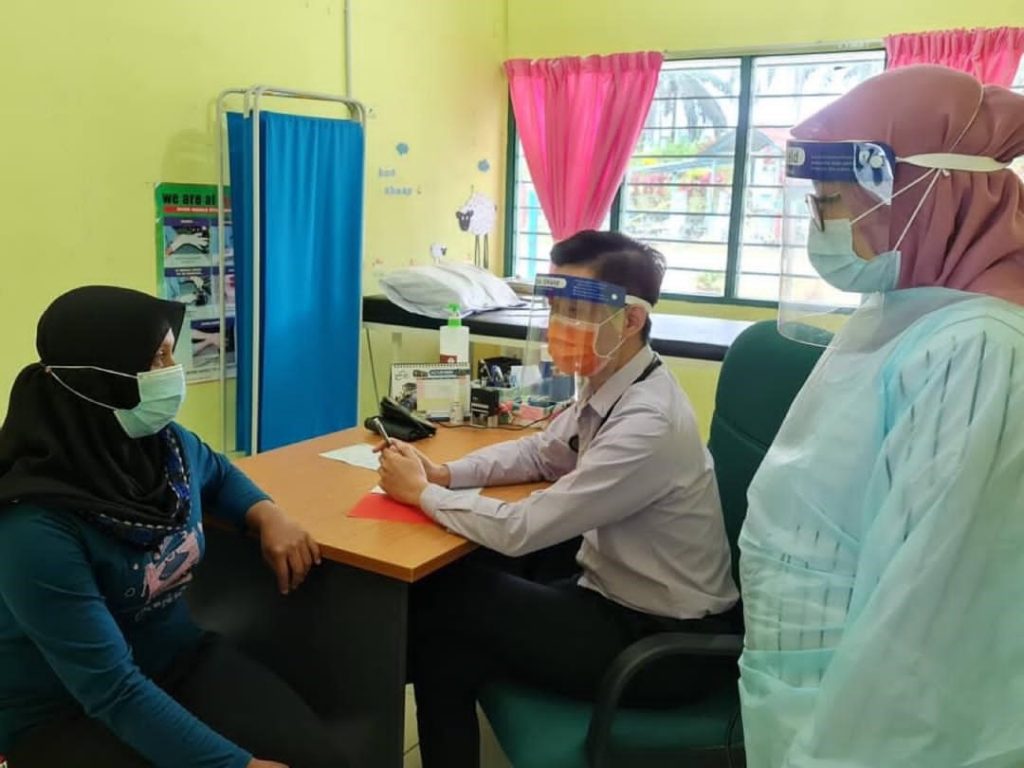 Pekerja migran FGV menerima nasihat perubatan di Klinik Jeragan Bestari FGV, Sahabat, Sabah
KUALA LUMPUR, 8 Disember 2020 – Bagi memenuhi komitmen untuk memastikan semua pekerja yang berkhidmat di ladang-ladangnya mempunyai akses terhadap hak kesihatan, FGV Holdings Berhad (FGV) telah menyediakan peruntukan kemudahan kesihatan sebanyak RM5.6 juta setahun bagi 28,000 orang pekerja migrannya.
Peruntukan tersebut membolehkan pekerja migran FGV mendapatkan rawatan pesakit luar dan menjalani pemeriksaan kesihatan di klinik-klinik kesihatan berhampiran. FGV turut menanggung kos rawatan dan perubatan bagi pekerja yang memerlukan rawatan jangka panjang di hospital sama ada akibat kemalangan di dalam dan di luar tempat kerja atau lain-lain penyakit kronik dan tidak kronik.
Syed Mahdhar Syed Hussain, Ketua Pegawai Operasi Sektor Perladangan Kumpulan FGV berkata, "Bagi menyediakan akses perkhidmatan kesihatan yang lebih pantas terutamanya di kawasan-kawasan pedalaman, FGV telah mengambil langkah proaktif membina klinik-klinik di ladang-ladang operasi kami dengan bimbingan Kementerian Kesihatan Malaysia. Setakat ini, RM350,000 telah diperuntukkan untuk membina lima buah klinik di ladang-ladang di Aring (Kelantan), Selendang 3, Lepar Utara 11 dan Kechau 2 (Pahang) dan Sahabat 36 (Sabah), di mana akses kemudahan klinik kesihatan berhampiran adalah terhad".
"Setiap pekerja migran yang berkhidmat di ladang FGV turut mendapat perlindungan penuh di bawah Akta Keselamatan Sosial Pekerja oleh Pertubuhan Keselamatan Sosial (PERKESO), khususnya tuntutan kecederaan. Di samping memenuhi kewajipan majikan dalam pematuhan undang-undang, caruman PERKESO membolehkan pekerja ladang kami untuk memanfaatkan pelbagai kemudahan rawatan kecemasan dan pampasan sekiranya berlaku kemalangan di tempat kerja," tambah Syed Mahdhar.
FGV turut menanggung perbelanjaan tiket kapal terbang untuk menghantar pekerja migran pulang ke negara asal sekiranya pekerja berkenaan ingin mendapatkan rawatan lanjut di sana. Sekiranya berlaku kematian atau kehilangan jiwa dalam perkhidmatan, FGV menanggung kos penghantaran pulang jenazah pekerja ke negara asal.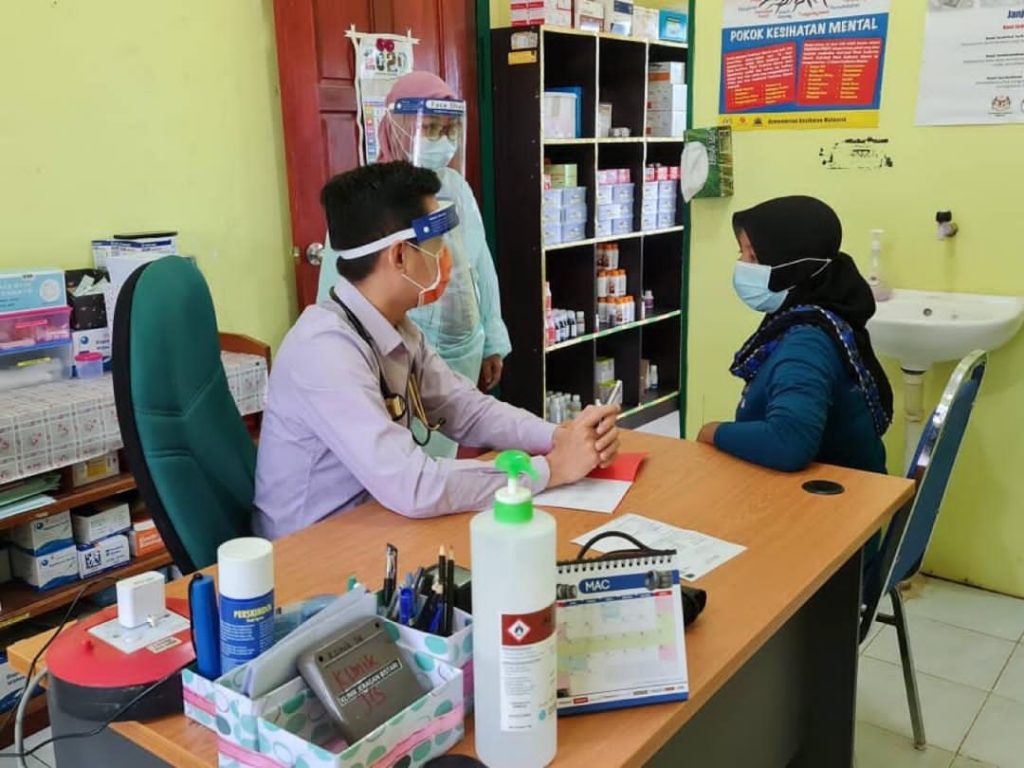 Pekerja migran FGV menerima nasihat perubatan di Klinik Jeragan Bestari FGV, Sahabat, Sabah
Sebagai inisiatif untuk memudahkan pekerja migran membuat pemeriksaan saringan kesihatan, FGV sedang dalam perbincangan dengan pengamal perubatan swasta yang mempunyai keahlian bersama Agensi Pemantauan dan Pemeriksaan Perubatan Pekerja Asing (FOMEMA) untuk mewujudkan fasiliti saringan di Pusat Sehenti FGV. Segala urusan permohonan bersama FOMEMA akan diuruskan oleh pengamal perubatan tersebut.
Dengan adanya fasiliti ini, urusan FOMEMA untuk pekerja baharu dan juga sambungan kontrak dapat dilaksanakan dengan teratur serta menjimatkan kos perjalanan ke tempat pemeriksaan saringan. Fasiliti perubatan ini juga dapat dimanfaatkan oleh peneroka-peneroka dan penduduk kawasan sekitar.
TAMAT