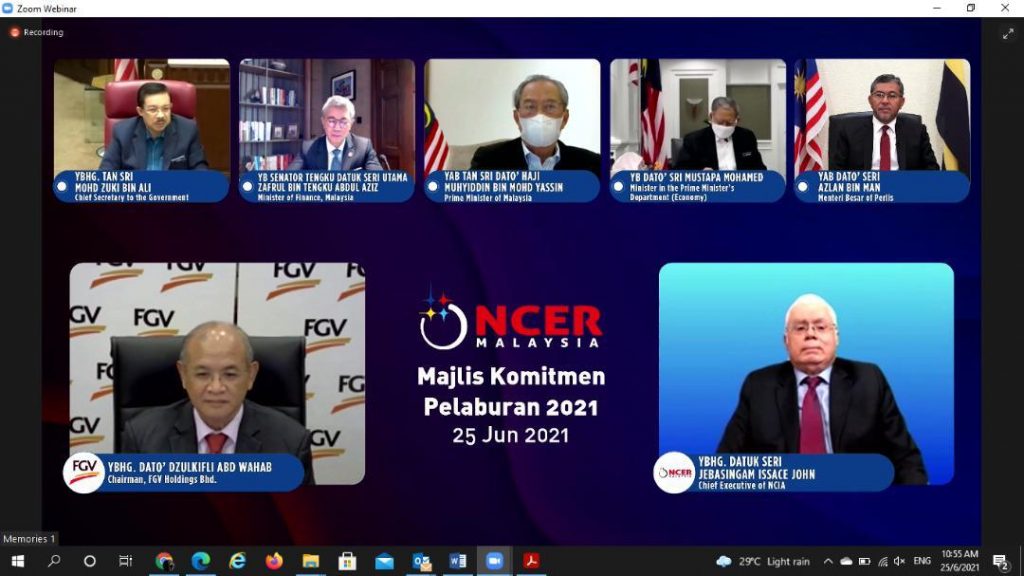 Dato' Dzulkifli Abd Wahab, Chairman of FGV Holdings Berhad together with Datuk Seri Jebasingam Issace John, Chief Executive of NCIA commemorating the launch of FGV Chuping Agro Valley, and witnessed by YAB Prime Minister and the YAB Menteri Besar of Perlis.
Also in attendance at the NCIA Council Meeting were Minister of Finance, Senator Tengku Datuk Seri Utama Zafrul Tengku Abdul Aziz; Minister in the Prime Minister's Department, Dato' Sri Mustapa bin Mohamed; Chief Secretary to the Government of Malaysia, Tan Sri Mohd Zuki Bin Ali; Menteri Besar and Chief Minister of the respective NCER States.
The Board of Directors of FGV Holdings Berhad (FGV) wishes to announce that the Company has officially launched FGV Chuping Agro Valley (FCAV) in conjunction with the Council Meeting of Northern Corridor Implementation Authority (NCIA) held today.
FGV Integrated Farming Holdings Sdn Bhd (FGVIF), a wholly-owned subsidiary of FGV is planning to transform Chuping into a large-scale farming area for major agriculture activities. The aim is to develop an Integrated High-Value Cash Crop Plantation and the potential development of fully integrated large-scale dairy farming.
FCAV's development will be in line with the Northern Corridor Economic Region (NCER) Agriculture Economic Zone (NAEZ) which will be a new investment destination for the private sector, both local and international in the region, and supported by various government initiatives.
The fully integrated agro food project by FGV will promote sustainable food and agricultural best practices via strategic implementation of circular economy initiatives within the FCAV value chain. It will also provide opportunities for better livelihood for the local community and assuring food security for the country.
The Company shall make further announcements if there are any material development in respect of this matter.
FGV HOLDINGS BERHAD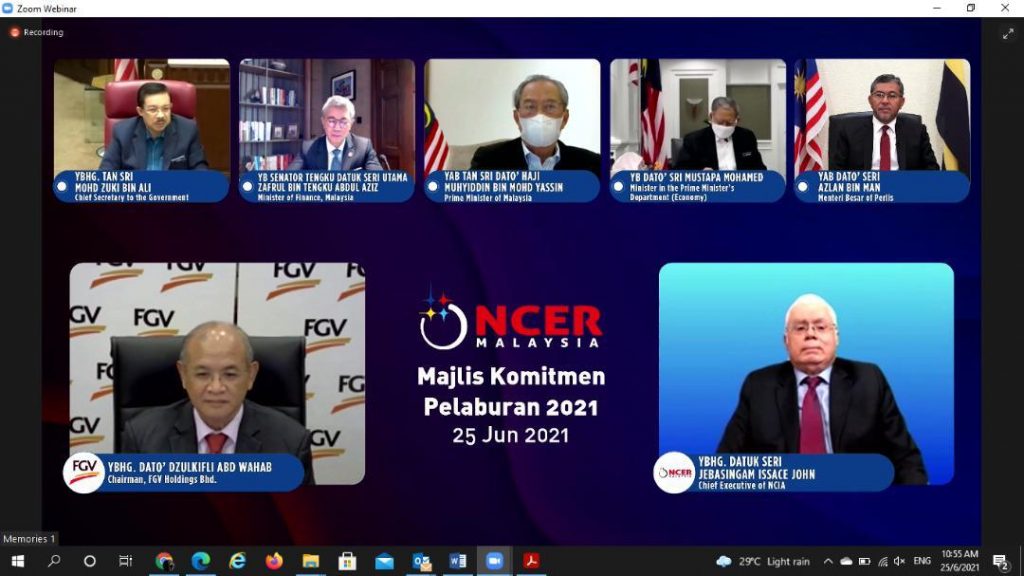 Dato' Dzulkifli Abd Wahab, Pengerusi FGV Holdings Berhad dan Datuk Seri Jebasingam Issace John, Ketua Eksekutif NCIA melancarkan komitmen untuk FGV Chuping Agro Valley, disaksikan oleh YAB Perdana Menteri dan YAB Menteri Besar Perlis.
Turut hadir Menteri Kewangan, Senator Tengku Datuk Seri Utama Zafrul Tengku Abdul Aziz; Menteri di Jabatan Perdana Menteri (Ekonomi), Dato' Sri Mustapa Mohamed; Ketua Setiausaha Negara, Tan Sri Mohd Zuki Ali serta Menteri Besar dan Ketua Menteri negeri-negeri NCER masing-masing.
Lembaga Pengarah FGV Holdings Berhad (FGV) ingin mengumumkan bahawa Syarikat telah melancarkan Lembah Agro Chuping FGV (FCAV) secara rasmi sempena Mesyuarat Majlis Pihak Berkuasa Pelaksanaan Koridor Utara (NCIA) yang diadakan hari ini.
FGV Integrated Farming Holdings Sdn Bhd (FGVIF), anak syarikat milik penuh FGV merancang menjadikan Chuping sebagai kawasan perladangan berskala besar untuk aktiviti pertanian utama, dengan matlamat membangunkan Ladang Tanaman Kontan Bersepadu Bernilai Tinggi selain berpotensi untuk pembangunan ladang tenusu bersepadu berskala besar sepenuhnya.
Pembangunan FCAV ini sejajar dengan Zon Ekonomi Pertanian (NAEZ) Wilayah Ekonomi Koridor Utara (NCER) yang bakal menjadi destinasi pelaburan baharu di wilayah ini bagi sektor swasta sama ada di peringkat tempatan mahupun antarabangsa yang turut disokong oleh pelbagai inisiatif kerajaan.
Projek makanan agro bersepadu sepenuhnya oleh FGV ini akan menggalakkan amalan terbaik pertanian dan makanan yang mampan menerusi pelaksanaan strategik pekeliling inisiatif ekonomi dalam rantaian nilai FCAV. Ia turut memberi peluang kepada kehidupan yang lebih baik bagi masyarakat setempat di samping menjamin aspek keselamatan makanan negara.
Syarikat akan membuat pengumuman selanjutnya jika terdapat sebarang perkembangan penting berhubung perkara ini.
FGV HOLDINGS BERHAD