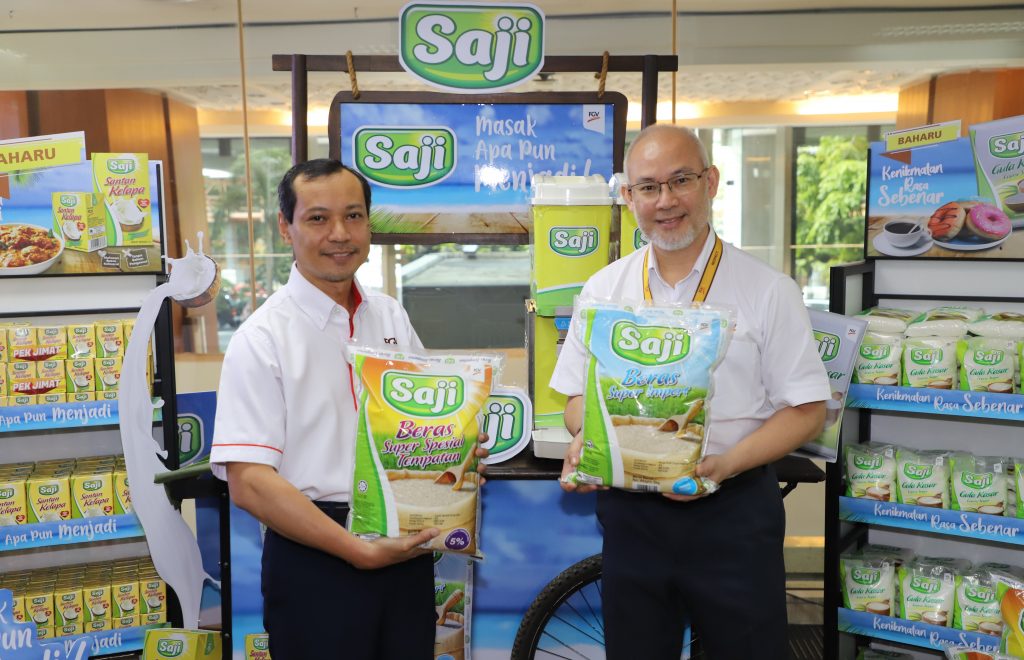 From left: Head of Downstream Division, En. Zulkifli Othman and Group Chief Executive Officer, Dato' Haris Fadzilah Hassan 
KUALA LUMPUR, 11 September 2020 – FGV Holdings Berhad (FGV) through its subsidiary, Delima Oil Products Sdn Bhd (DOP) introduces three new essential food items under its flagship brand SAJI, in line with its expansion into the fast-moving consumer goods (FMCG) segment.
The products, SAJI rice, SAJI coarse sugar and SAJI coconut milk, are amongst the products set to hit the shelves this month, adding to the array of FMCG products under the brand.
During the unveiling event, FGV's Group Chief Executive Officer, Dato' Haris Fadzilah Hassan said, "FGV will be introducing more FMCG products in line with the Group's strategy to move further downstream into branded consumer food segment. We aim to develop this segment into a stronger revenue stream that is stable and sustainable".
Haris Fadzilah added that FGV is leveraging its expertise in agriculture to be involved in food production beyond palm based.
SAJI is already a household brand for cooking oil, which commands 40% of the Malaysian market. Other products under the brand include SAJI creamers and flavoured creamers, SAJI sauces, SAJI mayo, SAJI instant noodles and SAJI rock salt.
Meanwhile, the introduction of SAJI rice marks FGV's debut in rice production. For starters, DOP is marketing SAJI local special rice and imported special rice in 5kg and 10kg packages.
"Currently, FGV is working with large scale local contract farmers to produce SAJI fragrant rice. In the pipeline are rice-based products, including flour and noodles," said Haris Fadzilah.
SAJI coarse sugar is produced under a smart collaboration between DOP and FGV's listed subsidiary MSM Malaysia Holdings Berhad, targeting ardent users of the SAJI brand.
SAJI coconut milk is another product that would complement a typical Malaysian kitchen as it is widely used in cooking. It comes in a 200ml and 1 litre tetra boxes.
ENDS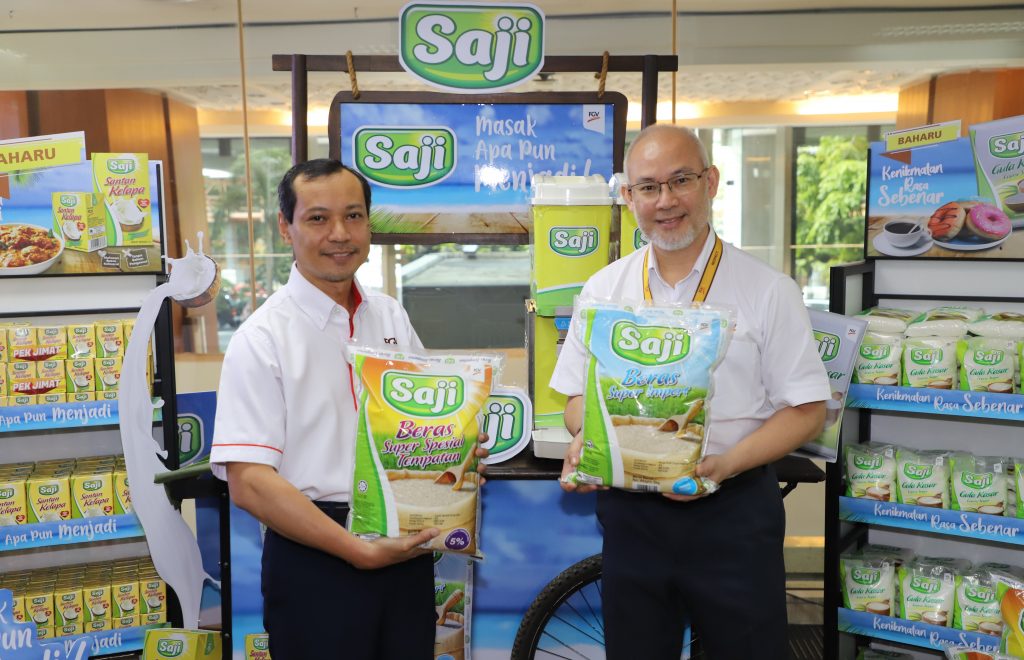 Dari kiri: Ketua Bahagian Hiliran, En. Zulkifli Othman dan Ketua Pegawai Eksekutif, Dato' Haris Fadzilah Hassan
KUALA LUMPUR, 11 September 2020 – FGV Holdings Berhad (FGV) melalui anak syarikatnya, Delima Oil Products Sdn Bhd (DOP) memperkenalkan tiga produk makanan baharu di bawah jenama SAJI, selari dengan pengembangannya ke segmen barang pengguna cepat laris (FMCG).
Beras SAJI, gula kasar SAJI dan santan SAJI adalah produk yang akan dipasarkan pada bulan ini. Ia merupakan penambahan kepada rangkaian produk FMCG sedia ada di bawah jenama itu.
Semasa acara perasmian, Ketua Pegawai Eksekutif Kumpulan FGV, Dato' Haris Fadzilah Hassan berkata, "FGV akan memperkenalkan lebih banyak produk FMCG selari dengan strategi Kumpulan untuk menggerakkan segmen hiliran ke segmen makanan berjenama pengguna. Kami berhasrat untuk mengembangkan segmen ini menjadi aliran pendapatan yang lebih kukuh, stabil dan mampan".
Haris Fadzilah menambah bahawa FGV memanfaatkan kepakarannya dalam bidang pertanian untuk terlibat dalam pengeluaran makanan yang tidak hanya berasaskan sawit.
SAJI sudah menjadi jenama unggul untuk minyak masak, yang menguasai 40% pasaran Malaysia. Produk lain di bawah jenama tersebut termasuklah krimer SAJI dan krimer berperisa, sos SAJI, SAJI mayo, mi segera SAJI dan garam gunung SAJI.
Sementara itu, pengenalan beras SAJI menandakan kemunculan sulung FGV dalam perniagaan pengeluaran beras. Sebagai permulaan, DOP memasarkan beras istimewa tempatan SAJI dan beras istimewa yang diimport dalam bungkusan 5kg dan 10kg.
"Pada masa ini, FGV bekerjasama dengan petani kontrak tempatan berskala besar untuk menghasilkan beras wangi SAJI. Dalam perancangan syarikat, terdapat produk berasaskan beras, termasuk tepung dan mi," kata Haris Fadzilah.
Gula pasir SAJI dihasilkan di bawah kerjasama pintar antara DOP dan anak syarikat FGV yang disenaraikan MSM Malaysia Holdings Berhad, yang menyasarkan pengguna setia jenama SAJI.
Santan kelapa SAJI adalah produk lain yang akan melengkapkan dapur rakyat Malaysia kerana ia banyak digunakan dalam masakan. Ia terdapat dalam kotak tetra 200ml dan 1 liter.
TAMAT