KUALA LUMPUR, 18 December 2019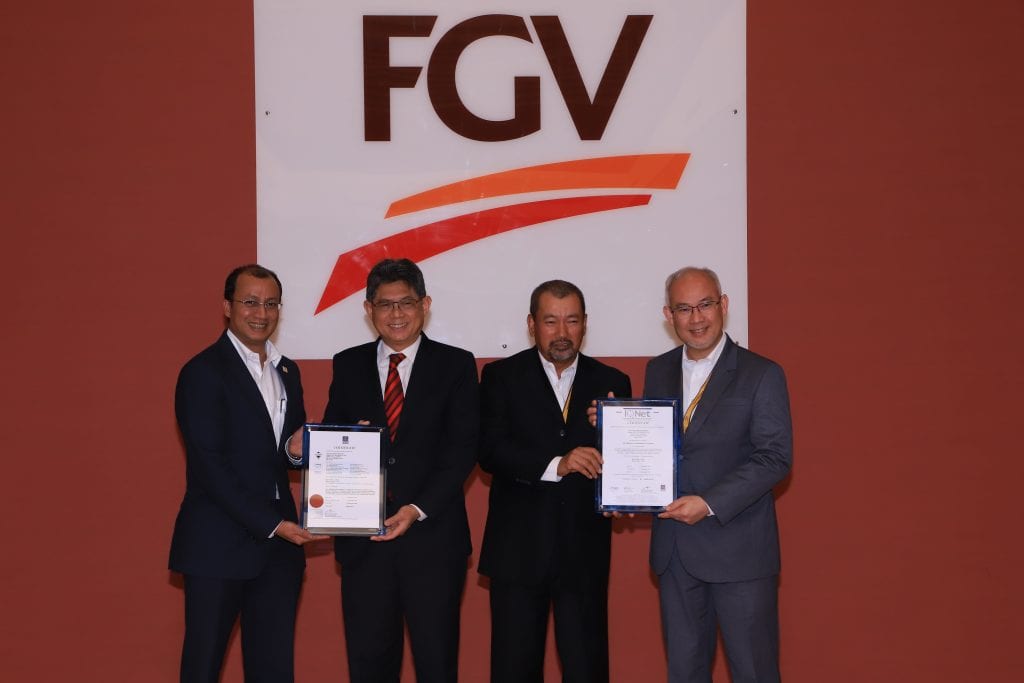 FGV Holdings Berhad (FGV) has received the internationally recognised ISO 37001:2016 certification for its Anti-Bribery Management System (ABMS), which has been rolled out across the group over the last several months. Following a comprehensive gap analysis conducted in early 2019, training programmes and workshops have thus far reached nearly 80% of all employees. SIRIM QAS, the conformity assessment body accredited by the Department of Standards Malaysia and the United Kingdom Accreditation Service, conducted comprehensive audits to verify that the roll out of the ABMS throughout FGV was comprehensive and effective.
The ISO 37001:2016 standard meets the requirements set out in Section 17A of the MACC Act 2009 (Amendment) and the Guidelines on Adequate Procedures which will take effect from 1 June 2020 onwards. This standard is a guide to assist organisations to establish, implement, maintain and enhance anti-corruption programmes.
"We decided that for our ABMS to be effective, we had to ensure that every employee is aware and trained, to prevent acts of corruption or bribery from occurring. We have made sure that all potentially vulnerable areas, from tendering processes to manipulation of grading systems in the operations, payments to vendors, and even the hiring of employees is covered by our ABMS," FGV's Group Chief Executive Officer Dato' Haris Fadzilah Hassan said. "
These controls will play an important role in identifying and closing some of the gaps that were or may still be present. This will assist us in improving our efficiencies and effectiveness in managing risks associated with bribery and also serves to safeguard our businesses too." Haris Fadzilah added.
In FGV, there were three key focus areas – fraud, abuse of power and corruption. SIRIM conducted the first audit for 28 sites in FGV, both at the operational and corporate levels, between 31st July and 15th August 2019.
Four more sites are currently being audited. The Integrity and Governance team spent approximately six months socialising the ABMS via a series of trainings, workshops and other awareness programmes on ISO 37001:2016. The audit had highlighted various areas that needed improvement, and FGV has taken the necessary steps to ensure compliance, in line with global anti-bribery good practices.
"Governance at all levels is critical to the sustainability of any organisation and requires a commitment to continuous vigilance and support from everyone within an organisation, if we are to build the right culture. With FGV's transformation plan on track, the ABMS will give greater assurance to all the stakeholders within our supply chain. FGV is proud to be one of the early birds to receive such certification, and pledges to improve, to instil integrity and fight corruption", Haris Fadzilah said.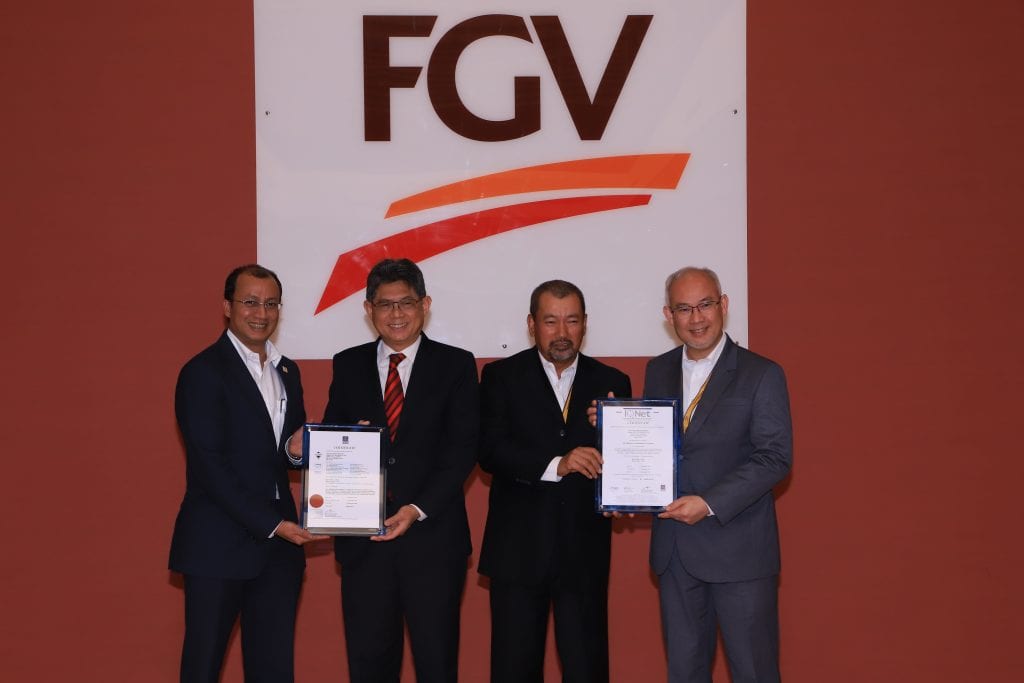 FGV Terima Pensijilan Sistem Pengurusan Anti-Rasuah (ABMS)
Standard ini adalah panduan untuk menubuhkan, melaksanakan, menyelenggara dan meningkatkan program anti-rasuah
FGV Holdings Berhad (FGV) telah menerima pensijilan ISO 37001:2016 yang diiktiraf di peringkat antarabangsa untuk Sistem Pengurusan Anti Rasuah (ABMS), yang telah dilaksanakan di seluruh Kumpulan sejak beberapa bulan yang lalu. Berikutan analisis jurang komprehensif yang dijalankan pada awal tahun 2019, program latihan dan bengkel setakat ini telah melibatkan hampir 80% pekerja. SIRIM QAS, badan penilaian pematuhan yang diakui oleh Jabatan Standard Malaysia dan Perkhidmatan Akreditasi United Kingdom, menjalankan audit menyeluruh untuk mengesahkan bahawa pelancaran ABMS di FGV adalah menyeluruh dan berkesan.
Standard ISO 37001:2016 memenuhi syarat-syarat yang ditetapkan dalam Seksyen 17A Akta SPRM 2009 (Pindaan) dan Garis Panduan Prosedur Adil yang akan berkuat kuasa mulai 1 Jun 2020. Standard ini adalah panduan untuk membantu organisasi menubuhkan, melaksanakan, menyelenggara dan meningkatkan program anti-rasuah.
"Untuk ABMS benar-benar berkesan, kami perlu memastikan setiap pekerja peka dan terlatih, untuk mencegah perbuatan rasuah atau sogokan daripada berlaku. Kami telah memastikan semua peringkat, daripada proses tender hinggalah ke manipulasi sistem penggredan dalam operasi, pembayaran kepada vendor dan juga pengambilan pekerja di bawah pantauan ABMS," kata Ketua Pegawai Eksekutif Kumpulan FGV Dato' Haris Fadzilah Hassan.
"Pantauan ini akan memainkan peranan penting dalam mengenal pasti dan menutup beberapa jurang yang masih atau mungkin masih ada. Ini akan membantu kami memperbaiki kecekapan dan keberkesanan kami dalam menguruskan risiko yang berkaitan dengan rasuah dan juga melindungi perniagaan kami." tambah Haris Fadzilah.
Di FGV, terdapat tiga bidang fokus utama – penipuan, penyalahgunaan kuasa dan rasuah. SIRIM menjalankan audit pertama bagi 28 kawasan di FGV, kedua-duanya di peringkat operasi dan korporat, antara 31 Julai dan 15 Ogos 2019.
Empat lagi kawasan kini sedang diaudit. Pasukan Integriti dan Tadbir Urus menghabiskan masa kira-kira enam bulan untuk memperkenalkan ABMS melalui siri latihan, bengkel dan program kesedaran lain berkaitan ISO 37001: 2016. Audit telah mengenalpasti pelbagai bidang yang memerlukan penambahbaikan, dan FGV telah mengambil langkah-langkah yang perlu untuk memastikan pematuhan, sejajar dengan amalan baik anti-rasuah global.
"Tadbir urus di semua peringkat adalah penting untuk kemampanan mana-mana organisasi dan memerlukan komitmen terhadap kewaspadaan berterusan dan sokongan dari semua orang dalam organisasi, jika kita ingin membina budaya yang betul. Dengan pelan transformasi FGV berada di landasan, ABMS akan memberikan jaminan yang lebih besar kepada semua pemegang kepentingan dalam rantaian bekalan kami. FGV bangga untuk menjadi antara yang terawal menerima pensijilan ini, dan berazam untuk memperbaiki, menanamkan integriti dan memerangi rasuah," ujar Haris Fadzilah.
TAMAT