2021 sees increased production of banana, bamboo, coconut and paddy planting materials
KUALA LUMPUR, 18 February 2021 – FGV Holdings Berhad (FGV), one of the leading planting material producers in Malaysia, ramps up the production of banana, bamboo, coconut and paddy planting materials to meet the increasing domestic demand for crop farming activities.
Dato' Haris Fadzilah Hassan, FGV Group Chief Executive Officer said, "Utilising the right planting material is one of the main factors that determine the success of commercial crop production. The increase in demand from customers showcases our ability in offering various high-quality products through in-depth research in tissue culture, state-of-the-art research & development (R&D) infrastructures as well as over 50 years of experience in clonal research."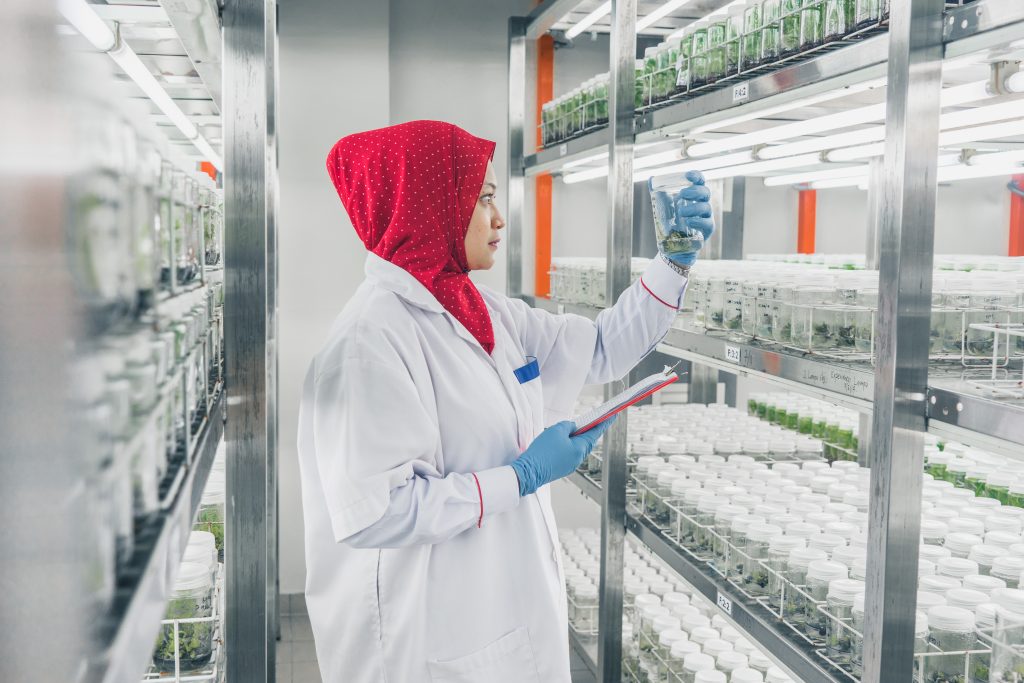 FGV is one of the leading planting material producers in Malaysia
The production of banana clonal varieties is targeted at two million this year, doubling up from last year's one million banana clones produced to cater to the rising demands for the Berangan, Cavendish and Tanduk species. The production has been steadily rising at 100 percent yearly since 2019 to cater to the niche market demand for fresh bananas and banana-based food industry. 
For bamboo clonal planting material, the production of the Betong bamboo species is targeted at one million by 2022 from the current quantity of 200,000. It is the most commercially popular bamboo type due to its multiple functions, from providing raw materials for construction to soil conservation and erosion control. Bamboo can be a sustainable source of raw material as it matures quickly within three to four years and can live up to 100 years.
"With the Betong's commercial production, the FGV Innovation Center at Enstek, Negeri Sembilan became the first plant tissue culture laboratory in Malaysia to successfully produce the Betong bamboo clonal seedlings on a large scale," said Haris Fadzilah.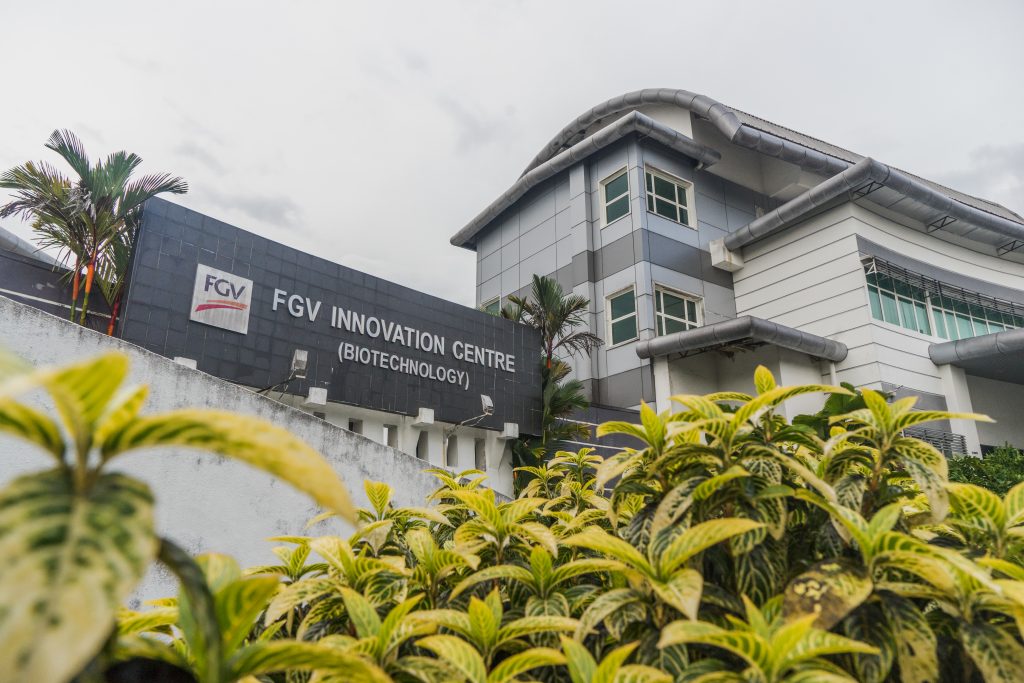 FGV Innovation Center at Enstek, Negeri Sembilan
Besides Betong, FGV's clonal research is also targeting to produce new bamboo clonal planting material of the Semantan variety by 2022. Semantan bamboo can be grown throughout Malaysia and its uses include the production of raw materials for particle boards, handicrafts and sticks application such as chopsticks, toothpicks and satay sticks.
Meanwhile, FGV is also increasing the production of Pandan coconut planting material to 70,000 in 2021, an increase of 20,000 from last year. Currently, 70 percent of the planting materials produced is supplied for FGV's internal planting activity, while 30 percent is sold to the domestic market.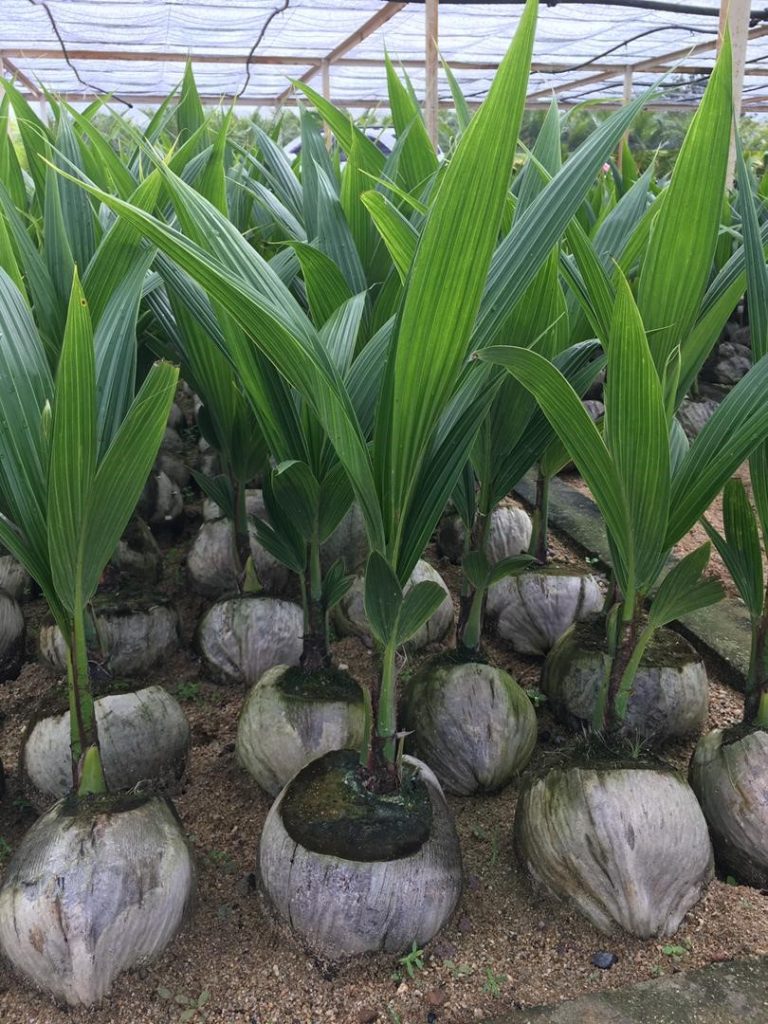 Pandan coconut seedlings
Other than the Pandan species, FGV is also targeting to produce 200,000 MATAG coconut seedlings by 2025 upon maturity of its 50-hectares coconut seed garden located in Pusat Penyelidikan Pertanian Tun Razak, Jerantut, Pahang. MATAG is a hybrid breed crossed between the local Malayan Yellow Dwarf (MYD) coconut or Malayan Red Dwarf (MRD) with the Tagnanan Tall (TAG) coconut which originates from the Philippines. MATAG is the most sought-after coconut variety, where it can produce up to 25,000 more coconuts per hectare each year than the normal coconut tree. MATAG coconuts are suitable for producing coconut water, coconut milk and virgin coconut oil (VCO). 
"We also offer contract cloning services to mass-produce other types of planting materials based on customers' needs for their farming or field planting projects. The planting materials that can be cloned include any plant that has commercial value and is suitable for in-vitro micro propagation. Among the potential new materials that possess high market value include Vanilla and Guarana," added Haris Fadzilah.
Parties who are interested in FGV's contract cloning service may send their inquiries to fassbmarketing@fgvholdings.com or contact FGV Innovation Centre at 06-7916246.
As for paddy planting material, FGV has commenced the planting of 28-hectares of MRQ76 fragrant rice seed gardens last year in Sungai Leman, Selangor and Seberang Perak, Perak. The planted MRQ76 seeds which were harvested in December 2020 and January 2021 will be used to commence 350-hectares of FGV's fortified field fragrant rice contract farming scheme under the Integrated Agricultural Development Area (IADA) in Seberang Perak and IADA Barat Laut, Selangor in March 2021. 
END
2021 menyaksikan peningkatan pengeluaran bahan tanaman pisang, buluh, kelapa dan padi
KUALA LUMPUR, 18 Februari 2021 – FGV Holdings Berhad (FGV) salah satu pengeluar bahan tanaman terkemuka di Malaysia, meningkatkan pengeluaran bahan tanaman pisang, buluh, kelapa dan padi untuk memenuhi permintaan domestik yang semakin meningkat bagi aktiviti pertanian tanaman.
Dato' Haris Fadzilah Hassan, Ketua Pegawai Eksekutif Kumpulan FGV berkata, "Penggunaan bahan tanaman yang betul adalah salah satu faktor utama yang menentukan kejayaan pengeluaran tanaman secara komersial. Peningkatan permintaan daripada pelanggan menunjukkan kemampuan kami dalam menawarkan pelbagai produk berkualiti tinggi melalui penyelidikan kultur tisu secara mendalam, infrastruktur penyelidikan & pembangunan (R&D) yang canggih, serta pengalaman lebih 50 tahun dalam penyelidikan klonal."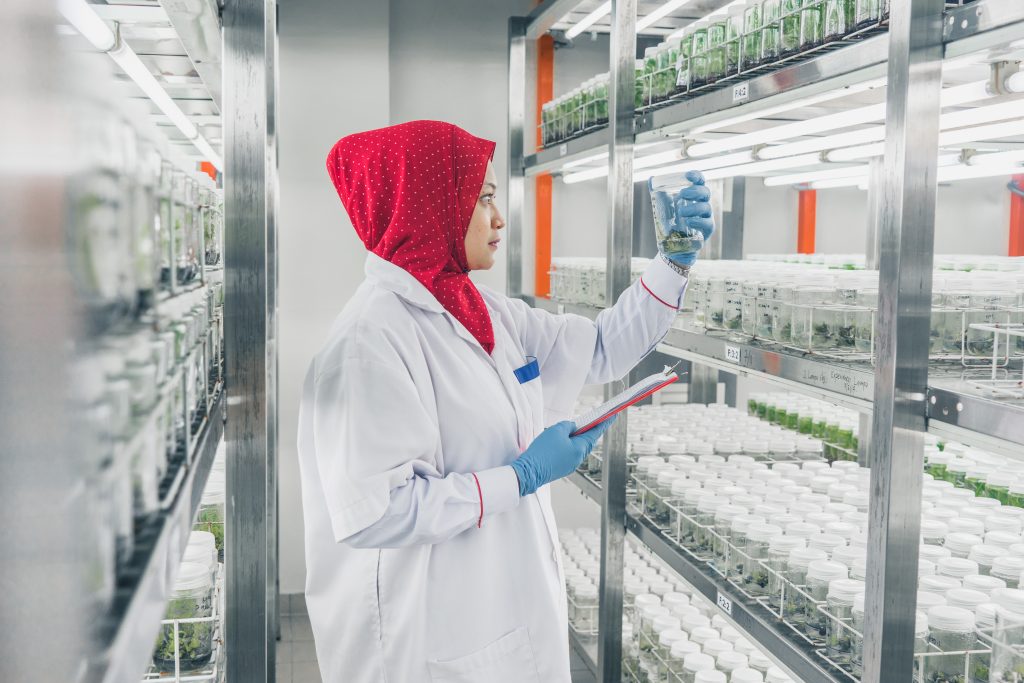 FGV adalah salah satu pengeluar bahan tanaman terkemuka di Malaysia
Pengeluaran varieti klon pisang disasarkan sebanyak dua juta tahun ini, meningkat dua kali ganda daripada satu juta klon pisang tahun lalu yang dihasilkan untuk memenuhi peningkatan permintaan bagi spesies Berangan, Cavendish dan Tanduk. Pengeluaran terus meningkat pada kadar 100 peratus setiap tahun sejak 2019 untuk memenuhi permintaan pasaran khusus pisang segar dan industri makanan berasaskan pisang.
Untuk bahan tanaman klon buluh, pengeluaran spesies buluh Betong disasarkan sebanyak satu juta menjelang tahun 2022 daripada jumlah semasa sebanyak 200,000. Betong adalah jenis buluh yang paling terkenal secara komersial kerana kepelbagaian fungsi, antaranya sebagai bahan asas untuk pembinaan, hingga pemuliharaan tanah dan kawalan hakisan. Buluh boleh menjadi sumber bahan mentah yang lestari kerana tempoh matang yang singkat dalam masa tiga hingga empat tahun, dan dapat bertahan hingga 100 tahun.
"Dengan pengeluaran komersial Betong, Pusat Inovasi FGV di Enstek, Negeri Sembilan menjadi makmal kultur tisu tanaman pertama di Malaysia yang berjaya menghasilkan anak benih klon buluh Betong secara besar-besaran," kata Haris Fadzilah.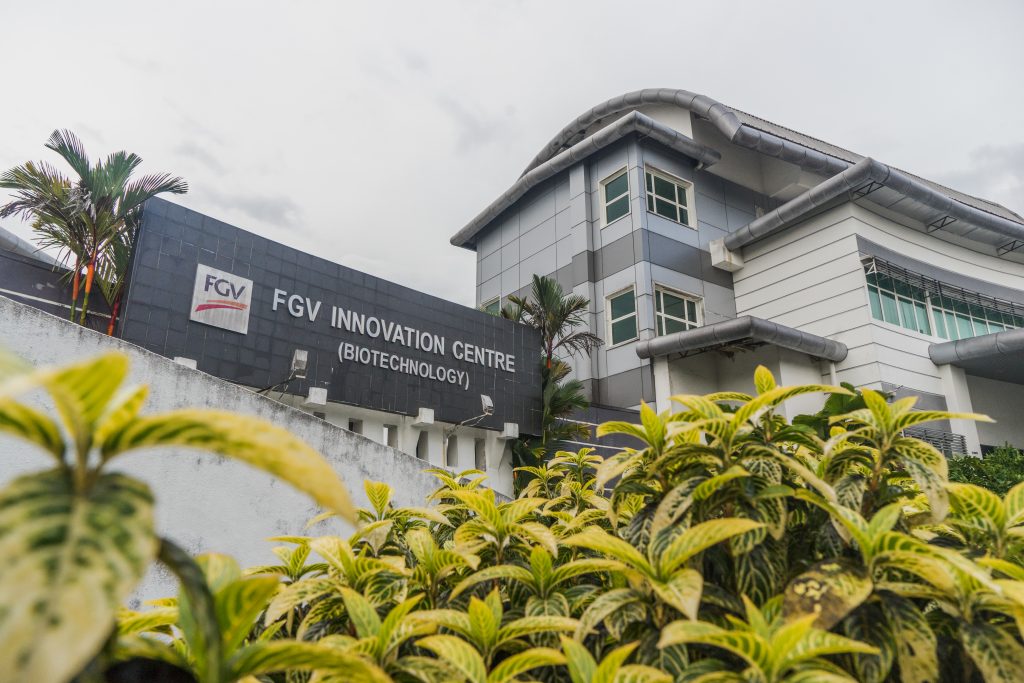 Pusat Inovasi FGV di Estek, Negeri Sembilan
Selain Betong, penyelidikan klon FGV juga mensasarkan untuk menghasilkan bahan tanaman klon buluh baharu varieti Semantan menjelang tahun 2022. Buluh Semantan dapat ditanam di seluruh Malaysia dan kegunaannya termasuk sebagai bahan asas untuk papan partikel, kraftangan dan aplikasi seperti penyepit makanan, pencungkil gigi dan lidi sate.
Sementara itu, FGV juga meningkatkan pengeluaran bahan tanaman kelapa Pandan sebanyak 70,000 pada tahun 2021, peningkatan sebanyak 20,000 berbanding tahun lalu. Pada masa ini, 70 peratus bahan tanaman yang dihasilkan dibekalkan untuk aktiviti penanaman dalaman FGV, sementara 30 peratus lagi dijual kepada pasaran domestik.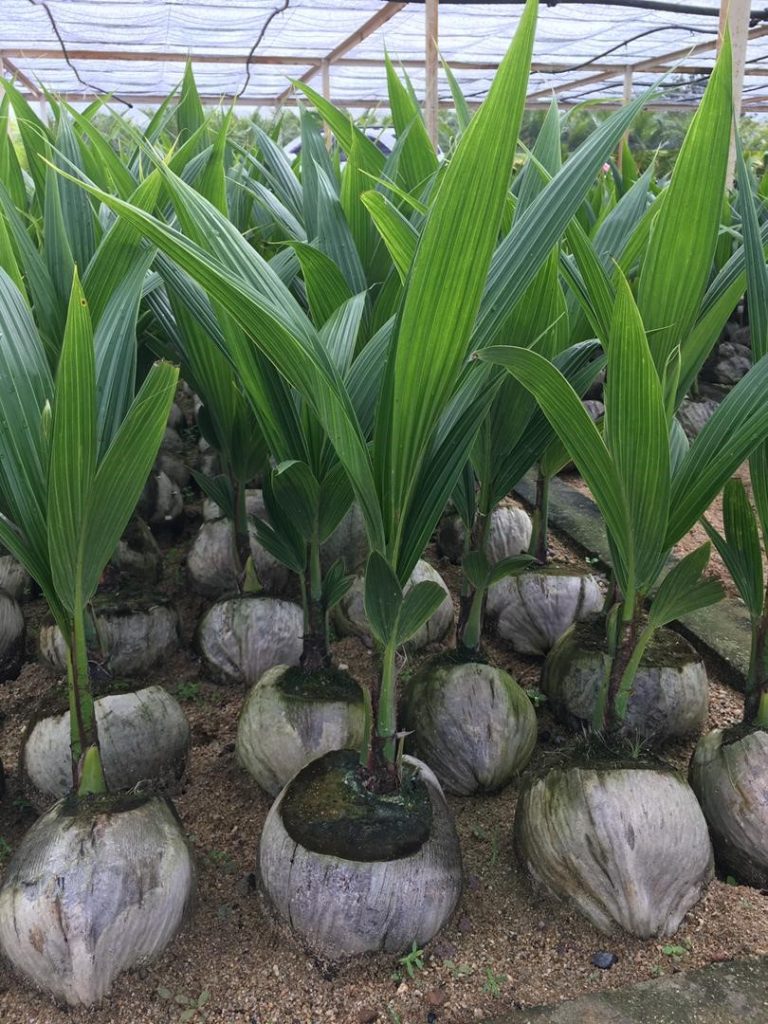 Anak benih kelapa pandan
Selain spesies Pandan, FGV juga mensasarkan untuk menghasilkan 200,000 anak benih kelapa MATAG menjelang tahun 2025 selepas tempoh matang kebun benih kelapa seluas 50 hektar, yang terletak di Pusat Penyelidikan Pertanian Tun Razak di Jerantut, Pahang. MATAG adalah baka hibrid yang disilangkan antara kelapa Malayan Yellow Dwarf (MYD) tempatan atau Malayan Red Dwarf (MRD) dengan kelapa Tagnanan Tall (TAG) yang berasal dari Filipina. MATAG adalah varieti kelapa yang paling digemari, di mana ia dapat menghasilkan hingga 25,000 lebih banyak kelapa sehektar setiap tahun berbanding pokok kelapa biasa. Kelapa MATAG sesuai untuk menghasilkan air kelapa, santan dan minyak kelapa dara.
"Kami juga menawarkan perkhidmatan pengklonan kontrak untuk menghasilkan pelbagai bahan tanaman yang lain secara besar-besaran mengikut keperluan projek pertanian pelanggan atau penanaman ladang mereka. Bahan tanaman yang boleh diklon termasuk tanaman yang mempunyai nilai komersial dan sesuai untuk pembiakan mikro in-vitro. Antara bahan tanaman baharu yang memiliki nilai pasaran tinggi termasuk Vanila dan Guarana," tambah Haris Fadzilah.
Pihak yang berminat dengan perkhidmatan pengklonan kontrak FGV boleh menghantar pertanyaan ke fassbmarketing@fgvholdings.com atau hubungi Pusat Inovasi FGV di talian 06-7916246.
Bagi bahan tanaman padi pula, FGV telah memulakan penanaman kebun benih padi wangi MRQ76 seluas 28 hektar tahun lalu di Sungai Leman, Selangor dan Seberang Perak, Perak. Benih MRQ76 yang ditanam dan dituai pada bulan Disember 2020 dan Januari 2021 akan digunakan untuk memulakan skim penanaman kontrak padi wangi fortified field FGV seluas 350 hektar, di bawah Kawasan Pembangunan Pertanian Bersepadu (IADA) di Seberang Perak dan IADA Barat Laut, Selangor pada bulan Mac 2021.
TAMAT