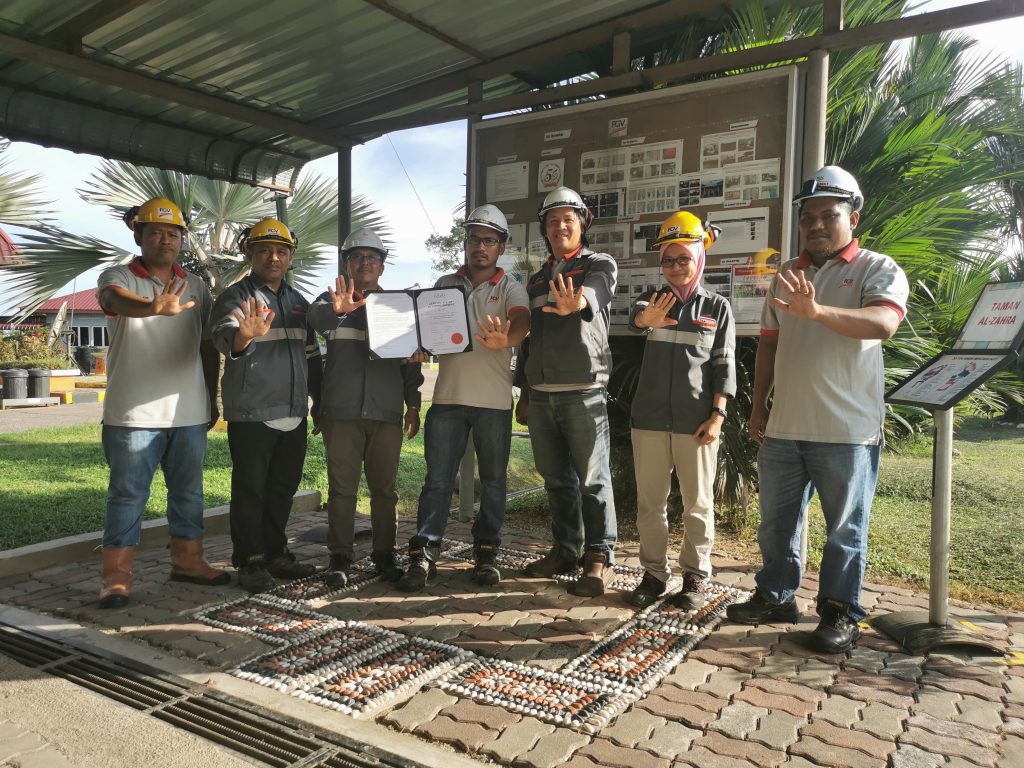 Maokil Palm Oil Mill Manager – Abdul Rauf Salleh (four from left) with his team members showing the Quality of Environment (QE / 5S) certification by the Malaysian Productivity Corporation, less than a year after the mill pioneered the MPC. 
Kuala Lumpur, 03 July 2020 – FGV Holdings Berhad (FGV) continues its transformation agenda through the introduction of the Model Plantation Concept (MPC) project, particularly, for its estates and mills nationwide.
The MPC project is a new systematic initiative to strengthen, standardise, and sustain best practices in plantation and manufacturing practices.
Its implementation sets new overall standards of SOPs for operation and agriculture practices, processing and manufacturing, increased compliance of the Occupational Safety, Health & Environment policies, optimising human resources, improvement of employee housing, and the use of technology and ICT.
Started in 2019, the pilot project was carried out at Tembangau 6 estate in Pahang and Besout oil palm mill in Perak followed by Maokil 07 estate and Maokil oil palm mill in Johor, which would the model for other estates and mills in the next phase of implementation.
The MPC project has shown success, demonstrated by several certifications received by the two estates and two mills including the Roundtable Sustainable Palm Oil (RSPO) Certification, Malaysia Sustainable Palm Oil (MSPO) Certification and the QE/5S Quality Environmental Practice (QE/5S) Malaysia Productivity Corporation.
 FGV Group Chief Executive Officer Dato' Haris Fadzilah Hassan said, "One of FGV's operation's challenge is the diversity of its 197 estates and 68 mills in terms of size, operating cost, facilities and manpower capabilities. Through the implementation of the MPC project, optimum standardisation can be achieved, resulting in increased productivity and cost reduction ".
"For example, the Maokil oil palm mill, which has been operating for 29 years, has successfully shown an increase in productivity, processing an oil extraction rate of 20.74 percent in 2019 compared with 19.86 percent in 2018," said Haris Fadzilah.
"Looking at Maokil's success, we are confident that the MPC project will be the catalyst for the transformation of the company's business plan. FGV will implement the MPC project in phases. The next phase will be in the following areas; Palong 8 rubber plant in Negeri Sembilan, Delima Oils Products refinery in Johor, Embara Budi oil palm mill, and Sahabat 11  estate in Sabah, "said Haris Fadzilah.
End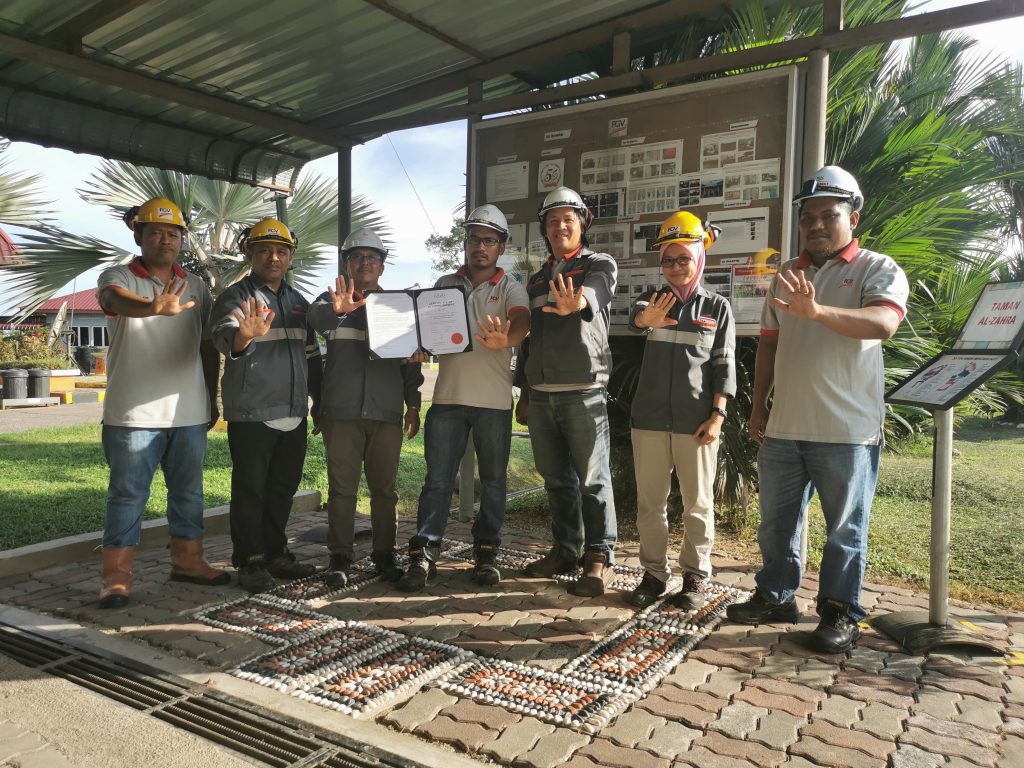 Pengurus Kilang Sawit Maokil – Abdul Rauf Salleh (empat dari kiri) bersama rakan sepasukan mempamerkan Pensijilan Amalan Persekitaran Berkualiti (QE/5S) oleh Perbadanan Produktiviti Malaysia, kurang setahun selepas kilang ini dijadikan perintis kepada konsep MPC
Kuala Lumpur, 03 Julai 2020 – FGV Holdings Berhad (FGV) meneruskan program transformasi syarikat dengan memperkenalkan projek Konsep Model Perladangan (MPC) untuk ladang dan kilangnya di seluruh negara.
Projek MPC ini merupakan inisiatif baharu yang lebih sistematik dalam mengukuh, menyeragam dan mengekalkan kaedah kerja terbaik di dalam amalan perladangan dan perkilangan.
Perlaksanaan projek MPC menetapkan standard baru keseluruhan SOP operasi dan amalan pertanian, pemprosesan dan pembuatan, peningkatan pematuhan kepada polisi Keselamatan Pekerjaan, Kesihatan & Alam Sekitar, pengoptimuman sumber manusia,  penambahbaikan perumahan pekerja serta penggunaan teknologi dan ICT.
Bermula pada tahun 2019, FGV menjadikan ladang Tembangau 6 di Pahang dan kilang sawit Besout di Perak sebagai salah satu projek perintis diikuti oleh ladang Maokil 07 dan kilang sawit Maokil di Johor untuk dijadikan model ikutan ladang dan kilang lain pada fasa perlaksanaan seterusnya.
Kejayaan konsep MPC yang diterapkan di FGV telah dibuktikan dengan beberapa pensijilan kepada dua kilang dan dua ladang perintis tersebut seperti Pensijilan Rundingan Meja Bulat Minyak Sawit (RSPO), Pensijilan Minyak Sawit Mampan Malaysia (MSPO) dan Pensijilan Amalan Persekitaran Berkualiti (QE/5S) Perbadanan Produktiviti Malaysia
 Dato' Haris Fadzilah Hassan, Ketua Pegawai Eksekutif Kumpulan FGV berkata, "Salah satu cabaran operasi FGV ialah setiap 197 ladang dan 68 kilangnya berbeza dari segi saiz, kos operasi, fasiliti dan keupayaan tenaga kerja. Melalui perlaksanaan projek MPC ini, keseragaman optimum dapat dicapai dan hasilnya ialah pertambahan nilai produktiviti dan pengurangan kos".
"Sebagai contoh, kilang sawit Maokil yang telah beroperasi selama 29 tahun telah menunjukkan peningkatan produktiviti selepas perlaksanaan projek MPC ini apabila berjaya memproses kadar perahan minyak sawit mentah sebanyak 20.74 peratus pada tahun 2019 berbanding 19.86 peratus pada 2018," kata Haris Fadzilah.
"Selepas melihat kejayaan di Maokil, kami yakin projek MPC akan menjadi pemangkin transformasi syarikat mengikut pelan perniagaan yang telah ditetapkan. FGV akan meneruskan projek MPC ini secara berperingkat. Lokasi perlaksanaan berikut ialah kilang getah Palong 8 di Negeri Sembilan, kilang penapisan Delima Oils Products di Johor, kilang sawit Embara Budi dan ladang Sahabat 11 di Sabah," ujar Haris Fadzilah.
Tamat