KUALA LUMPUR, 16 April 2021 – FGV Holdings Berhad (FGV), through its subsidiary and tech arm, FGV Prodata Systems Sdn Bhd (FGV Prodata), modernises traditional industrial practices through the implementation of the Palm Oil Mill Integrated System (POMIS). POMIS offers a total solution to monitor palm oil mills including plants, factories and refineries in an integrated automated system.
To date, 66 out of 67 FGV mills are currently using POMIS to further enhance their performances. POMIS utilises modern smart technology and sensors for increased automation and improved communication. This is to achieve better plant supervision, such as operational control and monitoring system.
Syed Mahdhar Syed Hussain, FGV's Group Divisional Director of Plantation Sector said that the urgency to expedite Malaysia's IR4.0 journey is vital in increasing FGV's overall performance and productivity.
"In line with the development of IR4.0, technological integration is much needed in the palm oil industry which is traditionally known to be more labour extensive in its operations. Through POMIS, FGV's mills are able to achieve their rated capacity consistently and systematically, with improved day-to-day operations. This contributes to more sustainable practice," said Syed Mahdhar.
POMIS enables better decision-making for managers through operational data analysis, which is generated daily. Additionally, it also ensures a safer working environment as the system is equipped with safety features that help reduce work-related accidents.
POMIS also helps to reduce the dependency on human labour on mill operations by five percent due to automation. This has proven to be beneficial especially during the pandemic where mill operations are continuously in automatic mode and minimum workers are required to operate. The system also reduces fuel fibre consumption by 15 percent for boilers, contributing to lesser emissions.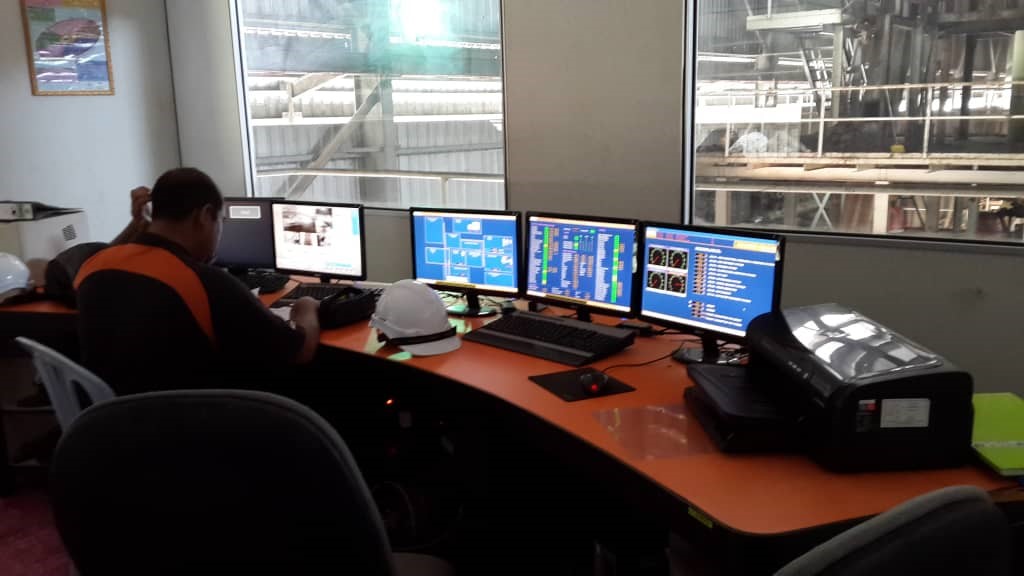 Automation control centre using POMIS at FGV's palm oil mill
Before the implementation of POMIS, mill processes such as sterilisation, steam boiler controls, motors and steam temperature are manually monitored on-site by operators. With POMIS, the said processes can be done by monitoring the screen via real-time feed. The automation replaces the traditional manual checking by operators, thus greatly reducing the possibility of human errors.
POMIS features a Central Motor Control (CMC) System where it is able to detect the motor status such as run, stop, trip and overload from the linked mill's equipment and machinery.
Another feature is the Load Monitoring System which ensures smooth and uninterrupted operation of conveyor, to manage conveyor loading. This reduces the risk of mill downtime due to conveyor overload.
FGV Prodata designs, builds and installs the systems that work most efficiently within FGV's mill environment. FGV Prodata also provides consultative solutions based on needs and requirements, for both mill expansions and new establishments.
End
KUALA LUMPUR, 16 April 2021 – FGV Holdings Berhad (FGV), melalui anak syarikat dan cabang teknologinya, FGV Prodata Systems Sdn Bhd (FGV Prodata), memodenkan pengurusan operasi kilang sawit melalui pelaksanaan Sistem Bersepadu Kilang Sawit yang juga dikenali sebagai "Palm Oil Mill Integrated System (POMIS)". POMIS adalah sebuah sistem yang menawarkan penyelesaian menyeluruh bagi pemantauan operasi kilang sawit secara bersepadu dan automatik.
Sehingga kini, sebanyak 66 daripada 67 buah kilang sawit FGV menggunakan POMIS untuk meningkatkan lagi kecekapan operasi mereka. POMIS dilengkapi dengan sensor berasaskan teknologi pintar dan sistem automasi terkini untuk meningkatkan pengawasan, pemantauan dan pengendalian operasi harian kilang sawit serta sistem komunikasi yang lebih baik.
Syed Mahdhar Syed Hussain, Pengarah Bahagian Sektor Perladangan Kumpulan FGV mengatakan bahawa tuntutan untuk mempercepatkan perjalanan IR4.0 Malaysia sangat penting dalam meningkatkan prestasi dan produktiviti kumpulan FGV.
"Sejajar dengan perkembangan IR4.0, Integrasi teknologi sangat diperlukan dalam industri kelapa sawit yang dikenali secara tradisionalnya menggunakan tenaga buruh yang meluas dalam operasi. Dengan adanya POMIS, kilang-kilang sawit FGV dapat beroperasi dengan lebih baik dan mencapai kapasiti yang dikehendaki secara konsisten dan sistematik. Ia juga menyumbang kepada amalan perkilangan yang lebih lestari," kata Syed Mahdhar.
POMIS membolehkan pihak pengurusan membuat keputusan penting dengan lebih baik berdasarkan analisa data operasi yang dihasilkan setiap hari. Selain itu, ia juga memastikan persekitaran kerja yang lebih selamat kerana sistem ini dilengkapi dengan ciri keselamatan yang membantu mengurangkan kemalangan ditempat kerja.
POMIS juga membantu mengurangkan kebergantungan tenaga kerja manusia dalam operasi kilang sebanyak lima peratus hasil daripada perlaksanaan automasi. Ini terbukti bermanfaat terutamanya ketika pandemik, di mana kilang terus beroperasi dalam mod automatik dan hanya sebilangan kecil pekerja diperlukan. Sistem ini juga mengurangkan penggunaan bahan bakar sebanyak 15 peratus untuk pembakaran dandang, yang seterusnya menyumbang kepada pelepasan karbon yang lebih rendah.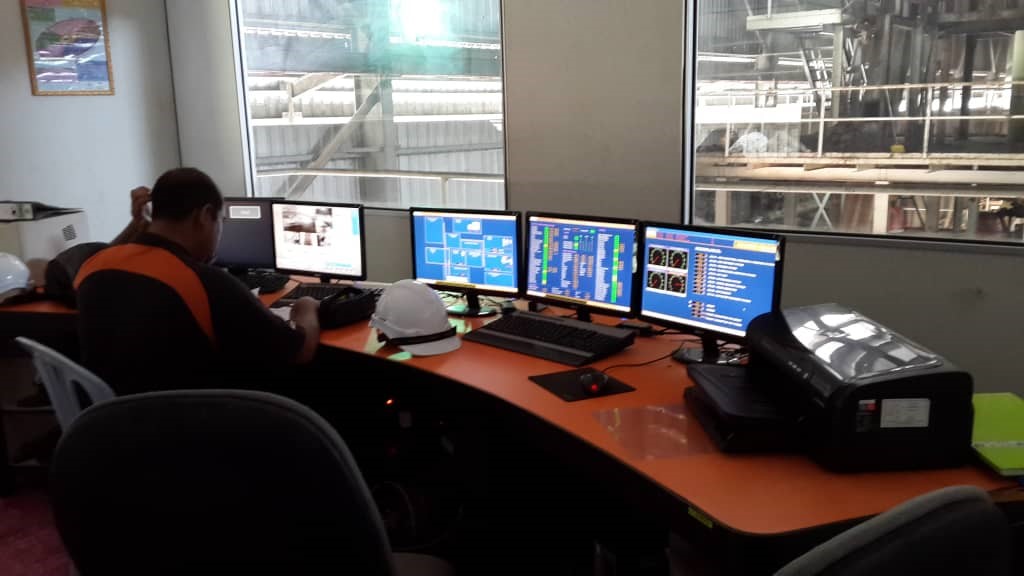 Pusat kawalan automasi menggunakan POMIS di kilang sawit FGV
Sebelum pelaksanaan POMIS, proses kilang sawit seperti pensterilan, kawalan pembakaran dandang, motor dan suhu stim dipantau secara manual oleh pengendali. Dengan POMIS, proses tersebut dapat dilakukan dengan pemantauan secara terus dari skrin monitor yang disediakan. Sistem automasi telah menggantikan kerja-kerja yang sebelum ini dilakukan secara manual oleh pengendali, yang secara tidak langsung mengurangkan potensi kesalahan yang dilakukan oleh manusia.
POMIS dilengkapi dengan sistem Motor Kawalan Berpusat bagi mengesan status pengoperasian motor seperti "run, stop, trip" dan "overload" pada peralatan dan mesin-mesin yang berkaitan.
Ciri lain adalah sistem "Load Monitoring" yang memastikan konveyor beroperasi dengan lancar dan tidak terganggu. Ini mengurangkan risiko operasi kilang terhenti tiba-tiba akibat terlebih bebanan buah sawit pada konveyor.
FGV Prodata merekabentuk, membangun dan memasang sistem-sistem yang berkaitan dalam memberi nilai tambah kepada operasi kilang agar fungsi dan keberkesanan kilang-kilang sawit FGV dapat ditingkatkan ke tahap maksima. Sekiranya ada keperluan, FGV Prodata juga menawarkan khidmat konsultasi untuk pemodenan operasi, ataupun penubuhan baru kilang sawit.
Tamat