KUALA LUMPUR, 17 September 2019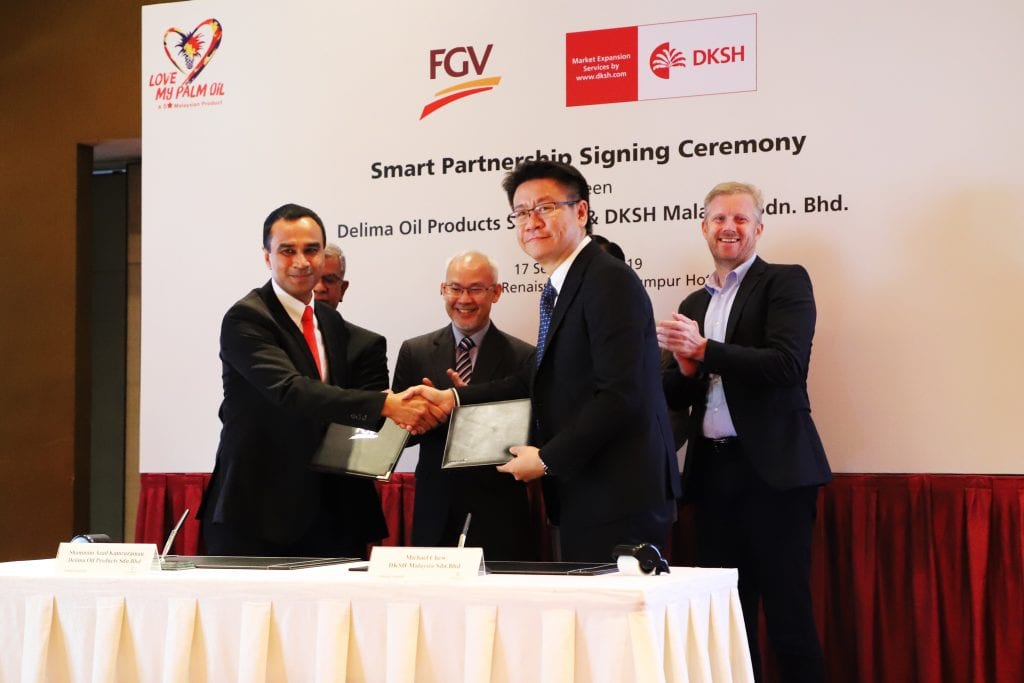 FGV Holdings Berhad is expanding its footprint in the downstream sector. Its wholly owned subsidiary, Delima Oil Products Sdn. Bhd. (DOP), has signed a distributorship agreement with DKSH (Malaysia) Sendirian Berhad (DKSH) to widen the distribution of FGV's downstream products into the Hotels/Restaurants/Café (HoReCa) sector.
DOP is a Malaysia-based player in the Fast Moving Consumer Goods (FMCG) sector that manufactures market leading brands such as SAJI, SERI PELANGI, and ADELA, while DKSH is a leading Market Expansion Services (MES) provider for FMCG in Asia.
In a joint statement the two parties said the agreement includes the distribution of DOP's products, including SAJI cooking oil and creamer, ADELA margarine, shortening, and dough fat, covering the food service industry in Peninsular Malaysia.
FGV's Group Chief Executive Officer, Dato' Haris Fadzilah Hassan said the collaboration is part of the Group's strategic plan to expand its downstream business by penetrating into the previously untapped food service market.
"There is huge demand for Halal and high quality ingredients in the HoReCa sector. We hope to tap into this demand because food service operators are attractive customers as they order in large quantities and on a recurring basis.
"DKSH has a wide and efficient distribution network that could build and further position DOP as a dominant edible oils and fats player in the domestic market, and eventually the international market," Haris Fadzilah said.
Patrick Stillhart, Vice President, FMCG, South East Asia, DKSH, said, "Having set up our first Malaysian branch in 1923 in Penang, DKSH has a successful track record of more than 95 years of providing MES to our business partners here. Over the years, we have built an extensive nationwide distribution network, based on solid customer relationships, and gained valuable market insights into this industry. We are proud to partner with DOP, which produces renowned household brands in Malaysia, to make their products available for more Malaysians."
DOP produces market leading and award winning brands in the FMCG sector such as SAJI, SERI PELANGI, and ADELA. The line of business includes palm oil refining, manufacturing of downstream palm oil products and distribution of industrial and consumer products in key markets like ASEAN, Middle East, West Asia, Europe and West Africa.
DKSH is the leading MES provider with a focus on Asia. Headquartered in Zurich, the Group helps other companies and brands to grow in the Consumer Goods, Healthcare, Performance Materials and Technology sectors by offering a customized portfolio of services from sourcing and marketing to distribution and logistics as well as after-sales services. In Malaysia, DKSH is the leading MES provider, serving business partners for 96 years.
END
---

FGV Holdings Berhad memperluaskan pengaruh pasarannya dalam sektor hiliran. Anak syarikat milik penuhnya, Delima Oil Products Sdn. Bhd. (DOP), telah menandatangani perjanjian pengedaran dengan DKSH (Malaysia) Sendirian Berhad (DKSH) untuk memperluaskan pengedaran produk hiliran FGV ke dalam sektor Hotel/Restoran/Kafe (HoReCa).
DOP yang  berpangkalan di Malaysia merupakan pemain dalam sektor Barangan Pengguna Bergerak Pantas (FMCG) mengeluarkan jenama terkemuka seperti SAJI, SERI PELANGI, dan ADELA, manakala DKSH adalah penyedia Perkhidmatan Pengembangan Pasaran (MES) terkemuka untuk FMCG di Asia.
Dalam satu kenyataan bersama, kedua-dua pihak berkata perjanjian itu termasuk pengedaran produk-produk DOP, termasuk minyak masak dan krimer SAJI, marjerin ADELA, lelemak , dan lemak doh, yang meliputi industri perkhidmatan makanan di Semenanjung Malaysia.
Ketua Pegawai Eksekutif Kumpulan FGV, Dato' Haris Fadzilah Hassan berkata kerjasama itu adalah sebahagian daripada rancangan strategik Kumpulan untuk mengembangkan perniagaan hilirannya dengan menembusi pasaran perkhidmatan makanan yang belum pernah diterokai sebelum ini.
"Terdapat permintaan yang besar untuk bahan-bahan Halal dan berkualiti tinggi dalam sektor HoReCa. Kami berharap dapat memanfaatkan permintaan sektor ini kerana pengendali perkhidmatan makanan adalah pelanggan yang menarik kerana mereka memesan dalam kuantiti yang besar secara berulang.
"DKSH mempunyai rangkaian pengedaran luas dan cekap yang dapat membina dan meletakkan kedudukan DOP sebagai pemain dominan bagi minyak dan lemak boleh dimakan untuk pasaran domestik, dan seterusnya pasaran antarabangsa," kata Haris Fadzilah.
Patrick Stillhart, Naib Presiden FMCG, Asia Tenggara, DKSH berkata, "Setelah menubuhkan cawangan kami yang pertama di Malaysia pada tahun 1923 di Pulau Pinang, DKSH mempunyai rekod prestasi yang cemerlang dalam tempoh lebih daripada 95 tahun menyediakan Perkhidmatan Pengembangan Pasaran (MES) kepada rakan perniagaan kami di sini. Selama bertahun-tahun, kami telah membina rangkaian pengedaran luas di seluruh negara, berdasarkan hubungan pelanggan yang kukuh, dan memperolehi tinjauan pasaran yang berharga untuk industri ini. Kami berbangga bergandingan dengan DOP, yang menghasilkan jenama isi rumah terkenal di Malaysia, untuk memastikan produk mereka tersedia untuk lebih ramai rakyat Malaysia. "
DOP menghasilkan jenama terkemuka dan jenama pemenang anugerah dalam sector FMCG seperti SAJI, SERI PELANGI, dan ADELA. Barisan perniagaan termasuk penapisan minyak sawit, pengilangan produk minyak sawit hiliran dan pengedaran produk industri dan pengguna di pasaran utama seperti ASEAN, Timur Tengah, Asia Barat, Eropah dan Afrika Barat.
DKSH adalah penyedia Perkhidmatan Pengembangan Pasaran (MES) terkemuka dengan tumpuan kepada Asia. Beribu pejabat di Zurich, Kumpulan membantu syarikat dan jenama lain untuk berkembang dalam sektor Barangan Pengguna, Penjagaan Kesihatan, Sektor Bahan Prestasi dan Teknologi dengan menawarkan portfolio perkhidmatan yang disesuaikan dari sumber dan pemasaran kepada pengedaran dan logistik serta perkhidmatan selepas jualan. Di Malaysia, DKSH adalah penyedia MES terkemuka, yang berkhidmat untuk rakan niaga selama 96 tahun.
TAMAT