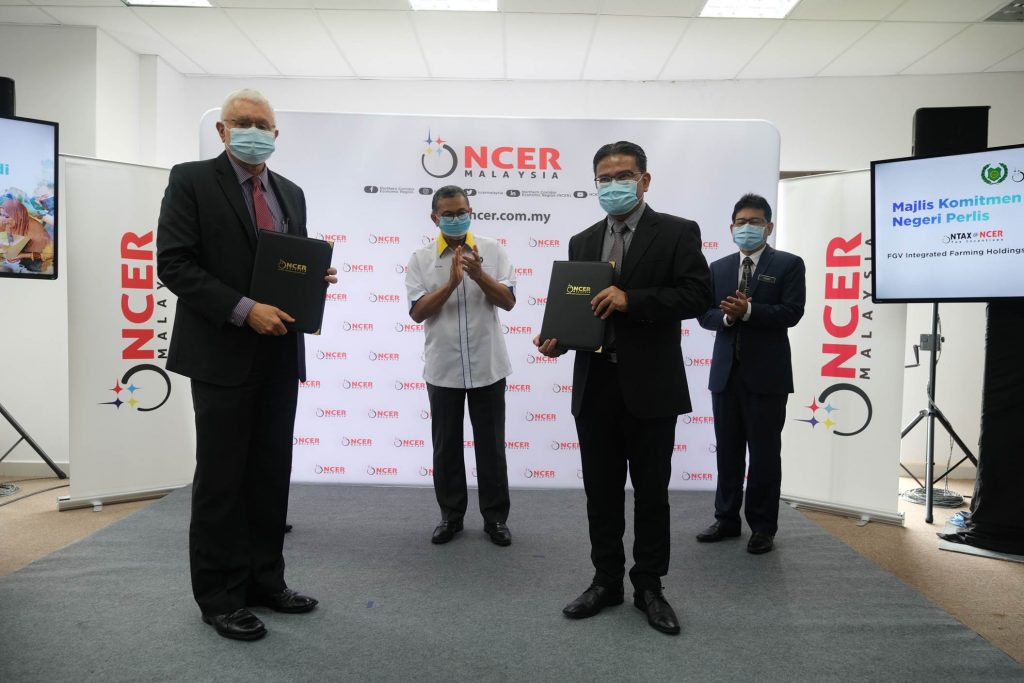 From Left: CEO of NCIA, Datuk Seri Jebasingam Issace John, Perlis Menteri Besar, YAB Dato' Seri Azlan Man, Head of Integrated Farming of FGV, Abdul Razak Aya and Perlis State Representative
KUALA LUMPUR, 21 AUGUST 2020 – FGV Holdings Berhad (FGV) provides an opportunity for 15 local agropreneurs to develop MD2 pineapple crops under the FGV Chuping Agro Valley (FCAV) project in Perlis.
FGV has allocated 150 acres of contract farms for planting and is targeting 4,000 metric tonnes of MD2 pineapple production per year with a sales revenue of RM12 million.
The FCAV project covers four main segments, namely MD2 pineapple contract farms, commercial cassava farms, harumanis mango farms and a dairy valley. It also houses animal feed mills, workers' housing complexes and oil palm research centers.
FCAV will be developed according to schedule after FGV signed a memorandum of cooperation with the Northern Corridor Implementation Authority at the Investment Commitment ceremony in Perlis with Menteri Besar Perlis YAB Dato' Seri Azlan Man, recently.
FGV Group Chief Executive Officer, Dato' Haris Fadzilah Hassan said, "FGV's investment commitment in FCAV amounting to RM100 million will make Perlis the country's premier food agro producer. FGV's involvement in this sector is to strengthen the food-based agriculture business. This project also supports the government's intention to produce more modern high-income agropreneurs, thus boosting the development of the country's agriculture and food sector".
"FGV is also proud to contribute to the economic development of Perlis by providing various employment opportunities to the locals. Apart from the MD2 pineapple plantation which is expected to start at the end of this year, the pilot project for the commercial cassava cultivation will start in September 2020," explained Haris Fadzilah.
FGV has allocated 3,500 hectares for planting and is targeting 50,000 metric tonnes of cassava starch production per year with a sales revenue of RM94 million.
Cassava is selected as one of the main commercial crops in this project for the production of starch which has high demand and commercial value in domestic and foreign markets. The production of raw materials from cassava starch is expected to reduce the dependency of national starch imports by 8% per annum.
Cassava starch is a major ingredient in downstream industries such as the production of maltodextrin, bio-ethanol, bio-fuel, bio-plastic, amino acids, pharmaceuticals and others. In addition, plant biomass can also be used as a component of animal feed.
The FCAV project is expected to bring significant changes to the agricultural industry landscape in Perlis due to the use of the Industrial Revolution 4.0 approach. It combines the latest agricultural technologies such as the use of drones, mechanised planting and harvesting systems, the concept of sustainable development as well as high value-added activities.
The entire project development will take two years and will serve as a location for investment, employment opportunity, human capital development and entrepreneurship. It will also trigger downstream industries for various agro products, especially in the Chuping Valley Industrial Area and Perlis.
End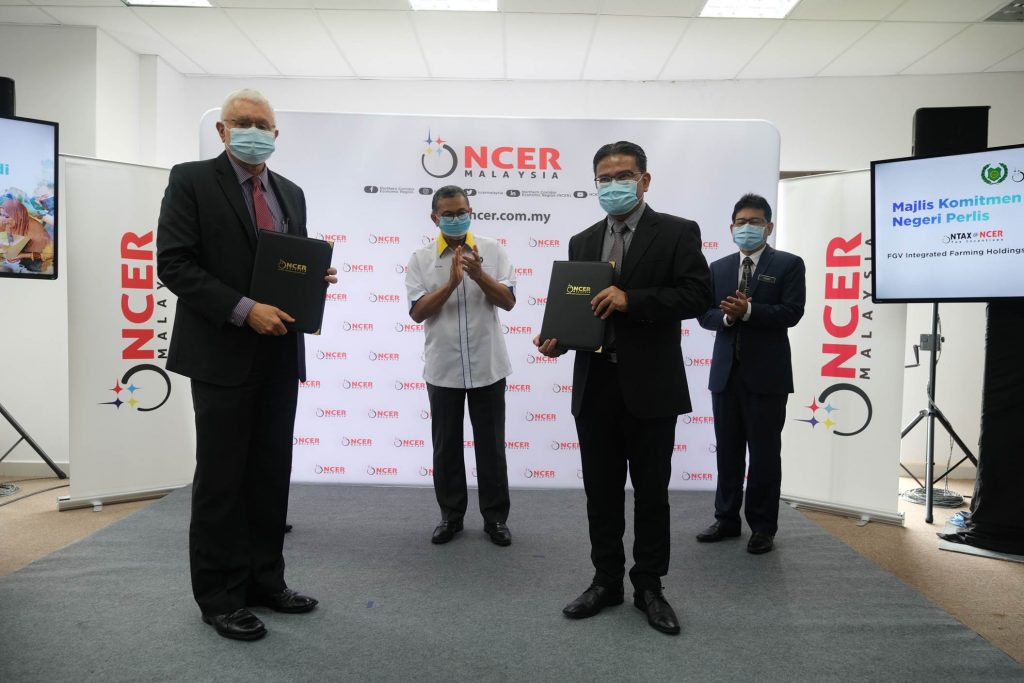 Dari Kiri: Ketua Pegawai Eksekutif NCIA, Datuk Seri Jebasingam Issace John, Menteri Besar Perlis, YAB Dato' Seri Azlan Man, Ketua Pertanian Bersepadu FGV, Abdul Razak Aya dan Wakil Negeri Perlis.
KUALA LUMPUR, 21 OGOS 2020 – FGV Holdings Berhad (FGV) memberi peluang kepada 15 agropreneur anak tempatan untuk memajukan tanaman nanas MD2 di bawah projek FGV Chuping Agro Valley (FCAV) di Perlis.
FGV memperuntukkan kawasan ladang kontrak seluas 150 ekar untuk penanaman serta mensasarkan 4,000 metrik tan penghasilan buah nanas MD2 setahun dengan nilai hasil jualan RM12 juta.
Projek FCAV merangkumi empat segmen utama iaitu ladang kontrak nanas MD2, ladang ubi kayu komersial, ladang mangga harumanis dan lembah tenusu. Ia turut menempatkan kilang makanan ternakan haiwan, kompleks perumahan pekerja dan pusat penyelidikan kelapa sawit.
FCAV bakal dibangunkan mengikut jadual setelah FGV menandatangani memorandum kerjasama dengan Pihak Berkuasa Pelaksanaan Koridor Utara pada majlis Komitmen Pelaburan di Negeri Perlis bersama Menteri Besar Perlis YAB Dato' Seri Azlan Man, baru-baru ini.
Ketua Pegawai Eksekutif Kumpulan FGV, Dato' Haris Fadzilah Hassan berkata, "Komitmen pelaburan FGV di FCAV yang berjumlah RM100 juta akan menjadikan Perlis pengeluar agro makanan premier negara. Penglibatan FGV di sektor ini adalah untuk memperkasakan perniagaan pertanian berteraskan makanan. Projek ini turut menyokong hasrat kerajaan untuk melahirkan lebih ramai agropreneur moden yang berpendapatan tinggi, sekaligus merancakkan perkembangan sektor pertanian dan makanan negara".
"FGV juga berbangga dapat menyumbang kepada pembangunan ekonomi negeri Perlis dengan menyediakan pelbagai peluang pekerjaan kepada penduduk tempatan. Selain tanaman nanas MD2 yang dijangka bermula penghujung tahun ini, projek perintis penanaman ubi kayu secara komersial pula akan bermula pada September 2020," jelas Haris Fadzilah.
FGV memperuntukkan kawasan seluas 3,500 hektar untuk penanaman serta mensasarkan 50,000 metrik tan pengeluaran kanji ubi kayu setahun dengan nilai hasil jualan RM94 juta.
Ubi kayu dipilih sebagai salah satu tanaman komersial utama di projek ini untuk penghasilan kanji yang memiliki permintaan dan nilai komersial tinggi di pasaran dalam dan luar negara. Pengeluaran bahan mentah daripada kanji ubi kayu ini dijangka dapat mengurangkan kebergantungan import kanji negara sebanyak 8% setahun.
Kanji ubi kayu merupakan bahan utama industri hiliran seperti pengeluaran maltodextrin, bio-ethanol, bio-fuel, bio-plastik, asid amino, bahan farmaseutikal dan lain-lain lagi. Selain itu biomas tanaman boleh juga digunakan sebagai komponen makanan ternakan.
Projek FCAV dijangka membawa perubahan besar kepada lanskap industri pertanian di Perlis kerana menggunakan pendekatan Revolusi Industri 4.0. Ia menggabungkan teknologi pertanian terkini seperti penggunaan dron, sistem penanaman dan penuaian secara mekanisasi, konsep pembangunan mampan serta aktiviti bernilai tambah yang tinggi.
Keseluruhan pembangunan projek mengambil masa dua tahun dan akan berfungsi sebagai lokasi pelaburan, peluang pekerjaan, pembangunan modal insan dan keusahawanan. Ia juga bakal mencetuskan industri hiliran bagi pelbagai produk agro terutamanya di Kawasan Perindustrian Lembah Chuping dan negeri Perlis.
Tamat